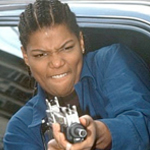 Long before he directed the new biopic STRAIGHT OUTTA COMPTON, F. Gary Gray was already linked to members of N.W.A. He'd directed the video for the Ice Cube classic "It Was a Good Day" (1992), and later the action-movie-inspired "Natural Born Killaz" by Dr. Dre and Ice Cube (from the soundtrack to MURDER WAS THE CASE). When Gray started in features it was with Cube, who wrote, produced and starred in FRIDAY. And he also did the video for Dre's "Keep Their Heads Ringin" from that soundtrack.
So in '97, when he did his first action movie, he cast Dre in a small role as Black Sam, an underworld figure who provides guns for the protagonists, an all female crew of bank robbers.
Hear me out on this, but I do not consider N.W.A to be super respectful of women. Their songs talked endlessly about the bitches and/or hoes. FRIDAY also did some of that, in arguably a more playful way. The men are all doofuses, but Nia Long and Regina King aren't, so you can't take it completely seriously. But there's a whole lot of humor about the women they do or don't want to get laid by, and one hilariously has as her theme song "Hoochie Mama" by 2 Live Crew. "Big booty hoes – up wit it!"
So with that in mind it's pretty cool that Gray's second movie has an entirely female POV.
SET IT OFF is the story of four women who grew up together in a rough L.A. neighborhood and then, after a series of injustices, decide to rob banks together. It starts with Frankie (Vivica A. Fox, MERCENARIES), a bank teller who is working when her bank gets robbed and shot up by four thieves led by Darnell (the rapper WC, who less than a month earlier had released the album by his supergroup Westside Connection with Mack 10 and Ice Cube), a guy she knows from the neighborhood. The police cast suspicion on her for knowing one of the robbers, so her boss fires her while she's still traumatized and covered in other people's blood. Real classy.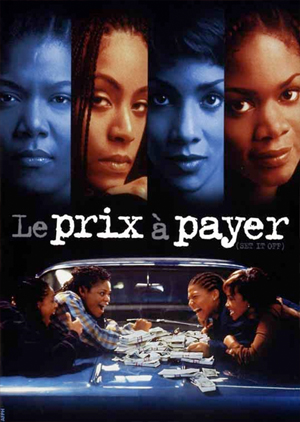 The repercussions also hit her friend Stoney (Jada Pinkett, not yet Smith), an orphan who works hard and in a low moment even prostitutes herself to try to put her brother Stevie (Chaz Lamar Shepard, THE TEMPTATIONS) through college. He's a good kid but he also is friends with Darnell, who in a punk move worthy of Lester Nygaard (Fargo season 1) convinces the poor kid to get the same distinctive design shaved in his head that he had visible on camera when robbing the bank. So as Stevie's leaving the police are raiding the place and they shoot him to death.
Frankie joins Stoney and their friends T.T. (introducing Kimberly Elise, later in BAIT) and Cleo (Queen Latifah) at a janitorial service, cleaning mansions. T.T. is struggling as a single mother, has to bring her kid to work one day, he gets in an accident and is taken away from her. She's much more timid than the others but needs the money the most, because she has to be able to pay her bills before she can get her kid back.
Cleo's the only one not facing some horrible crisis, but she's the most ignorant of the bunch, a macho tough girl with priors for grand theft auto. When her friends start half-joking about robbing banks she thinks it's a pretty good idea.
All four actresses are well showcased, each of them getting one or more big emotional scene. There's way more crying and yelling than a male bank robber movie, but it's not too much, I think it works. The opening, where Frankie's attempt to work her way out of the neighborhood is crushed specifically because of her being from that neighborhood is especially powerful. The assholes stand there awkwardly as she unleashes on them, alternating between righteous scolding and wounded crying. "I haven't done anything wrong. I can't help who I know!" Later, when she says fuck it and does do something wrong you understand why.
But Stoney is kind of the main character. She's sacrificed so much for the next generation to have an opportunity beyond dumping garbage and dusting banisters, only to have that hope cut off by a combination of neighborhood assholery and police error. The champagne that was meant to celebrate Stevie going to college ends up being the "gun" that the cops think he's reaching for. So all bets are off. Meanwhile Stoney meets a nice man (Blair Underwood, KRUSH GROOVE) – while casing a bank, by the way – whose way of treating her well happens to emphasize the idea that money equals happiness.
What makes it all really enjoyable is a strong sense of sisterhood. They fight, they hug, they console each other, they laugh themselves to tears over a table of money. In one scene they sit at a huge table in a building they're cleaning and discuss their plans in ridiculous Italian mobster accents and lingo. They have fun.
But the real highlight is Queen Latifah getting to play sort of the Bishop or O Dog, or at least the Doughboy, of the crew. She's a belligerent, blunt-smoking shit-talker in a sweatshirt and cornrows. And you have to understand, Latifah had a very different image than that. She was known as one of the female MCs who could hang with the men, but not by imitating them. She was a strong, powerful type of feminine, known for her African style hats and jewelry, and for carrying herself in a regal manner to go with her name. She was considered a member of the Native Tongues, like De La Soul and A Tribe Called Quest, so she represented the "positive" side of rap. In HOUSE PARTY 2, remember, she played the roommate who pushed women's studies and Afrocentrism. On the sitcom Living Single she played a fashionable magazine editor. Admittedly she had a little tougher image on her most recent album at that time, Black Reign, but even on there she was singing about "U.N.I.T.Y." and shit.
To me she'll always be this lady rapping about feminism while dressed as some kind of African military ruler:
But in this movie she's drinking 40s, grimacing and busting open car doors with a file. I never would've thought she'd be so good playing this type of character. I believe her as somebody who does some stupid shit and then you forgive her because she's your friend.
Also, not for nothing, Cleo is a lesbian, with a skinny girlfriend (Samantha MacLachlan) often hanging off of her not getting much dialogue, like an underdeveloped girlfriend that a dude in a movie would have. In 1996, especially in a black movie, that was pretty ballsy.
Luckily, unlike Tupac, Latifah didn't decide to keep acting tough after playing the role. Her activities since then have included a jazz album, a day time talk show and an Oscar nomination. Her biggest crime has probly been BRINGING DOWN THE HOUSE or TAXI or something.
This is clearly a movie angry about the way the system can fail poor neighborhoods, and specifically black people. But it's interesting, and maybe a mistake, how much of the system the movie doesn't indict. Not only is the deck not stacked as heavily in favor of anti-heroism as in, say, FALLING DOWN, but some of it reads as rose-tinted to me. The death of Stevie is actually an innocent mistake, not police brutality or overzealousness. They had a pretty good reason to think that he was their guy and that he was reaching for a gun. Darnell is actually more guilty than they are, having purposely set Stevie up with that haircut, in my opinion. That's an interesting choice only four years after the riots, to absolve the LAPD of responsibility in this one.
But what's more out there is the media coverage and how compassionate it is. When one of our bank robbers gets gunned down on TV the ONN anchor says solemnly, "We've just had… a horrible moment here. This is our greatest fear as for what would happen today. This is the most… tragic culmination of the day's events." He's talkin like the president just got assassinated or the Challenger blew up. I just can't buy an anchor having this much sympathy for a bank robber, or expecting his audience to. It's as if he knows we've been watching their whole story from their perspective and that they're the good guys.
Good ol' John C. McGinley (ON DEADY GROUND, SURVIVING THE GAME, POINT BREAK) plays Detective Strode, the one coming after them. He seems like a great choice for an antagonist, a guy who's on the right side of the law but the wrong side of not being a huge asshole, so we can root against him. You would think. Actually no, he turns out to be more than that.
(J.D. trigger warning next paragraph.)
It starts at the accidental shooting of Stevie. Strode cries out "Nooo!!" He immediately figures out they killed an innocent person, and he sheds tears over it. This seems laughable at first. We've had, what, around ten high profile, heavily debated police killings of unarmed black men in the past year or two. Have you ever, one single time, seen a police officer – even an unrelated one in an op-ed or news interview or something – acknowledging one of these as a tragic mistake, like when Al Powell accidentally shot the kid with the toy gun? I bet there are police who know that, I hope there are. But at least publicly they will all say the police were always justified and the dead person caused the problem and there is no reason for guilt or self reflection of any kind and if you think there is you're a militant or criminal thug or anti-police liberal extremist like me and how dare you even briefly contemplate the possibility that a system that repeatedly executes people for petty or non-existent crimes should be reconsidered in case maybe there's a way to protect human life and justice and the American way and all that pansy liberal shit.
So you see Strode actually crying in front of people, like he knows they've made a terrible mistake, and you think "whuh? I don't know about this." But what's interesting about the character is when Stoney arrives and gets in his face, yelling that he killed her brother, he goes into tough shit mode again. He just stands there chewing his toothpick.
As the story continues he starts to slowly let down the macho veneer. When he finally catches up to them, comes gun-to-gun with them robbing a bank, he doesn't just start shooting. He calls them by name, talks to them. He tries to convince them to give up instead of get killed. He acknowledges the hard times they've had, even his own part in the death of Stoney's brother. But it's impossible. They're doomed. As close as Strode comes to talking them down, some dipshit security guard starts popping off and fucks the whole thing up. I mean, he sets it off.
After two of these messy stand-offs that don't end the way he would like, Strode looks up and sees Stoney on a bus, literally on her way to Mexico. (And let's forget about how weird it is that police were willing to shoot Cleo when she was standing in front of a bus full of old tourists, and that they don't seem nearly horrified or bullet-ridden enough.) He sees her but he just stares. The guy we met at the beginning of the movie would've said "There she is!" But after what he's seen, and what he's helped cause, in that moment he decides it's not worth it. He doesn't say anything. He lets her go.
Are you thinking what I'm thinking? SET IT OFF franchise. Stoney and Strode, the fugitive and the cop, reunited and reluctantly teamed, like Brian and Dom in FAST AND FURIOUS. I guess it would be called SET OFF. Let's see that.
Dre's first real movie role is pretty small. He has a tear drop tattoo to imply a long criminal history. He's some kind of bigshot, but he's a tangental part of these crimes, just doing a favor for an old neighborhood friend. He's pretty good in his first scene, a little stiff in his second, but not that much is required of him. Mostly just a presence, which he has. Later he played kind of a similar role in TRAINING DAY, and was in THE WASH, which was not that good but he did co-star with Snoop, so it's his biggest movie role. Since then he's only done a couple cameos and Dr. Pepper commercials. Maybe he's a perfectionist like he is in the studio, he's still working on that next acting performance.
To date Gray has only done 8 feature films, with FRIDAY and this being the obvious highlights. Since then I guess his best is THE ITALIAN JOB. We'll see how he does with the biopic. Speaking of which, the two credited writers have since written celebrity biography TV movies: Takashi Bufford did THE TIGER WOODS STORY (1998) and Kate Lanier did CRAZYSEXYCOOL: THE TLC STORY (2013). And she had already done WHAT'S LOVE GOT TO DO WITH IT. She later wrote THE MOD SQUAD, GLITTER and BEAUTY SHOP (starring Latifah, produced by Cube). Bufford did BOOTY CALL. (His previous credit was HOUSE PARTY 3.)
Anyway, I think SET IT OFF holds up. It does not make a convincing justification for robbing banks, if that's what you're looking for. But it does make a good case for why everyone deserves empathy. Life is hard, and people need respect. And Darnell is an asshole.
APPENDIX: "Natural Born Killaz" video directed by F. Gary Gray

Notes:
1. This is an incredible song with the most badass synthesizer sample outside of "4th Chamber" by GZA.
2. Can you spot the two DIE HARD 2 cast members?
3. Note that the iconic rapper cameo is similar to Hawkeye's cameo in THOR. Somebody do a mashup.
4. At that time Dre and Cube were supposedly going to do an album together called Heltah Skeltah. Too bad that never happened.