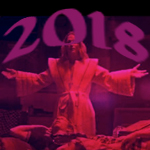 Well, there it is. Another crazy, what-the-fuck-is-happening-to-us year has gone by. As you know if you've been reading regularly I lost my mom in the fall, and it would've been a rough one for me even if I didn't feel like the world was running around with spiders in its pants stepping on mouse traps. So even more than usual it has been a refuge, a joy and an honor to be able to keep writing about movies and everything they mean to us, sharing my thoughts and discoveries with all of you and continuing the discussion here in the comments, on Twitter, in emails, and even on a couple podcasts. I'm so grateful for what we have here. Thank you.
As usual I saw more movies than most normal people but fewer than professional critics, so it's hard for me to do a top ten list. I know I haven't seen newer movies like IF BEALE STREET COULD TALK, DESTROYER or THE FAVOURITE, and haven't gotten to many that are available like FIRST REFORMED, LEAVE NO TRACE, THE RIDER or BUSTER SCRUGGS. Not to mention the ones I don't even know I should've seen. So instead of a formal list I'll talk about some of my favorites in different categories. Before that, let's look back at some of the reviews I enjoyed writing most this year. Since I've determined that about 60% of the movies I wrote about this year were not new, this will include discoveries and revisits.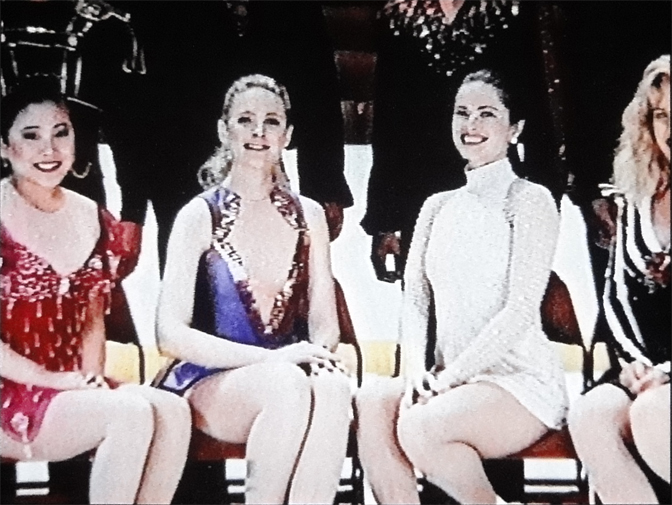 I like that I made a trilogy out of I, TONYA, accompanying it with reviews of the TV movie TONYA & NANCY: THE INSIDE STORY (which I had taped off of TV!) and BREAKAWAY (a b-action movie the real Harding has a part in). I enjoyed checking out all four original PROM NIGHT movies, plus the remake. Whole franchise analysis is always fun for me. Of course I went into much more detail in my first Patreon-exclusive series about THE TWILIGHT SAGA. The most work I put into one piece was THE SHAPE OF EVIL, my analysis of the entire HALLOWEEN series (including remakes) for Drugstoreculture. It's different from my usual stuff and I was afraid it might be too weird and personal, but people seemed to like it.
THE VILLAINESS was one of my top movies last year, but I didn't finish the review until this year. Also I finally caught up with the amazing HEADSHOT. I like that I got around to JANE GOT A GUN, because it was better than reported and I was able to illustrate it with Star Wars prequel trading cards. DEATH KISS (a new one) was in a way the oddest movie I wrote about. Because, I mean, what the hell?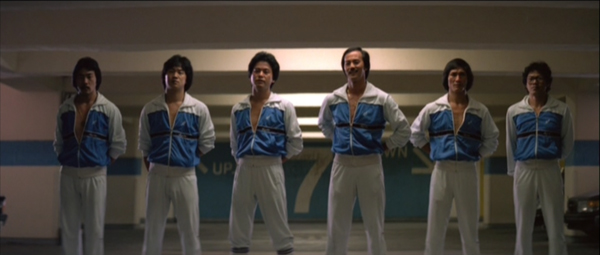 Favorite discoveries/new to me stuff: I really got a kick out of MERCENARIES FROM HONG KONG, a contemporary Shaw Brothers movie with amazing coordinated outfits. PENITENTIARY II had so much personality even before you factor in Mr. T. EMPEROR OF THE NORTH is a great story of stubbornness and tenacity with Lee Marvin as a legend among hobos. WYRMWOOD: ROAD OF THE DEAD has car engines powered by zombie breath. SILENT RAGE is the well-directed sci-fi-horror/Chuck Norris hybrid I never knew I needed. HE NEVER DIED is the great Henry Rollins supernatural action vehicle I never knew I needed. I don't want to call YES, MADAM! a discovery since I always knew it was supposed to be a classic, but I'm glad I finally can confirm that. And my very favorite movie-I-didn't-know-about-until-this-year was 36.15 CODE PERE NOEL, which I guess we're now calling DIAL CODE SANTA CLAUS in the states. I bet it will have a good release here before next Christmas and we'll talk about it again then.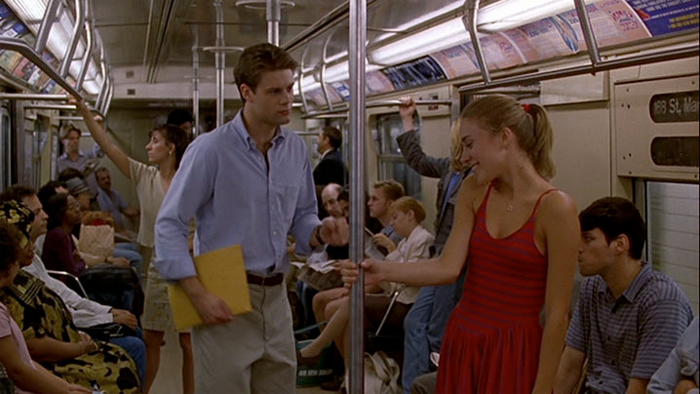 Glad I revisited: HE GOT GAME, LAST DAYS OF DISCO, THE MASK OF ZORRO and SNAKE EYES all held up really well and were exciting to watch again. They were part of my fairly massive retrospective on the summer of 1998. Somehow not being a great summer of movies overall didn't really hamper my interest in reliving it, even though it was kind of a chore to get through GODZILLA. I'm glad I finally tried out ARMAGEDDON again, even though I didn't much change my mind on it. I'd been curious how that would go for quite some time.
I also returned to some movies not from '98, including Stuart Gordon's CASTLE FREAK and John Landis's INNOCENT BLOOD, two somewhat under-the-radar '90s horror movies that I didn't remember much about and that really impressed me this time around. That's how it generally goes with Gordon movies, isn't it?
I usually have a list floating around my desk somewhere of movies that I mention all the time that I can't believe I never officially reviewed. They're often from a little before or early on in my reviewing era, so by definition they're reviews I've been putting off writing for years. OUT OF SIGHT has been literally at the top of that list forever. And WILD THINGS somewhere lower. I hope I did them proud on their 20th anniversary. Tackling movies like that is one of the most challenging but potentially rewarding things I do here.
Even more daunting are the hallowed, iconic classics that have been analyzed to death for decades. Movies that mean so much to me but that are difficult to find something new to say about. I think I did pretty good with NIGHT OF THE LIVING DEAD and oh man I can't believe I finally really did THE TEXAS CHAIN SAW MASSACRE. It must've been hundreds of times that I mentioned that movie somewhere and had to link to a review of a particular DVD release of it. I feel good about what I came up with there. Part 2 awaits.
Also sometimes I like to go back to one I that I have reviewed before but feel is worthy of deeper analysis after it's been around for a while and hopefully I've gotten smarter. I probly had one of the first reviews of BLOOD AND BONE, posted on The Ain't It Cool News under the headline "Vern predicts BLOOD AND BONE will be this year's best picture (direct-to-video category)." Nine years later I love it even more so I honored it with an entry in The Loose Canon.
I also got in one last Village Voice piece before they went away. They were kind enough to think of me for a Steve McQueen/Lee Marvin/Charles Bronson/Jim Brown film series in New York. I hope it wasn't my fault. R.I.P.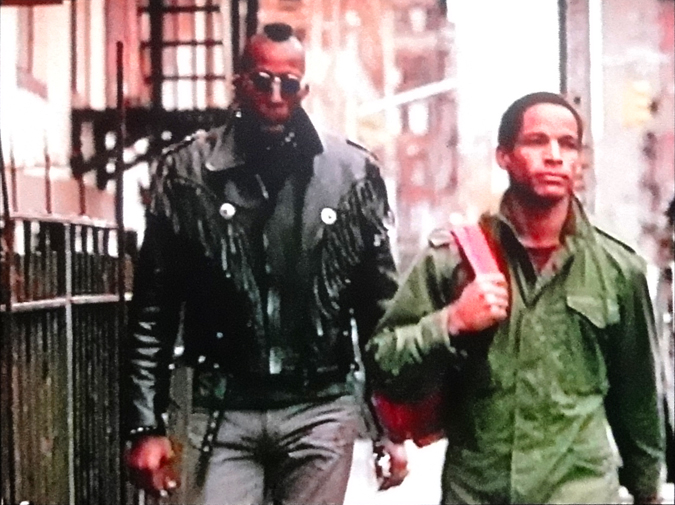 I've never really looked at my statistics before, but I was curious how many new reviews I posted this year. By my count it was 188. 74 of those were new releases in theaters or on video (about 39%). 78 I would broadly categorize as action or crime-ish (41%). 44 were horror (23%). So, about 36% other.
I was proud to discover that I reviewed eight movies that had zero external reviews on IMDb when I submitted mine (FLORIDA STRAITS, TONYA & NANCY: THE INSIDE STORY, JOHNNIE MAE GIBSON: F.B.I., THE CONTRACT, URBAN JUNGLE, BUFFALO HEART: THE PATH OF DEATH, KUNG FU TRAVELER and THE MONSTER'S CHRISTMAS). To give you an idea, when I checked just now CREED II had 156 external reviews. Even an obscure, only on VHS movie like THUNDER RUN has ten reviews including mine. THE BRAIN has 23. FOODFIGHT! has fifteen. So when I stumble across a ZERoIMDb – I never go looking for them – it's a badge of honor. Eight in a year has got to be a record for me.
ZERoIMDb update: I was the first to get to STAR TIME (1991) back in 2012, but it has thirteen external reviews now because Vinegar Syndrome released it on Blu-Ray in March of this year. Maybe I should send them this list. FLORIDA STRAITS might work for them – it's a cool crime-adventure movie starring Fred Ward and Raul Julia. Maybe that's too classy. Actually, URBAN JUNGLE a.k.a. HOMEBOYZ II: CRACK CITY would be more their jam.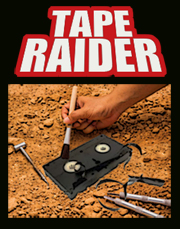 Not un-related, I'm glad I came up with the name Tape Raider for when I review obscure only-on-VHS movies. I'll have to do more of those soon.
I was a guest on two podcasts, The Pink Smoke (discussing the DEATH WISH remake and series) and Zebras in America (discussing all kinds of shit). I probly need more practice to be a good podcast guest, but I really liked those guys and I appreciate that they have continued to treat me like a pal afterwards.
Okay, let's get to the pomp and the circumstance and all that.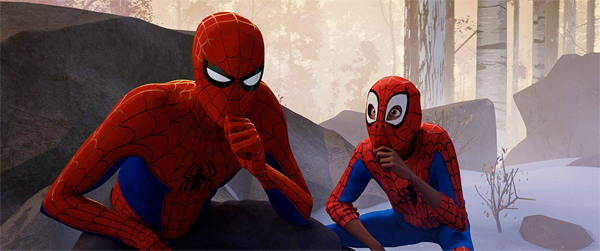 SUPER HEROES: Every year some wise guy tries to suggest that the comic book shit is gonna run its course. But 2018 was an incredible one for this genre. It's amazing to think that AVENGERS: INFINITY WAR was such a gargantuan culmination of so many movies and characters built over so many years, and it was thrilling and surprising and even had one of the first great Marvel villains, and yet it's not even my top super hero movie of the year. I'm not even sure what is, though – either the colorful and moving BLACK PANTHER, the imaginative and groundbreaking SPIDER-MAN: INTO THE SPIDER-VERSE (review soon), or the couldn't-get-the-smile-off-my-face absurd fantasy of AQUAMAN. DEADPOOL 2 and ANT-MAN & THE WASP were also entertaining in a more predictable way, and VENOM gave me a few laughs. So better luck next year, guy who's tired of all those super heroes.

HORROR: A couple of my top movies of the year are genre-straddlers that might be categorized by some as horror. But when it comes to straight-up put-it-on-the-cover-of-Fangoria genre business I feel like maybe I didn't watch enough, because there's not one obvious knockout favorite for me. I pretty much know for sure that the one I'll end up returning to most is HALLOWEEN, but that's as much because of my habit of rewatching franchise horror as it is my appreciation for its strong mood, interesting story approach and characters who I root for.
There's also a chance I'll become obsessed with SUSPIRIA, which was a very enjoyable experience for me because of its combination of atmospheric, sometimes visceral weirdness and headscratching choices that I continued to think about and argue over with people for weeks after. But that's most likely dependent on whether or not a second viewing wins me over to all the historical context that felt extraneous and full-of-shit to me on the first viewing. I can see it going either way.
So I think maybe my favorite is HEREDITARY. I don't have much interest in defending its intentions or decoding whether its mythology makes any sense, which might be a sign that it's not gonna be a personal favorite ten years from now. But what I can stand by are the feelings it gave me as a more original and enjoyable version of the "weird shit happens and then weird shit happens again" formula of everything from popular-ghost-movie-series A, B and C to Lars Von Trier's ANTICHRIST, movies that I don't generally like very much. Here it's nailed in with an Oscar-worthy performance by Toni Collette (xXx: RETURN OF XANDER CAGE), multiple A+ gore freakouts and the willingness to alienate both normal I-just-want-to-see-a-ghost-jump-out multiplex horror people and I-prefer-not-see-much-happen arthouse ones. And I still seem to be in the minority on this but for me and the audience I saw it with it was the rollicking type of horror with several good laughs.
Also A QUIET PLACE was a cool premise well-executed (but I didn't think about it much afterwards), HELL FEST was a good not-self-conscious throwback slasher movie, and if you want to call ANNIHILATION a horror movie I enjoyed its ideas and emphasis on mood and imagery.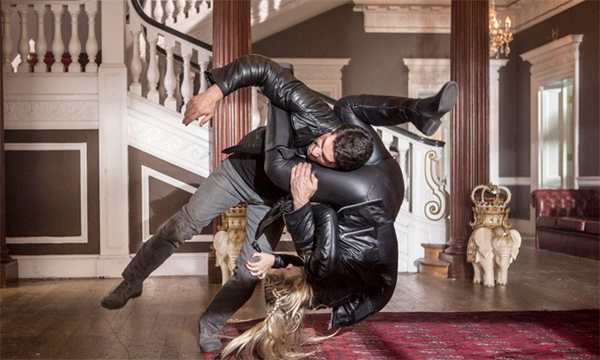 DTV ACTION: In the most important category of favorite direct-to-video/direct-to-on-demand (should we start calling it non-theatrical?) action, I think the towering achievement is the one-two-punch of ACCIDENT MAN and THE DEBT COLLECTOR, both starring Scott Adkins and directed by Jesse V. Johnson. The former, an action-packed comedic hitman movie, is the passion project of Adkins, who co-wrote it based on a favorite comic book of his youth. The latter is also funny but in more of a PULP FICTION vein, a grounded story about low level criminals in L.A., and it's a script Johnson has been trying to get off the ground for years. Both take great advantage of Adkins' previously un-showcased verbal wit and Johnson's increasing skill at both storytelling and stretching low budgets and short schedules to accommodate great fight scenes. ACCIDENT MAN has an impressive cast that also includes Amy Johnston, Michael Jai White, Ray Park and Ray Stevenson. THE DEBT COLLECTOR has an "oh shit I need to pay attention to this guy" turn by co-star Louis Mandylor.
Another one that really impressed me was KICKBOXER: RETALIATION, the first sequel to the sort-of-remake of KICKBOXER where Gabonese-Canadian stuntman Alain Moussi plays the Van Damme character Kurt Sloane and Van Damme himself plays a different mentor character, Master Durand. Part 1 screenwriter Dimitri Logothetis (SLAUGHTERHOUSE ROCK) takes over as director and ups the ante on fight choreography and filmatism. Van Damme continues his streak of fun, weird character actor performances and I'm assuming it was his idea to have Master Durand be blind this time.
And FEMALE FIGHT SQUAD is not technically eligible because it's from 2016, but I only saw it this year. It's not my favorite vehicle for favorite-new-action-star Amy Johnston (that would be LADY BLOODFIGHT), but it's her best acting so far in a solid version of an underground fight ring story, and it's cool that her dad is played by Dolph Lundgren.
Speaking of people who work with Dolph, there's BRAVEN starring and produced by Jason Momoa, who plays a rugged salt of the earth man who lives in the mountains and has to protect his family from a drug gang. There are arrows and flaming axes involved. Nothing original about it but it's one of those pure, personality-based action vehicles that I love so much.
Honorable mention: FINAL SCORE, Dave Bautista's affable low budget soccer version of Van Damme's SUDDEN DEATH.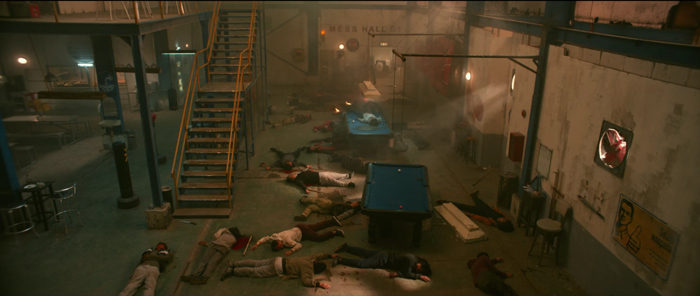 MY ACTUAL FAVORITE MOVIES OF THE YEAR: Timo Tjahjanto's ultra-violent action epic THE NIGHT COMES FOR US is the story of a bunch of killers fighting over a little girl to determine whether or not one guy gets slightly redeemed for all his bad deeds. It's just a masterful showcase of varied and escalating action choreography, fueled by operatic emotions, taking place in a world teeming with colorful characters whose bodies stubbornly refuse to stop going until well after Death sends its final notice. I saw plenty of great movies this year, but none that exhilarated me like this one.
Technically this is a non-theatrical action movie too. For better or worse you need Netflix streaming to see it (unless you saw it at Fantastic Fest). I wish it was on Blu-Ray too.
also…
Coralie Fargeat's REVENGE is probly the most beautiful, poetic and inspirational take we're ever gonna see on the rape-revenge subgenre. I love Jen (Matilda Lutz)'s transformation from discarded toy of a rich asshole to avenging phoenix Rambo without compromising her dangly purple star earrings.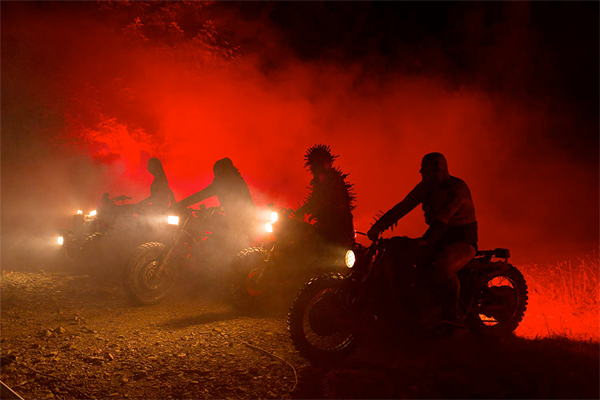 RUNNERS UP: Though I had to adjust my brain antennas for a while to tune into MANDY, its psychedelic imagery and feelings have lingered in there like a cough. I love it for its smart use of Nic Cage's unique talents (especially in that long take bathroom scene) and its respect for the importance of taking the time to get an awesome slo-mo shot of him riding a four-wheeler with a fuckin battle ax on his back. And I saw something profound in Cage's character Red Miller stumbling directly from unspeakable tragedy (feeling his wife dissolve into ashes in his hands) to the absurdity of modern life (seeing a ridiculous boxed macaroni commercial on TV).
And also there's WIDOWS. Topnotch cast and characters in an artfully directed heist drama with so much going on both on and under the surface. I'm not sure why it hasn't gotten more attention. I'm sure people will catch up eventually.
And ROMA. Great.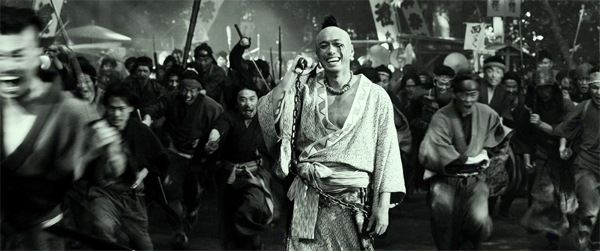 OTHER STUFF THAT EXCITED ME: SORRY TO BOTHER YOU really spoke to me with its working man surreal satire. MISSION: IMPOSSIBLE – FALLOUT is maybe the best of the series, a stunning achievement in summer blockbuster style action. EIGHTH GRADE thrust me into the dangerous world of middle school girl insecurity in the age of Instagram. YOU WERE NEVER REALLY HERE is an unglamorous arthouse take on badass shit. UPGRADE is a clever low budget sci-fi DEATH WISH with some impressive fight choreography. CREED II gave us the souls of Ivan and Viktor Drago. BLADE OF THE IMMORTAL was a fun bloody cartoon samurai massare from Takashi Miike. MANHUNT gave us tastes of the glory of a few different eras of John Woo magic. And ah fuck I have to admit I kinda felt like I had a crush on A STAR IS BORN, what do you want me to do about it?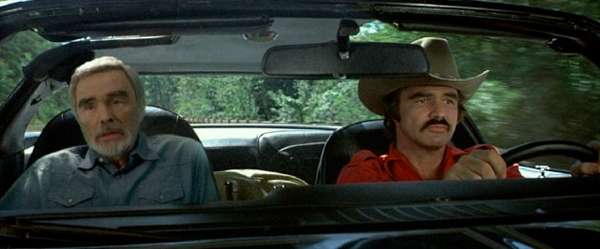 KINDA DESERVED MORE DISCUSSION IN MY OPINION: Maybe if the hip hop biopic ROXANNE ROXANNE was on DVD somebody would see a trailer for it. Instead you just gotta know it exists and look for it in the RAIDERS OF THE LOST ARK warehouse of Netflix Originals. THE LAST MOVIE STAR was a sweet love letter to the career of Burt Reynolds and then he died and people didn't know they had the perfect tribute right there under their noses so they just watched SMOKEY AND THE BANDIT again. TULLY is not my favorite Diablo Cody but man her and Charlize are a good team. SUPERFLY is much more interesting than most people seem to be aware.
* * *
This was a terrible, no account, backstabbing motherfucker of a year, my friends, but it was a good one too. Because that's what we do. No retreat, no surrender. Superior attitude, superior state of mind. Dare to believe you can survive. I ain't got time to bleed. I need time to change. If I can change, and you can change, everybody can change. Dillon, you son of a bitch! etc.
Peace, love and gratitude to all of you, and let's try our best again next year.
your friend,
VERN
This entry was posted on Monday, December 31st, 2018 at 10:17 am and is filed under
Blog Post (short for weblog)
. You can follow any responses to this entry through the
RSS 2.0
feed. You can skip to the end and leave a response. Pinging is currently not allowed.