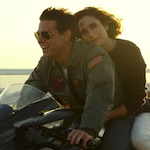 Well, the crazy sonofabitches did it. They made a 36-years-later-part-two to TOP GUN. Tony Scott had actually developed a script and scouted locations before he died. Eventually the duty fell upon Joseph Kosinski, who had previously directed Cruise in OBLIVION (2013) and who ushered in the age of legacy sequels with the 2010 smash hit cultural sensation TRON: LEGACY [This review's factual accuracy is disputed].
I gotta admit that I was unreasonably excited just to hear the electronic beat of Harold Faltermeyer's TOP GUN anthem over the production company logos – I love that synthesized gong sound – and it's kind of comical how much they mine that type of nostalgia at the beginning of this movie. The original opening title card, the original theme, "Danger Zone" by Kenny Loggins, similar footage of jets landing on an aircraft carrier – is this just gonna be a re-enactment?
Then we reunite with Captain Peter "Pete" "Maverick" "Mav" Mitchell (Tom Cruise, THE MUMMY), fittingly working as an experimental test pilot. He dons his old patch-covered leather jacket and aviators (both kept in places of honor as if he understands their iconographic significance) and rides his motorcycle very fast to the hangar.
If this was really about being a challenging work of art and not just nostalgia, it would always move beyond what was done in the first movie, and therefore it would not settle for just the same old driving fast on a motorcycle. In such a work, Maverick would feel the need – the need for doing a wheelie and then going off a jump and doing a flip. Unfortunately Cruise probly insisted on doing the stunt himself and some suit probly told Kosinski it was too dangerous and also just a bad idea for the movie and Kosinski, being a normal person/responsible adult, thought they had a point and decided not to do it. An act of complete artistic/wheelie cowardice.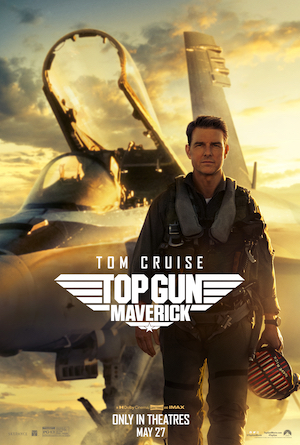 But here's how they make it work even without wheelies. The original TOP GUN is famously set on the highway to the Danger Zone. The sequel has Maverick spending a whole lot of time in the actual Danger Zone. He might apply for dual citizenship by the end. Right here at the beginning his experimental jet test program ("the hypersonic Darkstar scramjet," according to Wikipedia) has been cancelled by a mean old stinker (Ed Harris, ABSOLUTE POWER), so Maverick pulls a total Maverick, does the test run anyway and risks his life to break a speed record nobody including him thought they were anywhere near ready for today. Why not? What's there to lose?
There's an interesting detail, though, that he believes this will end his career but save all the other people working on the project. So he's still the world's biggest show off like when we last saw him, but now he's found a way to do it as a selfless act.
After becoming the new Chuck Yeager or whatever he gets reprimanded and told to clear out his locker because for the first time after so many decades of getting away with being the absolute worst just because he's the absolute best he is finally going to have to face some accounta— whoops, scratch that, Admiral Kazansky has a special assignment for him, he will receive no negative repercussions let alone time in the brig. Maverick, you rascal!
Kazansky is, of course, Val Kilmer's part 1 character, call sign Iceman, who very justifiably objected to Maverick's wildly irresponsible (and in one case fatal) cavalcade of aviatory dick-waggling, and therefore was portrayed as an uptight party pooper. But at the end Maverick managed to pull off a good thing where he only killed the people he was supposed to, so there's a "You're alright, LaRusso!" moment.
I feel it's unearned, but I'm a sucker for fight-brotherhood, so I like that we learn here they have been very close friends ever since, to the point that Iceman has used his clout to keep Maverick from losing his career over all his shenanigans. Kilmer does appear briefly in the movie and I was concerned they would do some kind of bio-digital jazz because of him losing his voice from throat cancer, but they found a nice way to do it.
Maverick's new assignment is to return to the elite flight academy from part 1 and train the best young pilots in the world for some extremely risky business. A mission impossible, if you will. This American made legend is gonna have to teach a few good men all the right moves or they're gonna be collateralled into oblivion and somebody's gonna play "Taps." You see those are the names of some of the Tom Cruise movies is why I wrote it like that.
I think this is interesting because the first film is not really an action movie, it's more about fuckin around with jets and then falling in love and then they have an exciting but very small international incident toward the end. A sequel that small would be disappointing so they wisely took the IRON EAGLE path. Specifically, the plot is kinda like IRON EAGLE ON THE ATTACK (young pilot from part 1, now older, is recruited by old friend to teach young pilots) meets IRON EAGLE II (young pilots train for a dangerous mission to destroy a compound and prevent an enemy from gaining nuclear powers). Of course, MAVERICK has greater production value than the entire IRON EAGLE series combined, but I'm glad they pay their respects to the originator.
Written by Ehren Kruger (REINDEER GAMES), Eric Warren Singer (AMERICAN HUSTLE) and Christopher McQuarrie (JACK REACHER), story by Peter Craig (BLOOD FATHER) and Justin Marks (STREET FIGHTER: THE LEGEND OF CHUN-LI) based on characters created by Jim Cash & Jack Epps Jr. (ANACONDA), MAVERICK unsurprisingly builds off the most notable event in part 1: that time when Maverick was too competitive in a stupid fucking training engagement and got his best friend killed. Now it's kinda awkward because Goose's orphaned baby son has grown into Lieutenant Bradley "Rooster" Bradshaw (Miles Teller, FANTASTIC FOUR), one of the pilots Maverick has to train and possibly send to his possible death.
On one hand they kinda let Maverick off the hook about Goose's death, because we find that he's had a relationship with Rooster throughout his life and the tension we're seeing here is about a different thing that Rooster's mad at him for. On the other hand, Maverick clearly feels guilt about it and fears getting Rooster killed just like he did to his old man. As he says, if he sends Rooster he could die, and if he doesn't send him Rooster will never forgive him. A good dramatic situation.
Obviously this is a pretty similar idea to CREED – the kid following in his late father's footsteps, the father's friend feeling a responsibility to him. It's nice to have that relationship at the heart of the movie. It is different than CREED, though, because it's not TOP GUN: ROOSTER. It's still centered on Maverick. I like how the introduction of the young characters happens while he's sitting at the bar where the pilots hang out (meant to be one of the same ones from the first film, I think). He's having a beer and watching the reboot of his life happening over by the pool table.
It's nice that one of the boys gets to be a woman this time – Monica Barbaro as Lt. Natasha "Phoenix" Trace. But she's one of those characters who's there and gets some lines and then doesn't get to amount to much by the end. The most memorable new character besides Rooster is Lt. Jake "Hangman" Seresin (Glen Powell, SPY KIDS 3, EXPENDABLES 3) who has obvious parallels to Iceman – he's the cocky frontrunner pilot, he has issues with Maverick and Rooster, he comes across as a total dick even though he's right, then they make up at the end.
But there was a little bit where I went from thinking "oh, this guy's supposed to be like Iceman" to thinking all the insufferable smirking and bragging was to make him like Maverick, so Old Man Maverick could have sort of an Ebenezer Scrooge experience here and see his youthful adventures through new eyes. But either I was reading too much into it or they didn't go very far with that. He ends up being kind of a Ryan Reynolds style "ain't I a stinker?" loveable dickhead type character. It works.
But the scene loses me a little when Rooster plays piano and leads everyone in a singalong of the 65-year-old song "Great Balls of Fire" like his dad did in the first movie when it was a 29-year-old song. Is it supposed to be a coincidence, or does he remember that his dad did that one time? Did someone tell him? Even if he knows his dad liked to do that, why would he do it? Who the fuck does the same weird thing with their friends that their dad did with his? If they must have a piano callback, I think they should do a different song. And if it must be a reference, it should be Daft Punk's theme to TRON: LEGACY. Obviously.
The more natural callback/remix part is the famous beach volleyball scene, which has become beach football. I like that they put a sort of KARATE KID spin on it where Maverick is having them do it for training reasons.
The central story of TOP GUN was about Maverick following his teacher into a public restroom and later getting her to suspend good adult judgment and have an unethical relationship with him. Charlie is not mentioned in MAVERICK, and Kelly McGillis has stated publicly that they'd never want her back because she unashamedly looks like a normal person of her age. I know she's right and it's gross but also, story-wise, I don't think that relationship would be interesting to expand on anyway. What I actually wish they would've done (unless she wasn't interested) is have her as one of the superior officers. [UPDATE: I have been reminded she was a civilian, so I guess she'd have to be the school principal or some shit.] Since she's not I can only assume there was a huge scandal over her sleeping with her student and her career was ended but he was given a medal.
Anyway, Maverick rekindles a younger old flame when he runs into Penny Benjamin (Jennifer Connelly, PHENOMENA), mentioned in the first film as an admiral's daughter he (I thought) got in trouble for making a pass at. This seems to offer a different interpretation so that we don't do the math of their age difference and consider the implications. Just like with Rooster, there's a whole history in the interim between movies – they've seen each other off and on over the years, Maverick knows her teenage daughter Amelia (Lyliana Wray, MAXIMUM RIDE) and is confirmed not to be her father (phew).
Penny is a fun character, and she's not as central to the story as Charlie was, but fittingly it's a more mature relationship, and doesn't seem like as poor of a choice for the characters. Also it switches Maverick from trying to impress by peacocking to trying to prove he can be better than he used to be.
There have been many responses to this movie that can only be described as rapturous, both from fans and non-fans of the original. I'm not even sure which of those categories I belong in so maybe that's why I only think it's good and fun and not the best whatever since you name it. I don't think it's one of those sequels that tries to subvert the original – it's not a reconsideration of TOP GUN's glorification of the military and/or douchebags.
Comparing it to the original, I think it's a little less dumb and ridiculous, which could be a good thing, could be a bad thing. And while Kosinski and his regular d.p. Claudio Miranda made a nice looking and well constructed movie with some nods to Scott in its sunsets and stuff, it's not, like, intoxicatingly beautiful. Nor does the music credited to Harold Faltermeyer, Lady Gaga and Hans Zimmer (because Gaga has a song near the end) have nearly the same power as doing it for real the first time. No offense to soundtrack producer Lorne Balfe (

), but there's only one Giorgio Moroder in this world and his name isn't Lorne Balfe, it's Giorgio Moroder. Scott's movie was pure cinema – a combination of visual style and music that was more important than plot or substance (see also: FLASHDANCE, from the same producers. Or TRON: LEGACY, from Kosinski himself.) I don't think MAVERICK matches that.
But there's one department in which the sequel undeniably holds its own and in fact blows the original out of the sky like a bogey, and that's the aerial footage, which was largely shot with the actors flying around in real jets with cameras attached to them. Honestly I have no idea which parts of the movie are visual effects – I assume some things must be, but it all looks real to me. And that's legitimately thrilling at times, even if the flying can't be choreographed as clearly as a special effects dogfight movie like RED TAILS that's basically animation with a camera that can do the impossible. Here the dialogue helps explain what's going on in these ludicrously dangerous looking training exercises, and that's okay. It's a worthwhile trade off for giving us a ride up into the sky.
Oh also there's a pretty intense sailing scene (Penny likes sailing) and I don't think there's any sailing in the first movie so part 2 has the superior sailing scenes.
When it comes to just being an action movie, I much prefer the sequel. I like the training-for-a-mission format, the OCEAN'S-ELEVEN-security-system level difficulty of the task, that the Navy considers it a likely suicide mission and is okay with that but Maverick insists on finding a way for them to do it without dying, and I especially like the oh-so-Maverick way he gets the higher ups (Jon Hamm, SPACE COWBOYS) not to cancel his plans. And the highs of the action intersect with the character drama since it's all about the Maverick-Rooster relationship, and trying to semi-redeem himself for getting Goose killed for absolutely nothing by keeping his son safe doing something really important.
Also, extra points for giving us a little bit of time on the ground in enemy territory even while maintaining the part 1 tradition of never specifying the nationality or region of the enemy or showing any of their faces (the military recruiting movie equivalent of the adults in the Peanuts cartoons or Nanny on Muppet Babies). It's pretty absurd that none of those things are mentioned even in the mission briefings. And I like absurd. So thumbs up to that aspect.
To summarize, this sequel can't quite recreate the same magic as the original TOP GUN, if you agree with me that the magic of the original TOP GUN is complete ludicrousness and overwhelming visual and musical style. On the other hand, it is less stupid, I'm kind of more into the character drama, and it has some incredible jet fighter action. So it pales in comparison but also is way better.
Watching Kosinski's ONLY THE BRAVE right before this might've been a mistake. As much as I liked Teller and Connelly in this, they both have much stronger characters to play in the fire fighter movie, and to me it's a much deeper story about bros and danger and mentors and sacrifice and life. So seeing that and hearing all the superlatives for this maybe I hoped for something more. But without that, this might've been more than I expected. So I can't complain. This is certainly a worthy TOP GUN 2, whatever that could mean.

MISCELLANEOUS POST-SCRIPTS:
If we must rank legacy sequels (as I've seen people doing) CREED is the champion. It's just a perfect movie that builds off of its connection to ROCKY without ever leaning on it hard. It honors the series but stands on its own.
I think STAR WARS: THE LAST JEDI qualifies and I love it for honoring the characters and the world by putting them in new places and expanding on their philosophies.
I am also fond of BLADE RUNNER 2049, I liked THE MATRIX RESURRECTIONS, I suppose DOCTOR SLEEP counts but it's really the less-SHINING-connected stuff that's best about it.
And maybe TOP GUN: MAVERICK hovers somewhere just below those. It's up there. It's a good one.
(Some people include MAD MAX: FURY ROAD which obviously is better than all movies but I don't think it fits this particular category.)

JOSEPH KOSINSKI DIRECTOR TRADEMARK:
*cutting from emotional conversation to other characters seeing that it's happening but not being able to hear it
*Jennifer Connelly spotting someone outside a window looking sad

WACKY BLUNDERS, BLOOPS AND HUMILIATING FUCK-UPS: The opening title card claims "the Navy calls it Fighter Weapons School. The flyers call it: Top Gun Maverick," but we only ever hear it called "Top Gun."

ONE FINAL NOTE:
I hope the blu-ray has an extended version of that end scene where Penny tells her daughter "Can you go in there and get his attention? I'm going to stay here and pose by the car."