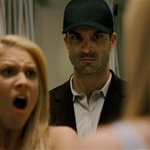 At a glance the PROM NIGHT of 2008 doesn't seem like a remake at all, but more of a re-use of the title. It doesn't take any major elements of the original or its unrelated sequels – there's no children's game turned deadly, no principal's son or masked killer or prom queen burned alive and back as a ghost or evil priest, no Hamilton High or Brock Simpson or even ambiguity about which North American country it takes place in (it's in Bridgeport, Oregon, though filmed mostly in L.A.). It does take place on prom night, though, so I totally get why they wanted that title.
If you look closely it is arguably based on a somewhat forgotten plot point of the original 1980 PROM NIGHT, but if so that detail is now a xerox of a xerox of a xerox of the fifth revision of the 13th draft. The part in question is the original's red herring about the pedophile who was blamed for the sister's death and now has escaped and the police are trying to make sure he doesn't come to the prom for revenge. The remake/"remake" uses a similar escaped lunatic template, but in this one it's ex-teacher turned stalker Richard Fenton (Johnathon Schaech, ACTS OF VENGEANCE) who, three years ago, became delusionally obsessed with his student Donna (Brittany Snow, PITCH PERFECT, BUSHWICK) and murdered her family in front of her. Unlike PROM NIGHT (but like PROM NIGHT IV and their original inspiration, HALLOWEEN) there's no whodunit mystery in this one. He definitely did it, he really is here, he for sure is killing a bunch of people, and we're seeing it.
This is the PROM NIGHT that's most serious about being a movie for teens, and not just ones that are normally horror fans. On one level it's about wish fulfillment. A rich girl (Brianne Davis of CHROMESKULL: LAID TO REST 2 I believe?) planned the prom and her dad paid for her to go tens of thousands of dollars over budget on her "cool L.A. club" theme, which includes crowd-hyping DJ Tyler (Jay Phillips, SEMI-PRO, BABY MAMA), a movie premiere style red carpet and holding it at a fancy hotel (which the kids can somehow afford suites in).
Also they have Jones Soda at the prom. That's a quality soda, and it's based in Seattle, so it's kind of a northwest regional detail. Respect.
Another part of the fantasy is that it's a group of close friends who look and dress very grown up and beautiful and care about each other and with the exception of one boyfriend who's a dick (Kelly Blatz, lead singer of some band called Capra) they don't act like dumb assholes that we're supposed to cheer for the deaths of. And the dick doesn't get as much screen time as the nice ones.
It also spends more time than the other PROM NIGHTs on common stresses of kids approaching graduation, mostly those involving significant others or friends going to schools far away from each other, questioning each other's or their own choices for the future, etc.
I believe I've heard alot of hate toward the movie, and there's certainly plenty not to like, but I suspect some of that comes from it being pitched at straight-laced, popular people instead of the outcasts many horror fans see ourselves as or prefer to relate to. Some of us older horror fans instinctively reject movies that feel specifically for a younger generation, and younger ones feel like it's pandering to the kids at school who they don't like. This definitely seems to be aimed less at dudes who have vast collections of black t-shirts than at groups of young women who will get each other to go and then one of them will get scared and scream and the rest will laugh at them and then they'll start laughing. And this one does have a bunch of pop rock in it (I'm not familiar with any of the musicians, but they include Rock Kills Kid, Tokio Hotel, Plain White T's, Silverspun Pickups.)
Along with that comes a PG-13 rating. IMDb trivia claims it's the first PG-13 slasher movie and says that's "an aspect of the film that was critically reviled by fans and critics alike." I was actually wondering about the rating while watching. A stabbing scene that didn't show the blood made me suspicious, but it also has a disgusting squooshy sound as he stabs a girl over and over and over and over again. To me, seeing Schaech's unfeeling eyes and thinking of him as a grown man obsessed with a teenage girl and seeing him kill thirteen people, mostly with throat slashings, seems as intense as many R-rated movies. It's not like it's for babies.
He goes around the hotel wearing a baseball cap pulled down low like a celebrity trying not to get recognized in public. He's one of those mastermind killers who can seem to vanish out of thin air, and only later does somebody figure out he climbed into a ceiling vent or slipped out disguised as a hotel employee. (I think more hotel employees bite it in this than students.)
Snow looks more normal and unglamorous than you expect for the lead of a slick movie like this, which I like, but she comes off as the most bland and square in a clique of prime time soap opera stars. Her only depth comes from the tragedy and her battle to overcome trauma. But it makes sense if she just wants a boring, stable life with her boring, stable boyfriend (Scott Porter, Rex in SPEED RACER), who's so understanding and supportive I kept wondering if they were gonna have a ludicrous plot twist where he's, like, the teacher's evil son or some shit. (NON-SPOILER: they don't.)
The group of friends includes Claire (Jessica Stroup, THE HILLS HAVE EYES 2, JACK REACHER: NEVER GO BACK) and Lisa (Dana Davis, COACH CARTER), who badly wants to be prom queen just to spite the mean rich girl Crissy. The others scoff at why their smart friend would care about something so superficial, but they're not really considering that in modern America popularity actually is an important survival skill, because how else can you get people to donate to your gofundme when you're sick?
Here's an odd twist on slasher formula that I found interesting. Lisa's boyfriend Ronnie (Collins Pennie, STOMP THE YARD: HOMECOMING) keeps trying to get her to come up to the suite. Standard horny boyfriend stuff. But in the middle of making out she realizes why she recognized the guy in the hallway (hint: not from ROAD HOUSE 2: LAST CALL) and goes to warn Donna. And Ronnie is frustrated not because he has blue balls but because he was about to pull out a ring.
I have many thoughts about this. First, do not get engaged that young. Second, if you do, don't propose at the fucking prom. Third, if you do, make sure it's not a deadly prom where if she said yes and you managed to survive your marriage would be inextricably tied to the massacre of your friends. But I can see why they did it drama-wise. Poor Lisa (SPOILER) dies without knowing that 1) Ronnie was about to propose to her, 2) she was about to win prom queen and 3) Crissy was gonna be really mad about it like she'd hoped.
Idris Elba (GHOST RIDER: SPIRIT OF VENGEANCE) plays Detective Winn, who worries that Fenton is headed for the prom and tries to catch him. It's very nice of him not to tell Donna or be spotted by her so that she can still enjoy some of the prom. And it's definitely wise to fill a generic role like that with such a charismatic actor. He's also credited as co-writer of a song performed by "Mr. Meinnit." What's that about? Is he a rapper or singer or something?
Some other familiar faces pop up. Kellan Lutz (EXPENDABLES 3, ARENA) is another student at the school, Ming-Na Wen (Agents of S.H.I.E.L.D.) has a scene as Donna's psychiatrist, James Ransone (THE AMERICAN ASTRONAUT, KEN PARK) plays another detective, Linden Ashby (MORTAL KOMBAT) plays her uncle, Joshua Leonard (THE BLAIR WITCH PROJECT) plays a bellhop.
I think the quality of the cast (especially creepy-ass Schaech), sincerity of emotions and competent construction of cat and mouse scenes makes for a watchable slick-mainstream-formula-slasher. There are some pretty effective emotional moments – for example Pennie does some legitimately good acting when the hotel is evacuated and he can't find Lisa and gets more and more scared and angry as he asks everyone if they've seen her and not only have they not but they're too preoccupied with everything going on to join him in worrying about it.
But a big weakness is the end. I AM GOING TO SPOIL THE END NOW. Fenton is attacking Donna in her bedroom (where it all began, sort of, seeing her mom murdered while she hid under her bed) and Detective Winn bursts in and shoots him dead. Then he embraces Donna and tells her it's okay but looks suitably disturbed and depressed by the whole thing.
And, I mean… that's it? That's all? No twist or extravagant death or anything, just a police shooting, the end? The only way I can think of to defend it is "well, HALLOWEEN is the classic that inspired the original PROM NIGHT, and that's basically how it ends too." Yes, Michael is trying to kill Laurie in her bedroom and the guy who's been looking for him the whole movie finally catches up and shoots him and she looks for comfort and he can't honestly give it to her because yes, the boogie man is real.
But even for that first time around there's another beat. They look out the window and Michael is gone. He's still alive. He's out there somewhere. Or he's everywhere. Obviously PROM NIGHT can't use that one, that would be horrible. But you gotta have something there. "I shot him, the end" doesn't work, especially when some happy rock music comes up and it goes into dancing outtakes under the credits.
This is the first theatrical feature by prolific TV director Nelson McCormick (V.I.P., Third Watch, ER, Nip/Tuck, The Good Wife, etc.). He followed it with the 2009 remake of THE STEPFATHER, which I thought was fine, though it was much more of a direct remake than this, without matching the original. Writer J.S. Cardone has a long resume that includes directing THE SLAYER and 8MM 2 and writing SNIPER 3, THE MARKSMAN and THE COVENANT, among many others.
* * *
CLOSING THOUGHTS ON THE PROM NIGHT SERIES
According to the wise crowd-sourced scholars of Wikipedia, the tradition of the senior prom is about young people "taking an important step into a new stage in their lives." So it's a perfectly horrifying time to find out that some of your friends will not be available for that next stage. They also quote a book that says that during the McCarthy era "schools became implemented curricula intended to keep youth sexually straight. In effect, schools became fundamentally important agencies in the nationwide campaign to fight homosexuality." So when we hear these stories about schools being assholes about same sex couples or boys who want to wear dresses or girls who want to wear tuxes or whatever, that discrimination may have been deliberately built into the thing.
Therefore it's fitting that the PROM NIGHT sequels use these conservative ideas, with both III and IV having scenes of same sex advances used as threats. But much more than that they express a fear of sexuality in general, a fitting theme for movies about this rite of passage centered around trying to find a willing date, then impress them. For the males in these they then hope to have sex, for the females they mostly make the choice to accept having sex (with some enthusiastic exceptions like part 1's Jude and part IV's Laura).
These are young people dealing with a mixture of biological instinct, societal pressure and worries about adult responsibilities and dangers. In the first one people are killed during sex just by happenstance (or exploitation cliche), but it's fitting because the killer is punishing people for something they did when they were all still children. He cannot let them pass into adulthood without being held to account.
In II and III, promiscuity is the threat in the form of Mary Lou. It's really her meanness that makes her bad, but men are helpless in the face of her seductive powers, and her sleeping around is legendary for generations. Alex seals his doom by giving in to her. He could've said "I'm flattered, but I have a girlfriend." But there's definitely a "Jolene" thing going on here where the men are getting off the hook because Mary Lou's sex powers are like a tractor beam and no one can be expected to escape them.
Though not nearly as fun as the previous movies, IV admirablys goes in the other direction with a slut-shaming murderer and a heroine who, though established to be the most religious and virginal of the group, has made a decision to become sexually active. It feels a little different from other movies about a guy killing sexually active teens because he states his agenda clearly and the movie so clearly favors her and her sexually aggressive friend, who are the only likable characters in the movie. There's no sense of "well, if she had been a good kid that wouldn't have happened."
In the remake, Ronnie's attempt to get married young followed by his would-be-fiancee's murder is a nice violation of that same sex = death slasher cliche. He was trying to follow the traditional rules and it didn't help.
I think it's nice that the values (consciously or not) evolved over the 28 years that the franchise spans, even if the entertainment value peaked way back at part II. And I would argue that the series should continue. The ritual of prom night is so loaded with heavy young-people pressures – the social anxieties of finding a date, the worries of impending graduation and leaving home, the sex stuff – that it can easily be mined for further teen horror for each generation without being repetitive. I would like to see one that deals with, say, a lesbian couple causing controversy at a conservative school, and with protagonists who can't afford limos, or has trouble getting a dress or tux, or can't get a date at all.
But I'll be honest, if I was doing a PROM NIGHT remake I would focus on the disco dancing scene and turn it into a full-on STEP UP 3 style dance movie with beheadings. And I would definitely have somebody get their eyes stabbed out with a corsage, and also with a tiara. I don't think that happened in any of these and I feel like that's unfortunate.