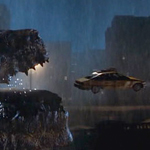 "We got approached with GODZILLA, and Dean was really in favor. I said, 'Are you crazy? Have you seen a Godzilla film? How does the monster look? They put a guy in there.'" –Roland Emmerich
May 20, 1998
Man, LOST IN SPACE was a terrible summer blockbuster, but I was kind of excited to take a look at it because I had skipped it at the time and there was 20 years of curiosity build-up. And there's another one coming later in the summer that I despised at the time, but it ended up being influential and kickstarting an in-my-opinion-bad-but-oddly-fascinating filmography, so I'm looking forward to finding out how I'll feel about it now.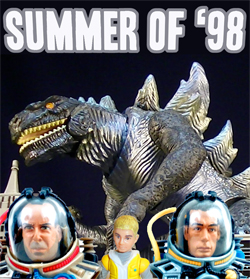 GODZILLA has neither of those factors going for it. I thought it sucked then and it has not grown better or more interesting. Director Roland Emmerich (WHITE HOUSE DOWN) has gone on to make fairly successful (but widely mocked) FX movies, often in the disaster genre. The only significance to this one is that it deflated his premature ascension to blockbuster-A-list after the still-befuddling-to-me smash success of INDEPENDENCE DAY in 1996. TriStar Pictures managed to build up fevered anticipation with a series of teasers that kept the design of the monster a secret. I remember one used the scene where the fisherman runs down the dock as Godzilla's spikes tear through it. The tagline "SIZE DOES MATTER" simultaneously promised thrilling spectacle and giggled "ha ha, you get it, because of penises."
I was skeptical on account of my belief in the auteur theory. I was one of the rare wet blankets who hated ID4 (which stands for "Independence Day takes place partly on July 4th") and as much as I wanted to see a cool modern Godzilla movie I didn't think this guy had the skills to do it. On May 20th most of the world ended up agreeing with me.
Like so many of Emmerich's films with writer/producer Dean Devlin, this is an annoying mix of destruction spectacle and ensemble character drama with relationships worthy of a bad sitcom and shtick that the same show would've rejected. Emmerich loves cartoonish archetypes and accents, so he has Simpsons voice actors Harry Shearer as a news anchor and Hank Azaria as a working class New Yorker cameraman named "Animal." He has Jean Reno (at one point wearing white shirt and suspenders like LEON) as a French spy with a crew named Jean-Luc, Jean-Claude, Jean-Pierre and Jean-Philippe. He has such jokes as "ha ha, nobody can pronounce the main character's last name" and "ha ha, a guy is fishing and then he thinks he caught something but it's Godzilla" and "oh my goodness a guy has headphones on and he's rocking out and doesn't notice Godzilla is about to eat his truck" and "when Godzilla roars he has really bad breath so Matthew Broderick makes a funny face because of Godzilla eats fish," and "you guys you are gonna laugh so hard at this the Mayor's name is Mayor Ebert and he looks like Roger Ebert and he has an aide named Gene who looks like Gene Siskel and the thing about it is Mayor Ebert likes to eat candy alot can you believe this joke you guys this is an amazing joke I have for you all also he gives a thumbs down."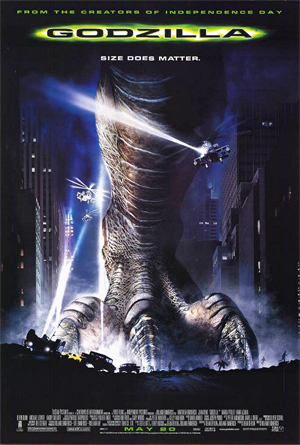 Mayor Ebert and Gene are played by Michael Lerner (MANIAC COP 2) and Lorry Goldman (HERO AND THE TERROR). This bit must've been revenge for Ebert's one-star review of STARGATE. He seems to have panned all of Emmerich's movies, but usually mildly. He compared Ally Walker in UNIVERSAL SOLDIER to Debra Winger, for example, and his INDEPENDENCE DAY review concluded that it's "in the tradition of silly summer fun, and on that level I kind of liked it, as, indeed, I kind of like any movie with the courage to use the line, 'It's the end of the world as we know it.'" So, much like well-reviewed M. Night Shyamalan's anti-film-critic streak in LADY IN THE WATER, this makes Emmerich seem like kind of a baby.
(The joke didn't cause Ebert to be any easier on GODZILLA, but he wrote that "they let us off lightly; I fully expected to be squished like a bug by Godzilla.")
Broderick (THE CABLE GUY) plays Dr. Nick Tatopoulos, a scientist whose mutant worm study is interrupted when he gets snatched up by the government to investigate the giant monster attack on a Japanese fishing boat. The other lead is Audrey Timmonds (Maria Pitillo, TRUE ROMANCE, NATURAL BORN KILLERS), the mistreated assistant to Shearer's news anchor character. She wants to be a journalist and also dated Nick eight years ago in college but ghosted him and now sees him on TV and goes and finds him both to rekindle their love and to take advantage of him to get a story (even though she's not a reporter).
Much like Tea Leoni in DEEP IMPACT she's an aspiring TV journalist who lucks into inside information and is able to use it to advance her career and (though this is not the intent of either movie) she does not seem to be good at the job at all. I think in both cases we're supposed to relate to them and admire their tenacity in putting their feet in the door, but it accidentally creates this idea that women can only prove themselves in this field by coincidentally being in the path of a disaster.
We should note, though, that Emmerich's UNIVERSAL SOLDIER had a female reporter proving herself after a firing by getting a big scoop on zombie-soldiers, so this may not have been an idea specific to what was in the air in '98.
One of Audrey's secret weapons: her friend Animal got the only footage of this "dinosaur" attacking Manhattan. Obviously 9-11 happened only three years later, and there's plenty of footage of that even though cell phone cameras still weren't invented, so we know this is far-fetched.
I don't know what to make of the motif of bosses hitting on subordinates. In the case of Dr. Chapman (Vicki Lewis, PUSHING TIN) hitting on Nick, it's comic relief. In the case of Audrey's boss, thankfully, it's played as sleaze.
Early on Emmerich follows the JURASSIC PARK template, scientists out in nature following a trail of giant footprints, helicopters flying over, conversations happening in the back of speeding Jeeps. But most of the movie, whether in a fishing boat or New York City, takes place in the pouring rain at night. We eventually see the monster when it attacks Manhattan, and on that day in May when the film first unspooled in public the world was collectively surprised and dismayed that this Godzilla doesn't look like Godzilla. It's a big-chinned, hunched over iguana type thing that runs around really fast and hops and stuff. There's alot of computer animation (some of that looks pretty dated now), but I read that they built a 1/6 scale animatronic too, probly when they just have the head close up, because he looks better in those scenes. To me the most memorable shot, though, is a CGI one where he appears to be getting it on with a building.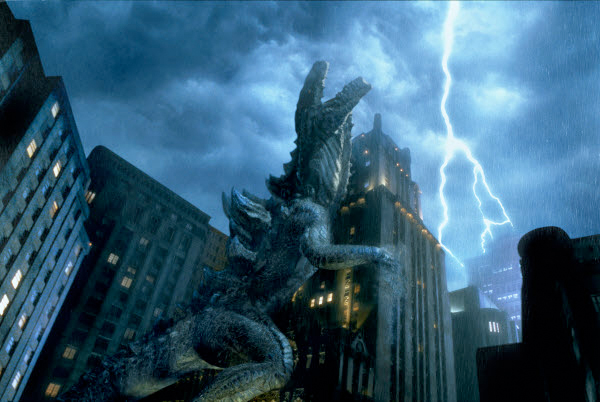 The one original Godzilla feature that Emmerich felt it was important to keep was that the monster was created by nuclear radiation. This is done in a surprisingly hokey way: scratchy footage of Komodo dragons watching a nuclear test. It looks like the American b-movies that the original GOJIRA: KING OF THE MONSTERS already improved upon in 1956.
There's a whole stretch that involves the monster chasing the main characters while they're in a taxi, so Emmerich introduces his love for improbable driving feats that will later be elaborated upon by John Cusack's limo driver character in 2012. A funny part is that Animal is the one behind the wheel but the movie seems to give all the credit to Nick's backseat driving. Godzilla eats the car but before he swallows it the doctor uses his worm expertise or whatever to know the right timing to say "Okay, gun it! Go go go!" so Animal jumps the taxi out of the mouth and lands safely on the Brooklyn Bridge. As long as we can accept that the stupidest shit in Emmerich movies is the fun part, this is the most fun part I think.
A less fun part is the whole long section about Godzilla eggs hatching in Madison Square Garden. Although the entire marketing campaign was based around the tagline "Size does matter," they decided that what people really want to see in a giant monster movie is some small monsters. After this went on for much longer than I had patience for I checked the running time and could not believe I had 40 god damn minutes left!
The way we finally get past the baby part is that they call in fighter jets to bomb the Garden. After much buildup some jets fly in, bomb once, declare it a "clean" run and leave, with no one bothering to check and everyone declaring it all over with. Great work everybody.
I must admit that there are a couple jokes I appreciated in the spirit they were intended. The French spies have to pass for American soldiers, and part of their disguise is to chew gum. Also Reno's character tries to avoid speaking to the real soldiers at a checkpoint but, having no other choice, he disguises his accent by talking in an Elvis voice. And given a wave-through he says "Thank you very much." That did make me laugh.
But then he says "Elvis Presley movies. He was the King," and I wished I could get a refund on my laugh. Don't explain your joke, fellas.
I have one other positive thing to say. The second person on screen is Al Leong (DIE HARD).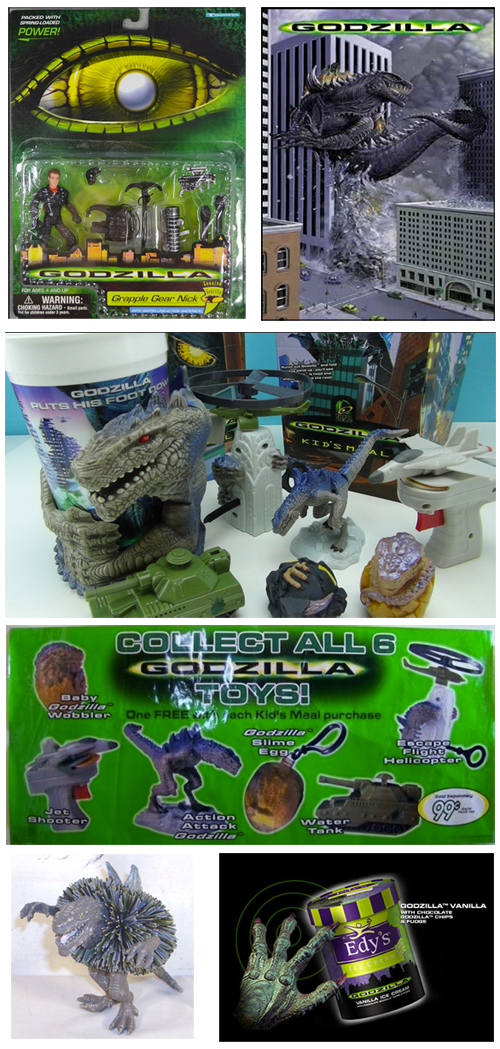 GODZILLA opened big as expected, then dropped off 59% in the second week. So maybe size does matter but stamina is also important? Long after the movie was gone, the crap remained in its wake. There were plush toys, keychains, gumball dispensers, trading cards, banks, bubble bath, shampoo, watches, umbrellas, bedding, towels, rugs, a "KFC Godzilla Monster Meal," plastic Taco Bell cups and cup holders and toys, Edy's "Godzilla™ Vanilla with Chocolate Godzilla™ Chips & Fudge" ice cream, a handheld "Virtual Shakin'" video game, "a monstrously fun game of daring, dodging and squishing!" that included "8 cans of colorful Squish-It dough," another board game called "Godzilla™ Street Stomping™ Game," birthday invitations, "Atomic Glow-in-the-dark HyperHyde Finger Puppets," a pinball game, a 6′ inflatable Godzilla, a limited edition Zippo lighter, a Halloween mask, and many toys and action figures primarily from Trendmasters, the same company that did the hideous LOST IN SPACE toys. Busy summer for them.
I can't imagine many kids were excited for the action figures of the humans with the unnatural poses and giant weapons of the era (Grapple Gear Nick, Capture Net Phillipe, Power Shield Jean-Luc, Rapid-Attack Battle Bike with Godzilla Force Animal, etc.). Personally I think the monster looks better in some of the promotional art than he does in the movie, though they didn't do themselves any favors with that ugly glowing green logo.
Because stores were having trouble selling that stuff, Trendmasters cancelled a second line they'd created for Christmas release as well as one for the more popular animated series based on the movie and starring Ian Ziering as Dr. Tatopoulos.
Being the thorough researcher that I am, I tried to watch some of the cartoon. It has a baby Godzilla that imprints on Nick, then grows and fights other monsters. It has Audrey (Paget Brewster) and Animal (Joe Pantoliano) plus somebody playing the Vicki Lewis character and a French lady that knows Jean Reno. I didn't get to it but apparently Lerner returns as his beloved character Mayor Ebert. I think Godzilla looks much better than he does in the movie, and all of the monsters are well designed and animated, but otherwise it's pretty typical afternoon cartoon shit, so I didn't make it even two episodes in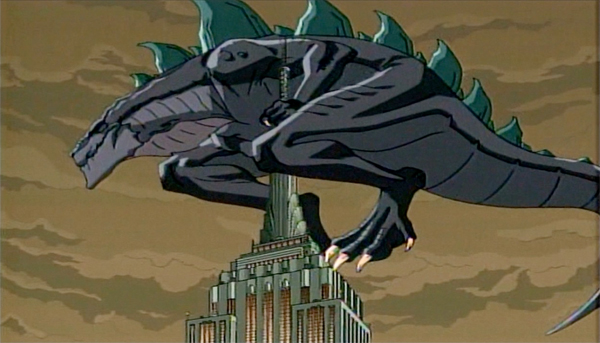 I believed then, and continue to believe now, that they would've gotten away with this movie if they just made it look like Godzilla. It would not have been a beloved movie, but it would've delivered the one thing everyone was looking for: Godzilla fucking up some buildings with post-JURASSIC PARK effects technology. Researching the movie now I wasn't too surprised to learn that Emmerich had a disdain for Godzilla movies and had turned down the project for years until the success of ID4 gave him the clout to do it "his way." That included pushing creature designer Patrick Tatopoulos to "go wild," but the designer already felt "It's more disrespectful for me to alter something existing than to take a fresh new direction. It means 'Oh, your Godzilla is what it is, but we can make it better." So he thought it would be more respectful to make it worse?
Of course Tatopoulos was important enough to Emmerich and Devlin that they named their main character after him. His design also reignited their interest at a time when they were considering backing out of the movie. But I won't hold it against him too much because he was an excellent production designer on DARK CITY and 300: RISE OF AN EMPIRE. He also designed the aliens in PITCH BLACK/CHRONICLES OF RIDDICK/RIDDICK, the robot in I, ROBOT and the monsters in SILENT HILL. He's done some good shit. One of his earliest IMDb credits is as art director and conceptual artist on BEASTMASTER 2: THROUGH THE PORTAL OF TIME. So I like him.
Ted Elliott & Terry Rossio (THE MASK OF ZORRO, SMALL SOLDIERS, PIRATES OF THE CARIBBEAN, THE LONE RANGER) receive a story credit because of an almost entirely unrelated script they wrote in 1993 that Jan De Bont had been slated to direct until he left over a budget disagreement (or, he said after seeing and hating this movie, for wanting to make it in the spirit of the Japanese Godzilla).
His version would've been about a scientist hunting Godzilla for killing her husband, but ultimately accepting him as a defender of Earth. De Bont wanted his eventual TWISTER leads Helen Hunt and Bill Paxton to star. He had a more traditional looking Godzilla fighting a winged monster called the Gryphon (both were designed by Crash McCreery at Stan Winston Studios). Elliott & Rossio had wanted to use Ghidorah until they learned that the character wasn't included in the American rights. Their script contained one particularly brilliant kaiju maneuver that would've been a classic: Godzilla rips off the other monster's head and impales it on the torch of the Statue of Liberty like some savage putting a head on a stake.
When Emmerich came aboard he ditched that script in part because he didn't like monsters fighting. "It's just the same movie over and over again. They always had another monster in it, and I never get anything out of two monsters fighting."
(I read the script a long time ago, but there's great information about the canceled movie here)
Emmerich's non-monster-fighting GODZILLA is that rare movie that makes $375 million but is so universally disliked that they never continued with an intended trilogy. But they didn't give up immediately. In 1999, Emmerich and Devlin did hire Tab Murphy (Disney's TARZAN, Thomas Jane's DARK COUNTRY) to write a treatment for a sequel.
In Murphy's story, Dr. Tatopoulos is "tortured by guilt" for helping kill Godzilla. He views scientists dissecting the monster's body parts in a warehouse, but refuses to take part in the project. Then he finds a "BabyZilla" and helps it escape to the water. Two years later the doctor ends up in Australia tracking this new Godzilla (which nuzzles him because it's imprinted on him) and its brood of "TeenZillas." Also he goes to Monster Island and sees mutant animals. Later Godzilla fights a new monster the treatment just calls "The Queen Bitch." I guess to make up for Emmerich having to direct a monster fight there's also a whole thing about fighter jets dogfighting with giant insects.
To me the biggest headscratcher about the treatment is that it brings back part 1 lead Audrey only to marry Nick right before he's abducted by a Godzilla task force. It actually says "(Note: this is the first and last we see of Audrey)." Instead the female lead is "a beautiful and rugged no-nonsense female biologist" he encounters in Australia. Towards the end he's handed a note that says his marriage has been annulled, which is convenient because then he rescues the biologist and they embrace! I wonder what the fuck was up with that?
TriStar didn't want to give Emmerich and Devlin as much of a budget as they wanted, so the sequel stalled until the rights lapsed back to Toho.
The final days of the Tatopoulos monster were in its birth country of Japan, where it became canon that it was not the real Godzilla. It's just some dumb asshole who's quickly killed by the real Godzilla in Ryuhei Kitamura's GODZILLA: FINAL WARS (2004). Perhaps to underline that GODZILLA '98 represents the worst of American culture, the scene is accompanied by a Sum 41 song.
Kitamura and Shōgo Tomiyama, producer of sixteen Godzilla movies dating back to GODZILLA VS. BIOLLANTE in 1989, claimed to have liked Emmerich's movie, but the producer renamed its monster "Zilla" because "Hollywood's Godzilla is just a normal monster. He's not a God. Hollywood treated Godzilla as a live monster or live animal. They shot him down with missiles and all that."
(Weird trivia: Tatopoulos almost made his directorial debut with BRADLEY COOPER'S THE MIDNIGHT MEAT TRAIN, but was replaced by Kitamura. What does Kitamura have against that guy!?)
Hate for this GODZILLA was so universal that for years it was treated as a scandal that Harry Knowles had given it a rave review. The accusations had to do with him being flown to the premiere by the studio, but they stuck because it seemed so implausible for someone to love this shit. Eventually he conceded that the movie sucked and he had gotten swept away by the crowd and the pageantry of the event.
A new American Godzilla film was made in 2014, also called GODZILLA but using a monster that resembles the Godzilla we know from 60 years of films. It does not acknowledge Dr. Tatopoulos or any previous attacks by iguana-like lizards – a true restarting-the-computer-because-it-was-fucked-up reboot. Though not exactly a cultural phenomenon either, that movie is getting a sequel, not to mention a KING KONG crossover. And each time that Godzilla (or new Japanese incarnations such as SHIN GODZILLA or the animated GODZILLA: PLANET OF THE MONSTERS) stomps its feet it's packing the earth harder over the grave of Zilla. Let's make sure that spot doesn't get struck by lightning or pissed on by a Freddy dog or anything. So long, Zilla. You are not missed.