August 7, 1998
There's this conventional wisdom I've heard thrown around more than once that if you notice a shot being cool then it's not really a good shot. Which is to deny the existence of Brian De Palma. SNAKE EYES is an underrated spot on the De Palma timeline when he had just made a huge hit with MISSION: IMPOSSIBLE and was able to cash in and get big studio resources for a much more purely DePalmian thriller that exhibits 36 chambers of filmatistic showboating.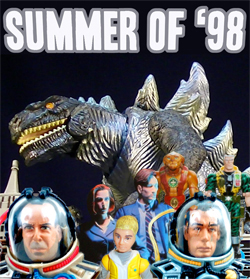 Why not use the suspense thriller format to explore every new or uncommon use of cinematic language De Palma was interested in at the time? Additionally, why not use every new or uncommon use of cinematic language De Palma was interested in at the time to explore the suspense thriller format? There is no why not. This movie is great.
Nicolas Cage, not long after FACE/OFF, plays Rick Santoro, not the stick-up-his-ass homophobe former GOP senator and presidential candidate from Pennsylvania, but an obnoxious, bribe-taking bad lieutenant, port of call Atlantic City, who wears loud clothes, bets on boxing matches, and is gonna have to stop fucking around and be a hero this time. See, Santoro is standing close enough to get blood on him when the secretary of defense (Joel Fabiani, BRENDA STARR) gets shot at the fight. Santoro bulldozes his way into investigating so he can cover the ass of his old war hero buddy Gary Sinise, REINDEER GAMES), who was in charge of security.
In a matter of seconds De Palma has already started setting up the dominoes that you know he's gonna take his sweet time knocking over. The first frames show us the giant metal globe atop the Powell Millennium arena, while the sound effects tell us there's a storm – these two things will figure heavily into the climax. Then it pans down to a billboard that shows us the boxer Lincoln Tyler (Stan Shaw, TRUCK TURNER, ROCKY, THE MONSTER SQUAD, also cousin of Sam Cooke!), tells us that we're in Atlantic City (even that it's September 10th and the match is at 10 pm, if you want specifics) and then a reporter (Tamara Tunie, RISING SUN) tells us that it's the final event before the arena is gutted "as part of Gilbert Powell's Millennium Hotel and Casino." She calls the storm "Hurricane Jezebel" and then they make her do another take pretending it's just a tropical storm (JAWS style tourism negligence).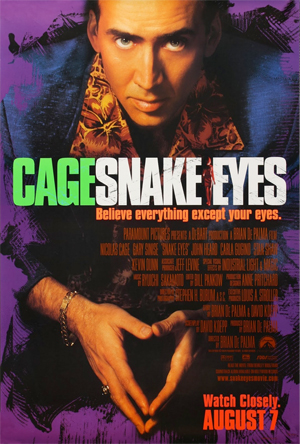 This is all through a news camera, into a movie camera, through a TV monitor – a long take within a long take. After a minute and a half the camera moves to another monitor where we meet Santoro interrupting a broadcast, and then from the screen to the actual guy, who we follow into the backstage area as he interacts with many of the important characters, chases and assaults a guy, almost sees many incidents that will later turn out to be relevant, tries to make a bet, hits on somebody right before getting a phone call from his wife (who is never seen in the movie), walks into the crowd to talk to his friend the straight arrow Kevin Dunne, talk about the old days, watch the fighter introductions… we're ten minutes into the movie and it's still on the first shot.
The entire movie will take place inside or just outside of the arena without feeling claustrophobic, because the place is big and varied in design and full of so many pieces of the mystery. De Palma tips us off to many of those during this shot, zeroing in on them with whip pans and zooms. The conspicuous redhead in the front row (Jayne Heitmeyer, HAWK'S VENGEANCE, NO CONTEST II), the yelling guy who suspiciously has an earpiece (Chip Chuipka, SNAKE EATER III… HIS LAW, SCANNERS III: THE TAKEOVER), the lady in white (Carla Gugino, SUCKER PUNCH) who tries to talk to the secretary.
It finally cuts right before the assassination, when Santoro gets a phone call and then looks – or maybe it's just us that look – toward the back of the stands, where the gunshot is about to come from. The sudden rush of cuts – not fast compared to ARMAGEDDON, but seemingly rapid fire after such a long take – show us the confusion right when it's most important for Santoro to understand what's going on.
Santoro quickly starts trying to determine what happened in those moments, to find out who's behind the assassination. But solving the mystery is not the end game. Once he finds out SPOILER it's his buddy Dunne, he's forced to make a moral choice to really get involved. And that's not easy for him. The woman in white, Julia, turns out to be a defense department whistleblower, and when she tells him Dunne is behind the assassination it goes down about as easy as trying to get Keith David to put on special sunglasses. She just assumes he's a good guy, he'll do the right thing, but he throws a mega-tantrum first.
"You decided to have this problem, not me!"
When she asks him "Who's side are you on?" he says, "My side." And he's so forceful about Dunne being "One of the most honorable dudes on the planet" that he gets her questioning what she knows she saw.
But after a painful werewolf transformation of conscience the sleazy guy that doesn't follow the rules trades places with the honorable boy scout. We know he's a changed man because his friend tries to pay him a $5,000 bribe they negotiated earlier in the movie and he's forgotten all about it. He actually gets in a situation where he could take a million dollars and let everything slide, and he doesn't do it. You know it's killing him by how shakily he smokes his cigarette. He looks at a dollar on the ground that got blood on it in an earlier incident. That's laying the symbolism on a little thick, but I don't mind.
Another good one is when Santoro spits a mouth full of blood on Dunne's ribbons. That doesn't go over well.
Interestingly, Dunne chooses the life of his old friend over two of his soldiers – not necessarily a good thing, but clearly a crack in his protocol. It's just one reason why Dunne is a strong villain. He seems to be acting out of good intentions. He believes this missile shield would've saved the lives of his crewmates when their submarine was hit in the Gulf. But in pursuit of this legitimate goal he's willing to murder the secretary and his own co-conspirators, to work with a terrorist, pay off a corrupt real estate prick, and endanger the very people he's trying to save by pushing the program forward with fake test results. It's a good parallel to some of our bad foreign policy decisions, if they truly are begun in good faith.
About that corrupt real estate prick: Gilbert Powell (John Heard, C.H.U.D.) is not buffoonish enough to play as a Donald Trump analog, but I think he's meant as one. In 1995, Trump had started a publicly traded company called Trump Hotels and Casino Resorts to purchase from him the Atlantic City casinos he had purchased from other people using junk bonds. Trump put his stamp on the casino business with two of his trademarks:
1) plastering his stupid asshole name all over the fuckin place (Trump Plaza, Trump Taj Mahal, Trump Castle, Trump World's Fair) and
2) somehow losing tons of fucking money. On casinos! The company filed for chapter 11 in 2004, 2009 and 2014. Eventually Trump was just licensing his dumb name to them. The Plaza closed, the World's Fair was demolished, the Castle was renamed Trump Marina and then Golden Nugget Atlantic City, Taj Mahal recently re-opened as a Hard Rock Hotel & Casino, where you can see a Michael Jackson glove, a Prince guitar, and a sweepstakes letter that was sent to Kurt Cobain (with his name misspelled).
But at the time of SNAKE EYES they were owned by Trump's company, and according to The New York Times not only were the casino scenes filmed in the Taj Mahal, but they "even used the name of the casino's vice president for security, Richard Santoro." I don't think anyone disputed the film's depiction of the future president's world as a place of crime and exploitation, where everyone cheats on their wives and gives or takes bribes, and previously honorable men, from soldiers to boxers, are corrupted to the core, throwing away their lives on a military-industrial complex scam to make rich assholes richer. The same rich assholes who ignore the deadly storm brewing outside while they watch men beat each other with a missile on display above their heads.
In the end Powell, like Trump, gets away with everything and just has to restructure his company.
This world is so dirty, in fact, that De Palma believes only an Old Testament God could redeem it. In 2013, De Palma told Indiewire about the original ending that the studio made him change after test screenings:
The whole idea at the end of "Snake Eyes" was deus ex machina—we were dealing with such a corrupt world that the only way to solve the problem is to have a hurricane come through and wipe it all away. That was my initial idea. And the problem is that people don't believe in that [laughing]. They don't believe in God looking down from above and saying, "The only way to deal with this is a flood. There's so much corruption here, let's wipe it all away and get an ark out and start from scratch." But it didn't work in the previews so we did this other ending which I don't think is as effective. We did shoot this big wave that swept through the casino but we ultimately cut it out.
I'm pretty sure Santoro is referring to the original ending when he says during the epilogue, "I keep dreaming I'm in that tunnel, underwater, only in my dream I drown." We never saw him underwater. We did get to grit our teeth waiting for the storm to roll the Powell Millennium globe over somebody, in the tradition of waiting for the bucket of blood to drop or somebody to get impaled on a sundial.
It's understandable that they kept that line, because it's in the middle of another impossibly long shot, this one maybe without cheats? The camera pans across the boardwalk to Santoro smoking a cigarette against the railing. Julia walks up and they have a four minute conversation as the camera very slowly zooms in. Behind them a construction crew is working on the arena remodel, and when their conversation ends the camera continues to zoom as the crew works under the entire end credits sequence, until it finally ends on a visual punchline to the whole story.
I mean, De Palma uses the whole bag of tricks on this. There are flashbacks when people tell their stories – sometimes they start out subjective and then switch. We see Tyler's POV when he overhears a conversation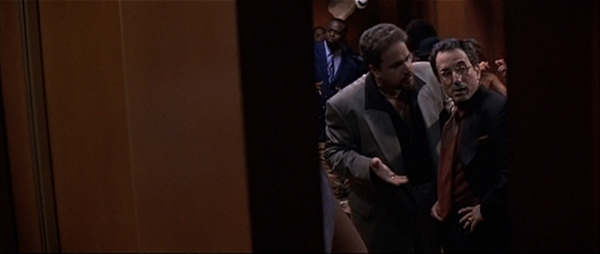 and Dunne's when he's distracted by cleavage. (Allegedly. The story turns out to be bullshit.)
We see their stories intersect with that long opening shot, so we're inside a room looking out at Santoro looking in back then. Julia's story even shows her witnessing something that was in the background of that opening TV shot. When we see from her POV in the presen it's blurry because she lost her glasses during the assassination.
De Palma also uses the theatrical conceit of cross-section sets, so the camera can travel through a wall into a room or, most spectacularly, over a series of rooms looking down into them, showing couples and parties and even a little update on the secretary's status from a TV.
Of course he has his masterful suspense sequences, cutting between opposing forces as they move toward a collision. There's a great moment where Dunne is sneaking up behind Santoro, but he's revealed when a flash of lightning projects his shadow on to the wall.
And yes, De Palma even uses split-screen, showing two new perspectives on an event we saw previously.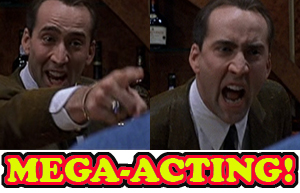 So it's a De Palma vehicle first, but it's also a good Cage showcase, that weird thing where you accept him as an action hero while he acts nothing like an action hero. He gets to be mega on occasion, and the character has that unique Cage humor. I love the scene where he interrogates Tyler, who threw the fight and admits it because he's so embarrassed about having to go down to a guy who "fights like a bitch." Santoro tells him it's fine if he pays him back the $10,000 he lost betting on the fight "plus 500 for shaming the ring."
The two characters share another great scene when Tyler has sold out again and, in his capacity as somewhat reluctant muscle, has to give Santoro a beating. I love that Santoro's patheticness makes Tyler feel bad.
"Why don't you at least try, man?" he asks. But he is trying.
Because he's Cage, we sympathize with this goon who probly has a bunch more good deeds to do before we can consider him a good person. Maybe Ricky Santoro should be a role model for Trumpworld's cast of flippers and informants, the compromised weasels who have been cornered into an opportunity to help make some of this right. Michael Cohen's never gonna be this charming, but he doesn't have to know that.
Signs that this is a normal blockbuster type movie: It's written by David Koepp (JURASSIC PARK, SPIDER-MAN, INDIANA JONES AND THE KINGDOM OF THE CRYSTAL SKULL). It won "Favorite Actor – Suspense" at the Blockbuster Entertainment Awards.
Sign that it's not: the score is by Ryuchi Sakamoto,
Cinematographer Stephen H. Burum shot several other De Palma films beginning with THE UNTOUCHABLES. Other visually interesting movies on his resume include RUMBLE FISH and THE SHADOW. I would like to mention that he also shot UNCOMMON VALOR and the dull slasher movie DEATH VALLEY.
SNAKE EYES got mostly bad reviews at the time. Roger Ebert gave it one star and called it "the worst kind of bad film: the kind that gets you all worked up and then lets you down, instead of just being lousy from the first shot." He goes on to mostly make it sound good, which is accurate.
It made about $103 million worldwide, but the budget was $73 million, so it was not a big success. Too bad, because imagine a world where it becomes a franchise like MISSION: IMPOSSIBLE. I would love to know what John Woo's SNAKE EYES 2 would've been about.
Summer of '98 connections:
As in OUT OF SIGHT, Luis Guzman plays a low-level criminal who gets comedically roughed up by an officer, though in this case it's for corrupt reasons – something about him owing Santoro money. (And of course Gugino would go on to play the TV version of the character who roughed him up in the previous movie.)
Kevin Dunn, the dad from SMALL SOLDIERS, Colonel from GODZILLA and Hidalgo from un-reviewed ALMOST HEROES, plays an interviewer from the pay-per-view broadcast who, like characters in both DEEP IMPACT and GODZILLA, sees the tragic circumstances as a scoop that he can use to become an on-air reporter.
And we also revisit THE most important theme of Summer of '98 cinema. As in DIRTY WORK, DR. DOLITTLE and BASEKETBALL, there is a Mr. T/ROCKY III reference when Tyler's agent tries to stop Santoro from calling the boxer by his first name.
"You know what, I think it would show my client more respect if you call him Mr. Tyler."
"I'll call him Mr. T!" Santoro weirdly taunts. "And now he can beat Rocky Balboa if he wants."
I'm telling you, '98 was the most ROCKY III summer since '82.