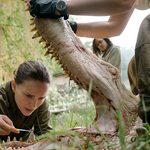 In ANNIHILATION, the sophomore directorial work of Alex Garland (EX_MACHINA, also author of The Beach and screenwriter of 28 DAYS LATER, SUNSHINE, NEVER LET ME GO and DREDD), Natalie Portman (LEON THE PROFESSIONAL) takes a journey into the heart of weirdness. Her character Lena is a cell-loving ex-Army biology professor at Johns Hopkins University (also the alma mater of Gil Scott-Heron, Wes Craven and Wolf Blitzer) whose presumed-K.I.A. husband Kane (Oscar Isaac, SUCKER PUNCH, THE NATIVITY STORY) suddenly shows up alive and odd and unable to explain anything. Sort of like the also mourning Amy Adams character in the also brainy-adapted-from-an-acclaimed-novel-sci-fi-movie ARRIVAL, she's taken to a site (Area X) where soldiers and scientists face an unexplained, unprecedented phenomenon. In this case it's not a spaceship but a sort of slowly expanding spectral bubble they call "The Shimmer" that surrounds a chunk of land and no one who has entered it has ever come back out. Until Kane.
Lena manages to get herself on the next mission, though she hides her personal connection from most of the team (much like Padme hid that she was Queen Amidala when she went to Tatooine). Psychologist boss lady Dr. Ventress (Jennifer Jason Leigh, EYES OF A STRANGER, FLESH + BLOOD, MIAMI BLUES), tough paramedic Thorensen (Gina Rodriguez, DEEPWATER HORIZON), physicist Radek (Tessa Thompson, CREED, THOR: RAGNAROK) and geologist Sheppard (Tuva Novotny, ID:A) make a strong squad of scientists who, like anybody in an ALIEN movie, seems to have had some amount of gun training as a job prerequisite (though Lena clearly has the most experience in that).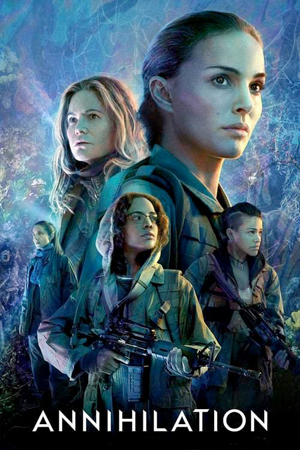 Big surprise, but their radios and compasses and shit don't work inside The Shimmer. So much for live-Tweeting this. They have blackouts, messing them up from the beginning. But it just looks like peaceful, quiet nature and abandoned places. Hey, maybe nobody comes back because they're having so much fun camping? Is that too optimistic?
At first the oddities are small things, like "This cabin is kind of tilted and has water in it" or "Hey, these are a bunch of different types of plants but they're growing from the same stalk." But the further in they trek the less normal shit gets, the more the DNA of everything gets fucked up, the shakier reality gets. Even the story structure of the movie dissolves (see also SUNSHINE).
They see rainbow colored mold and moss that they compare to tumors. Walls are covered in white something or other that looks like roots that look like veins that look like bones. There's a profound trip into a butthole cave, just like in THE LAST JEDI. (I suppose most people will say it's vaginal imagery, but I'm leaning butthole.) At some point a tattoo transferred from one character to another but that doesn't seem that weird by the time you see the veiny penis lighthouse. How ya gonna keep 'em down on the farm after they've been to the veiny penis lighthouse?
There is danger. There are animal attacks. Those present two layers of terror:
1) I'm being attacked by this animal
2) Holy shit this animal was made wrong
A normal bear would be just as dangerous, but a bear that has half its skull exposed and keeps emitting the dying screams of your recently deceased friend is gonna leave an extra emotional mark if you manage to escape physically intact. Which you won't, necessarily. There's a half a second of exposed jaw that I believe would be on the cover of Fangoria right now if it was being published. One of those beautiful "where is that in the movie?" stills they used to excel at finding.
By the way, Fear Bear would make a really good talking teddy bear, and I wonder if they've considered rebooting Yogi Bear with The Shimmer instead of Jellystone Park and Lena as the ranger?
I'd like to think that as I get older and gain the wisdom of experience and the freedom of not giving a shit that my third eye will finally come in, my brain'll sprout some beautiful butterfly wings and I'll be more open to the surreal and unexplainable. But so far it seems like I'm going the other direction, turning more literal, wanting more structure and graspable meaning, less weird for weirdness' sake, which I used to think was subversive because it made people uncomfortable – people like the one I'm turning into.
ANNIHILATION tips a little to the who-knows-what-thefuck-it-means end of the scale, but it doesn't lose me. I still got enough of a taste for a sci-fi with a splash of that Zarathustra juice, that starchild amniotic fluid, that 2001 light show melted down into a liquid that gets in the camera and makes it film scenes that are about the mood and tone and feeling of evocative imagery more than dumb old human logic that can be explained in words. There's stuff here that's beautiful and creepy and beautiful-creepy. There is spectacle, but not the type where a laser cannon fires into a building on the side of a cliff and then everything cracks and crumbles and the hero jumps out and the camera floats around him and he falls in the water and all the flaming debris is falling past him and the camera looks up through the surface of the water at the light of the explosion or whatever. I'm talking about the kind where a beloved actress spews light from her eyeballs and glows from within and stretches out and creates a faceless being that looks crudely formed of cracked metal that mirrors another character like an acting class exercise. Surely one day every American will have to deal with a shimmer twin, but until then this is pretty weird shit.
ANNIHILATION is based on a 2014 novel by Jeff VanderMeer. Garland said he intentionally only read it once, so it must be a very loose adaptation. There are two other books in the "Southern Reach Trilogy" and he hadn't read those yet either. So far of the people I've talked to, everyone who has read the book didn't like the movie and everyone who hasn't did. I haven't read the book.
It's good whenever there's a sci-fi movie that doesn't quite fit the usual templates. I suppose this one is similar to ALIEN (and PROMETHEUS and COVENANT) in that it's a team going to study a weird place they don't understand, finding evidence of the disaster that befell the last people there. But the setting and overall feel are different enough that that didn't occur to me while watching it. It lures you in by playing like a normal mainstream movie but eventually it's gonna a get a little UNDER THE SKIN. The score is by Ben Salisbury and Geoff Barrow, the same team who scored EX_MACHINA and made the cool rejected score for DREDD that was released as the album Drokk: Music Inspired By Mega City One. It starts with a gentle guitars but its DNA mutates into an ever growing wall of digital drones and blorps that are as much of a reason to see this in a theater as the blinding space-odyssey-on-land visuals. I felt like the vibrations in my ears and ribs were as important as anything else in the movie.
(In most countries, unfortunately, it skipped theaters on account of weirdness, and just came out on Netflix.)
But there was one great sci-fi movie it kept reminding me of. With all the extravagantly grotesque misshapen flesh on display, and not created digitally as far as I could tell, I couldn't help but think of THE THING. But THE THING is an all male team of scientists investigating something weird and, as Lena notes here, she's on an all female team.
That's significant because it's part of why they behave differently than the fellas of THE THING. They don't just get screwed over by being in the wrong place at the wrong time – they choose to go there, from a mix of curiosity and self loathing. This is a suicide mission, and they're not doing it because they're macho. They're doing it because they're suicidal.
For the most part they don't have the same paranoia and distrust as in THE THING. I'm not sure it's cool that the character specified as a lesbian is the only one that does flip out and tie the others to chairs. I guess the reason could be that she's the one with the most traditionally masculine qualities.
SPOILER: The ending is kind of a reflection of THE THING also. But instead of two people waiting and wondering if one of them is The Thing, and not really knowing, it's two people figuring yeah, we probly both are The Thing, aren't we? Heh.
As life goes on, people change. They become different people. Literally, they are a different set of cells. Figuratively, their experiences change their personalities, whether it's going off to war, starting a new career, being apart, or just growing. Here are a husband and wife who have become different people. But they still have each other. I thought it was kinda nice.
P.S. I recommend this very personal Vulture piece by Angelica Jade Bastien about ANNIHILATION's depiction of depression.
This entry was posted on Monday, March 12th, 2018 at 11:04 am and is filed under
Reviews
,
Science Fiction and Space Shit
. You can follow any responses to this entry through the
RSS 2.0
feed. You can skip to the end and leave a response. Pinging is currently not allowed.