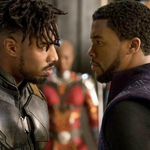 (SPOILERS)
BLACK PANTHER is the first Marvel movie I was anticipating mainly because of the director. FRUITVALE STATION was very good, but of course it was CREED that made me think Ryan Coogler is one of the most promising young directors we have. Best and most miraculous movie of 2015 that didn't star Charlize Theron with a robot arm. I'd be up for whatever Coogler wanted to do next, but this seemed like a particularly good match for him after CREED's mix of moving personal drama, immaculate filmatistic style and 21st century pop mythmaking.
#2 reason: Chadwick Boseman. The guy playing the title character shot to the top of my most exciting actors list when I saw his incredible performance as James Brown in GET ON UP. I didn't know how anybody could pull off playing The Godfather and here is this actor I barely heard of before transforming himself into crazy old man James Brown, young James Brown, all kinds of James Browns. And dancing and strutting and grunting and referring to himself in the third person and pulling it off. He didn't get all that much acclaim for it, definitely not any awards – somehow he got to skip that step before becoming a super hero.
If you want to call him that. T'Challa isn't a vigilante or anything, he's the King of Wakanda, a culture where part of the job is getting supernatural strength and wearing a panther costume to defend the kingdom. It's like if the president also had to be Superman. What's cool about this is that Black Panther has to think about things none of his peers do. He has to be a symbol much like Captain America, but with the responsibilities that Thor skipped out of when he turned down the throne. Here he's challenged to not only defend his rule from a dangerous usurper, but convince his people to shift the direction of the country in order to make a better world.
Okay, it's not all politics. He gets to act like Batman or The Shadow – I thought of BATMAN BEGINS when he terrorized slavers in a Nigerian jungle, attacking from the shadows, lit by the strobe of muzzle flashes. And he gets to be James Bond – he stays in his night-on-the-town clothes when they go in to interrupt a CIA/arms dealer meeting at a casino in Busan, using disguises and radios and gadgets.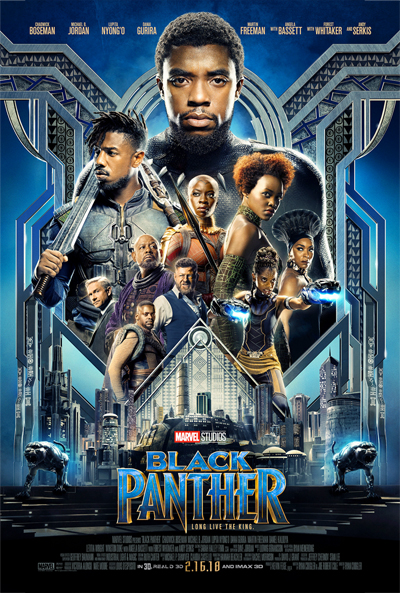 Boseman is great – thoughtful, regal and cool, developing his own fighting style and a fictional African accent he says he designed to be absent of colonial influence. But he's only one of the many exciting stars of this movie. I'm not even sure which is my favorite between him, Nakia (Lupita Nyong'o, NON-STOP), his secret agent crush who's introduced undercover with kidnapped village women in Nigeria; Okoye (Danai Gurira, Michonne from The Walking Dead), head of his squad of bald female bodyguards the Dora Milaje; and Shuri (Letitia Wright, THE COMMUTER), his little sister and his Q, head of technology and of giving the king shit. It's probly the most loaded ensemble in a super hero film outside of X-MEN or THE AVENGERS, and it's the only one dominated by women. (Even WONDER WOMAN had all-male backup once she left the island.)
These are all great characters, so I guess if I was forced to choose one favorite it would not be a person, it would be the land of Wakanda, conceived by comic book legends Stan Lee and Jack Kirby and developed over the years by writers including Don McGregor, Christopher Priest, HOUSE PARTY director Reginald Hudlin, recently Ta Nahesi Coates, and now Coogler and co-writer Joe Robert Cole (two episodes of The People vs. O.J. Simpson). The history of Wakanda, laid out in an animated storytelling intro, gives the movie more of a LORD OF THE RINGS epic fantasy appeal than THOR was able to pull off. Five tribes settled on top of a crashed meteor of vibranium, the rare metal used to construct Captain America's indestructible shield and power a whole civilization's worth of hyper-advanced technologies. But they hide their kingdom from the world to protect their resources and their peace.
Is there a precedent for an African Utopia in cinema? COMING TO AMERICA is the closest thing I can come up with. Admittedly, Wakanda is a warrior culture, they worship a giant panther, feed their king magic glowing flower juice to give him super-strength, and allow opportunities for individuals to take the throne through ritual combat. There is some disagreement between some of the tribes. I love the character M'Baku (Winston Duke, Person of Interest), leader of the gorilla-themed mountain tribe, who disagrees with the direction of the country but is an honorable ally. In the comics I believe he's more of a super villain in a funny looking "Man Ape" costume, here he's very likable and he reminds me of the clans in THE MAN WITH THE IRON FISTS. (Note: that's a compliment!)
But until the conflict of this movie the Wakandans are at peace and, using vibranium, have made futuristic advancements in flying vehicles, floating trains, power suits, and anything else you might want. Born into the privilege of the royal family in this culture, Shuri is a teenager who invents tech worthy of Tony Stark and, just for fun, performs surgeries that I'm not sure pre-accident Stephen Strange could've pulled off.
There's a particularly powerful moment when a character refers to his ancestors on slave ships. And it forced me to wonder whether that meant Wakandans had been enslaved. I decided no, that's impossible. Nobody could've gotten away with that. That's the dream of Wakanda. That's how much they can't be fucked with.
I don't know the name of the Wakandan metropolis we see, but it's my favorite part. The architecture is future-African, the fashion involves vibrant colors and prints. There are traditional robes and hats combined with modern urban touches. It's a land where Africans have been allowed to prosper without the influence of colonialism (note the natural hairstyles). Even in this blessedly candy-colored era of Marvel films (see the pinball inspired GUARDIANS OF THE GALAXY VOL. 2 or the rock album cover based THOR: RAGNAROK) I think BLACK PANTHER has the most beautiful costumes of any of them, so credit is due to designer Ruth E. Carter, who has done most of Spike Lee's movies starting with SCHOOL DAZE, not to mention both I'M GONNA GIT YOU SUCKA and BLACK DYNAMITE.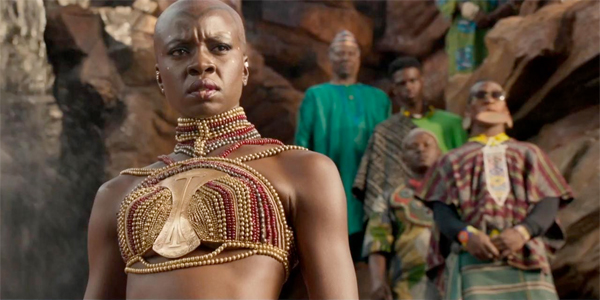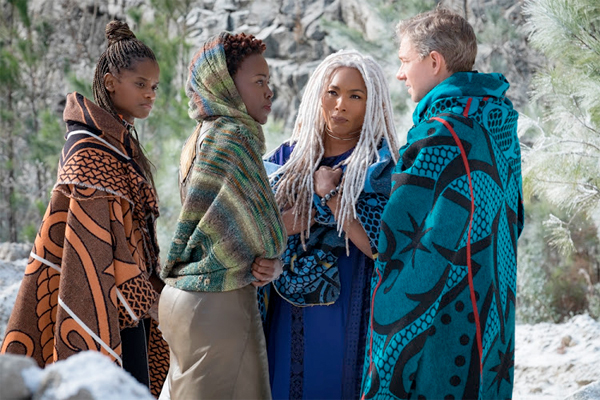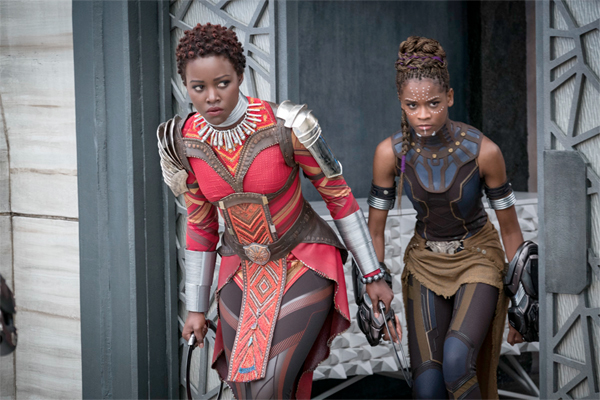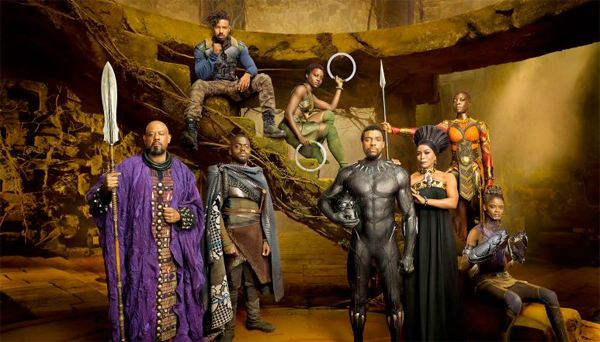 I saw in some comments here that some people think the action is poor. I feel unable to fully assess, having been sitting too close to a large screen. There definitely are some frenzied skirmishes, but even from my disadvantaged viewpoint I didn't think it was messier than THE WINTER SOLDIER, which nobody besides me seemed to have a problem with, and I was impressed by the inventiveness of the car chase in Busan, the rhinoceros battle, and especially the long take of Okoye fighting in the night club before doing a BLADE II cgi backflip down the stairs.
In general, the best super hero movies have some fun FX-based action, but not of the type I live for in action movies. For me the story and characters are going to have to do the heavy lifting because when has a super hero ever had a knock-you-on-your-ass set piece like ATOMIC BLONDE or something? The only candidates that come to mind are Nolan's Batmobile chases. I suppose not having those expectations I suppose makes me go easy on the two challenge fights, which it's reasonable to think could be as good as we expect from our DTV movies, particularly since Coogler shot such outstanding boxing scenes in CREED.
Second unit director/stunt coordinator Darrin Prescott did the same for JOHN WICK 1 and 2 and DRIVE. Fight coordinator Clayton J. Barber was choreographer for BLADE II as well as stunt double for Nomak (and for Frost in the first BLADE). Boseman trained with Marrese Crump, a martial artist who made his debut in Demon Dave DeFalco's WRONG SIDE OF TOWN. Crump was also in TOM YUM GOONG 2 and was RZA's stunt double in THE MAN WITH THE IRON FISTS 2. And I predict this is the only BLACK PANTHER review that separately references both MAN WITH THE IRON FISTS movies.)
This will probly be the first Marvel movie that I see twice in theaters, so I'll try to pay more attention next time. But here's a video with clips that support my memory of a good action scene with cool camera moves, and shows Coogler's attention to symbolic visual details.
I like that some of the Marvel pictures have a little bit of a political idea in them. For example THE WINTER SOLDIER has some information/surveillance state stuff in it and RAGNAROK has an immigrant/refugee motif going on. But those are just little things they throw out there to ground the fantasy in real life. BLACK PANTHER is the first one that felt to me like it was truly about an idea like that. Erik "Killmonger" (Michael B. Jordan, RED TAILS) is a secret cousin of T'Challa, left behind in Oakland after a disastrous spy mission, wondering why the people of his father's wealthy homeland don't lift a finger to help people like him. His plan is to seize power and distribute Wakandan weapons to the oppressed peoples of the world. He genuinely thinks he's doing the right thing, he has a legitimate way to accomplish it and many agree with his goals.
He's also a jerk. According to his scars, he has killed thousands of people in his black ops missions – those can't all be people who deserved it. He shoots his own girlfriend when Klaue (Andy Serkis, WAR FOR THE PLANET OF THE APES) takes her hostage, he burns the flowers that would empower future kings, and doesn't care when it turns out the challenge that put him on the throne was incomplete. So he's a militant, a revolutionary, an angry guy with a point, but a tyrant and an interventionist whose plans would make the world even more violent and dangerous.
I agree with T'Challa that they shouldn't just flip colonialism and be the aggressors now, but Erik is right that it's not fair for Wakandans to hide and protect their prosperity and technology when they could be using it to help others. He and T'Challa's last scene together (reminiscent of a scene in BLADE II, I feel obliged to note) is seriously moving shit. He never drops the bitterness, but you have to respect how he goes out with his head held high. And by revealing to T'Challa the ugly truth of his father's betrayal he changes the king's entire world view. T'Challa comes to understand that people with privilege or success or prosperity should reach back to lift up those behind them. And they start symbolically in Oakland, the home town of both Killmonger and Coogler.
(And Too Short, who's on the soundtrack. And MC Hammer, who's not.)
When T'Challa unveils the real Wakanda at the U.N. it reflects Tony Stark outing himself at the end of IRON MAN. He was gonna redeem his past misdeeds by flying around in a metal suit helping people. Wakanda are going to do it by working to share their technology and resources with people all over the world. Arguably a stronger plan. (Also the opposite of our ruling party's Fuck All Y'All agenda, so if Trump fans saw it they would get offended even if they don't get that when T'Challa prefers bridges to barriers that's a synonym for walls.)
I'm sorry everybody, it may seem like this review is wrapping up, but I got more. So I want to offer you an intermission. Feel free to press play on this X-Clan song, get up and get a snack, stretch your legs. etc.
WELCOME BACK ! By the way, the intermission song doesn't have anything to do with the movie except that I was happy to see two Public Enemy posters hanging in the apartment of circa-1992 Wakandan-Americans, and then I thought it would be cool if they also had one of X-Clan.
Which reminds me to mention that music is very important to this movie. For the score, Ludwig Goransson recorded with musicians in Senegal and South Africa, creating a drum and chant imbued sound unlike any other super hero movie (but with hints of CREED's soaring theme at times). Kendrick Lamar did very good original songs and a whole "Songs From and Inspired By" album, something new for a Marvel movie. For part 2 I hope they get some Fela Kuti or something in there, or maybe some Ethiopian funk.
One of the trailers sampled Gil Scott Heron's "The Revolution Will Not Be Televised." As someone pointed out in the comments here, Heron's song was most certainly not about selling a corporate product, and I imagine he would've been disgusted by the idea. But I also believe that within pop culture the very existence of this movie is a revolution. There have been black super heroes before, there have been black movies before, but there has never been a display of black excellence on such a gigantically mainstream, blockbuster motion picture event level. We have never seen such a cast of great black actors (I haven't even mentioned Angela Bassett, Forest Whitaker, Daniel Kaluuya, Sterling K. Brown or Isaach De Bankole!), led by such an outstanding black director, with a black co-writer, costume designer, etc., splashed across Imax screens. And its box office records have already obliterated the oppressive Hollywood conventional wisdom that movies with black leads can't play internationally, that black-themed movies have a limited audience in the US, that black actors besides Denzel or Will Smith can't open an expensive movie.
And as much as I love blaxploitation swagger, it's significant that this character is not that, he is dignified and aspirational. And African! This is not just an important moment for African-Americans, it's the biggest movie to ever depict Africans, and with much of its cast born in Africa (Wright, Duke, De Bankole, John Kani [who plays T'Challa's father]) or whose parents were (Nyong'o, Gurira, Kaluuya).
And man, does it make Africans look cool! Earlier when I tried to describe Okoye I was shy about mentioning her signature weapon because of derogatory stereotypes that dumbass racists have. It's great that the Dora Milaje spend the whole movie kicking ass with spears and that never occurred to me. The Black Panther mythos say fuck you, spears are badass, we're using them.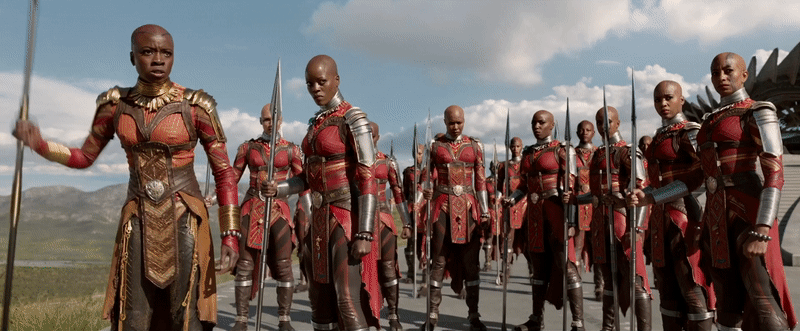 Wesley Snipes tried to make a Black Panther movie back when Marvel was bankrupt and their best movie ever was the Dolph version of THE PUNISHER. Before he even did BLADE, in other words. It would be amazing to see what that movie would've been like with him wearing purple spandex and doing his martial arts and punching super villains in the era of THE PHANTOM and THE SHADOW.
He kept trying even after BLADE TRINITY, and then when Marvel Studios came about they took their sweet time with their version. In 2007 they tried to get John Singleton. In 2015 they talked to Ava DuVernay, F. Gary Gray and Coogler, who they got more excited about after CREED did well. Then they hired him and they let him make a Ryan Coogler movie. He brought along his FRUITVALE cinematographer Rachel Morrison (Oscar-nominated for MUDBOUND), plus production designer Hannah Beachler, score composer Goransson, and of course Jordan, all doing their third movie with him.
Early in BLACK PANTHER, a young boy in Oakland watches a Wakandan UFO fly away, knowing it has left him behind. At the end another one watches it come down, land next to the basketball court, and its owners introduce themselves. They're not just gonna leave this time, they're gonna build a Wakandan outreach center. As Kyle Buchanan pointed out on Twitter, a young Coogler once said "My goal is to start a (film) business in this area, something that can employ people. It will be something the people can point to and kids can see it, saying 'I can do that,' instead of doing things that are glaring to the environment." Much as his work as a juvenile detention center counselor inspired the opening scenes of CREED, his dreams for the kids growing up where he did seem to have been infused into BLACK PANTHER.
My point is that it BLACK PANTHER could've been made any of those other times and it would've been a very different movie. I think they chose the right moment.
This entry was posted on Monday, February 19th, 2018 at 1:41 pm and is filed under
Comic strips/Super heroes
,
Reviews
. You can follow any responses to this entry through the
RSS 2.0
feed. You can skip to the end and leave a response. Pinging is currently not allowed.