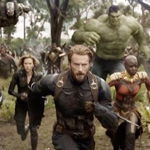 (Honestly it would be hard to spoil everything major that happens in this movie, because it's hard to keep track of it all. But this review is loose and reckless with SPOILERS)
I learned in 2012 when THE AVENGERS came out to never underestimate Marvel. So on the third AVENGERS movie, INFINITY WAR, I figured they could pull it off – they could combine most of the main characters developed over 17 previous movies (people from the IRON MAN movies, THE INCREDIBLE HULK, the CAPTAIN AMERICA movies, the THOR movies, the AVENGERS movies, the GUARDIANS OF THE GALAXY movies, DOCTOR STRANGE, SPIDER-MAN HOMECOMING and BLACK PANTHER) into one big super hero monster mash. But back when I had first learned that lesson, when they introduced the purple CGI space monster villain Thanos after the credits, I gotta admit I was still skeptical. I didn't know how they were gonna make that guy cool.
They did it. To me he's their best villain outside of Killmonger. It's a cliche to say that comic book characters are the Greek gods of the modern age, but Thanos (Josh Brolin, JONAH HEX) is the villain that most lives up to that description. In fact, one minor problem I had with the movie is that he seems so convincingly powerful I wondered what the hell the Avengers and the Guardians thought they were doing repeatedly going after him. Like, come on Star Lord (Chris Pratt, ZERO DARK THIRTY), why are you pointing a laser gun at this guy and acting like that's gonna do anything? Are you stupid?
This all-powerfulness is enhanced by an operatic backstory of tragedy. Not, like, the kind of thing that makes you forgive him for scheming to kill exactly 50% of the universe to create "balance." But the kind of thing where you understand why he has this misguided point of view that that would help people. Sort of along the lines of a Magneto or an Eva Green in 300: RISE OF AN EMPIRE, but scarier, so I'm not about to start rooting for him. He's amazing because we watch him outsmart, outmagic and outmuscle all these characters we've gotten to know over a period of years, in some cases cruelly, even murdering some with his own hands, rarely letting them feel like they have a chance. And then we watch him sit down in what seems to be his backyard, on his porch, and think about what he's done, and smile. And it's not an evil smile. It's a smile of satisfaction. He really believes he's done the right thing.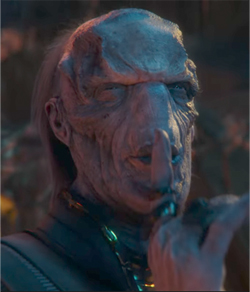 And he looks cool. So do most of his henchmen, who he sends around to get the infinity stones to power his infinity gauntlet, which in my opinion is one of the most powerful gauntlets because most gauntlets do not control all of reality, time, souls, minds, etc. The henchmen are his kids I guess. The most prominent one is apparently called "Ebony Maw" (Tom Vaughan-Lawlor) and he does a good job of making you want him to get crunched, but he's my least favorite. I have to confess a prejudice against monsters without noses. But I have a couple of sexy Cenobites from the movie HELLRAISER: INFERNO (from the director of DOCTOR STRANGE) that I would like to introduce him to.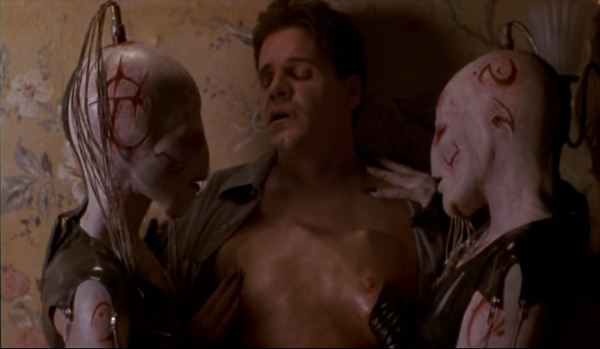 The other ones are cool though, and I don't think this is necessarily a popular opinion, but I really like where the mocap technology has gotten to, creating these fantasy paintings made "flesh," very realistic yet very exaggerated digital characters like the big orcs in the HOBBIT pictures, or the ones in WARCRAFT, or these guys. And Thanos is the best example of it, the dream of the Zemeckis mo-cap movies fulfilled, a character that is both animation and a recognizable acting performance by Brolin. It seems to be his eyes and his expressions and gestures but in this gigantic body. An elaborate digital makeup job.
I like the way he towers over them all, the way he can palm their heads, his bulbous fingers really looking like they're touching the actors, pressing hard on them, showing that he could crack their little skulls if he squeezed just a little harder. And imagine being punched with those fists!
This must be the most action packed Marvel movie so far, with complex super power battles unheard of in the past. We have a bunch of people who can fly, swing around, shoot lasers or webs or glowing magic totems. People who have super strength and/or speed, can shoot lightning, create shields, and whatever the other powers are, we probly don't need to list all of them. Check the internet.
It's all exciting and visceral – I'm not saying it's an indecipherable blur to me like the first couples TRANSFORMERSes – but it's much more chaotic and coherent than I prefer. They're all zipping around so fast and there are so many characters involved and if it's the responsibility of the filmatists (directors Anthony and Joe Russo, who did WELCOME TO COLLINWOOD and the second and third CAPTAIN AMERICAs) to find some way to make this all easy to track, I do not feel they fully live up to that responsibility. I remember a part where Dr. Strange (Benedict Cumberbatch, WAR HORSE)'s cape flew in and wrapped itself around someone to pull them safely away from Thanos, and it was really cool, but I never figured out who it was that was saved. In another part I was thrilled enough to cheer when fave characters Okoye (Danai Gurira, MY SOUL TO TAKE) and Black Widow (Scarlett Johansson, THE SPIRIT) stood ready to fight together, and then a little disappointed when I was not sure what either of them did in the fight.
But when there's a coordinated plan to pile onto the motherfucker with ten different attacks and try to yank that damn glove off of him it finally does feel like maybe it would be possible to beat this guy. Or come close. Or kinda close. If a certain character didn't fuck it up. I know you are emotional but shame on you, certain character.
IMDb doesn't list the second unit director, but I assume it's Sam Hargrave, who was the Captain America stunt double in WINTER SOLDIER and then fight/stunt coordinator for CIVIL WAR and this. This seems back to the shaky style of WINTER SOLDIER, not as careful as CIVIL WAR, which I'm guessing is the choice of the Russos since it's so opposite Hargrave's style as action director of WOLF WARRIOR 2 and especially ATOMIC BLONDE. I felt this approach was most effective in the early fight outside Strange's house in New York – there's a kind of feeling of being in the middle of a disaster with the ground rumbling and the horizon crumbling and a chance that something is gonna come flying at you as you turn the corner.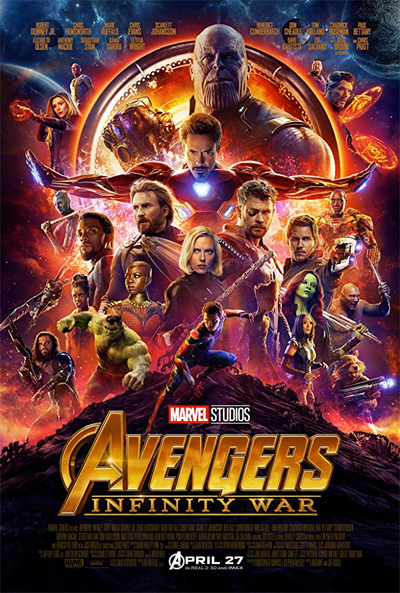 By the way, who exactly are "The Avengers" at this point? I know at the end of CIVIL WAR there was a specific lineup of up-and-comers, but they never really got an adventure and I'm not sure everybody working together counts as being Avengers or if it's just cooperation between Avengers and civilians. No time for labels these days I guess. And super heroism is fluid.
Jesus christ, there is no succinct way to get into this thing, so I think I just have to start listing some of the characters. It starts with Thor (Chris Hemsworth, BLACKHAT), who recently graduated from easily-the-worst-Marvel-series to almost-the-best-character just by having a funny, colorful part 3 that took advantage of the actor's humor. He gets the honor of introducing the Guardians of the Galaxy to the rest of the Marvel universe. It's a testament to the versatile transmutability of these movies that the hero from the bland fantasy directed by Kenneth Branagh fits right in with the goofy space misfits (a wisecracker, a muscle man, a tree, a raccoon, etc.).
The Guardians are central to the story, because remember Gamora (Zoe Saldana, COLOMBIANA) and Nebula (Karen Gillan, THE BIG SHORT) are both daughters and sworn enemies of Thanos. Which turns out to mean they were kidnapped by him, I guess? Most of the movie seems to follow their jokes-within-drama lead, but they get some of the best of it. Drax (Dave Bautista, THE MAN WITH THE IRON FISTS) gets one of the biggest laughs and Gamora the most drama.
Bruce Banner (Mark Ruffalo, COLLATERAL) is the one who gets to warn the Earth. I'm unclear if he intentionally landed in Dr. Strange's house. Strange is… not in my top five characters, but I like how he brings magic into all this, he plays a crucial role in the ending, and since his story was a little too similar to Tony Stark (Robert Downey Jr., NATURAL BORN KILLERS) it makes sense that they meet and hate each other.
Since Stark has been around the longest (by my count this is his ninth film) he's the most over-exposed, but he's still making me laugh. I do object to him now having nano-tech suits. I understand why it's convenient for the filmatists to not have to have him wearing a metal thing all the time, but what happened to Wakanda's vibranium advantage? Now it seems like they have the same technology.
Man, his first scene really seems to be laying on the Goose-in-TOP-GUN shit. Talking about marriage, babies. If he does die in part 4 I predict/hope for a post-credits scene where Pepper (Gwyneth Paltrow, SKY CAPTAIN AND THE WORLD OF TOMORROW) has his baby and then a posthumous Tony Stark hologram appears to explain that he left an Iron Baby suit and then it says IRON BABY WILL RETURN IN IRON MAN 4: AGE OF THE IRON BABY.
Little Peter Parker (Tom Holland, LOCKE) is still a delight. I love that his friend Ned (Jacob Batalon) is so thrilled by the opportunity to "create a distraction." And when Tony declared Peter an Avenger and he lit up that was pretty sweet… for like a second, and then I remembered that Peter's great achievement in HOMECOMING was turning down being an Avenger. Also, when he says he can't be a friendly neighborhood Spider-man if there's no neighborhood it does make sense. But in Tony's presence he says that it doesn't make sense. I hope he's able to get a better role model. Maybe Shuri (Letitia Wright, THE COMMUTER) would hang out with him.
Speaking of which, I got actual goosebumps when I realized they were going to Wakanda. Is it just me, though, or did the Russos not shoot it as well as Ryan Coogler? Coogler made it more colorful, more beautiful, I swear. The Wakandans don't have a complex role, but since their movie is still playing in theaters that's fine, that seems fair. And there's a great moment of brotherhood between T'Challa (Chadwick Boseman, GET ON UP) and M'Baku (Winston Duke). Also I like when he gives Bucky a.k.a. White Wolf (Sebastian Stan, RICKI AND THE FLASH) his robot arm. It's like his son has been grounded for a while but he's proven his responsibility and gets the car keys back.
The action movie style first appearance of Steve America (Chris Evans, BATTLE FOR TERRA) – a silhouette appearing after a subway passes – was another thrilling moment. He's my pick for most consistent series, and I love that now he's a rogue going around in a darker clothes with a beard and his cool team of Black Widow and Falcon (Anthony Mackie, TRIPLE 9). Those two, unfortunately, get a little short-changed. Mostly just flying or GHOST IN THE SHELL tough girl walking next to Steve. Widow's greatest moments are getting to hug people she hasn't seen in a long time. I mean that sincerely, those are good moments.
I've never really gotten into Scarlet Witch (Elizabeth Olsen, OLDBOY). Olsen is good in other stuff, but this character has only really had melodrama, she doesn't get funny or human moments like all the other characters, her powers don't seem that distinguishable from other magic powers, and somebody pointed out "why doesn't she try to destroy the stones on the gauntlet instead of the one on her boyfriend" and I thought "yeah." And her boyfriend (Paul Bettany, PRIEST) looked better when he wore sweaters.
ENDING SPOILER STUFF
It was cool to see this with an excited crowd of what sounded like largely teenage girls gasping as major characters seemingly died. To my surprise the biggest reaction was for T'Challa! There were sobs. For me this was the "don't worry, everything's okay" moment because what kind of a fool do you take me for that I'm gonna believe they'd kill off the stars of the highest grossing super hero movie of all time before said movie has even left theaters? Come on, dude.
I love that post-credits scene because I actually asked during the credits "Where was Nick Fury during all this?" and then there he was, and for a second I thought this was telling us that the next one would start with Fury (Samuel L. Jackson, THE RETURN OF SUPERFLY) and Hill (Cobie Smulders, JACK REACHER: NEVER GO BACK) trying to figure out what happened here. (But… nope.)
I have read that in the comic book story Nebula ends up with the gauntlet and uses it to resurrect everyone. I'm sure it'll be more complicated than that. I'm theorizing that all the raptured people still live, but in a different reality than the ones that weren't. I was leaning toward the "survivors" being the ones who actually were taken away, and on the other reality they will be dead or… get this… recast! Because there are fewer of them and they're mostly the veteran characters who are not gonna want to keep doing this forever. On the other hand, they're planning a Black Widow movie, and why would you recast Okoye already, and aren't they gonna want to do another Chris Hemsworth THOR now that they figured out how to make those great?
Whatever it is, Doctor Strange knows what he's doing, he saw the possible futures and that giving Thanos the time stone was the one in fourteen million that would work, so everything's gonna be okay for most of these fictional characters. Don't worry about it. Still, this is the first real EMPIRE STRIKES BACK of the Marvel Universe, the one that ends with a serious loss and cliffhanger. Though it doesn't have Yoda. Or Lando. Or Ugnaughts.
I really enjoyed this one, but it's a unique novelty where you're not gonna get as much out of it (and maybe won't be able to make heads or tails of it) if you haven't seen all or most of the other Marvel movies so that you can be excited to see the characters together and find out what happens with the ones that are intersecting for the first time. Having said that, the main thing I was looking forward to in this movie was finding out what Tony Stark would say to a talking raccoon, but the two never even ended up on the same planet. So this is NOT my INFINITY WAR.
#NotMyInfinityWar #InfinitySore #InfinitySnore #InfinityNeedsMore #BoycottDisney #CallDisneyandHangUp #StayAtaRegularHotelWhenYouGoToDisneylandNotaDisneyHotel #FartWhenYouAreAtDisneylandItIsaProtestofInfinityWar
This entry was posted on Monday, April 30th, 2018 at 12:49 pm and is filed under
Comic strips/Super heroes
,
Reviews
. You can follow any responses to this entry through the
RSS 2.0
feed. You can skip to the end and leave a response. Pinging is currently not allowed.