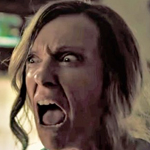 Many horror movies have a little bit of the ol' status quo at the beginning, a seemingly normal day to contrast with when things start getting crazy. HEREDITARY starts with a funeral, but it's fairly uneventful, so that's our calm day to want to get back to when the world starts shitting right into a fan.
Annie Graham (Toni Collette, SHAFT, xXx: RETURN OF XANDER CAGE) has just lost her mom. But the family's feeling strange about it because Grandma Ellen, from the sounds of it, was a weirdo and a total pain in the ass. Annie starts hallucinating her mother's presence and decides to go to a support group. Her husband Steve (Gabriel Byrne, END OF DAYS, COOL WORLD) looks out for the family. Their teenage son Peter (Alex Wolff, MY FRIEND DAHMER) doesn't really care and just wants to smoke weed and stuff, while their younger daughter Charlie (Milly Shapiro, Tony winner for playing Matilda on Broadway!) is… strange. Builds things out of junk, plays with dead animals, munches on a chocolate bar next to grandma's open casket.
Eventually, weird shit happens. There are apparitions, seances, paranoia, pretty standard stuff. But it's put together and unfolded in ways that feel new. I'm trying to be non-specific, even though it's the type of movie that would be hard to spoil. The things that happen are too wild to pin down as a premise or plot twist that can be succinctly explained. It's a good one, as you may have heard.
We've discussed this pattern before:
1. A horror film from a new or obscure director goes over really big at one or more of the major film festivals
2. The great goblet of film criticism overflows with buzz that pours out all over the internet
3. For months we hear glorious but non-specific legends of earth-shattering cinematic greatness
4. The movie is finally released in theaters, and (unless it's GET OUT) there's a big backlash because enough people think it's too slow/too weird/not-what-I-expected/not-that-great
I can't tell yet if that's the case with HEREDITARY, which set the 2018 Sundance Film Festival on fire and roasted marshmallows over it six months ago, and already made a profit in its opening weekend last week. It has a 93% on Rotten Tomatoes/87 on Metacritic but a D+ CinemaScore, so that suggests it's one of those divisive ones. But I saw it in the biggest auditorium at a downtown multiplex, almost full, and people were gasping and laughing along with it. If people hated it I didn't pick up on it.
There's this thing you know from the trailer, the little girl Charlie has a habit of clicking her tongue, and of course that comes back later in a threatening manner. That seems a little contrived to me, and wouldn't you know it inspired some wiseguys in the audience to start making that sound, so it reminded me of THE GRUDGE using kids making a weird sound in a similar manner that was also imitated in the theater when I saw it.
Other than that, HEREDITARY doesn't feel like a mainstream horror movie. It makes sense that it's released by A24 (SPRING BREAKERS, ENEMY, UNDER THE SKIN, LOCKE, THE ROVER, EX_MACHINA, THE WITCH, GREEN ROOM). Annie is an artist who builds miniature models from scenes in her life, so it's a movie with a carefully designed look to it. It takes its time getting going, many of its freakiest scares happen without a loud sting on the soundtrack, it deals with adult shit like family trauma, support groups and guilt over not wanting to be a parent or not loving a parent, it has a heart-wrenching scene of Annie ugly-crying with grief, it leaves most things unexplained, or at least explained in a way where you're gonna have to sit down and take notes and study it for a while before you can figure it out. And just like with all acclaimed horror movies, the hype comparing it to THE EXORCIST and talking about it scaring the holy bejeezus out of your pants is, of course, some bullshit that you should completely ignore.
I heard writer/director Ari Aster on Post Mortem with Mick Garris, and he says he grew up watching every horror movie he could get his hands on at the video store, but proceeds to talk about DON'T LOOK NOW and Polanski and Haneke and not mention one straight-up horror movie other than THE SHINING and "DePalma's CARRIE." So Aster's priorities are not the same as those of us who like those movies but get more hyped up over EVIL DEAD and TEXAS CHAIN SAW and shit. In this case I think that works out well. To me the most effective, upsetting stretch works by wallowing in a whole new flavor of horror. The most shocking, horrible thing in the movie has just happened, it's an accident, and then we watch in long, excruciating closeup as [VAGUE SPOILER] the person responsible realizes what has happened and freaks out and calms down and drives home in shock and extreme guilt and… jesus… goes to sleep without telling anyone, even though the family is gonna wake up and discover it. Man. It forces you to put yourself in that place – what if you made a horrible, unfixable, life-ruining mistake, how would you handle it? How could you face up to it? How could you tell the people who would be most devastated by it? What would it feel like to be too much of a coward to do that? It's hard to watch in a way I don't think I've ever seen in a horror movie. Innovative cinematic misery.
But what's so surprising and delightful is that then, even though things gets much stranger, much crazier, much supernaturaler, the movie is kind enough to not keep poking at that wound. It shows us different textures of scare. And it's fun! The thing they're not saying in all this hype and buzz and hypebuzz is that there are a whole bunch of laughs in this movie. Not jokes, but funny situations, funny reactions. I mean I admit I did hear a legitimate whimper somewhere in the crowd at one point. But I was smiling most of the time and I don't think I'm too much of a weirdo. It's a good time.
My point is that yes, this is an arty type of horror movie, but it's not one of those controversial slow-burn-not-much-happens ones (what are those called, ti westerns?), it's a very entertaining movie. I think it's in between the extremes of film festival horror on one hand and mainstream on the other. You guys, I think this might be an art-a-blast!
I actually think Collette might get an Oscar nomination for this. I know that doesn't often happen with horror, but it's such an undeniably impressive performance I think it could. She starts out just a relatable cynical person, not quite grieving the loss of a mother she didn't get along with. Then in the support group she unleashes an avalanche of information about her family history that works as backstory exposition, sure, but the loopy way she delivers it shows us that she's more shaken than she's let on previously. And as the events unfold not only do they cause her to be increasingly unhinged, but she keeps revealing more things about herself. It must be halfway through the movie when a new friend asks about her relationship with her son and she tells about an incident with him that can only make you say "Wait a minute, what!?" But she tells it like it's kind of a funny story.
I love that Annie is the character who seems like our best hope to get everybody out of this mess, and also she's the one who seems the most out of her mind. There are some good uses of a thing I like – I remember this happening in that movie MIRRORS, too, but it's even better here – she explains to her husband what she thinks is going on and we know that she's right but she seems so zany and it sounds so ludicrous that of course he doesn't believe her and he looks at her with complete disbelief and discomfort. Collette makes it grimly hilarious how incapable she is of making the truth sound reasonable.
Steve is the straight man to all this, and that kind of ties in with the title. He married into this. What the fuck did he get himself into? He's just a normal guy trying to keep his wife on track to be ready for her art show and remind his son to prepare for the SATs, he doesn't want to have to deal with family curses and seances and looking for mystical symbols in old photo albums. And he never does the standard horror movie thing of starting out as a skeptic but being converted and stepping up to the plate. He stays at "oh shit I think I'm gonna have to have my wife committed or something."
Annie assumes she's inheriting a history of schizophrenia and depression, when what she's actually getting is much crazier!
I don't think I understand the significance of Annie creating miniature models, but I like it. Aster (with cinematographer Pawel Pogorzelski [TRAGEDY GIRLS] and production designer Grace Yun [DOG EAT DOG, FIRST REFORMED]) starts in one of the models, turns it into the real house, and then shoots the real house like it's a model. And it's really cool when they show the models because they're lit very dramatically like cinematic scenes, but we know they're just simulations of cinematic scenes, which we know are just simulations of life, but if they work right they speak to the things we've experienced, just as the models speak to the things Annie has experienced.
Psychologically we can assume that making them gives Annie some sense of control to be able to build from scratch her entire world, including the most traumatic moments in her life, as cute little dioramas, and put them on display for the world to see. But she's not in control, that's very clear. Even the fact that she expresses herself creatively seems to be something given to her – her mother made pillows, her daughter draws and makes found object sculptures. It's hereditary.
But maybe it wasn't supposed to mean anything, maybe it's just a reference to Wesley Snipes building models of civil war battles in MURDER AT 1600. And by maybe I mean definitely.
There's this trope in horror movies, we've seen it a million times, where the protagonist sees something horrible or supernatural and goes to get someone else and when they come back to show them there's no trace of it and they swear it was there, it was right there, what is going on, you have to believe me, etc. There's a scene like that here – she goes to get him and there's the whole buildup and you know exactly where this is going – until you hear him screaming because what the fucking shit, it really is there, just like she said.
(PHANTASM messes with this trope too when Michael shows Jody the creature he trapped in a box, but this one goes in a different direction.)
It's fair to say this is a movie with some strong instances of what-the-fuck-was-that type weirdness. That's something I love in horror movies but also it can be a detriment to my enjoyment if it's not tuned just right. On one end of the spectrum there are the rare movies like Argento's INFERNO, SUSPIRIA or PHENOMENA – or, to go more mainstream, SILENT HILL – that exist in such a feverish dream version of the world that they tap into some primitive part of my brain. More often, though, they start in an approximation of normal everyday life and then a weird thing happens, and then they go back to the regular world for a while and then another weird thing happens and it's just gonna go away again so it starts to feel like there's no consequence to anything. This is the structure of many a THE CONJURING type ghost story but also crazy arthouse movies like ANTICHRIST and in-between like LORDS OF SALEM. And often if I catch onto this structure it loses me because I realize okay, yeah, this weird thing is happening but then suddenly it will go back to normal for a while, so there's no reason for concern.
HEREDITARY completely avoids that pitfall. To me the structure is more like trying to spin a hula hoop on one finger, and you get it going for a while but as it gets faster it gets wobblier and out of control until eventually it flies off. STRUCTURAL SPOILERS but it pretty much turns into 2001 at the end. Some crazy shit that you kinda get and you mostly know you definitely don't get but at least you get it enough that it sort of explains everything.
I'm pretty sure the puzzle pieces would fit together if I had the time to work on it. It's not just random weirdness. But I liked feeling in over my head. I don't know what these people are up to but now I'm a part of it.
Anyway, between this and my favorite Janelle Monae song 2018 has been a big year for tongue clicks.
X-TREME SPOILER ZONE FOR EXPERIENCED HEREDITARIANS

After the movie a friend asked me some questions about what happened and I did not feel qualified to answer. I feel like you're not expected to follow or decode everything, it's like a crazy conspiracy theory where you can see some of the parts and believe that the characters know what they're talking about but you can't keep up on your first try.
So I only have guesses. I get that it has something to do with the cult trying to resurrect this 8th king of Hell who prefers a male body. Annie said her "schizophrenic" brother accused her mom of trying to put people inside him. Charlie said her grandma wanted her to be a boy. So that could mean she was disappointed that she wasn't a boy and couldn't use her body. But we hear that grandma breast fed her! And at the end Peter makes Charlie's clicking sound, and Joan calls him Charlie before telling him he's this king. So doesn't that mean Charlie was the king the whole time, but wanted the male body, and now they've achieved that? I'm not sure. And if it is that, why weren't they able to get him into Peter when he was born, was it just because the family wasn't getting along at that time?
Also there's this theme of Annie trying to kill Peter. Sleepwalking, she tried to light him on fire. In a dream she tells him that she tried to cause a miscarriage before he was born. My guess, very possibly wrong, is that she somehow subconsciously knows to try to stop this plot, get rid of this male body. I don't know.
One question I wondered: are we sure they know what they're doing? I like how he just stands there like an idiot, doesn't say anything or look evil or smile or anything. I half expected him to blurt out something revealing that he's still just Peter. Because that would be a pretty awkward situation to find yourself in.