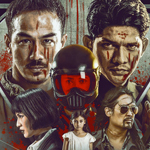 THE NIGHT COMES FOR US is another outstanding gauntlet of gory martial arts violence and honor among killers from Timo Tjahjanto, writer-director of the excellent HEADSHOT. Once again the action is choreographed by Iko Uwais (star of THE RAID), and he's in it and he's great, but Joe Taslim gets to play the lead this time. Taslim played Jaka in THE RAID and was also in the best FAST & FURIOUS movie (FURIOUS 6) but he doesn't seem to get noticed like Iko and Yayan. Or at least he didn't get to be eaten by a monster in THE FORCE AWAKENS with them. So every time I read his name I think of it to the tune of this:
Taslim's character Ito is one of the "Six Seas," elite enforcers for the Triads who from the sounds of it are kinda like the Seal Team Six of international crime. For his job he has to be ridiculously skilled and completely heartless, but one day during a routine massacre-of-entire-village he doesn't feel like killing the last survivor, a little girl named Reina (Asha Kenyeri Bermudez). Instead he guns down his own team and takes off to hide the kid in Jakarta. And sure, this doesn't erase all the people he's killed in his three years on the job, but it's like when the Grinch's heart grows at the end of his story. Let's give the man credit for changing.
Ito's old girlfriend Shinta (Salvita Decorte) thought he was dead, but she's not happy to see him. Still, she bandages him and calls Fatih (Abimana Aryasatya) and the rest of Ito's gang from the old days. Or at least the ones that aren't dead or in jail. All that's really left is White Boy Bobby (Zack Lee,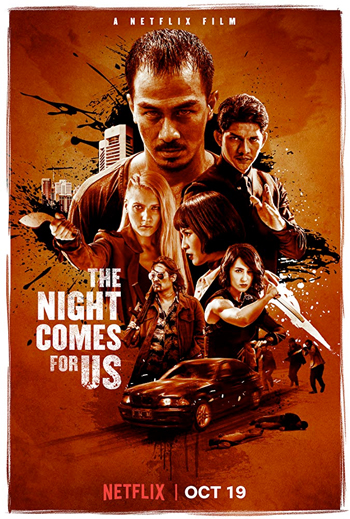 THE RAID 2, whose mother is half British), and then they got Fatih's younger cousin Wisnu (Dimas Anggara). The other surviving member of the crew is Arian (Uwais), but just like Ito he left them all behind. He's a bigshot in Macau now, so much so that he gets the order to track down and kill Ito for his betrayal.
At first the plot seems more like the labyrinthine gang politics of THE RAID 2 than the diamond-pure simplicity of THE RAID, because they're setting up these factions and past relationships and feuds.
But it doesn't take long to build the momentum of an unstoppable boulder rolling down a hill. If anything is ever hard to follow it rarely gets in the way of the excitement of these colorful characters bouncing off each other, to speak figuratively, or shooting/stabbing/kicking/slamming/slicing/choking/crushing/breaking each other, if you want to be literal. Like in HEADSHOT, a great fighter can survive a whole Friday-night-in-a-big-city-ER's worth of injuries and, with enough gumption, keep fighting until the dial on the blood tank hits empty. It's long and exhausting and thrilling the whole time.
Pretty much all these characters, with the exception of Shinta and Reina, have killed a ton of people. In this ugly world there's a different definition of good and bad: good guys are the ones who drop everything and put their lives on the line to protect this little girl, bad guys are the ones they have to protect her from. Ito's old friends are low level fuckups left behind when he ascended to superstar status. White Boy Bobby is bitter about that, and doesn't understand Ito's point of view that becoming a Sea was a necessary sacrifice to protect them all after Bobby's dumb junkie ass started their gang selling drugs. I don't know if they can forgive each other but it seems like water under the bridge when the shit goes down. The boys go above and beyond and then under and back around and then above a couple more times the call of duty in protecting Reina. White Boy Bobby is angry and crazy, he limps because of his artificial leg, and he will be stabbed a hundred times protecting that little girl, and smile and laugh while he does it. You want heroic bloodshed? Tjahjanto will cover the whole warehouse floor with it, sprinkled with glass and bullets and broken furniture.
Man, the night really did come for these guys.
(I'm not totally sure what the title means. It sounds cool, though.)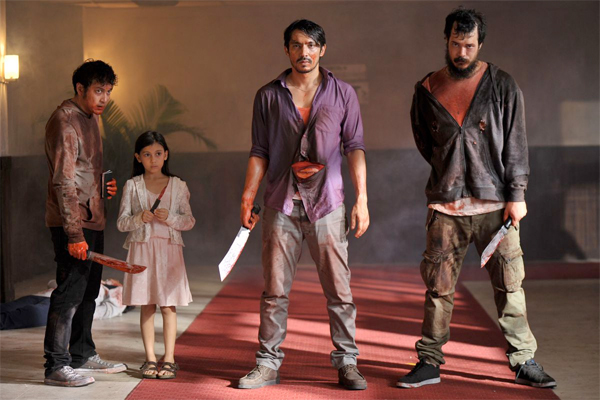 Conversations I've had about the movie are mostly a list of violent acts. (SPOILER FOR SOME OF THE VIOLENT ACTS.) "Oh man, when the little girl has to stab that guy!" "When he takes off his jacket and then he throws it over her head and kicks her through that door. Not trying to kill her, just stop her." But behind this outrageous mayhem I think there's a delicate precision, a great deal of thought put into setting and choreography of action and camera movement. For example the layout and furnishings of the apartment are very well established before the fighting goes all through it and tears it apart. There's some of that Jackie Chan thing where fights are built around the environment and the props at hand. So you get little touches like Arian banging an unruly clubgoer's head against a stripper pole, then grabbing it to stop it from vibrating. And of course when Ito fights Yohan (Revaldo), who works out of a butcher shop, hatchets, meat hooks, saws, bones and big pieces of meat are all used as weapons.
But there's another scene in a place where there's an inflatable raft hanging on a wall and I was a little disappointed when it was never used for anything. (He did use the pool table though. And a pool stick. And pool balls. And the net from the corner of the pool table. And a hanging light.)
Between this and HEADSHOT it's clear that Tjahjanto has a knack for creating characters who don't have the chance to be fully developed by traditional movie standards, yet are totally captivating due to the way they behave, the way they dress, the weapons they use, the style they fight with. This goes especially for the women.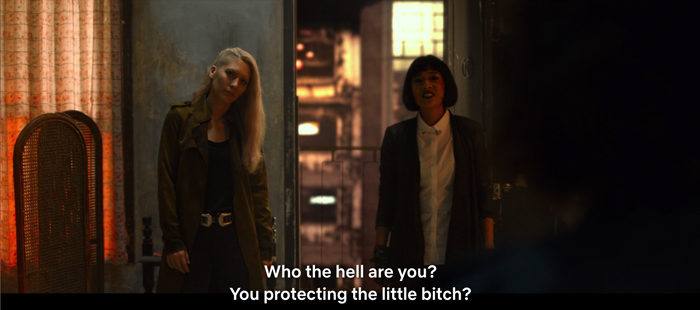 The Triads have two really mean female enforcers who seem to be in a relationship. Alma (Dian Sastrowardoyo) seems to especially enjoy attacking people, and she has a razor wire mace/whip that she spins around. And in the great tradition of exotic Caucasian villains in Asian movie comes this scary white lady Elena (Hannah Al Rashid, V/H/S/2). She has her hair shaved on one side, uses a curved knife, and is very confident in her skills. At one point her henchmen pull out their guns and she waves them off dismissively so she can do all the killing with her blade. Before another fight she goes over to a crucifix on the wall and flips it upside down.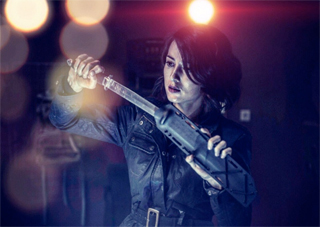 But the standout character may still be "The Operator" (Julie Estelle, Hammer Girl from THE RAID 2), a mysterious agent of some kind who arrives halfway through the movie on her motorcycle and has to figure out what Ito is up to before she knows whether to kill him or help him. To me, her fight against Alma and Elena is the highlight in a movie full of highlights. Of all the hundreds of gruesome things that happen in this movie I definitely winced the most during this fight, which includes an Argento-worthy death and (GORE SPOILER) an outrageous samurai moment where a character realizes one of her finger tips is almost severed and just plucks it off like a grape. Then another makes the most disgusting sound as a wound on her stomach suddenly tears open and dumps out some intestines.
Three of my friends saw this at Fantastic Fest. One text me immediately after. Another brought it up as soon as he saw me back at home. The third asked "Did they tell you about your new favorite movie?" the next time he saw me. One is fond of saying "Eleven applause breaks!" (I don't know why he was counting.)
And of course if you've read me talking about my all-timer theatrical experience seeing THE RAID you'll know I'm sad that something like this has to go straight to Netflix, with no chance of seeing it with a crowd, and possibly no physical media ever. I also had streaming issues preventing me from seeing the very end. Still, just seeing this alone at home was an adrenaline rush. It's that high I'm always looking for in action movies. It's everything I love presented in a way, and with such flair, that it feels like something new.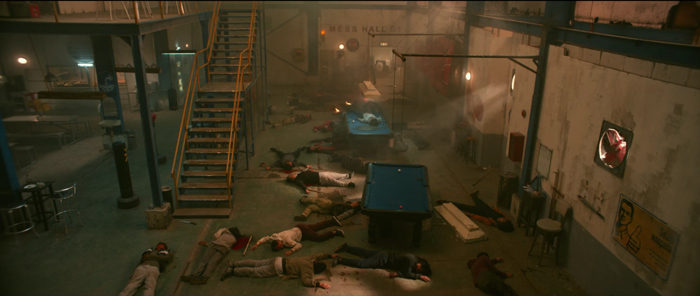 P.S. I haven't seen anyone talking about this at all, but Tjahjanto is hoping to make a "Night Trilogy" and implies that at least The Operator would be back.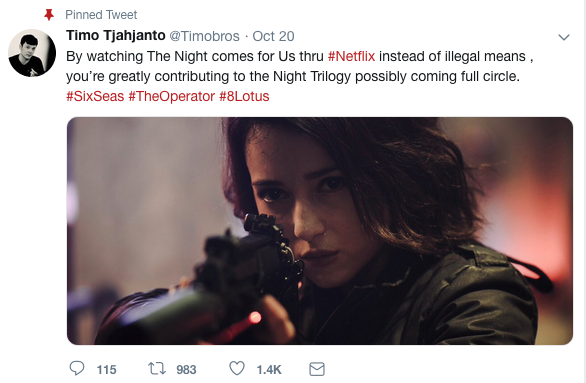 P.P.S. And if you can't wait to find out more about The Operator, he also posted a deleted scene taking place after her confrontation with Ito, when she goes to see her handler.
This entry was posted on Wednesday, November 28th, 2018 at 10:13 am and is filed under
Action
,
Martial Arts
,
Reviews
. You can follow any responses to this entry through the
RSS 2.0
feed. You can skip to the end and leave a response. Pinging is currently not allowed.