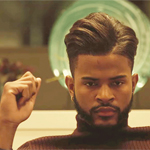 There's a new theatrically released remake of SUPER FLY called SUPERFLY. Adapted by screenwriter Alex Tse (WATCHMEN, SUCKER FREE CITY), it's updated to 2018 and relocated to Atlanta, but itstill tells the story of flamboyantly smooth drug kingpin Youngblood Priest (Trevor Jackson, Grown-ish, The Lion King on Broadway) trying to pull off one last big score so he can get out of the game. He still has his partner Eddie (Jason Mitchell, STRAIGHT OUTTA COMPTON, DRAGON EYES), employee-of-questionable-judgment Fat Freddy (Jacob Ming-Trent, Shrek the Musical), and girlfriend Georgia (Lex Scott Davis, TONI BRAXTON: UNBREAK MY HEART). He still has to deal with The Man (corrupt cops want a piece of his business) but now there's also a Mexican cartel leader (Esai Morales, THE PRINCIPAL, PAID IN FULL, NEVER BACK DOWN: NO SURRENDER) and a scene involving crypto-currency (I'm glad he doesn't say the word out loud, like in one of the ads I saw).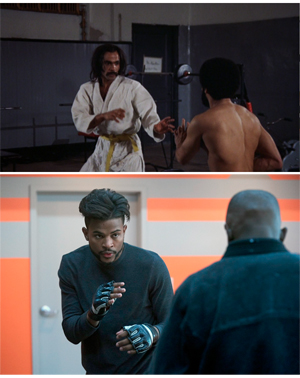 You may or may not remember that in the original movie Priest had a scene where he spars with a personal karate instructor. Thankfully, Tse did remember. In the update Priest's boss and crime mentor Scatter (Michael Kenneth Williams, MERCENARY FOR JUSTICE, ROBOCOP) is also his jiujitsu teacher and keeps a low profile by sticking around the dojo teaching people to fight. Like Frank Lucas in AMERICAN GANGSTER he preaches not calling too much attention to yourself, and symbolically wears a brown belt instead of his true level of black.
So, as you can imagine, I liked this movie.
Let's get this out of the way, though: as good as the original SUPER FLY is for so many different reasons, we as a society agree that the best thing about it is the music. So I have to note that to me (an old white man, not the target demographic) the music is easily the worst part of the remake. The songs are by the rapper Future, which is fitting for the Atlanta setting, and he's also one of the producers of the movie. But personally I'm completely bummed out by his (very popular) style of music which doesn't have as much rapping as gurgly sadsack autotune crooning.
I hope people like it, but to me it would be dull, lifeless and depressing even on its own, without the impossible task of standing up to the soaring, funky, soulful rhythms of Curtis Mayfield's classic soundtrack. Not only was Mayfield's music topnotch, but his lyrics completely changed the film. He famously felt a duty to offset its glorification of hustling with lines like "Eddie, you should know better / Brother, you know you're wrong / Think of the tears and fears / You bring to your folks back home."
The closest thing to a theme song in the remake is "No Shame" by Future featuring Partynextdoor, and it's got a bassline and some acid-blues guitar that fit well for a Super Fly movie, but then that fuckin robot singing comes on and it's all over for me. Reading the lyrics, as far as I can tell it's a list of different drugs, luxury items and blow jobs he has received and how "Ain't no shame in my game." At a glance, the music all seems to be reflecting or even amplifying the surface level of the movie. There is one called "Please Forgive" with some Christian forgiveness stuff, but that's because it's performed during a funeral scene.
I guess I should be thankful they didn't remake Mayfield's songs in that style. And someone must've realized that it's hard to accept SUPER FLY minus Curtis, because they use the original "Pusherman" for a big expanding-the-drug-empire montage. They also start up the song "Superfly" at the very end and I think it's the movie's biggest misstep to abruptly ditch it for the Future music as soon as the end credits start. Offensive, even. Also, the movie should probly be a little shorter.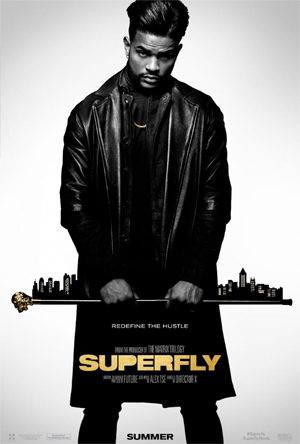 But it still works for me, mainly because of the distinct character of Priest and the performance by Jackson, a singer and dancer whose lanky body is accentuated by endless supplies of long coats – some fur, some silk, some leather, some with pot leaf elbow patches, some with buttons like a pea coat, some slung over his shoulders with an unbuttoned shirt underneath. In place of Ron O'Neal's long straight hair is an even more flamboyant permed coif that gets horribly messed up when he, say, gets in a fight or almost gets thrown off a private jet. But he doesn't know who Morris Day is when Scatter makes a joke about him.
I really like his fashion because I don't think it looks cool, and the other males in the movie don't either, but they respect or fear or like him enough to accept that that's his thing, that's his style, he makes it work, he's superfly (as defined in this version), and I feel the same. Also the hair is so audacious that you gotta figure this will date in a similar way to how the '70s styles of the original did. So credit is due to costume designer Antoinette Messam (THE JESSE VENTURA STORY, CREED) and hair department head Andrea C. Brotherton (FOOTLOOSE), hair stylists Demiko Majik DeCosta (Xscape: Still Kickin' It) and Tammi Terrell (THE HOUSE WITH A CLOCK IN ITS WALLS) and key hair stylist Talya Melvey (THE NICE GUYS). I don't know if one is responsible for Priest's hair, so I'll mention all of them.
At first I thought "this guy's not as smooth as Ron O'Neal," but he just has a slightly different take on it. He actually seems more genuinely nice (for a guy in that profession). He's always quiet and calm and trying to make peace. But I laughed out loud (in a good way) when a guy pulled a gun on him and he did some Liam-Neeson-in-TAKEN type disarming moves followed by a spin kick to the head. It looks especially funny in those clothes (the guy had just called Priest out for his "skinny jeans.")
It should also be noted that contemporary Priest is in a committed three-way relationship. Georgia runs an art gallery he bought for her, Cynthia (Andrea Londo, Narcos) is younger and crazier and runs the strip club, and then they all get together in the shower. The club is called [picture of a masquerade mask] and Priest doesn't mind hosting the rival Snow Patrol gang, who wear all white and carry white guns and have crucifix tattoos between their eyebrows. Their leader Q (Big Bank Black, BIRDS OF A FEATHER) is kind of a jolly B.I.G. cosplayer who doesn't want any trouble, but his dumbass little child runnin wild brother Juju (Kaalan KR Walker, KINGS) is jealous of Priest getting all the women and starts some dumb shit that turns into a war.
And of course he's jealous of him. Juju has to be a generic drone wearing the same clothes as everyone else in the gang, nobody takes his ideas seriously, and Cynthia just treats him like any other customer when he hits on her. Then he sees her go over to this guy who gets to look and act like nobody else in the movie and be the shit.
Speaking of guys who get to do what they want, I got a good laugh the first time I saw the trailer, because I was still in a state of "wait, they did a remake of SUPER FLY?" when they threw "FROM ACCLAIMED FILMMAKER DIRECTOR X" at me. It's easy to assume Director X is the alter ego of Speed Director's brother Rex Director, but I looked him up and he's a Canadian video director who was an intern and storyboard artist for Hype Williams' Big Dog Films. He was credited as "visual consultant" on Williams' BELLY in 1998. That same year he started directing music videos, representing songs from that era by EPMD, Redman and Onyx. Recognizable works from his long career include "What's My Name?" by DMX, "No Sex (In the Champagne Room)" by Chris Rock, "Shake Ya Ass" by Mystikal, "Cherchez La Ghost" by Ghostface Killah, "Hot in Herre" by Nelly, "King Kunta" by Kendrick Lamar, "Hotline Bling" by Drake, and the list goes on. I don't know if the reported acclaim is supposed to be for those videos or his two previous features, ACROSS THE LINE (a 2015 drama about racial unrest in Novia Scotia) and CENTER STAGE: ON POINTE (a 2016 made-for-Lifetime-Television part 3 in the CENTER STAGE series), but it's clear that he has been prolific.
And it makes sense that that's his background, because SUPERFLY is a visually appealing movie with a bunch of cameos by rappers and basically taking place in the fantasy gangster world of rap videos, where everybody struts around in layers upon layers of ludicrously expensive clothes, driving luxury sports cars, spending what I make in a year on a bottle of champagne and making it rain with endless money piles in multi-million dollar super-strip-clubs with circus acrobats performing above the dancers. Instead of the grainy, dirty look of the original, this thing looks sleek. Cinematographer Amir Mokri is the guy who did BLUE STEEL, BAD BOYS II, TAKING LIVES, FAST & FURIOUS and MAN OF STEEL.
On the downside, when some action pops off it's definitely in the sloppy I-only-made-commercials-before-and-it-turns-out-feature-film-visual-storytelling-is-really-hard-you-guys type of Bay-esque visual language. It's not a dealbreaker because this is really not an action movie, but since there is a car chase and a couple fights it's too bad they're not more coherent.
They could've easily gotten away with a "remake" that didn't have much to do with the original. I'm surprised how many things are spins on things from the old one: a shower love scene in place of the bathtub one, a restaurant kitchen as one of his fronts, stuff like that. There is no club with Curtis Mayfield performing, but there's a great cold open where he goes in to reclaim a loan from a tough guy trap rapper (Allen Maldonado, "Lead Gangbanger," BRADLEY COOPER IN THE MIDNIGHT MEAT TRAIN) in the middle of a listening party blasting his new album from an indoor Lamborghini. This guy acts crazy with his face tattoos and bodyguards but pretty boy beanpole saunters in and gently talks him into bowing down.
In Priest's character, at least, they really captured the spirit of the original without just copying it.
I've seen people on social media declaring the movie terrible on an it's-bad-for-you kind of basis. Fair enough. Other than Priest being really nice and respectful for a kingpin, there's nothing to counterbalance the misogyny around him, or any acknowledgment of the damage his drugs and violence do to the community. It's treated as an aspirational story of succeeding through wits, determination and professionalism, without the SCARFACE downfall. So if you don't want to see an amoral crime story you don't want to see this.
There are some small attempts to connect the story to serious issues. Most effective is when the corrupt cop Turk Franklin (Brian F. Durkin, TROUBLE WITH THE CURVE), one of the few white characters in the movie, pretends to see a gun at a traffic stop so that he can murder a black man (and be declared a hero). This is also a movie where SPOILER FOR AMAZING THING THAT HAPPENS a car chase climaxes with a Lamborghini drifting into a Confederate statue, blowing up and knocking it over. Muddled as symbolism, but beautiful as an action detail.
Which reminds me, Joel Silver is another one of the producers. Welcome back, Joel Silver. Also Palak Patel (SABOTAGE).
So sue me. I liked SUPERFLY. And I dearly hope they do SUPER FLY T.N.T. next.
The series so far:
SUPER FLY (1972), directed by Gordon Parks Jr., music by Curtis Mayfield
SUPER FLY T.N.T. (1973), directed by Ron O'Neal, music by Osibisa
THE RETURN OF SUPERFLY (1990), directed by Sig Shore, music by Curtis Mayfield featuring Ice-T