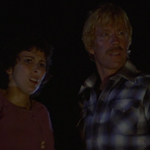 I don't consider myself a Chuck Norris fan, but I love INVASION USA and obviously he's in my favorite Bruce Lee movie WAY OF THE DRAGON and okay, LONE WOLF McQUADE is pretty good and I have to admit I enjoyed DELTA FORCE 2 and also the first MISSING IN ACTION is kinda stupid fun so okay, maybe I like some of his movies, big deal, I could stop at any time.
I watched SILENT RAGE because Panos Cosmatos mentioned it on Shock Waves as a rare example of action-horror. Obviously that's a hybrid genre that has some appeal to me because it's my two favorite types of movies combined into one super-movie (and because it's what I'm trying to do in that next novel I'm perpetually on the verge of finishing).
The highlight of SILENT RAGE is definitely the opening, a long, boiling-over-pot of a sequence that reminds me of the deft camera mastery of HALLOWEEN's opening and the stand-alone intensity of SCREAM's. It's just about this guy John Kirby (Brian Libby, ACTION JACKSON, THE MIST) at home in Dallas one random day and the kids are running around causing havoc and the wife is sniping at them and nobody's paying any attention to him but us as he is sweaty and shaking, talking to his doctor on the phone, vaguely asking for help. Then he says "I'm not gonna make it," hangs up and stumbles to the chicken coop out back. We stay inside watching out the window and the family is still completely oblivious to anything being wrong as he returns with an ax.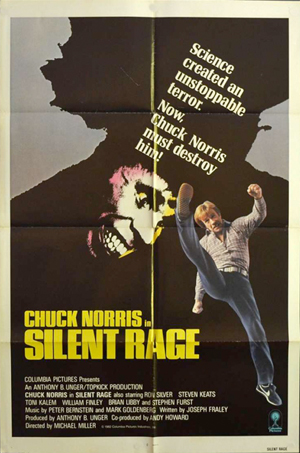 The sequence continues through a mailman hearing the screaming and a police car arriving and yep, that's Chuck Norris pulling up as Sheriff Dan Stevens (not the actor from THE GUEST and BEAUTY AND THE BEAST, the Chuck Norris character) and he comes in and there's a fight and a chase.
But the real trouble comes in after all is seemingly said and done, when Dr. Spires (Steven Keats, DEATH WISH, Freddy's Nightmares) and Dr. Vaughn (William Finley, THE FURY, EATEN ALIVE) at "The Institute" where the dying suspect is taken decide to test an experimental treatment on him. There's some ethical haggling with his psychiatrist Dr. Tom Halman (Ron Silver, TIMECOP, THE ENTITY) but they do this thing that gives him the power to heal. Only flesh wounds though, definitely not psychological ones, because he's permanently snapped now. Only those two doctors know he's still alive, and even they don't realize it when he sneaks out to kill Dr. Tom for wanting to euthanize him.
The two major female characters in the movie become damsels in distress, but for what it's worth they're an unusually human and lively version of the archetype. After some uncomfortably forward behavior Dan successfully rekindles an old relationship with Alison (Toni Kalem, SISTER ACT), who works at the lab and is Dr. Halman's sister. Though their love subplot (including a sex and romance montage set to a song by Katey Sagal) is technically the draggy portion of the movie (rivaled only by the two doctors discussing their experiment), it is a sweet and likable rendition of the old timey manly-man/female-who-he-protects relationship. They joke around with each other and they cuddle alot and after the courtship period he seems sensitive to her needs.
Meanwhile, Tom's wife Nancy (Stephanie Dunnam, Magnum P.I., PLAY DEAD) is an artist, they make fun of traditional gender roles like the husband expecting the wife to make dinner, and she goes to pick up a pizza. This seems somehow more relatable to me than most movies.
Another thing that happens in between the handful of extended cat-and-mouse or battle sequences that are the main attraction is Dan's police work with comic relief deputy Charlie (Stephen Furst, ANIMAL HOUSE, the principal in Twister Sister's "I Wanna Rock" video). The most normal-action-movie thing that happens is a whole tangent about a roving gang of bikers terrorizing a local saloon and Dan having to beat them all up. Highlight: a biker has set up a plank to jump his bike from inside the bar through the window, but Dan hits him in the face with a pool stick so he falls off and the bike makes the jump on its own.
There are some quirky comic relief bits like Dan trying to be a good listener as Charlie confesses a crazy story about accidentally killing his dog when he was six and feeling guilty because he didn't include it on his job application. Another great Charlie moment is when he's passing time keeping watch in a hospital room and sort of absent-mindedly reaches for a refrigerator before noticing the bio-hazardous waste warning on it.
But he earns his humanity bravely grappling with Kirby to protect Alison. And there's SPOILER an almost Swayzian act of sensitivity on Dan's part when he holds wounded Charlie in his arms and assures him everything will be all right so that he can die without a worry on his mind.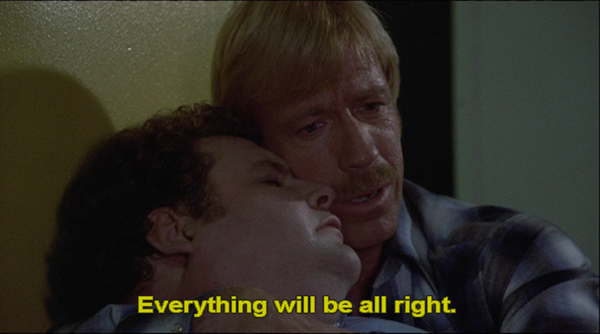 I think a gentle embrace like this would be ridiculed now by the loud and proud dipshit community, so I'm impressed that Chuck did it during a much more macho era. Good for you, younger Chuck.
I'd like this even better if it worked some good gore effects into the kills. But the mechanics of the scares are legit, and there's some good atmosphere and an eerie ambient synth score by Peter Bernstein (THE EWOK ADVENTURE) and Mark Goldenberg (TEEN WOLF TOO).
Here's a nice little detail I noticed. There's a part where Kirby is in a truck that explodes, but then he gets out on fire and runs to jump in some water. As he's doing it a little flame gets on this tree. It doesn't seem intentional, but they keep the continuity so when he gets out of the water in a different shot the tree is fully on fire.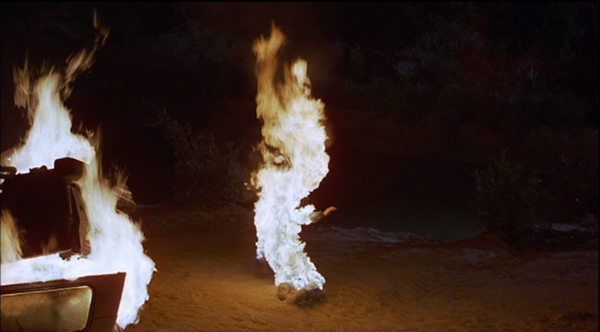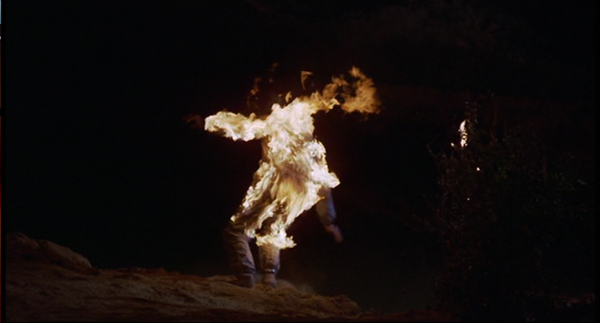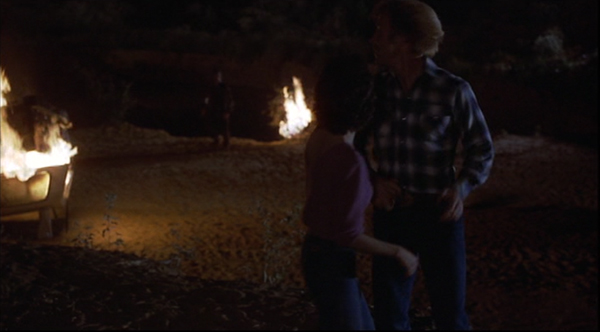 At first I thought there might not be much action, but sure enough Chuck gets to kick and shoot and Kirby attacks a moving vehicle and there's the bar fight and a sort of duel. It could definitely go bigger, but it works as is.
It really is a Chuck Norris horror movie. But I don't think it's just some random thing he signed onto – it's the first movie from his Topkick Productions, and IMDb trivia claims "the first time Norris had complete control of one of his films." Aaaron Norris is producer and stunt coordinator, and writer Joseph Fraley had done GOOD GUYS WEAR BLACK. Director Michael Miller spent most of his career doing TV movies, though he had done the theatrical releases STREET GIRLS and JACKSON COUNTY JAIL, and his NATIONAL LAMPOON'S CLASS REUNION came out the same year as this.
So, add another one to the list. I liked this one. Please share your thoughts if you've seen this and also let me know what other movies might qualify as action-horror – especially ones that include the tropes of action movies (like the bar fight in this one) but with a horror concept.