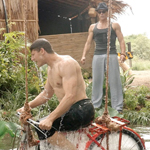 In this age of reboots one thing I didn't see coming was a respectful attempt to resurrect the magic of KICKBOXER. Produced by Cannon when Jean-Claude Van Damme was still a new star, the original is a seminal film in the foundation of the western-star martial arts movie. Part of the beauty of the era it helped ignite was its disposability; there was such a hunger for this stuff on VHS that they kept churning out KICKBOXERs and BLOODSPORTs and BLOODFISTs with whatever Next Jean-Claude Van Damme they could get. And the combination of these basic story formulas and the appeal of seeing thick-accented martial artists try to act cool between flying kicks made for many enjoyable evenings for people all around the world.
Things have changed. Far fewer straight up action movies are made than in the '80s and '90s, and viewing them is not as common of a ritual for young people growing up. The fringe market of DTV has mostly shifted to VOD, a riskier business model since people actually have to watch the movies for them to make money. So, weirdly, this new KICKBOXER (released to VOD on Friday) was made with care, in hopes of people liking it. You can tell they're genuinely trying to recapture what was fun about those movies, but in a modern context – by which I only mean it has nice digital cinematography of sunny Thailand and many of the opponents are played by famous UFC fighters.
Like the original, this is the story of young Kurt Sloane (Alain Moussi, stunt double for Wolverine in X-MEN: APOCALYPSE and Captain Boomerang in SUICIDE SQUAD) training to fight the notorious death match champion Tong Po (Dave Bautista, WRONG SIDE OF TOWN, HOUSE OF THE RISING SUN), who brutally defeated his champion brother Eric in an illegal match. In the original Eric was paralyzed, here he dies in the ring, which is made sad by the fact that he's played by the late Darren Shahlavi (IP MAN 2). There's a clever new structure where Kurt comes asking to be trained by Tong Po before his intentions and motives are revealed in flashback. He gets in trouble with the (mostly corrupt) cops and is supposed to leave the country. He declines.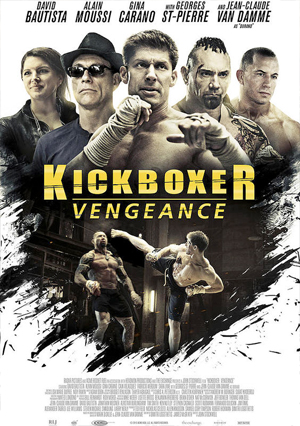 Kurt's current skills can be measured by the number of students (including T.J. Storm of BLACK COBRA) he could fight his way through after getting in the door of the compound. He's gonna need to get through more of them to fight Tong Po. So he goes to his brother's trainer Durand to prepare. Kind of a counterintuitive plan, since the training didn't seem to help his brother much, but maybe he wants to give Durand his chance for redemption.
Since this is filmed in Thailand and Tong Po is supposed to be a Muay Thai master, the teacher was originally set to be played by Tony Jaa. He's always great but I'm so glad he dropped out and was replaced by none other than Jean-Claude Van Damme. That might sound like a corny torch-passing stunt, but in fact it's another great performance in JCVD's recent streak as a character actor. I never would've thought the boyish dork from the original KICKBOXER could grow up to play this cool motherfucker who looks like a macho jazz trumpeter with his unbuttoned white dress shirt over black tank top, his sunglasses he wears for 98% of the movie (including all his fight scenes) and his hat that he only takes off for occasional dramatic punctuation. He's very deadpan about his crazy training methods, which begin with tying up Kurt in his sleep and beating him with sticks to numb his nerves. At times he'll finish a fight for Kurt, other times he chooses to sit out, for example when they escape a jail and he just casually points in the direction of oncoming attackers for Kurt to take on.
(I thought about not mentioning this, but I know you guys will: for some reason he's apparently dubbed in some parts. This has really bothered some people, but I'm not sure I would've noticed it if I wasn't looking for it. It's not like an OUT OF REACH situation.)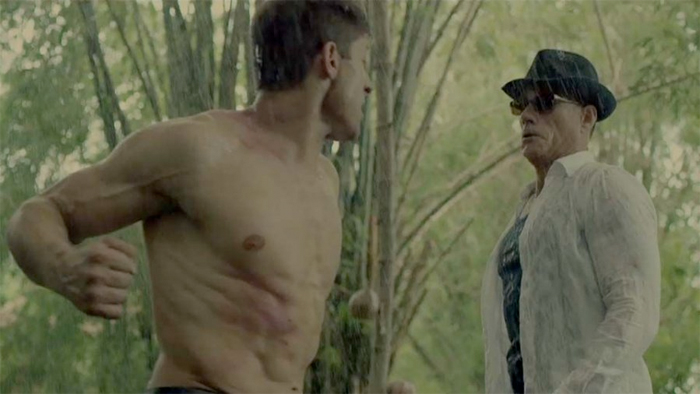 The story of KICKBOXER is elemental enough that it would've been easy to do something very similar without it being a remake, or also to make a remake that just seems like a generic KICKBOXER-type movie. This has a nice approach to acknowledging the famous parts of the original without either being exactly the same or feeling like corny nostalgic references. For example the mentor still tests the student by getting him into a bar fight, but it's so much bigger and more elaborate a bar and fight that it feels like a different thing. I won't give away the tip of the hat they give to what I would consider to be the most memorable part of the original, but I will confess to straight up delight when it happened. (I'm not talking about the part where they glue broken glass to their forearms, but of course they have that in here. This is the type of remake where they're not stupid, they know that's a part you gotta keep.)
I don't know how many will be with me on this, but I really like Moussi in the lead. He has some of Van-Damme-Kurt's clean cut good guy quality while being a little more cool. He has a bit of dry humor without making a joke out of the role. And he has a good rapport with both Van Damme and Georges St-Pierre (CAPTAIN AMERICA: WINTER SOLDIER) as a fellow fighter who he sort of becomes fight brothers with. St-Pierre hasn't been much of an actor yet, but he actually gets some laughs in this by playing dumb and by casually holding a beer most of the time, even when fighting. Gina Carano is not used as well in her bit part – like in HEIST, she's not doing a very good job at the acting and then they don't have her do any fighting. She even gets choked and doesn't fight back.
Moussi does get to fight though. He's an impressive martial artist who does a ridiculous array of kicks (among other things). There's a much higher volume of action than the vast majority of modern action movies, and a variety of settings for the fights. At first I was a little concerned because some editing was faster than I prefer, but either it calmed down or I adjusted. What really struck me, after watching so many overly close up post-action movies like THE MECHANIC: RESURRECTION and JASON BOURNE, is that there are literally hundreds of kicks in this movie and for almost all of them you see the kicker's entire body in frame. It's so much better that way.
The fight choreographer/stunt coordinator is Larnell Stovall (UNIVERSAL SOLDIER: DAY OF RECKONING, UNDISPUTED III) and he puts alot of personality and story into the fights. One funny idea I appreciated is the number of times Kurt does an awesome flying move that would normally be the spectacular finish, but his bigger opponent just swats him down like a volleyball. Or catches and bodyslams him.
Tong Po, as originally played by Van Damme's buddy Michel Qissi, is one of the few iconic villains of the subgenre, and Bautista is a brilliant choice to elevate him to further outlandishness. Covered in tattoos, he still has the top knot but is no longer quasi-Asian (other than in his interior decoration and tea drinking).
This version is almost like a cult leader who not only fights in organized death matches but lives in a compound full of disciples who fight each other while he watches them literally from his throne. When one student kills another during sparring he doesn't give a shit. In fact he seems to get bored, just gets up and walks into his living quarters, where two women are waiting to drop their bathrobes and follow him to bed.
Yet there's a little more humanity to his evil. He's able to talk about honor to shame Kurt for trying to avenge him in what he labels as a cowardly way. The only way for him to get justice is to do what his brother couldn't. And you know what that means: he better train.
I think we can all agree that
1) training montages are one of the greatest traditional art forms created by mankind and
2) there really have not been even remotely enough training montages in the past 25 years of cinema, causing a crisis of untrained millennials listening to music with passive, uninspiring lyrics that rarely mention steel, fire or courage.
KICKBOXER: VENGEANCE doesn't have any Survivor-esque songs, but it does have two very long, very involved, very enjoyable training sequences. You got ropes, coconuts, splits, pulling people around in wagons, practicing kicks silhouetted in front of beautiful scenery, cruelty in the tradition of R'as Al Ghul or Pai Mei, and of course weird new methods that probly would not cause anybody to win a fight but are really awesome anyway (dunking him in water while he pedals a bike).
In a weirdly indie touch one of the montages is set to an aggressive song by the Chicago rapper Rhymefest. And the score is by Adam Dorn, better known as drum 'n bass DJ/jazz bassist Mocean Worker. It's mostly the cliche exotic flutes and percussion, and at times a little overbearing, but I did dig on a weird slap bass tune during a foot chase.
Director John Stockwell (UNDER COVER, TURISTAS, IN THE BLOOD) is a pretty good journeyman type director who can sometimes sprinkle his lowbrow movies with unexpected class, and I think this is one of his best. He's working from a script by Dimitri Logothetis (producer of HARDBODIES 2, director of SLAUGHTERHOUSE ROCK) and Jim McGrath.
Either the producers are very optimistic, or somebody has finally figured out the formula for profitable b-action franchising in this era, because they've already completed a sequel, KICKBOXER: RETALIATION, and announced a third one to start filming in February. Moussi returned for part 2, so they don't have to say Kurt's dead and introduce a third Sloane brother as Albert Pyun did in KICKBOXER 2: THE ROAD HOME. Van Damme also returns for his first ever KICKBOXER sequel – hopefully a real role and not a cameo or opening death scene or something. It's impressive that he's not just there as a reference. He has a more memorable character now than he did in the original! Logothetis took over as director, so we'll see how that goes.
So far this has not been a banner year for the genre, but not counting good low-on-action stuff like BLOOD FATHER and CRIMINAL, I'm thinking KICKBOXER: VENGEANCE must be the American action of 2016 that I had the most fun watching. I put it slightly above Michael Jai White's NEVER BACK DOWN: NO SURRENDER, another underground fighting circuit movie choreographed by Stovall. Neither of these are going to the top of my Best DTV/VOD Action Movies list, but they're enjoyable, solidly crafted martial arts movies and I'm happy to welcome this type of thing back into my life.
This entry was posted on Monday, September 5th, 2016 at 11:11 am and is filed under
Action
,
Martial Arts
,
Reviews
. You can follow any responses to this entry through the
RSS 2.0
feed. You can skip to the end and leave a response. Pinging is currently not allowed.