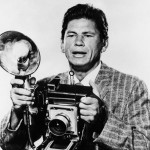 After enjoying recent DEATH WISH ripoffs and spinoffs like DEATH SENTENCE and THE BRAVE ONE, I thought it would be a good time to revisit the source, and to see those sequels I never got around to watching. (By the source I mean the first Charles Bronson movie and not the book by Brian Garfield, which is apparently similar but clearly anti-vigilante in the end – that's why he wrote the sequel Death Sentence, because he was so mad about the DEATH WISH movie.)
Charles Bronson plays Paul Kersey, New York architect, happily married father, "bleeding heart liberal," Korean War veteran with conscientious objector status. A cool guy. Then one day a gang of hoodlums (including Jeff Goldblum in his first movie role) follow Paul's wife and daughter home from the grocery store and rape them. Mrs. Kersey dies and the daughter is so traumatized she's hospitalized in a near catatonic state.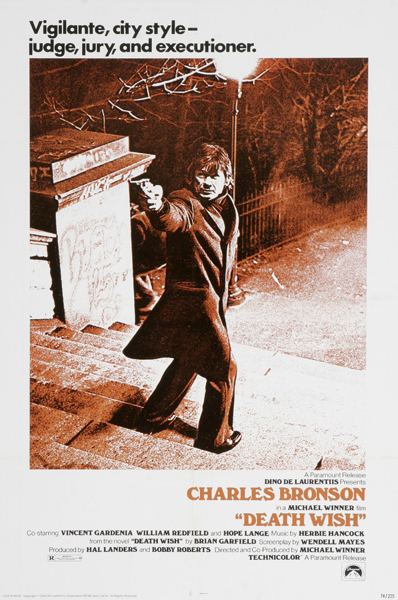 Paul's annoying son-in-law (who calls him "dad" way too much for comfort) convinces Paul to take an opportunity to go work on a project in Tucson to get away from it all. Hanging out with ranchers he ends up going to the gun range, where he gets a condescending lecture about how the city wouldn't be so violent if everybody had guns like out here. When he leaves they give him a gun as a gift. So, uh, that might end up being used for something. Who knows?
Of course Kersey ends up in a one man war against crime, going out late at night waiting for people to try to mug him so he can shoot them with his new gun. It makes him feel good. Strangely, he never ends up tracking down or even trying to track down the dudes who attacked his family. Since this was the start of the urban vigilante formula it hadn't yet occurred to them that that was a good way to make the story satisfying. Or maybe they just knew it was unrealistic. That didn't become a part of the formula until part 2.
Obviously nobody likes bullies, and this was at a time when crime was fairly rampant in alot of major cities, so it hit a chord with alot of people. Anybody who ever gets fucked over fantasizes about getting revenge. But the manipulation of the movie is pretty blatant, the way it openly states that Kersey is a "bleeding heart liberal" and basically says that all his values were wrong and now he knows since his wife was killed.
Being made in a more sexist era the portrayals of his wife and daughter are pretty embarrassing to look at now. Obviously an attack like this is deeply scarring but the wife seems to die of fear and the daughter quickly reverts to the mental state of a little girl. She's even that way years later in part 2. It's reinforcing this fantasy for the Tucson ranchers that women are helpless little fragile waifs and that a man's primary job in life is to violently protect them from other predators.
If the movie wanted to really make the vigilantism argument credibly it wouldn't have to stack the deck the way it does, with the hoodlums being these silly cartoons who run around hooting and giggling and randomly attacking people for fun. If that's the way the filmatists see street crime then you gotta figure they're just paranoid, they wet their pants every time they see a longhair or a black guy, then run home and tell their friends they just barely dodged a gang rape. This movie definitely exploits our basest and most paranoid instincts. (I mean jesus, check this out.) [UPDATE FROM THE FUTURE: that link was some deranged comment on the DEATH WISH IMDb boards, which no longer exist.]
But you know what? I still dig this movie. Bronson is so good at these type of characters that I accept him more like he's a real guy who went a little crazy in a bad circumstances than as thinly veiled audience manipulating right wing fantasy time. So I forgive him. And for such exploitation the filmatism is pretty classy. The elegant and sometimes funky score by Herbie Hancock goes a long way toward making it work. Apparently director Michael Winner's girlfriend gave him the Headhunters album and convinced him to get Herbie. Good job Michael Winner's girlfriend at the time(aka Maria from Sesame Street).
And although the movie seems to be coming out on the side of vigilantism, you gotta acknowledge that there is some ambiguity there, the way at the end Kersey has completely lost it and he starts spouting cliches from the western stunt show he saw earlier. To me it seems to be saying that what he's doing is at least in part inspired by that blatantly fake world – rehearsed, lipsynched, acted out for tourists. And maybe that's why he takes his chance to leave New York instead of dying or committing suicide like alot of people would after a crazy rampage like that. Maybe that's why he doesn't really have a death wish.