"Very impressive. Though perhaps a bit excessive."
–a quote from John Woo's MANHUNT that I do not believe applies to the movie itself because the concept of excess does not exist in the Woo Zone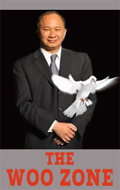 Welcome back to the Woo Zone, a dimension of violence and poetry, of bonding between enemies, of glorious slow motion badassness and tragic desecration of symbols of peace and redemption. When we're not in the Zone, many of us have resigned ourselves to a world where John Woo is in the past, a face on Action Movie Mount Rushmore, but not a currently active artist. If that's you, I am honored to bring you word of MANHUNT, Woo's highly enjoyable new movie which has just been undeservedly sentenced to a Netflix dump in May. I saw it by buying a legitimate region A, English subtitled blu-ray from Yesasia.
The hype around this has been that it could be a return-to-form for the maestro, at last returning to contemporary-Hong-Kong-crime-action-male-bonding-with-doves after a detour into Hollywood studio movies (MISSION: IMPOSSIBLE 2, PAYCHECK) and then massive Chinese historical action (RED CLIFF). And that's pretty much true. There are "good guys" and "bad guys" who gain respect for each other. There are a whole bunch of thrilling action sequences and guns used with artistic license. And I will definitely be telling you some things about the doves. There are some topnotch doves in this one. There's also some dancing. Because Woo was once a dance instructor.
But Woo – despite throwing in a line of dialogue referencing the title of his breakthrough movie – doesn't seem primarily interested in making a throwback to his own classics like THE KILLER and HARD BOILED. This is kind of his tribute to Japanese cinema. He made it to show his respect for recently deceased favorite actor Ken Takakura, who inspired Chow Yun-Fat's style in A BETTER TOMORROW. It's based on a book by Juko Nishimura that was made into a 1976 movie starring Takakura (not available on U.S. video – whatchya gonna do about that, Netflix?). Though some of the stars are Chinese it takes place in (and was filmed in) Osaka, Japan.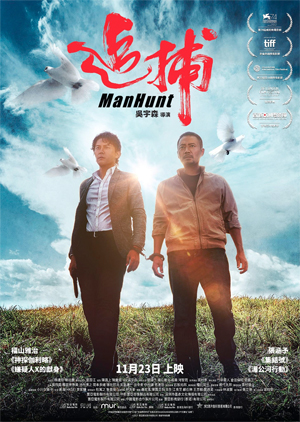 Du Qiu (Zhang Hanyu, BODYGUARDS AND ASSASSINS, THE GREAT WALL) is a Chinese lawyer at a major Japanese pharmaceutical firm. One morning he wakes up in a hotel with a dead woman (Tao Okamoto – the cool sidekick from THE WOLVERINE) next to him. He knows he didn't do it so he calls the cops, but they arrest him. Things look bad, but he knows the law, and surely he can– oh shit, this cop Asano (Kuniharu Tokunaga) tries to fake like Du Qiu stole a cop's gun, and he has to make a run for it to avoid getting shot.
So it's a U.S. MARSHALS kind of story – man on the run, set up in a conspiracy, has to stay ahead of his pursuers long enough to find out what's going on and prove his innocence. (I say U.S. MARSHALS and not THE FUGITIVE because they seem to have framed him intentionally.) His Tommy Lee Jones is Detective Satoshi Yamura (Masaharu Fukuyama, RUROUNI KENSHIN), who gets your traditional action movie supercop intro: using a trick (pretending to be some pushy livestreamer guy) to fearlessly walk into a hostage/bomb situation unarmed and then knock away the guns and arrest the militants. Woo also shoots Yamura's feet strutting in like he's a regular Tequila or Chance Boudreaux, but in my opinion the shoes he's wearing look kind of dorky so I take that as a character moment. He's kind of a square but he gets it done.
He also has a brand new partner, young Rika (Sakuraba Nanami, ATTACK ON TITAN), who he's very gruff to, but it's hard to dampen her enthusiasm.
There's alot of good chasing on foot, through a subway tunnel, in a car, on jet skis. There are disguises and tricks and hostages. Vehicles flip and explode. Motorcycles drive through a house. He ends up in a shantytown where the homeless hide and shelter him. These are people who compete to be chosen as drug test volunteers for the very company Du Qiu has been working for. I guess they have faith that the volunteers never coming back means they're off living the good life. Kind of like the pigs at the beginning of BABE when they see other pigs loaded onto trucks.
Du Qiu also gets some help from half-Chinese local Mayumi (Qi Wei), who he met at a party the night before everything went to shit, but there is some tension because, see, her fiance committed suicide after losing a lawsuit to Du Qiu. She had approached him trying to convince him to be a whistleblower or something, and got mixed up in all this shit.
Another complication: two fierce assassins on his ass. Their names are Rain (Ha Ji-won of South Korea) and Dawn (Angeles Woo, Woo's daughter who was also in REIGN OF ASSASSINS and THE CROSSING) and they come in guns blazing on motorcycle-back. In another life this group could be friendly, people who would bump into each other and discover a mutual love for old movies and quote favorite lines from them. In fact, in another scene they could be that, because at the beginning of the movie Du Qiu happens to go into a cafe and have just such a conversation with them, not knowing that as soon as he leaves they're gonna perform a massacre.
(My guess is that the lines they're quoting are from the original MANHUNT, but I haven't been able to confirm or disprove that theory.)
It gets more convoluted and more crazy as it goes along. This whole mess has something to do with (SPOILER) experimental drugs that give people super-strength and fortitude. So there is some climactic fighting with punches that send people across the room, and there's some mind control and shit. Though it does have some of the spirit of those Hong Kong masterpieces we love, I consider this drug stuff to be a different thing I love in goofy Hollywood Woo. The third act shift into far-fetched sci-fi concepts made me think of FACE/OFF, and the willingness to be ludicrous reminded me of HARD TARGET, BLACKJACK and M:I 2. Also hats off to the high speed jet ski chase, which reminds me of the speedboat one in FACE/OFF. Which is a good thing.
Composer Taro Iwashiro is Japanese – he did AZUMI and the Japanese remake of UNFORGIVEN – but he'd already worked with Woo on RED CLIFF and THE CROSSING, and his score is kind of on the smooth side of jazzy, something Tequila would approve of.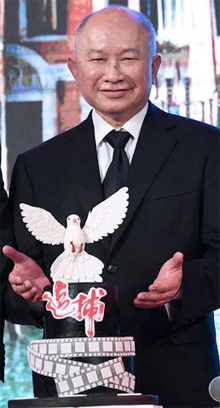 There's no butterfly imagery ala BROKEN ARROW or WINDTALKERS. This is dove Woo. I like for directors to have trademarks, so I hate when people make fun of Woo's doves (it especially kills me when it's a young person who skipped their Woo phase and that's all they know about him, probly picked up from some Youtube wiseass or something). I am happy to report that in MANHUNT a car chase crashes right into some sort of dove coop and leaves them flying around for a whole fight scene. I believe there are some special effects involved, but otherwise this would be the ultimate Woo dove scene because (DOVE SPOILER) this is what happens: Yamura gets Du Qiu's gun and is pointing it at him at close range, but a dove flies right in front of the barrel so Du Qiu uses that moment to kick him, and Yamura falls backwards in slow motion, and the dove flies past him so he turns his head to look at it, causing his skull to just miss landing on a large rock. The dove is like an angelic force that intervenes, preventing each of them from killing the other, so that they can eventually make peace. And there's at least one other part where a dove seems to be observing or helping. Good work, doves.
There's not a scene where a church gets shot up – instead there are two weddings, one in the present, one in flashback. And then the dress from the first wedding, saved as a memorial, gets filled with bullet holes. Similarly, some horses get shot at and chased by motorcycles. Violence always encroaches on purity in the Woo Zone.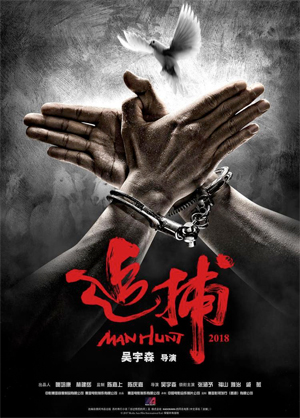 But also enemies find mutual ground and form a bond. Du Qiu and Yamura pull Mayumi out of an upside down car together. Then they end up handcuffed to each other and have to fight off assassins, running around in perfect synchronicity to kick down a door, unsheathe a sword, reload a gun, slide across a floor shooting like a couple of Chow Yun Fats. There's a great moment where Du Qiu gets a wounded Yamura to the hospital. Yamura has him uncuffed and tells him he never saw him. "You're free. Go." Smash cut to Du Qiu carrying him into the hospital anyway. He had a chance to go and he made his choice.
How is it that these guys are sent after each other and try to kill each other a bunch of times and then they decide they're best friends? In this one, at the end, we get the female perspective: It's because "men are simple beings." Fair enough. I guess I like stories about simple beings.
I'm not gonna tell you this is Woo at 100% HARD BOILED powers. There's definitely some yolk left. There are a few really weird and awkward storytelling techniques (still photos with ADR dialogue?) and the squeaky clean digital look really makes me miss filmstock. On the other hand he still has an enthusiasm for trying new things, such as a DePalma-esque sequence where Yamura and Rika try to piece together the murder based on the evidence. Rika starts to visualize herself as the victim and gets upset. Yamura sees the body outline dissolve into the victim, and sees himself handing the murder weapon to Du Qiu. By "seeing" it he realizes why it couldn't be, why Du Qiu must be innocent.
This whole movie has an energy, an enthusiasm, and a specific point-of-view that I have been missing. It doesn't have to be one of the top Woo movies for it to be a wonderful gift from the doves.