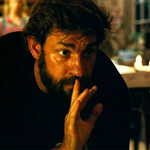 A QUIET PLACE is a really effective monster movie that goes a long way just on the strong execution of a simple, cool premise. 89 days ago as of the opening scene, civilization as we know it ended under the sharp teeth of some GREAT WALL-esque man-eating monsters. They're blind, but they have great hearing and they run fast, so they'll zip in and munch on anybody who makes any kind of noise. That could be some librarian's bedtime story to keep the kids in line, but it feels a little more like THE ROAD or something.
We follow a family who have already developed methods to survive in this dangerous new reality. They live on an isolated farm, they speak in sign language. Their daughter (Millicent Simmonds, WONDERSTRUCK) is deaf, so she's good at being silent, but of course she doesn't necessarily hear if there's a monster behind her or someone else is making a sound that's gonna attract one. They've developed warning systems involving lights, torches that seem to communicate with other survivors (though we never see them) and various emergency backup plans. When they need to go into town to scavenge they walk barefoot on trails of sand (I wonder where they got all that from?) It shows just how serious this is, and how much work they have to put into it, and also it's a cool visual.
Of course the coolest part of this movie is that there's very little dialogue, and long stretches of tense quiet. That's not to say it's silent – there is music at times (Marco Beltrami, CURSED), and obviously you hear breathing, walking, creaking floorboards, wind, the sounds of the world. But something as small as a dropped object will make you jump. I'm sure there are some horror stories about theaters where some moron couldn't keep from talking, but in mine (and I'm sure in most) people seemed afraid to even crunch their popcorn. And it really forces you to notice how often someone clears their throat or coughs or sniffles, and how dead we'd all be. Not to mention the dangers of sneezing, farting, getting the hiccups, forgetting your keys and saying "Ah, fuck!" Or let's say you're watching a movie with the sound off and subtitles on but there's a big twist that surprises you and you go "Oh shit!" or "Whoah, that's a dude?" or whatever. Or even, "Oh, come on!"
You can't do that, or you're dead. Ironically, this is a movie it seems like Shyamalan would've liked to have come up with, but it's in a world where everyone could be killed by watching his movies.
There's a part where the husband and wife (real life couple John Krasinski [JARHEAD] and Emily Blunt [THE WOLFMAN]) share a moment of joy by listening to "Harvest Moon" by Neil Young on earbuds. I have a couple things to say about that. First, if this movie came out last year they would've been listening to "Take Me Home, Country Roads" by John Denver. Second, this is real dangerous not just because of a likelihood of accidental humming but because those earbuds can get damaged and have major leakage without you realizing it. I learned this the hard way in a humiliating incident where I was sitting in the very back of a bus and the driver announced over the intercom that "someone's personal entertainment is MUCH too loud." I remember I was listening to something from A Tribe Called Quest's The Love Movement with a loudly mixed beat. It could've been "Da Booty," but I think it was "Start It Up."
Either way I blame Dilla. Dilla would get you killed in the quiet place.
A world where you can't crank up the Stevie Wonder is a shitty world, but to me the very saddest thing to consider is that you can't laugh or make somebody laugh. There's a really cool idea about a place where the father takes the son (Noah Jupe, WONDER) where they can speak out loud because of natural sounds that drown them out. But even there you shouldn't be joking around, because what if later out in the open you remember something funny that somebody said and you chuckle to yourself? Too dangerous.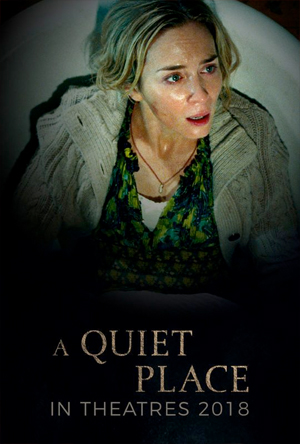 People will question why they don't do such and such. But also they come up with many tricks I might not have thought of. A minor nitpick is that an exposed nail plays a major role and it's completely unclear how the fuck it got there. I assumed I missed something, but a Twitter poll tells me most people were confused. And going in the opposite direction there are a couple images (newspaper headlines and notes on a dry erase board) that went a little too far in serving up to us what we were supposed to be thinking about. But for the most part it's some good visual storytelling, which is something I love. A favorite shot is the one where the mother is hanging a mobile and I didn't really piece together what she was doing until her clearly pregnant belly slid into frame. The cinematographer is Charlotte Bruus Christensen, who did a good job on FENCES and MOLLY'S GAME, but I bet she was happy not to have to take a backseat to a bunch of jibber jabber.
The pregnancy is an interesting element, because why would you bring a screaming baby into a world where you must be silent? Well, because they want another kid, and because they want life to go on, so they try to figure out a way to do it. Some have even read this as "pro life," but I think it's also pro choice, since they seem to have made this decision on their own. At any rate it's a dramatic story element to see how they try to do it and it's disturbing as hell to see (SPOILER) a mother sealing her baby in a wooden box!
Another issue I think you can read into the movie if you want to is about the controversy in the deaf community over cochlear implants. As I understand it, some believe that there's no reason to "cure" deafness, that it's a legitimate way to live with its own culture, and they don't want to be pressured to get an implant as if they're incomplete without one. I think this debate is hinted at when the daughter refuses her father's attempt to jerry rig her damaged implant. Even if she's just tired of getting her hopes up after a long series of failed attempts, she's making a decision to not worry about it.
(Incidentally, Simmonds really is deaf, and helped the cast to learn American Sign Language.)
But it's also just about parenting in general. The daughter thinks the dad hates her because she kinda sorta caused a horrible tragedy a year ago. And the son is really terrified of the world and the dad has a hard time getting him to come out and learn things. It's a situation where it actually is important for the dad to teach his kids how to fish, and it's still kind of an excuse to get him out there to teach him other things he needs to know to survive.
There are some real good suspense sequences, and probly the world's first setpiece about people trying not to drown in corn. Points for originality there.
The monsters are pretty cool. I think they might be all digital, but not the shitty weightless kind we associate with lower budget movies, because ILM did them. The Wikipedia entry refers to them as extra-terrestrials, but as far as I noticed the movie doesn't specify this, which I like. I think they could've been genetically engineered by the Alamo Drafthouse to police movie talkers, but then things got out of hand.
Krasinski directed the movie, produced by Michael Bay's company Platinum Dunes, making it easily one of the best from this producer of nicely shot, shitty remakes. I have determined that it's their best movie, followed by TEENAGE MUTANT NINJA TURTLES: OUT OF THE SHADOWS and then probly one of the PURGE movies (but I need to see the OUIJA prequel to be sure, I've heard it's pretty good). Krasinski previously starred in the company's Jack Ryan tv series as well as Bay's 13 HOURS, where he first showed that he could be a tough beardy guy instead of the smug audience surrogate on The Office*. Unlike last year's TV-comedy-guy-turned-director-of-popular-horror-movie, Jordan Peele, Krasinski doesn't consider himself a life long horror fan. He just loved the script by Bryan Woods & Scott Beck (though he rewrote it enough to share the writing credit with them).
Anyway, my big question is, would it have been so hard to call it SSSHHHHHHHHHHHHH? Now nobody can ever use that as a title because whatever it is you'd think "well, it's not as much about having to be quiet as A QUIET PLACE is, I don't know who they think they're fooling with that title."
*Some Americans still call it "the American Office" to show off how worldly they are, but for crying out loud it ran for nine years, made us forget that Steve Carell and Ed Helms were once just Daily Show correspondents, introduced us to Krasinski, Rainn Wilson, Mindy Kaling, Craig Robinson, Rashida Jones, and Ellie Kemper among others, and even showed us that James Spader, Amy Ryan and Kathy Bates could be funny. I think it's okay to acknowledge that it has a larger cultural imprint than just an American version of a 14 episode British show, you sillies.