Michelle Yeoh jumping a motorcycle onto a moving train. Landing it. Skidding out, letting the bike fall off, staying on the train. This is what I remembered about SUPERCOP. She really fuckin did that stunt! She was a dancer that had turned to acting in kung fu movies, was good at learning the moves. She actually hadn't made a movie for a while, but her old friend Stanley Tong was making his directorial debut, and she came out of retirement for him. He was actually her stunt double sometimes. I guess he was too busy directing this, so she had to do the stunt herself.That's an all time great moment, and this is another solid movie, but it couldn't really live up to my memories based on seeing that the first time. Oh well.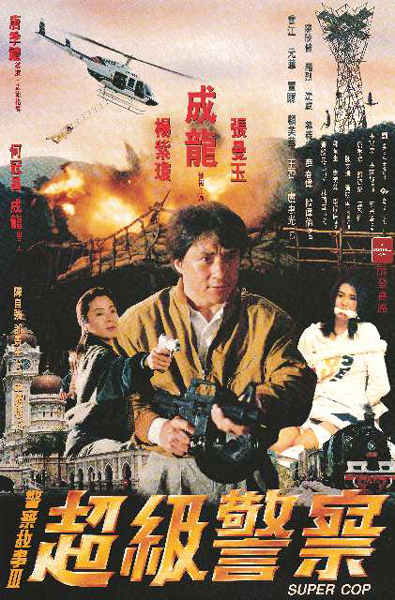 The DVD I rented was the Dragon Dynasty version, which might've been a mistake. It has an embarrassing opening credits montage with fake Bruce Lee battle cries, just a step away from playing "Kung Fu Fighting." It has a different score, and not a good one. It has a part where a Warren G. song is playing on a car stereo (I would like to see the Weinsteins add a Warren G song to everything they ever release, including THE ARTIST and THE KING'S SPEECH). It's shortened a little bit. I should've found an import.
By the way, Yeoh was credited as Michelle Khan at that time. Remember that? I think there was some disagreement about whether westerners could figure out "Yeoh" or not. I think we pulled it off. We should be proud.
In this version, if not all versions, it's a little more serious than the other POLICE STORYs. It has humor with Ka Kui being in over his head (like when Yeoh makes him spar with her best kung fu expert in front of like 100 cops). It doesn't have the broad stuff like moonwalking to get dog shit off his shoe (part 1) or his uncle farting in a crowded elevator (part 2).
His uncle (Bill Tung) returns for the opening, and so does Maggie Cheung as his girlfriend May, who he lives with now. But right away things seem really different, and that's because we hear their actual voices. I guess this was Jackie's first movie recorded with sound other than the ones he made in the U.S. It seems strange at first, because it's new, but of course it's better.
This one's also different because it turns into more of a spy movie. Due to his successful police stories he's recruited by Interpol to go undercover on the mainland, bust a guy out of prison to find out what he's up to. He goes to work with Yeoh, who sets him up with an elaborate identity and backstory, even poses him for photos to create a history for his character. There's some tension because of the cultural and language differences between the mainland and Hong Kong, and Yeoh seems much more uptight and serious than him.
Then when he's undercover she shows up claiming to be his sister and acting more youthful, which freaks him out. It's great to see those two running around together, nimbly jumping and rolling to avoid gunfire and explosions. Poor Michelle's wearing an explosive vest and performing stunts hoping not to set it off. She can't really complain too much, though, because Jackie wore one of those in part 2 and SPOILER his was really loaded.
Michelle kicks a girl in the crotch, just like that lady in the opening of ROAD HOUSE. I always respect a movie where a woman gets kicked in the crotch, 'cause it's pretty rare. It's not as intuitive as balls.
May is a little more likable in this one. She gets screwed over yet again, working at this resort and suddenly seeing her boyfriend with another woman. They can't let her blow her cover so Michelle grabs her by the mouth and shoves her in the pool. But she's smart enough to figure out what's going on and play along.
When the movie really starts rolling there's a big car chase with Michelle hanging off the side of a van, a helicopter shooting rockets into traffic, eventually Jackie hanging from a rope ladder attached to the helicopter. I kind of wonder if they saw DARKMAN and thought "Hey, we could do that!"
I guess SUPERCOP is not the miracle I remembered. But I mean, look at this shit:
You can't discount that.What kind of an asshole would even try? This is a special movie.
But not necessarily my favorite, it turns out. It's a solid Jackie vehicle improved by the power of Michelle Yeoh. And Warren G. Legend has it that Jackie was very old fashioned and had a bit of an ego so he was very jealous of all the attention Warren G got. But I hope some day they'll work together again.
P.S., short for post-script: there's a SUPERCOP 2 that's about Michelle Yeoh's character (Jackie Chan in cameo only). I was real excited to see it but I put it in and the Weinstein DVD only had it dubbed, which I couldn't take so I turned it off. Great job, fellas. There is a subtitled import available but it's a full frame VHS – anybody know it? Should I go for it anyway?
This entry was posted on Friday, May 25th, 2012 at 1:36 am and is filed under
Action
,
Martial Arts
,
Reviews
. You can follow any responses to this entry through the
RSS 2.0
feed. You can skip to the end and leave a response. Pinging is currently not allowed.