AFTER 2 WEEKS IN LIMITED
RELEASE, THE LAST DAYS OF DISCO
EXPANDED TO 168 SCREENS…
June 12, 1998
THE LAST DAYS OF DISCO is a category of movie that arguably had its heyday in the late '90s: the beloved indie auteurs given the money to do their thing with more production value. In this case it's the third film of writer-director Whit Stillman, whose $250,000-budgeted debut METROPOLITAN (1990) received an Oscar nomination for best original screenplay and an Independent Spirit Award for best first feature. His second one BARCELONA (1994) cost under $3 million, but for this one he got $8 million to work with, more than either of his movies had grossed.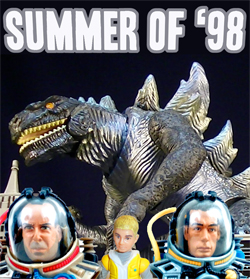 It's still a movie mostly about people talking, but it costs money to have a huge club set, period costuming and a soundtrack of disco hits (just ask the producers of PROM NIGHT about that last one). The movie chronicles Alice (Chloe Sevigny, KIDS, GUMMO) and Charlotte (Kate Beckinsale, VAN HELSING, PEARL HARBOR) – both readers at a New York City book publisher – and some of the other people who hang out at the same unnamed disco as them over a period of maybe a year or two in "the very early 1980s." They fall in and out of relationships, fuck things up, etc.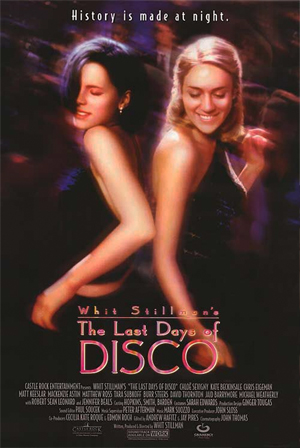 I confess I haven't seen Stillman's previous movies, but they're described as "comedies of manners," and considered a loose trilogy with this (which crosses over with characters from the other ones, but unobtrusively enough that I have no idea which characters they are). These are stories about the bourgeoisie and their lack of discretion when it comes to overestimating their own charm.
Jimmy (Mackenzie Astin, THE GARBAGE PAIL KIDS MOVIE) is one of the more likable male characters, even though he's a dude in the advertising industry who mostly comes to the disco as kind of a tour guide for his old, uncool clients. A particularly awkward night for him involves giving a guy a jacket to wear over his out-of-fashion suit, still not being able to get him past the snobby doorman (Burr Steers, director of PRIDE + PREJUDICE + ZOMBIES), and feeling like a total asshole. His old friend Des (Chris Eigeman, also in theaters with MR. JEALOUSY) is a manager at the club who sneaks him in the back door and gets in trouble with his gangsterish boss (David Thornton, HOME ALONE 3, husband of Cyndi Lauper) because he says he doesn't want advertising people in the club. Which is kind of admirable.
Des is a dipshit, but a good enough friend to still get Jimmy and his clients in disguised in WIZARD OF OZ costumes. An example of the movie's dry absurdity is the detail that the costumes belong to Des, not the club. We see his apartment and it's not full of a bunch of weird crap or anything, but for some reason he owns scarecrow, tinman and lion costumes.
On his DVD/Blu-Ray commentary track Stillman gives the somewhat conflicting information that
1) the studio insisted on rushing it to be released before 54, because that was another movie about disco
2) the studio wanted to change the title because they thought it wasn't about disco
I think the title is perfect though because any cursory history of disco discusses its underground roots and how it was mainstreamed by SATURDAY NIGHT FEVER, gentrified and ruined by this popularity, drawing in a bunch of dumb boring assholes and becoming too commercial and oversaturated. Well, this is a movie about the bad guys in that story, a bunch of full-of-themselves Ivy Leaguers from the advertising and publishing industries who spend their nights at this disco. Other people are having such a hard time even getting in and they get to cut the line but then they go in and drink cocktails and talk. We see the drag queens, naked people and shirtless dudes painted silver, but our main characters don't seem to care what music is played, or even go on the dance floor that much. It's not the sort of disco movie where it matters if the actors learn to dance well. They don't. But the sort of casual half-heartedness of the dancing makes it kind of relatable and endearing.
Twenty years ago when I saw this I fell in love with Sevigny. But then we never met and decided therefore it was best to go our own separate ways. That's just how life is, and I think it worked out for the best. Alice is an unusual character because she's the protagonist, but more passive than most of those around her. She's definitely a nicer person than most of them, but not enough to reject their snobbery, and not without her pretensions. For example she has a line she loves to repeat about why she didn't like her college: "I'm sorry, I don't consider the guy who did the Spider-man comics a serious writer." You can tell she's practiced that one. And when somebody correctly guesses that her drink is a vodka tonic she goes into an existential crisis about whether or not people think she's a cliche and makes a big show of switching to whiskey sour.
I think of Charlotte as the villain. Some of the dudes are big enough scumbags to be worse people than her (Robert Sean Leonard [DRIVEN]'s character creates some kind of world record for shittiest way to get rid of someone you had sex with), but she's Alice's best friend, co-worker, roommate and constant tormentor. A grandmaster of passive aggressive hectoring, Charlotte never shuts up and always chooses the stance most likely to make Alice feel bad, but tries to make it seem like she's speaking as a caring friend. She'll hassle Alice about something over and over and when she finally gets her to give in she immediately does a 180. Like, Charlotte keeps snorting at this guy Josh (Matt Keeslar, THE STUPIDS, SCREAM 3) for having had a past mental episode involving "religious fervor," then gets Alice to admit being a little creeped out by him doing a chant on a date, then calls her judgmental and starts singing "Amazing Grace." I think she's one of those people who's really fond of her own singing voice and looking for forced excuses to use it publicly, positive that everyone is being hugely impressed the whole time.
Throughout the movie Charlotte is dead set on becoming an associate editor at the company. Ultimately Alice gets the promotion and Charlotte gets laid off, at which point she says, sounding full of pity, "I don't envy her, though. Stuck in book publishing." She's set on this one mode of always showing she's in control and impressively sophisticated and upwardly mobile. Nothing can knock her out of character, including reality.
Eigeman is also really strong in the role of Des. He's mainly known for the other Stillman movies, but I've now seen him playing these pretentious, self-obsessed but well-meaning characters in this and MR. JEALOUSY, and here he seems even more like a real guy. He's such an ass – one of his trademarks is pretending to have just discovered he's gay in order to get out of relationships with women, even Jennifer Beals! – but by the end he feels like some old friend who's a pain in the ass but you've known him so long you keep hanging out with him and are kind of fond of him. (Maybe it helps that he strongly resembles a guy I grew up with, though that guy was a good person.)
There's a funny scene late in the movie when Charlotte mentions LADY AND THE TRAMP and it inspires Josh to go off on a long, bitter, not-naturalistic-at-all monologue analyzing the subtext of the movie and how "films like this program women to adore jerks." We've seen many of these film deconstruction dialogue scenes, especially in the '90s, but what makes this one funny is watching the reactions to it, including Jimmy's serious attempt to give it fair consideration: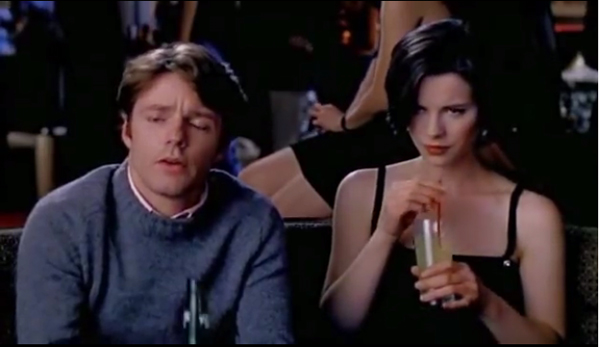 …and especially Des's defense of the movie's moral, and his bug-eyed astonishment at Alice agreeing with Josh. I don't think he's even picking up on the sub-subtext that she wishes she ended up with Josh, I think he's just offended that they're insulting this cartoon dog. "I'm really surprised, I thought Tramp really changed!"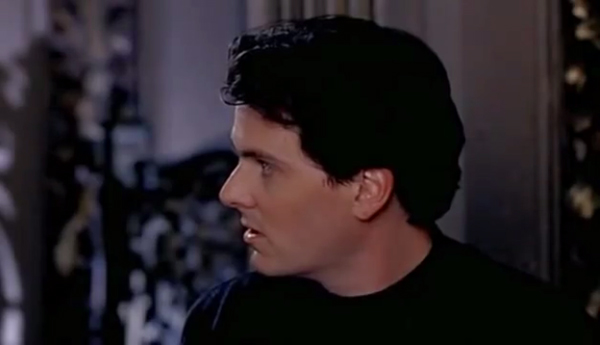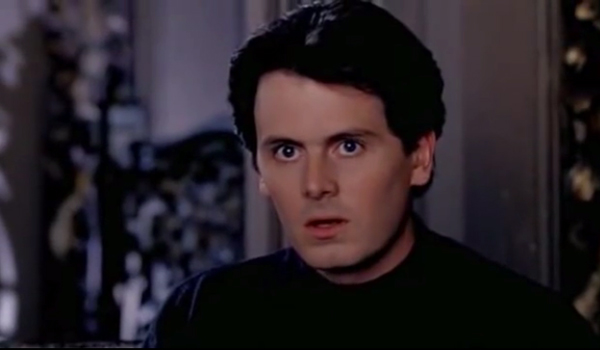 I also like the smaller character Dan (Matt Ross, FACE/OFF, and writer-director of CAPTAIN FANTASTIC), a co-worker of Alice and Charlotte who gives them alot of shit at work but then is clearly very honored when he's able to hang out with them outside of work. He's much more politically-minded than them and tends to criticize them in technically correct but socially inept ways. He's also very conscious of not being as cool as them. When the group plans to go to the disco he first tries to get out of it, saying it's not his thing. But when they manage to get him in he looks so amazed and delighted, he can't believe it. And luckily he doesn't seem worried about fitting in. He's un-self-conscious enough that he just gets out there and happily dances like a total dork.
One thing that's very undisco (and therefore kind of interesting): almost all sex and drugs happen off screen. Des is a junkie, but we don't really know the details. There's a "caught fucking" scene but the one opportunity for a real love scene just consists of dancing into the bedroom and shutting the door.
I think the question of whether or not this is "about disco" is answered near the end, when (MONOLOGUE SPOILER) Josh delivers a monologue that conveniently predicts specifically how disco will be mocked in the future (even mentioning SATURDAY NIGHT FEVER), and explains why the memory of it will always be important to him anyway. Then he admits he was "getting revved up" for a job interview but mostly meant it. And I definitely think it's Stillman's defense of a time in his life he remembers fondly, hanging out in discos on the verge of their death.
That's a good climax, but the final scene is what really sells it. Josh and Alice are standing on the subway and Josh does a little disco move to make her laugh. Sevigny's smile and stare of adoration could start a forest fire, and she seems so bashful and she kinda barely moves her shoulders but is too shy to full-on get down in this setting. But under the end credits it turns into a fantasy sequence where everyone else on the train and all along the tunnel dances to "Love Train" by the O'Jays, and that is a song that is so shamelessly corny and positive and how can you not love it and feel good about the era in that moment?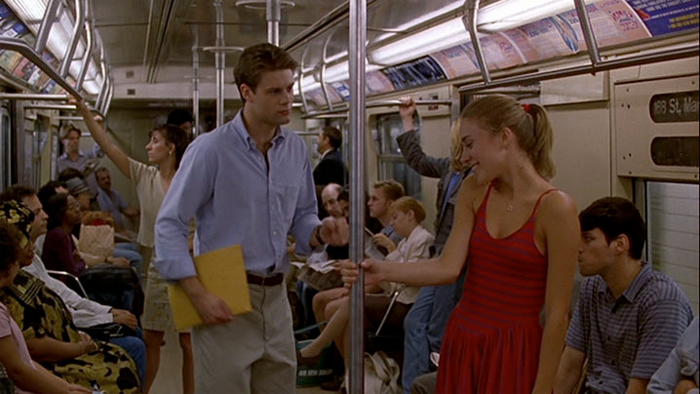 (note: THE MARTIAN also uses "Love Train" for a big feel-good finale. In my opinion THE MARTIAN is straight up rip off of LAST DAYS OF DISCO, at least in the theatrical cut)
Thank you to The Winchester for bringing this movie up in the comments for THE HORSE WHISPERER. I'd been planning to skip it, but I'm glad you guys encouraged me to be more complete than most of my summer retrospectives and broaden the type of releases I look at. I really liked LAST DAYS OF DISCO at the time, and it definitely holds up. But to be honest I'm a little nervous to post this, because I expect there will be alot of "who wants to watch a movie about these insufferable douchebags?"
There have definitely been movies that I felt that way about. Most of these characters I can't relate to, and wouldn't want to be around. I instinctively reject the way they carry themselves, the things they talk about, the way they categorize everybody by which college they went to, and even the words they use. I can imagine meeting them and hating them, fair or not. If I felt like the movie didn't recognize how obnoxious they can be it would be hard for me to swallow.
But the way Stillman does it I love watching them. He's mocking them, but he also knows he's one of them – a Harvard graduate who hung out at Studio 54 and other NYC discos while working at Doubleday. That he can make fun of people like himself and the people he knew at that age shows that such people can have more of a sense of humor and self awareness than I might assume. So when Jimmy is upset about people calling him a yuppie I can feel for him and also side with Matt when he tells him that he is a yuppie. As a group, if not to a person, these characters end up growing on me. They're like some co-worker you think is a dipshit but after a few years in the trenches together you realize he's also your friend even if he makes you pull your hair out and you laugh at his bullshit all the time.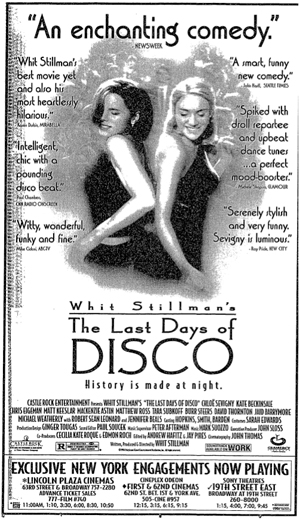 If it's true that they don't make as many of these bigger-budget-indie type movies now, THE LAST DAYS OF DISCO could've been a contributing factor. It opened on 22 screens and expanded to 168 by its third week, but only made back 3 of its 8 million. In August Stillman moved to Paris for a decade and didn't make another film for thirteen years. His only further films have been DAMSELS IN DISTRESS (2011) and LOVE & FRIENDSHIP (2016), and unlike THE OPPOSITE OF SEX's Don Roos he didn't even get into TV directing.
But he was never really forgotten. In 2000, he published a novelization called The Last Days of Disco, With Cocktails at Petrossian Afterwards. Apparently the approach is that it's written by middle aged Jimmy, who is aware of the movie and is explaining how it differs from what really happened. It has a 3.8 star rating on Goodreads, which is only half a star lower than truly important books like, say, Seagalogy. I'm curious, but it goes for fifty bucks or more on Amazon.
And the movie did develop more respect over time. After FEAR AND LOATHING IN LAS VEGAS, it's the second (but not last) summer of '98 movie that would later receive a special edition DVD release by the prestigious Criterion label, available separately or together with the "trilogy." Sevigny went on to an Oscar nomination and long, interesting career. Beckinsale did more costume dramas and became sort of a genre action star. Disco came back permanently and is now the most popular music in the world. Or maybe not. But for the most part things turned out okay, except for whichever of these characters lost everything in the stock market crash.
p.s. I said this was not about disco in a review I wrote over one thousand years ago. If you count this as a review.
This entry was posted on Wednesday, June 27th, 2018 at 10:57 am and is filed under
Comedy/Laffs
,
Reviews
. You can follow any responses to this entry through the
RSS 2.0
feed. You can skip to the end and leave a response. Pinging is currently not allowed.