June 26, 1998
OUT OF SIGHT pretty much struts onto the screen, David Holmes' funky organ already jamming on "It's Your Thing" as the Universal logo spins, George Clooney as Jack Foley storming out of a situation that we'll only understand later, his frustrations underlined by freeze frames, when he spots a bank across the street. And he goes over unarmed, alone, winging it, and robs the place.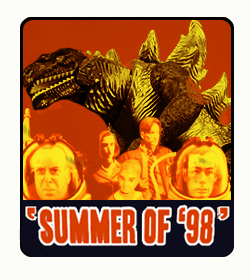 Clooney had already become a superstar on ER and proven himself big-screen-worthy in FROM DUSK TILL DAWN, but it was Steven Soderbergh who taught him to cut down on his trademark head-bobbing and become a real movie star. Wearing a suit I thought I heard somewhere was inspired by Cary Grant's from NORTH BY NORTHWEST, he manages to charm his poor bank teller victim enough that when he tells her to have a nice day as he's leaving with the money she reflexively says "You too."
It's a small, funny moment, but it's also important. We have to believe this guy is so damn charismatic that the federal marshal who witnesses him digging out of Lompoc and gets thrown in the trunk of a car with him will fall for him. And Clooney pulls it off.
The marshal is Karen Sisco, played by Jennifer Lopez (ANACONDA), who is more often discussed in terms of stardom than of work – she's been a backup dancer, a pop star and a reality show judge, after all – but here she's one hell of an actress. She fully embodies every aspect of the Karen Sisco character: the fashionable, womanly agent who's always ready to pull a shotgun out of the trunk or smack a guy around with a telescoping baton; the smack-talking, Nicorette-gum-chewing tough girl who's unwilling to put up with your shit; the daddy's girl who says "Oh my God, it's beautiful" when he gives her a handgun as a gift and hangs around his house on the weekends wearing baggy sweat shorts and a Dolphins jersey; the woman who's smart enough to know better but can't help being smitten with Jack.
We see most of these in that classic meet-cute scene in the trunk of Jack's partner Buddy (Ving Rhames, THE PEOPLE UNDER THE STAIRS)'s car. Karen has some smart ass answers, she makes a play for her gun and fires on him, but also they get into discussing movies and she finds herself reminding him the names of the stars and smiling at his dumb misquotes. There's a perfect moment when he mentions THREE DAYS OF THE CONDOR and you see her contemplating something for a second and then deciding yes, she will tell him something that always bothered her about the movie, that "I never thought it made sense, though, the way they got together so quick."
Sure, it's a meta commentary on the type of story we're witnessing, but it's also the sort of thing you might bring up in a conversation, a normal one with someone who has not abducted you. And not only does she indulge in this bit of casual chit-chat with her captor, she turns to look over her shoulder at him when she does! This is not reluctantly giving in to a charade that they're discussing movies. This is deciding that yes, she wants to discuss movies with this guy. Later her boss Daniel (Wendell B. Harris Jr., director/star of CHAMELEON STREET) will rightly note this detail of her report with suspicion.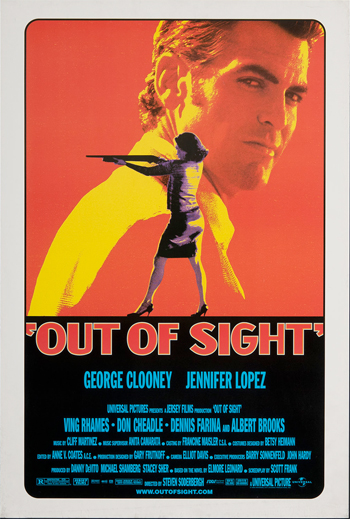 Most of the characters in this are a little bit dumb and a little bit smart, and there's a hierarchy to it. Karen is only dumb if you hold her relationship decisions against her, and she's definitely smarter than Jack. He's "robbed more banks than anyone else in the computer," but he's also the dumbass who robbed a bank on a whim and then flooded his engine trying to drive away. He says himself "You can't do three falls and say you have much of a brain." And in that scene in the trunk he's immediately outclassed by Karen, not just in movie trivia. He's slower than her. When she mentions Clyde Barrow it takes him a minute to realize that's as in Bonnie and Clyde. When he finds her mace she says "That's for your breath. You could use it. Squirt some in your mouth," and instead of just getting that she's joking and insulting him he says, "Yeah, well that's mace, isn't it?"
That's in the trunk. In prison Jack's the smartest one around. He outsmarts Maurice "Snoopy" Miller (Don Cheadle, also in BULWORTH that summer), pointing out the flaws of his shakedown to defenseless Wall Street scammer Ripley (Albert Brooks, also a voice in DR. DOLITTLE that summer). He outsmarts Chino (Luis Guzman, also in SNAKE EYES that summer) and Lulu (Paul Soileau) by figuring out their escape plan and getting in on it, and the prison guard by telling him about the plan and then hitting him over the head and stealing his uniform.
Arguably the dumbest of all of them is Glenn (Steve Zahn, also in SAFE MEN that summer), the pothead who told them about Ripley's diamonds but finds himself spending most of the movie in terror of either Karen or Snoopy. Zahn plays Glenn as a lovable idiot who never takes off his sunglasses and seemingly exists only to get dunked on by everybody (Jack, Karen, Snoopy). This makes it devastating when Snoopy and his psycho brother-in-law Kenneth (Isaiah Washington, another actor who was also in BULWORTH that summer) trick him into coming along to kill someone who crossed him. Soderbergh stays close on Glenn's terrified face as the killing happens, focusing on the end of his innocence rather than the shock of the act itself. He's never the same after that. His glasses get knocked off during the violence, and we see his haunted eyes for the rest of the movie.
Screenwriter Scott Frank had written DEAD AGAIN, LITTLE MAN TATE, MALICE and HEAVEN'S PRISONERS, but of course his most relevant credit was GET SHORTY. I like that one, but this is much more how I see the Elmore Leonard tone – it's funny, but it's not a cartoon, it's real. This has so many of the things I love about Leonard's stories and characters, not least of which is the true-to-life importance of dumb accidents and coincidences in how things play out. Like how Karen happens to be questioning Adele (Catherine Keener, also in YOUR FRIENDS & NEIGHBORS that summer) at her house when Chino shows up to try to find out from her where Jack is, and gets to arrest him. Or the way White Boy Bob (Keith Loneker, JERSEY BOYS) – a goofball who's more excited to steal steaks than diamonds – SPOILER suddenly slips and blows his own head off. Or of course that great moment when Karen spots Jack escaping in the hotel elevator from across the lobby and freezes up rather than calling it in and he stands there like a deer in headlights and then gives a little wave, not really thinking about it, just like when that bank teller told him to have a nice day.
This is a story about cops and robbers, but it's mostly about that attraction, that crush. Karen's dad Marshall (Dennis Farina, also in SAVING PRIVATE RYAN that summer), a retired cop, clearly notices the signs. He knows she makes bad decisions in her love life, and lets his opinions be known through implication and wry jabs, but doesn't judge her or tell her what to do. For example he clearly disapproves of her seeing Ray Nicolette – an FBI agent, but married – so he lets him come over, but punishes him through uncomfortable conversation.
For Jack the person who recognizes and worries but doesn't interfere is Buddy. Buddy notes the ridiculousness of Jack hanging around Florida to see his former hostage again, but knows it's no use to tell him no.
The movie doesn't pretend this is a smart idea. On Karen's part there's an animal attraction – we know because the first direct acknowledgment of her interest in Jack is a dream where she goes to apprehend him, finds him taking a bath, and rather than arrest him climbs in with him. There's even a shot of her eyes moving down to check him out before stepping into the room.
In a way the whole relationship is like that dream – it makes no logical sense for their lives, it cannot last, but they want to enjoy it. Most of us can't relate to being cops or robbers falling in love with each other, but the very identifiable life experience at the heart of this story is the great thing that cannot last. The snowman, the sand castle, the vacation. In a movie made up of great scenes the greatest may be the one where they finally meet up in the hotel bar on a beautiful, snowy night. It's so loaded with romantic tension that it's easy to miss the virtuoso chops of editor Anne V. Coates (LAWRENCE OF ARABIA, RAW DEAL) effortlessly flitting back and forth across time, between the bar and the hotel room. Sure, Jack is an escaped fugitive, but he's clearly a better choice for a one night stand than either of the traveling ad men who sportingly take turns trying to talk to her. These are pitch perfect, almost-a-documentary sleazy business bros without having to resort to them actually being jerks or crossing the line from annoying to doing something wrong.
She brushes them off with attitude, saying she wants to be alone, but surely thinking of Jack, who suddenly appears as if it was another dream and they play out that fantasy he talked about in the trunk about what would happen if they met under different circumstances. At one point she worries about the reality of it, the fleetingness of it, and he convinces her not to waste the moment thinking about it ending. Worry about that later when there's "no more time outs," when I'm robbing a house and you're doing your job.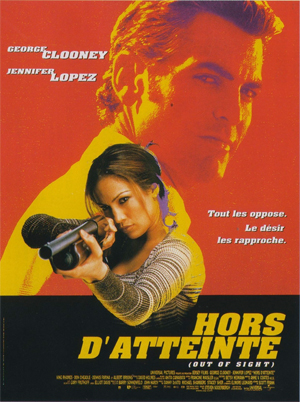 I was highly anticipating OUT OF SIGHT before it came out. I had a good feeling about a cool indie director doing an Elmore Leonard movie starring Clooney. I'd seen SEX, LIES, AND VIDEOTAPE, KAFKA and KING OF THE HILL and it's not like Soderbergh was my favorite director, but I liked all those movies, and he had this material.
I think I read the book after the movie, but I must've flipped through it or something because I knew that the character Ray Nicolette was in it. Since he had just been played by Michael Keaton in JACKIE BROWN, released sixth months prior, I was very curious – would they cut the character out? Change the name? Or who would they get? Sure enough his name is mentioned 11 minutes in and he's finally seen 41 minutes in and he's outside of Marshall's house walking up and I remember thinking "That is him, isn't it? That's Michael Keaton!" It was a great surprise made possible by Quentin Tarantino pulling some strings to get Miramax to allow the use of the character without charge.
Wouldn't you know it, OUT OF SIGHT only opened in fourth place, below DOCTOR DOLITTLE, MULAN and THE X-FILES, the latter two in their second weeks. It eventually made $77.7 million worldwide, which is $3 million more than JACKIE BROWN, and more than its budget, but not the double that is often said to be needed to be profitable. Though not the smash hit you'd want for an obvious instant classic like this to be, it did get two well deserved Oscar nominations (adapted screenplay and editing – it lost to GODS AND MONSTERS and SAVING PRIVATE RYAN), and I think it's fair to say OUT OF SIGHT ended up being an important movie for many of the people involved.
For Clooney it was a great start to a post-BATMAN AND ROBIN search for higher artistic standards. He followed it with movies directed by Terence Malick, David O. Russell and the Coen Brothers. I have to wonder what would've happened if Lopez had used the momentum of this performance for a similar push. Instead she chose to focus on music, releasing her first album On the 6 in 1999, and didn't return to the screen until THE CELL in 2000. So it didn't really end up being a career breakthrough for Lopez, but it's the one you can always point to when people who know her as a nicknamed pop star diminish her as an actress.
It's also worth noting that this is the first major role for future Oscar winner Viola Davis other than the Joe Dante TV movie THE PENTAGON WARS. Her bitter intensity is on full display as Snoopy's sister Moselle. Soderbergh later had her in TRAFFIC and SOLARIS.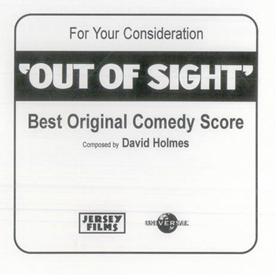 Holmes was an Irish electronic musician who had taken influence from movie scores – his 1995 debut album was called This Film's Crap Let's Slash the Seats. IMDb lists a 1997 TV movie called SUPPLY & DEMAND and a 1998 film called RESURRECTION MAN as his previous scores. He was apparently brought in by producer Danny DeVito to make a theme song, but his role kept expanding. It was such a late decision that the movie poster (at least the one I have hanging above my computer) incorrectly credits Cliff Martinez, who had scored all of Soderbergh's previous films. But it's hard to picture any version of the movie without Holmes' music, which blends so seamlessly with a soulful soundtrack including The Isley Brothers, Willie Bobo and a Mongo Santamaria cover of Herbie Hancock's "Watermelon Man."
Nothing against Martinez, but I have trouble imagining he could've come up with anything as effective as this funky ass shit right here:
Let alone this one:
Incidentally, it's hard for me to believe that it's been twenty years since I bought that soundtrack CD, which blends several songs with Holmes' score and dialogue excerpts. I still listen to it pretty regularly.
Holmes went on to great scores for Soderbergh's OCEAN'S movies, HAYWIRE and LOGAN LUCKY, plus Steve McQueen's HUNGER and also ANALYZE THAT (?). He also did that movie I love, STANDER, with his band The Free Association.
In Frank's case I'm not sure it was a breakout for his career other than to establish a relationship with Soderbergh, who recently produced Frank's Netflix western series Godless, and deepen his reputation for literary adaptation. After this he adapted Philip K. Dick in MINORITY REPORT, that book in MARLEY & ME (with fellow Summer of '98 alumni Don Roos), and Marvel Comics in THE WOLVERINE and LOGAN. He's also turned out to be a really good director with the original crime tale THE LOOKOUT and the Lawrence Block adaptation A WALK AMONG THE TOMBSTONES. He was also the director for Godless and an unaired pilot I'm dying to see, the  Charles Willeford-based Hoke starring Paul Giamatti
But most of all, OUT OF SIGHT was a breakthrough for Soderbergh, who came on after Universal already had Clooney attached. The director dropped the Charlie Kaufman script HUMAN NATURE (later done excellently by Michel Gondry) for this shot at the mainstream. Without that decision we might not have had the director-star team that gave us OCEAN'Ses ELEVEN through THIRTEEN, SOLARIS and THE GOOD GERMAN. I think it also marks the beginning of the Soderbergh we know now, who ably alternates between artfully crafted fun movies (ERIN BROCKOVICH, OCEAN'S trilogy, HAYWIRE, MAGIC MIKE, LOGAN LUCKY) and more experimental or niche-audience ones (THE LIMEY, FULL FRONTAL, BUBBLE, CHE, THE GIRLFRIEND EXPERIENCE) as he sees fit. It's not really a "one for them, one for me" situation – I think both are for him, and one recharges the other. I like just about everything he does, but to me OUT OF SIGHT is the perfect one, the ideal I always want him to return to.
Is OUT OF SIGHT the best Elmore Leonard adaptation ever? Only JACKIE BROWN could put that into question. Is it the best movie of 1998, a year that gave us SAVING PRIVATE RYAN, THE BIG LEBOWSKI, BABE: PIG IN THE CITY and BLADE? I'm not ruling it out, but I don't know. What I do know for sure is that twenty years ago it became one of my favorite movies, and my love for it has only deepened.
P.S.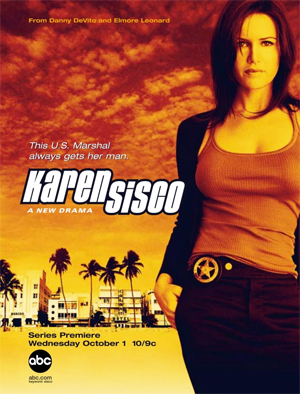 In 2003 Karen Sisco got her own acclaimed-but-cancelled-before-they-even-aired-it-all-and-never-released-it-on-DVD 10-episode TV series, just called Karen Sisco, with Frank acting as a consultant. Carla Gugino played Karen, Robert Forster played her dad, Obba Babatunde played Daniel. The intro uses "It's Your Thing" and animations inspired by the colorful OUT OF SIGHT movie poster, and credits both Leonard's novel and Frank's screenplay for creating the characters. The pilot – directed by Michael Dinner (HOT TO TROT), who later did the same for Justified – is based on Leonard's short story "Karen Makes Out."
I thought it would be hard to accept another actress as the character, but Gugino was great, and the show did a great job of making her a lovable badass with some vulnerabilities, including poor judgment in her love life.
The last episode was directed by Kathryn Bigelow (POINT BREAK).
Gugino was also able to reprise the character on a season 3 episode of Justified. For legal reasons, I believe, they had her be married and have a different last name. But we know who she was. (They had intended to make her a bigger part of the show, but her schedule didn't work out.)
Jack Foley never returned on screen, but he did star in Leonard's 2009 novel Road Dogs, which also uses a character from LaBrava and one from Riding the Rap.