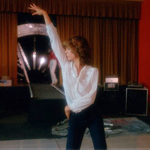 PROM NIGHT is one of the early slasher cash-ins. It has a 2008 remake, though, so it's a classic. It kind of seems like there's not alot going on, because the body count is pretty low and the killings don't start until 2/3 of the way in and there's a surprisingly long uninterrupted disco dancing scene. But at the same time there's a couple movies' worth of things going on.
1. There's the whole HALLOWEEN plot. A killer (also child molester) has been locked up (and burned up) and now it's the anniversary of the murder of a little girl and he's escaped and kidnapped a nurse and the police are trying to find him and I hope he doesn't come after Jamie Lee Curtis (this time playing prom queen Kim, whose little sister was the murder victim).
2. Also there's the CARRIE plot. A mean popular girl named Wendy (Eddie Benton, DR. STRANGE, HALLOWEEN II, Sledge Hammer!, married Michael Crichton and co-wrote TWISTER with him) is jealous of Kim getting to go to the prom with her ex-boyfriend Nick (Casey Stevens, THRESHOLD) so she gets a thuggish gum-chewing neanderthal lookin guy named Lou (David Mucci, "Quick Mike" in UNFORGIVEN) to help her with a cruel prank planned to take place when the king and queen are being crowned.
3. But more importantly the escaped lunatic mentioned in #1 was innocent of this particular crime and we know it because the prologue showed how a group of little kids playing a creepy variation on tag cornered the poor girl and she fell out a window and they vowed never to tell anyone but now someone is making BLACK CHRISTMAS style creepy calls to them and crossing their names off a list.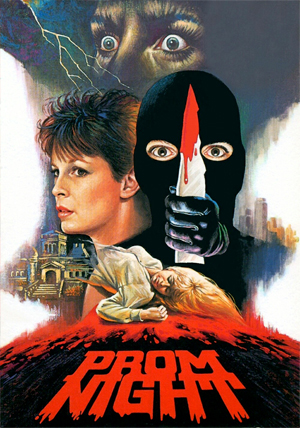 So one weird thing is that Kim seems to be the lead, and yet she never seems to be in danger because the killer is going after the kids who got her sister killed and got the child molester blamed for it. There's no reason to go after her. Incidentally her dad (Leslie Nielsen, SOUL MAN) is the principal. He seems like a good suspect because he has motive and he disappears at convenient times and he confiscated a shiny ski mask just like the killer's from a student and he's seen chopping wood with an ax. But wait a minute what about this groundskeeper Sykes (Robert Silverman, RABID, THE BROOD, SCANNERS, NAKED LUNCH, WATERWORLD, EXISTENZ, JASON X)? I mean the kids all think he's creepy and a pervert and a girl moons him and he stands there looking horny why aren't we arresting this guy?
Oh yeah, because we're not dumb, he's an even more obvious red herring the the dad, and Paul L. Smith plays basically the same character in PIECES and that guy didn't do it either.
Since nobody takes the phone calls seriously nobody actually knows to be scared until pretty much right before they're attacked by a man in a ski mask who usually has an ax. So for the most part the movie is about trying to get prom dates and preparing for the prom and stuff. Actually there's less effort put into preparations than there is in CARRIE, but Kim has to go to a run through for her coronation and Kelly Lynch (not the co-star of ROAD HOUSE, but the fictional character played by Mary Beth Rubens [FIREBIRD 2015 AD]) is nervous because she's a virgin but her boyfriend Drew keeps pressuring her to have sex and she's thinking of "letting him," which is very romantic. I would never have recognized him, but Drew is played by future DTV king Jeff Wincott (MARTIAL LAW 2, MISSION OF JUSTICE).
This is a Canadian film, filmed in Toronto with a mostly Canadian cast and crew, but I think it's supposed to take place in the U.S. since they go to Alexander Hamilton High School. I don't think Canadians would name a high school after our famous rappin' treasurer.
It's kind of funny (and probly accurate) that four years after "Disco Duck," three years after SATURDAY NIGHT FEVER and Meco's Star Wars and Other Galactic Funk album and a year after "Disco Demolition Night," Alexander Hamilton High School has "Disco Madness" as their prom theme. Kim and Nick are mad that Wendy and Lou show up at the prom and give them the stink eye so they decide to "show them" by performing a Travolta-esque disco routine in the middle of the floor. Director Paul Lynch's sister Pamela Malcolm choreographed the scene which has Curtis (and to a lesser extent Stevens) earnestly doing pretty fancy moves. The dancing scenes were shot with popular disco songs that Lynch was angry to discover he couldn't afford. Composer Paul Zaza (MY BLOODY VALENTINE, PORKY'S, THE VINDICATOR) says he had "Less than a week to create six disco songs as good as these hits," and presumably with the same BPMs. He imitated the original songs closely enough that they got sued.
This is of course one of those proms where there are numerous dark and quiet places in and around the school where kids can sneak off to have sex and/or get murdered without anybody else noticing.
One such sequence was impressive to me in an unusal way. It's about as cliched as you could possibly make it: they're having sex in a sex van, they're smoking joints, he has to take a piss, he hears a twig snap, his glasses are broken so he can't see who's there. But the two characters are so unexpectedly dorky that I got to like them and not want them to get killed. Jude (Joy Thompson, SKULLDUGGERY) and Seymour (Sheldon Rybowski, SPRING FEVER) just met this morning when she was walking to work and he drove his Don Juan van up on the sidewalk to offer her a ride, which made her laugh. He's a little comically nerdy dude who claims that people call him "Slick." They're trying to act cool but admit they were both virgins until now and they are just very excited about this having sex thing. It's cute. It's a bummer when she says "I'll remember this night for the rest of my life," because you know what that means.
Seymour was not on the death list, but I guess witnesses gotta go too. I have mixed feelings about how he goes out while driving his van. On the negative side, he does that ridiculous movie thing where you're driving and suddenly realize you're about to crash and instead of yanking on the wheel you let go and put your arms in front of your face in terror. And it makes even less sense than usual because they've gone out of their way to establish that he can't see without his glasses.
On the other hand he puts up a respectable fight, punching the killer hard in the face, then blindly driving around doing donuts and trying to back over him and shit. Earlier there were multiple mentions of not falling off "the bluff," so it's fair game when suddenly there's a cliff to drive off. Most importantly the van is such an important part of his identity and what turned out to be his life's work of getting laid one time that it makes sense for the captain to go down with the ship. (I'm not sure if he's the captain or the ship.)
Wendy, although kind of the bad guy, is the one who gets the most extensive chase. It's pretty well executed, but I'd like to register one complaint. She's chased through the gym and runs past two trampolines and what the fuck kind of loser is this killer that he jumps over the small trampoline? Doesn't he know how awesome it would be if he did a trampoline jump during a chase?
I hope it's not too much of a spoiler to say that when the killer is unmasked it's kind of a sad story and you have some sympathy. Luckily his tragic situation doesn't stop him from having a flair for the dramatic in his psychopathic rampage. I'm thinking specifically of how he waits for the whole school to be gathered for the coronation to lop off a character's head backstage in such a way that it flies out onto the ramp. I enjoyed the shot with the back of the severed head sitting in the foreground as if watching while all the prom-goers scream and run away.
Curtis is good enough to elevate the movie, and it's nice that she plays a character completely unlike Laurie Strode. Laurie is tough and resolute in the face of danger but socially she's shy and awkward and afraid to ask out a boy (who gets run over by cops in part 2). Kim wears cool clothes and fights for her man and has the balls to do a fucking unsolicited disco number in front of the whole school (although she's embarrassed when Wendy sees her doing moves when she thinks she's alone in the gym).
Actually this is kinda good. I don't rank it high, especially in the originality department, but after you've tried out enough of the truly shitty ones you gotta respect the ones that are well constructed and have good performances and decent production value and music and stuff. And I kinda like disco.