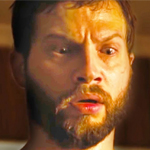 Until now, Leigh Whannell has seemed like James Wan's sidekick. I guess technically he's the creator of SAW, because he wrote the short film, but he's mainly known for co-writing the first three SAWs, DEAD SILENCE and all the INSIDIOUSes. And then he directed INSIDIOUS: THE LAST KEY CHAPTER THREE. But did you know he had it in him to go off on his own and write and direct a ferocious low budget cyberpunk action thriller? Man, why didn't you tell me?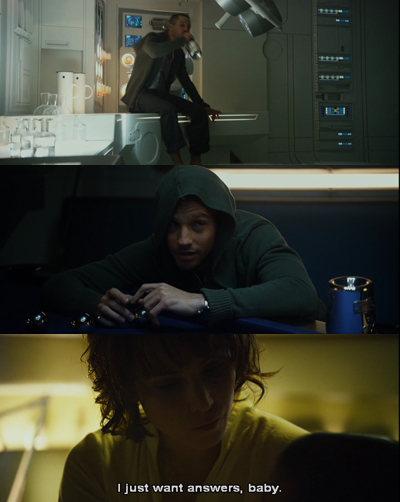 Logan Marshall-Green (from THE INVITATION and Quarry, but I'll always think of him as "I just want answers, baby" from PROMETHEUS) stars as Grey Trace, a simple mechanic who loves listening to Howlin' Wolf records in the garage and working on his Firebird even though he lives in a near future with self-driving cars and cyber implants and shit. (Yeah, I know. But at least they don't say out loud that he's an analog man in a digital world. They just show you visually and then move on.)
Then one night mysterious criminals shoot him and his wife (Melanie Vallejo, the Blue Ranger on Power Rangers Mystic Force), leaving him paralyzed and her dead. Though his house is set up with some pretty sweet robot arms that can prepare food for him, he's miserable and suicidal without his wife or the ability to work with his hands.
Then one of his clients, weirdo prodigy computer mogul Eron Keen (Harrison Gilbertson, NEED FOR SPEED), who looks like Dane DeHaan cosplaying David Bowie circa "Let's Dance," comes to offer him some experimental technology. It's a micro-computer implant called STEM that will communicate with his brain and make him walk again. But experimenting on humans like this is still illegal, so he has to keep it a secret. That's kind of a bummer, but it's better than nothing.
And STEM does more than advertised. It not only allows Grey to move again but speaks to him (voice of Simon Maiden, SON OF THE MASK), and next thing you know its using its computer brain and ability to interface with other technology to help him go over surveillance footage of the attack and find clues to help him track down his attackers. And when he goes to a guy's house and starts to get the shit beat out of him he gives STEM permission to take the controls. And STEM knows how to make him kick ass!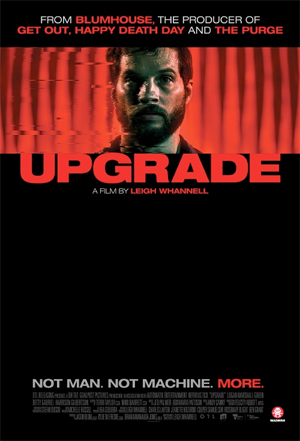 So it's kind of like DEATH WISH II meets M.A.N.T.I.S. Just like M.A.N.T.I.S. he's a quadriplegic who uses his paralysis as an alibi while sneaking out using experimental technology to walk and fight. The difference is that M.A.N.T.I.S. pulls a Batman and fights crime, whereas this guy specifically seeks the violent degenerates who killed his wife. So that's the DEATH WISH II part.
But it also subverts that template because he's not seeking revenge. Going after them isn't even his idea, he just kinda goes along with it. That first time he gets in a fight it's true self defense and he's horrified that STEM makes him kill the guy. There are things he can't stomach to do himself, but he gives STEM permission, so he's culpable. (I think there's a parallel there to the many brutal things that we benefit from but stay distanced from, from war to sweat shops to factory farms. Or even just to the use of drones in combat. Grey literally has blood on his hands but he tells himself STEM is responsible.)
Hats off to fight choreographer and stunt double Chris Weir (Romper Stomper tv series [apparently there is a Romper Stomper tv series]) for coming up with the jagged AI fighting style that's about short, efficient movements, devoid of human impulses like the vanity to do cool poses or the restraint to not slice halfway through a guy's head. Whannell and cinematographer Stefan Duscio (JUNGLE) emphasize the non-human origin of the violence with machine-like camera moves flipping alongside Grey or a victim who he tosses across the room. Marshall-Greene gives a great, blackly humorous physical performance, with his body moving like a weird machine while his face looks horrified and surprised. It really seems like he's being taken on a ride against his will.
That's both the fun and the horror of it. He has this machine that can do amazing things, but he has to submit to it, allow it to use his body as its own, and he has to be inside it with no control. (Weirdly this seems to be what the upcoming Tom Hardy movie VENOM is about too, and I think we've all noticed how much Marshall-Green looks like Tom Hardy.)
This escalating vigilante crusade happens in a setting full of cool sci-fi concepts, but light on the sort of sleek digital effects that almost all movies have now. This is more like the first TERMINATOR, or an episode of Max Headroom. There's not much about it that doesn't seem like it could've been made in the '80s. It's mostly shot on location in normal, low rent neighborhoods, but with little touches like police cars with a different type of lights, or a condemned building littered with glow sticks instead of syringes.
There are still normal action/crime movie things like the tough detective (Betty Gabriel, Georgina from GET OUT) who's keeping him updated on the search for the killer, or the bar full of scary punks who will take him into the back room to try to kill him. The recent remake of DEATH WISH has those things too, but it doesn't have a guy who loads bullets into his arm and fires them out of his hand, or dead bodies where you can plug into the cornea to rewind through their memories.
It seems like they can do just about anything with computers now, but they can't solve all of humanity's problems. Nobody ever says anything about it, but the fateful attack happens after their automated car crashes into a tent city. Life is not great for everyone.
Weird little detail I noticed: Detective Cortez wears a necklace of a sideways cross. Not right side up, not upside down, but sideways. I've never seen that before and I wonder what it means.
It's a very reasonable extrapolation of current technological trends without feeling like a cautionary tale. It seems too matter-of-fact for that. The surveillance state (cops can easily track you with footage from overhead drones) is very matter-of-fact and clearly well-intended – the frustration is not that it's invading your privacy, but that the criminals know how to evade it. And the tech that can make Grey walk again is clearly a miracle, but nobody bothers to think through the consequences until it's too late. Everything snowballs.
From what I've read, UPGRADE is not expected to do well enough for a sequel, which is too bad, because I'd love to see the T2 to its TERMINATOR. But it's a perfectly fine self-contained story and I recommend seeing it with an audience if you have the chance. Whannell takes a bit of time getting the pieces in place, but once it gets cracking it's a real thrill ride. STEM always goes too far, eliciting gasps, laughter, applause and a few scolding "that's disgusting"s from my crowd. I'm not sure they liked it as much as I did, but they definitely reacted.
This entry was posted on Wednesday, June 6th, 2018 at 10:49 am and is filed under
Action
,
Reviews
,
Science Fiction and Space Shit
. You can follow any responses to this entry through the
RSS 2.0
feed. You can skip to the end and leave a response. Pinging is currently not allowed.