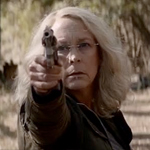 (Many SPOILERS in this review, I'm not gonna label all of them)
HALLOWEEN is the new HALLOWEEN in the HALLOWEEN series – the original HALLOWEEN series, not the remake, HALLOWEEN. HALLOWEEN takes place 40 years after HALLOWEEN and acts as if it is the only sequel ever made to HALLOWEEN. So really it could be called HALLOWEEN II, but maybe that would be confusing since there are already two movies called HALLOWEEN II: HALLOWEEN II and HALLOWEEN II.
Other than being produced by Blumhouse, this one's not coming from any of the usual horror suspects. It's the first horror movie, sequel or licensed property movie from director/co-writer David Gordon Green, who is best known in my opinion for writing the introduction to my book Seagalogy, but also directed GEORGE WASHINGTON, PINEAPPLE EXPRESS, JOE, STRONGER, etc. He wrote it with Jeff Fradley (Vice Principals) and Danny McBride, who he turned into an actor by having him play "Bust-Ass" in ALL THE REAL GIRLS fifteen years ago and continued with PINEAPPLE EXPRESS, YOUR HIGHNESS and Eastbound & Down. McBride is usually a comedy guy, but remember he also got killed by a faced xenomorphs in ALIEN: COVENANT. So he's legit.
Since this is a return to the original series, with no dumbass Weinstein involvement, with Jamie Lee Curtis returning as Laurie Strode, and most surprisingly with John Carpenter executive producing and scoring for the first time since HALLOWEEN III: SEASON OF THE WITCH in 1982, there are some high hopes. If you're not a fan of slasher sequels and want something that transcends them, you might be disappointed. For me, though, it's a satisfying treat that revisits the series template and most important character with many scenes of great tension and without committing common franchise horror sins like obnoxious characters, overly polished look or intrusive rock 'n roll soundtrack.
Also, it's a fucking John Carpenter score. With his bandmates Cody Carpenter (his son) and Daniel Davies (Ray Davies' son) he throws in a little guitar and modern sounds but mostly builds onto the keyboard textures of his '78 style, helping the world of Laurie Strode to feel unexpectedly reconstituted like the pumpkin on the opening credits.
I've always been a fan of the HALLOWEEN 20th anniversary sequel H20 and when I wrote about it a few years ago I noted that its own 20th anniversary was coming up, so they'd have to do HALLOWEEN H40: HALLOWEEN H20 20 YEARS LATER 20 YEARS LATER. Though they ended up erasing it along with all of the sequel continuity they did sort of a remake of the same premise: Laurie was horribly traumatized by what happened, she's had a drinking problem and divorces and tensions with her kid and needs to face Michael in order to kill him and be able to get her life back. The biggest difference is that instead of running until she realizes she can run no more, she's already lying in wait.
This time she has a grown daughter instead of a teenage son, she's way more paranoid, in fact with a Sarah Connor level of survivalist preparation and teaching her kid to fight and shoot guns and freaking everybody out. Her daughter Karen (Judy Greer, CURSED) tries to avoid talking to her, which bothers Karen's daughter Allyson (Andi Matichak) even though she's distanced enough from Laurie to always call her "Grandmother."
Two British true crime podcasters (Jefferson Hall [GREEN STREET HOOLIGANS] and Rhian Rees) either set things off or just put themselves in the path when they attempt to interview both Michael (James Jude Courtney ["Mafia Goon," SOCCER DOG: THE MOVIE], plus original-Shape Nick Castle in one scene somewhere) and Laurie for a retrospective of the murders. Their narrative purpose is to reunite Michael with his mask, but their thematic purpose is to be the smug perspective of a younger generation looking back and thinking they know better – specifically, trying to tell Laurie that there's no such thing as a "boogeyman." In the real world they would be right, that Michael is a human, and something caused him to be the way he is. In HALLOWEEN though he's not a man, he's "pure evil," he's The Shape. (Laurie even calls him that at one point.) And denying that dooms them.
I remember in the late '80s noticing that Fangoria would often refer to Michael Myers as "The Shape" and I guess I'd never really examined the credits on HALLOWEEN and there was no internet so I always wondered what the hell that was all about. But now I know and I'm glad that this new one has SHAPED up to be so good. You know. Huh guys?
To the true crime enthusiasts Michael is just an old guy in prison, they even see the back and partial profile of his head, though they fail to get him to talk. Of course he later gets out, and for old times sake puts on the mask he stole from that hardware store in 1978 (still no word on what happened to the rope) and goes wandering around killing people. For a second I was wondering why this, H20 and the Rob Zombie one all have murders in gas station bathrooms, but then I realized it's from proximity to coveralls and work boots.
There's one scene in particular that homages that great opening of HALLOWEEN II that voyeuristically follows Michael walking unnoticed at night and into a woman's kitchen. A subsequent scene that stays outside and watches him through someone's window is even more gutwrenching.
My friend asked me before the movie "Are there teens?" Of course there are teens. It follows Allyson's holiday plans to go to a Halloween dance with her boyfriend Cameron (Dylan Arnold, FAT KID RULES THE WORLD playing the son of that kid Lonnie who Loomis scared away from the Myers house) and dumbass friend Oscar (Drew Scheid, BOY ERASED), and later meet up with her best friend Vicky (Virginia Gardner, PROJECT ALMANAC), who is babysitting, and her boyfriend Dave (Miles Robbins, Dee Dee Ramone on The Get Down).
I saw a somewhat disappointed review that argued the movie was a letdown for having more young characters instead of focusing entirely on Laurie. That it had let her and her generation down. Which sounds cool but I wonder how that would work, are we talking about a HALLOWEEN movie where Michael Myers doesn't kill anyone? Or where he only kills old people who are friends with Laurie?
Well, I'm okay with the traditions of teen horror and I've just rolled through all the HALLOWEEN sequels in my head and yeah, I think I enjoy the company of these characters the best of any of 'em. I particularly like Vicky, and that Julian (Jibrail Nantambu), the kid she babysits, is hilarious, and has a sweet friendship with her. It's genuinely the first time in any HALLOWEEN movie where I was worried they might kill a kid.
Even Oscar, who dishonors himself by drunkenly hitting on Allyson at the worst time, is funny enough to be sympathetic and to make me feel sorry for him. Another great character is Allyson's goofball dad Ray (Toby Huss, THE COUNTRY BEARS), who gives her shit in an annoying but funny dad way, and is calm but reasonable about trying to protect his family from Laurie's seeming craziness. Those two each have one of the lines I thought seemed like McBride lines. One about guacamole, one about peanut butter.
There's some nostalgic Carpenter mimicry, but this is still very much a David Gordon Green movie. It has lots of minor characters who are interesting and say odd things and have a very natural, quirky charisma to them. It has funny, random conversations and goofy uses of language. And it has more black people in it than any other HALLOWEEN.
Laurie drives around looking for Michael, which is obviously putting her in the Loomis role, but man, it feels to me more like Paul Kersey. Police officer Frank Hawkins (Will Patton, THE POSTMAN) is looking too, and doesn't have to be convinced, because he was there that night and knows enough to refer to Michael as "that thing." He brings with him Dr. Sartain (Haluk Bilginer, BEN-HUR), a student of Dr. Loomis who took over as Michael's psychiatrist at Smith's Grove and wants to save him.
After the movie someone pointed out that Cameron, who breaks Allyson's heart, doesn't get killed. Now that I think about it I really like that. Having recently watched all ten of the other HALLOWEENs (for a freelance piece you'll be able to see soon if interested) I feel that most of their worst moments are when Michael kills characters who "deserve it" in movie terms, like CURSE's abusive husband and obnoxious shock jock. We should never be tempted to root for Pure Evil.
Laurie gets to be a knife-carrying, fast-gun-loading, target-shooting Final Woman That Motherfucker Is Gonna Have To Deal With, but she's not, like, doing roundhouses or anything. She's still an old lady and very fallible. She's just very trained and intense and I love her strategy for searching the house section by section.
There's a moment near the climax of the movie that's a reversal of a famous moment in the original film. I don't know how it will go over when you see it, but my audience cheered. It gave me goosebumps as soon as I realized what was about to happen. I guess taking an iconic horror movie scene and turning it badass is the ultimate way to pander to me. But I'll take it.
I was surprised when I first heard they were even ignoring HALLOWEEN II for this one. I guess it's easier to say that Michael was captured after the end of the first movie than to explain how he survived an explosion. But it's bold to disregard the twist that Laurie was Michael's sister, and that was why he was coming after her. This explanation was maintained in all of the sequels and even the remake of I and became synonymous with HALLOWEEN, like hockey masks with FRIDAY THE 13TH.
They make a joke about it here. When a friend asks Allyson if her grandma was Michael's sister she says "that was something people made up to feel better about it." I guess the implication is that having even less motive makes it scarier. And it does make the events less explainable, because now I wonder why Michael would care about coming after Laurie. (As some have pointed out, he might not. He gets dropped off by her house.)
There's kind of like a Star Trek violated-the-prime-directive thing here where it's impossible to make a slasher movie without already knowing what Carol J. Clover pointed out about them, or at least Randy from SCREAM's remix of it. This one introduces some grey area in the "don't have sex" theory: Vicky specifically dry humps her boyfriend before getting attacked. No penetration. How do you qualify that, Randy?
In 1978 there was Laurie, the shy girl, the responsible girl. She had a crush but she didn't know how to get dates like her friends did. She ran errands for her dad's real estate business, babysat for money, babysat for Annie so Annie could have fun with her boyfriend. She made the honor roll. A good kid. Then the fuckin boogeyman killed four of her friends, or at least two of her friends and their dumb boyfriends, and tried to kill her, and she pulled its fucking mask off and looked it in the eye and got no answers. And now we see what that did to her.
If sex = death then too bad no sex doesn't = life. All that work being a good girl so the boogeyman won't get you just leads to 40 years of fear, obsession and torment. Her daughter seems to take after her younger self and so does her granddaughter (though Allyson can get men – she rejects two shitty ones in one night). But Karen is traumatized by the way Laurie raised her before losing custody.
So that's the beauty of the ending. ENDING SPOILERS. Laurie succeeds in her four-decade goal. Karen sees her mother and her own childhood in a new light. Allyson sees her mother and her grandmother in a new light. They burn up not only The Shape, not only the dollhouse representing the memory of where his reign of terror began, but also Laurie's prison, Karen's childhood, the guns, the targets, the family's burden. And they ride away in the back of a pickup truck, perhaps an allusion to Sally's escape in THE TEXAS CHAIN SAW MASSACRE, except they're not hysterical. I know there's an ambiguity to the shot that can imply more troubles, and I know the end of the credits have the sound of The Shape breathing, but I like to take this as a happy, victorious ending, like we had with H20 before it was taken away in RESURRECTION. Here are three generations of women, of survivors, holding hands, maybe for the first time. And maybe with them all having accomplished this together and possibly having more of a relationship now so they can support each other, there's some hope that Allyson won't have to live in constant darkness the way her mother and grandmother did. That she hasn't just had her life spared, but might actually get to enjoy it. Sequels willing.
HALLOWEEN (the sequel to HALLOWEEN) will return in HALLOWEEN (the sequel to HALLOWEEN [the sequel to HALLOWEEN]).