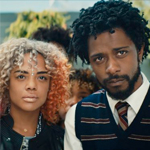 SORRY TO BOTHER YOU is an absurd, inventive new comedy that's so playful and funny that its acidic satire of soul-crushing capitalism comes across a little more like an inspirational rallying cry than blind fury at a seemingly insurmountable wall of corporate greed and dehumanization. Though it's that too.
If I was required by law to describe it in terms of movies that already exist, I'd say "low-wage OFFICE SPACE by way of Michel Gondry." But fuck the law, because it feels like something very new, distinctive and of the moment, from the cast headed by Lakeith Stanfield and Tessa Thompson to the soundtrack to even the cool fonts and logos by children's book illustrator J. Otto Seibold. Stanfield plays Cassius Green (yes, it's a pun), who lives in his uncle (Terry Crews, STREET KINGS)'s garage until he finds his calling (oh shit, another pun) at a new telemarketing job. I mean, the place is a hellhole on the verge of a strike led by Squeeze (Steven Yeun, formerly of The Walking Dead), but he turns out to be really good at it after co-worker Langston (Danny Glover, PREDATOR 2) teaches him the secret of the "white voice." It's not mere code-switching, but a near supernatural channeling of a voice with no worries that he manifests by being dubbed by David Cross (ALVIN AND THE CHIPMUNKS). It's a broad and hacky joke made almost profound by its layers of subtext and power to creep out his friends and loved ones.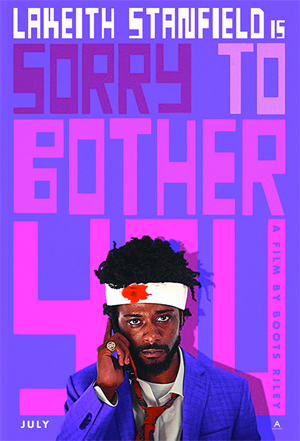 First-time writer-director Boots Riley (did you ask "the leader of the incendiary '90s hip hop band The Coup?" Because yes, same Boots Riley) mines the exact type of absurdist satire that I crave: exaggerating current societal bullshit into dystopian horrors that feel like something from a weird dream but with a deeply unsettling feeling of truth, of oh jesus, they really would do something like that, wouldn't they? For example here we have the WorryFree Corporation, who successfully market their iPhone-factory-meets-Heaven's-Gate life-time contract jobs as a progressive new lifestyle choice. If you can't see some tech company billionaire doing this and being hailed a genius for it then you're more optimistic than me.
Like in the real world, the struggle is brightened by good people, particularly Cassius's militant yet fun as hell girlfriend Detroit (Thompson, CREED), who I will describe as a raised fist with a mischievous smile. She seems like a lady who could show up at Pee-wee's playhouse and recruit the whole gang for a protest, though most of the cheeky slogans on her t-shirts and earrings would have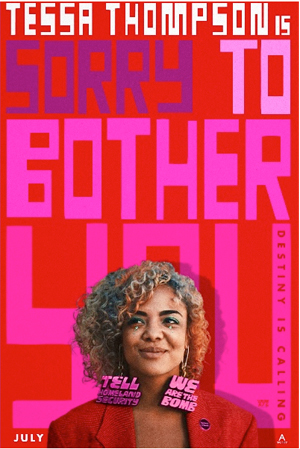 to be pixelated for Saturday morning television. Her avant-garde performance art involves condoms full of sheep's blood but also references BERRY GORDY'S THE LAST DRAGON, and she's part of an infamous protest art movement named after Left Eye from TLC. I like her.
So it's got an odd brand of quirk, plus touches of magic realism and a lack of adherence to boring literalism that help that good old THEY LIVE style "it figures it would be somethin like this" poetic accuracy ground the story's more surreal turns.
I should lay off trying to predict the future, but it seems to me people will look back on this period and see a thriving movement of black creativity that includes this movie, GET OUT, Atlanta, Childish Gambino's "This Is America" video, Janelle Monae's Dirty Computer album and videos, Kendrick Lamar, Ryan Coogler, maybe Ava Duvernay and Barry Jenkins and some others. These works have so many overlapping themes and collaborators and it's interesting that this and Coogler and the upcoming BLINDSPOTTING (haven't seen it yet, but everybody says it's great) all come out of Oakland. I guess when you grow up near the Wakandan science initiative (or Digital Underground) you can do great things.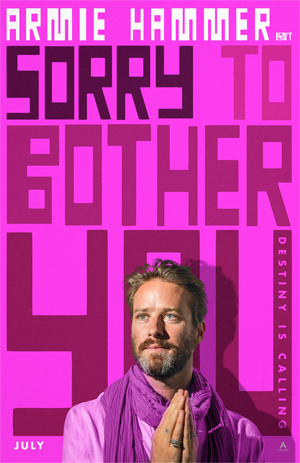 I would like to register myself as an early adopter of Lakeith Stanfield. When he stole the first episode of Atlanta and I realized he was the same guy who played Snoop in STRAIGHT OUTTA COMPTON and Junior in MILES AHEAD I knew he would be doing great things. And this is one of them. Also, can people give Armie Hammer some fucking credit now? I never read that thinkpiece about how he was the embodiment of white privilege or whatever, but I love that it was immediately followed by his slam dunk (but not awards nominated) performance in CALL ME BY YOUR NAME and now this crazed villain, a proper use of both his acting talent and his status as a recognizable name to help an indie movie get some financing. It's not his fault we were too stupid to see THE MAN FROM U.N.C.L.E., so leave the man alone. And hi-ho, Silver.
It's still weird to me that Riley (like Jordan Peele before him) has suddenly transformed into an acclaimed filmmaker. I bought some Coup albums and saw them live a couple times early in the millennium. I had no idea Riley had written this script which inspired an album of the same name in 2012 and was published by McSweeney's in 2014, so I can't claim to be more than a dabbler. But The Coup could get pretty funky and their rebellious stance spoke to me in the Bush era. They gained some pop culture infamy after 9-11 because they were coincidentally about to release an album cover that had them blowing up the World Trade Center. They changed it to a visual pun about a molotov cocktail. I was attracted to song titles like "Genocide & Juice" even if I wasn't about to (like Riley) call myself a communist.
Instead of growing out of them or having them fade over a long music career, Riley has crystallized his passions and they've been reincarnated more powerfully in this medium. The old pinko found a more powerful way to talk about labor rights through popular art. But this is more complex than the downtrodden worker vs. the heartless corporations. Cassius is us. He's cool and aware and well meaning, but also would like to not live in the garage his whole life. Selling might not be fulfilling to him, but succeeding is. So yes, he loves and supports Detroit, he agrees with Squeeze's worker's revolt, but fuck man, he just got his shot to have money for the first time in his life, it's not easy to give that up. I find myself very sympathetic to him in his temptation to sell out.
I love the irony that he talks his uncle out of signing up for WorryFree because he doesn't want to see him exploited, but when he gets a promotion to Power Caller he has to rationalize having WorryFree as a top client, spreading their exploitation to others.
It's true. These things can be hard to stand up against. There are so many little tentacles reaching into so many spots, and surviving is complicated. For example, there's this giant Seattle corporation that I'm mad at for shutting down a tax that would've helped fight the homelessness crisis that I feel their presence here has exacerbated. But I don't know if I can extricate myself from their ads that help me stay afloat or their services that sell and even publish my books. I don't even get a fancy apartment out of it but if I'm supposed to be doing something about them I don't know how to do it yet. Sorry, Detroit.
***EXTREME SPOILER SECTION***
Seriously, don't read this before the movie. I was happy I didn't hear about any of this shit before seeing the movie, but I want to discuss it with people who have seen it.
Is it just me or is it weird that within a year Steven Yeun is in two excellent, biting satires where he's involved in a militant movement against a corporation that's involved in weird genetically modified animals? (The other one is OKJA.) I guess that's just his niche. I wonder if he's worried about getting typecast.
Jesus, equisapiens, huh? How 'bout them equisapiens. This is a crazy plot twist that honestly would've seemed twice as crazy two years ago but these days, shit, who knows what you're gonna read about tomorrow. If the Trumps believed in science they'd be making all kinds of crazy animal hybrids with giant dicks.
You gotta go that far for it even to seem like satire these days. But it works because it's true. Yes, if they could make more money by having mutant slaves, they would be okay with it. And everybody would shrug it off.
There's that well-worn trope from A FACE IN THE CROWD, where the villain rants about his true beliefs or his evil plan and the heroes record it or broadcast it and the exposure saves the day. See also UHF, BATMAN RETURNS, DIRTY WORK, 16 BLOCKS, etc. For years I wanted to see one where they record the evil politician saying something incriminating, they play it, and nobody cares. Instead of a movie they did it with Trump's famous grab 'em by the pussy video. So the cliche may be dead.
I love how they do it here: he's only able to get a platform by being humiliated in an accidental viral video. Then he has to go on a popular show where they badly beat his face in and completely cover him in actual shit. Only then can he broadcast the devastating video that lets the cat out of the bag about this outrageous abomination against God and Man, and… well, it doesn't stop jack shit and in fact it helps the company's stock prices go through the roof. The media helpfully characterizes the shocking existence of human-animal-hybrid-slaves as a technological breakthrough.
I really believe right now they would get away with it. We're fucked, people. But at least we have SORRY TO BOTHER YOU.
This entry was posted on Monday, July 23rd, 2018 at 7:27 am and is filed under
Comedy/Laffs
,
Reviews
. You can follow any responses to this entry through the
RSS 2.0
feed. You can skip to the end and leave a response. Pinging is currently not allowed.