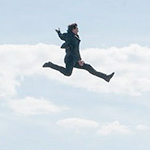 On the way home from the new MISSION: IMPOSSIBLE I mentioned to a grocery store checker that I had just seen and enjoyed it. He asked if I was a big fan of "the original series" and as we discussed this I realized that he just meant the other movies. He'd forgotten it started as a TV series until I mentioned it.
This is one of those things as you get a little older, you lose track of how much time has passed. It also happened with JURASSIC WORLD a few years ago. In my mind JURASSIC PARK was an ongoing series that had made it to part 4. But to a whole generation it was holy shit remember that movie we saw in our youth, now a million years later can you believe they're bringing it back for a new version, oh the nostalgia?
And lately I've noticed people declaring the stealth greatness of the MISSION: IMPOSSIBLE series, as if this wasn't a thing you would be aware of just from watching popular mainstream movies. It reminded me of when FAST FIVE came out and suddenly a whole bunch of critics picked up that those movies were fun. Yeah, no shit. The only other people in on this secret are the, you know, however many paying customers it takes to get a series to part 5.
Well, shit. Nobody be alarmed, but according to these figures I'm looking at we've been watching these MISSION: IMPOSSIBLE movies for 22 god damn years. That's almost as long as the original show had been off the air when the movies started. The series is a month older than the guy currently playing Spider-man. I still think the first one is the best, and there was that time in 2000 when I was a little disappointed that the second one wasn't the type of John Woo movie I was hoping it would be, but also I enjoyed it as the other lesser type of John Woo movie, and it has grown on me since. Every other chance I got – 2006, 2011, 2015 – I was satisfied and excited by the new chapter.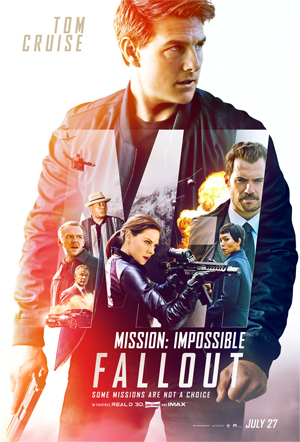 Now for the first time we have a returning director – Christopher McQuarrie, Academy Award winning writer of THE USUAL SUSPECTS, director of THE WAY OF THE GUN, JACK REACHER (first recipient of the 5.0 Action Comprehensibility rating) and MISSION: IMPOSSIBLE – ROGUE NATION. And though that violates what I once thought was the main purpose of the series (a new take by a new director every time out), McQuarrie (who also did uncredited rewrites on the set of GHOST PROTOCOL) has enough experience in the format to make a 100 proof summation of all the series hallmarks. Especially the ones that involve spectacular action sequences.
Any of the M:Is can stand on their own, but there's some continuity. Ethan (Tom Cruise, LEGEND) and Luther (Ving Rhames, THE PEOPLE UNDER THE STAIRS) are in all of them, and later Benji (Simon Pegg, LAND OF THE DEAD) and Julia (Michelle Monaghan, CONSTANTINE) repeat. But this is the first direct sequel, following up on the villain Solomon Lane (Sean Harris, HARRY BROWN), building off of things that happened in the last one that I didn't really remember (but it didn't really matter).
I like that it has references or echoes of little things from all the other installments. The helicopter action scene that seemed so crazy at the time of part 1 is dwarfed by a way more crazy one (so intense they were able to cut the part that ended the trailer without me even noticing). Hunt's part 2 skill for free climbing comes in handy. Luther tells Ilsa the story of Ethan trying to get out of the game and live a normal life as a married man (part 3). There's a little speech about how many times Hunt has been betrayed or disavowed by his country, an accurate description of the series. Along with ROGUE NATION's villain and his organization we thankfully have the return of that chapter's breakout star, rogue MI-6 agent Ilsa Faust (Rebecca Ferguson, HERCULES). And I've read about other things I didn't pick up on, like a supporting character being related to a character from way back in part 1.
Not that it doesn't have its own thing going on. It's the longest one by 15 minutes. It has a new cinematographer (Rob Hardy, BLITZ, EX MACHINA, ANNIHILATION) and kind of a darker sound courtesy of Lorne Balfe, a Hans Zimmer padawan who recently caught my ear with his needlessly good score for

. The early scenes go from surprising grimness to a joke almost out of CHARLIE'S ANGELS, as if to say don't worry guys, this is gonna be fun.
This time out Ethan, Luther and Benji are after some plutonium that fell into the hands of The Apostles, formerly The Syndicate, when Ethan wouldn't let Luther die for the cause. The CIA (Angela Bassett, CRITTERS 4) forces them to bring along her operative August Walker (Henry Cavill, HELLRAISER: HELLWORLD), who has a not-quite-friendly rivalry with Ethan. Obviously we will bob and weave through a maze of twists and turns and convoluted plans that include disguises, elaborate hoaxes, switcheroos, sleight of hand, betrayal, bluffing, and handy devices. One theme is that they've painted themselves into a very dangerous corner with no clue what to do next and at least one person there is ready to start panicking but Ethan is saying don't worry, he'll figure something out, and even he seems a little unsure. But he will figure something out. He is "the literal manifestation of destiny," according to Hunley (Alec Baldwin, THE SHADOW) in a moment of Just How Badass Is He? poetry.
You may have heard some less flowery but similarly hyperbolic superlatives about the action scenes. Many have said "the best action since FURY ROAD," which people tend to take as "as good as FURY ROAD," which is not fair for any movie to have to live up to. Being partial to martial arts I'm not gonna say this has better action than KILL ZONE 2 or THE VILLAINESS, but let's not worry about ranking. It's definitely true that it's a movie with spectacular stunt-based action that would stand out in this or any year.
One of the most insane and unusual stunt sequences is near the beginning and is just to transport the team to the site of their mission. In the tradition of ROGUE NATION's underwater scene that I assumed was a special effect but it was actually real comes FALLOUT's H.A.L.O. jump sequence. According to USA Today "Between training for the stunt and shooting, Cruise jumped from a C-17 military plane a total of 106 times to get the three takes he and director Christopher McQuarrie wanted." And by the way the ones they filmed had to be done near sunset. I bet everybody was real happy about that decision.
There's a car and motorcycle chase that's definitely among the most thrilling I've seen in a while. There's a rooftop foot chase where Cruise is running so fast I don't understand how he doesn't trip over himself. And I don't think any of those are the sequence people are referring to when they call one of them the best [whatever] since [whenever].
The second unit director/stunt coordinator is Wade Eastwood (no relation), a Dolph Lundgren stunt double who did second unit for BRIDGE OF DRAGONS before apparently impressing Tom Cruise enough to do EDGE OF TOMORROW, MISSION: IMPOSSIBLE – ROGUE NATION, JACK REACHER: NEVER GO BACK and THE MUMMY. Fight coordinator/trainer Wolfgang Stegemann is also the go-to guy for this era of Cruise, having worked with him on ROGUE NATION, NEVER GO BACK and THE MUMMY. The fighting is very good for a non martial arts based movie. Very powerful looking moves, especially in that restroom scene hyped up in the trailer. You know I'm a fan of public restroom fight scenes and once again I must note that it would be cool if the hero stopped and washed his hands afterwards. Some day. Additionally I will point out that McQuarrie and Cruise's JACK REACHER had an excellent fight in a very small one-person bathroom.
And furthermore there's a weird thing here where to some bystanders it looks like the IMF dudes are doing each other in a restroom stall, and my audience laughed in the same way they would for a "ha ha, they're mistaken for gay" joke in a Michael Bay movie. But there's a bit of a twist on it when it turns out the people who misunderstand what they're seeing are gay themselves and cheer them on instead of being scandalized.
Anyway that's a good fight but my favorite move is Ilsa's when she appears out of nowhere to hook her leg over a guy's wrist and pull his gun down before he shoots Ethan. She loves those leg scissors.
Remember back when Tom Holland was starting kindergarten and we would complain that the Mission: Impossible show was about a team and why are the movies so focused on this one guy being awesome? They've long since overcome that problem, and it's always satisfying to see the teamwork. Here they use one of my favorite tropes of action camaraderie: after the team pulls through to extract Ethan from a precarious situation they simply nod to each other. Ethan's nod says "I want you to know that I appreciate you saving my ass even though you know that I respect your skills and professionalism enough that of course I had no doubt that you would." And Benji's says "Yep."
There's alot of heavy exposition and light banter and some of the intrigue is a little hard to follow. But it all comes together and ends up in a satisfying place with just-exhausting-enough thrills, opportunities for all the characters to contribute, one of the best villains of the series, unexpected closure to a major storyline from previous episodes and a statement about what makes Ethan and the team the type of heroes the world needs. It's not any kind of drastic reinvention, but it's such a muscular and agile version of what we love about the series that it feels stronger than ever. I like all the MISSION: IMPOSSIBLEs, and this is definitely one of the best.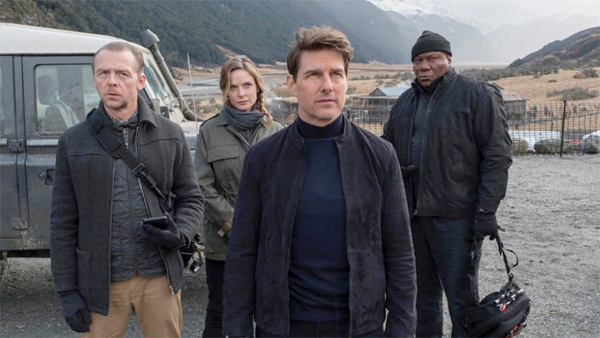 Additional notes:
When Luther says that Ethan has only truly loved two women in the time he's known him, I felt for Nyah (Thandie Newton) from part Woo. Maybe that was just a fling after a hell of a flirtation (involving high speed car dancing) but jesus, she poisoned herself and was ready to jump off a cliff to save the world. I guess the vacation they went on at the end must've gone really bad and the relationship self destructed. They had to disavow it. Or maybe it went great but then she ghost protocoled him?
Although I enjoy the continuity in this one I hope they continue to mix things up and let the movies stand alone. But if we're gonna connect them all I need to reiterate that Maggie Q and Paula Patton were cool in their installments and they should show up again. But Ilsa is one of the most exciting characters in the series so I'm proud of her achievement as the first female combatant to be in more than one installment.
Also I really liked Jeremy Renner as Brandt in 4 and 5. They left him out of this one because he had to film INFINITY WAR (the second part, I guess), so hopefully he'll be back. And Benji or somebody can say "I wish you were on our team last time because we had this CIA guy instead and he was the worst."
Speaking of which, I hope people will be able to get past Kryptonian politics to acknowledge that Henry Cavill is fucking awesome. I don't see how anybody could deny that he makes a great Superman, but of course they will. He was funny and charming in THE MAN FROM U.N.C.L.E., but we as a society failed to see it. So here he is now and he grew a mustache and everything. Give the man some credit.
It's kind of amazing that I saw the trailer before every single movie I saw in a theater for months and not once did I ever spot that the big bathroom fist fight between Cruise and Cavill is actually a cleverly disguised scene where the two of them together are fighting a third person (stuntman Liang Yang). That's some creative editing. I don't know why they wanted to hide that, but it's impressive work.