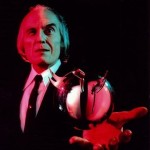 PHANTASM II: LORD OF BALLS
There's actually not a subtitle on this one, I made that up. Anyway this is the first sequel, made 11 years later with the backing of Universal Studios. It's the year after EVIL DEAD 2 but it's the same kind of thing Universal did later with ARMY OF DARKNESS, taking a cult movie and its director, putting a little more money behind it and hoping to trick mainstream audiences into thinking they care. Nobody knows why they did it, but we're kind of glad they did.
The advantage of the Universal money is that they have some pretty good special effects. The disadvantage is that they have to ditch the original star, A. Michael Baldwin (a rogue Baldwin brother not related to Alec Baldwin), and replace him with James LeGros of DRUGSTORE COWBOY. You know, for that guaranteed James LeGros demographic who will just go to any James LeGros movie over and over again, and get all of their friends to come, just to watch James LeGros. It's like the old Hollywood saying goes, don't ever make a movie that doesn't star James LeGros. Trivia: no movie has ever made a profit without James LeGros, and vice versa.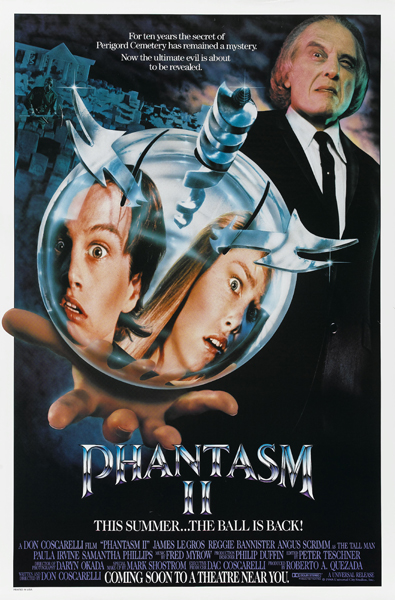 YOUNG HIP UNIVERSAL EXECUTIVE: Yeah, so it's the sequel to this low budget movie from 1979, it's a weird movie but it has kind of a following, people really were creeped out by this old man who says "BOY!" and by this metal ball. We got the old guy returning, and it's a little more action oriented than the first one, we have three different huge fiery explosions, and some really good effects, some weird monsters tearing out of people, and…
OLDER UNIVERSAL EXECUTIVE: Hmmm.
YOUNG HIP UNIVERSAL EXECUTIVE: I know it sounds weird, it sounds like a hard sell, but horror sequels are very popular right now. ELM STREET, FRIDAY THE 13TH… there is this whole subculture of people, they read Fangoria magazine, they idolize the guys who do the special effects, they know all about this director, Coscarelli.
OLDER UNIVERSAL EXECUTIVE: And it's about metal balls?
YOUNG HIP ONE: Yeah, flying metal balls with drills.
OLDER UNIVERSAL EXECUTIVE: I'm not sure this–
YOUNG HIP ONE: We just signed James LeGros.
OLDER GUY: Greenlit. Here is the money, I want you to drive directly to the set from here, do not slow down, begin filming immediately. MOVE!
No, I'm not sure why it is that they needed to replace him. LeGros does fine but I would've preferred a little continuity here. Other than the re-casting though this feels like pure Coscarelli. Remember how A NIGHTMARE ON ELM STREET ended with a weird, reality-bending thing, it seems like everything is fine but then Freddy appears in what we thought was the waking world to yank Nancy's mom through a window? PHANTASM has a similar ending where it turns out the whole thing was a dream, or so we think, but then the Tall Man comes out of Mike's mirror.
Unlike ELM STREET, the PHANTASM sequel actually continues from that ending. So I guess the first one was a dream, except the Tall Man is real. Or something. The movie starts by replaying the final scenes of part 1, Mike and Reggie talking about hitting the road, then Mike goes upstairs and has his mirror trouble. Reggie hears it and runs to get a weapon, only to get attacked by the dwarves (this time with an excellent animatronic monster face). It turns into a full blown action sequence and somehow I didn't notice while watching it that they only show Mike from the back because it's a stunt double.
To pull the actor switch they skip forward many years. LeGros as Mike has been locked up in an institution, pretending he doesn't believe in evil morticians from another dimension turning corpses into 4 foot tall monster slaves. But one day when Reggie comes to visit he finds Mike has snuck out to dig up graves. It seems like Reggie has somehow forgotten why he blew up his own house to kill evil dwarves, so Mike re-convinces him and they blow the joint, becoming a pair of badass drifters in a muscle car, following the Tall Man's trail throughout the northwest, trying to put him out of business. They're like the hunters in VAMPIRES or Blade, going around with various power tools, finding weird monsters and blowtorching them. Meanwhile Mike has prophetic dreams and a telepathic connection to a blond girl having Tall Man problems of her own. When the girl gets kidnapped I thought it would be like Dracula (the book – I know how to read) and they'd be hot on the trail using the psychic connection like a tracking device. But they don't bother.
The Michael and Reggie scenes seem to take the story from part 1 to the next level, but the early scenes with the girl sneaking around spying kind of rehash it. When they combine forces it gets better. They build more deadly contraptions (a booby trap made out of a beer can, string, and a hand grenade) and they fight more metal spheres. There's a new one that's gold, can burn through doors and has a buzz saw on it. Mike figures out how to throw the balls as a weapon. Heven captures one and uses it as a key to get into the portal room.
This is interesting because it proves the balls are just machines. If we understood how they worked we could learn to use them safely. In fact, if we knew how they worked we could really use that technology for the betterment of our civilization. Obviously some asshole would want them for the military, send them into Pakistan or some shit. But forget about the blades, this is some sort of a self-propelled flying device. It can hover. It can fly in perfectly straight lines at varied speeds with no apparent wings, jets, propellors or audible motors. Who knows what powers it? It might help our energy crisis, it might not. But surely applying this technology to vehicles would have a game-changing effect on the amount of pollution we put in the air.
If he wanted to, the Tall Man could stop global warming. He wouldn't even have to do it as an act of interdimensional kindness. He could take out the patent and become a trillionaire. And he'd be a hero. But the Tall Man will never do that because he's a zealot, a "dead ender," unable to let go of his backward, abusive way of life. The only way we can fix this is to go through that portal and change the hearts and minds of the Phantasmiacs. We've got to show them a better way than their slave-based economy. Until we destroy the demand for dwarf slaves the Tall Man will always need our dead bodies. And if he needs dead bodies he's not gonna give a fuck about global warming. It only makes his job easier. Plus it probaly reminds him of the windstorms and scarlet skies back home.
Coscarelli was friends with Sam Raimi, and EVIL DEAD 1-2 definitely seem to be an influence. There's a great metal ball POV shot that chases the heroes and breaks through doors, just like the Evil Dead spirit in part 2 I believe. More importantly they sort of turn Reggie Bannister into a tongue-in-cheek badass like Ash. He's not as arrogant but he's memorable because he's a man's man but he kind of looks like Clint Howard. He's not some square-jawed hunk and he doesn't try to hide his baldness, not even by shaving the sides. The baldness doesn't stop him from getting laid, in fact it helps. The car doesn't hurt either. Or his skill with a chainsaw.
PHANTASM II: THE SECRET MORTICIAN'S OTHER BALL is not a great sequel like EVIL DEAD 2. But it's a good one. We'll see if the other ones achieve the same standard of quality.
NOTE: For some reason this has never come out on DVD in the U.S. I had to watch a PAL important box set of the series. I guess Anchor Bay had the rights to release it there, but not here for some reason. All I can guess is this must give a strong hint about how the flying ball technology works, and the Tall Man is trying to keep us from seeing it.
UPDATE: Never mind, it's on DVD and blu-ray now