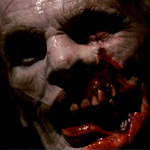 The way Stuart Gordon tells it, CASTLE FREAK was made because he saw Charles Band's poster for it before it was even really a premise.
"What's that about?"
"A castle and a freak."
I wouldn't be surprised if that's how the majority of Full Moon Pictures come about, but they usually don't have the brilliant director of RE-ANIMATOR and FROM BEYOND as the guy translating the poster into an actual movie, so they don't turn out this well.
Gordon's idea of CASTLE FREAK takes inspiration from H.P. Lovecraft. I'm sure you could also say that about what he eats for breakfast every morning. But he credits the short story "The Outsider," about a man escaping from the castle where he's lived alone for as long as he can remember. The screenplay is by Gordon's longtime collaborator Dennis Paoli (RE-ANIMATOR, FROM BEYOND, THE PIT AND THE PENDULUM, DAGON), and its hook is simple: American asshole John Reilly (Jeffrey Combs, THE FRIGHTENERS) inherits a 12th century castle from a Duchess and brings his unhappy wife (Barbara Crampton, FRATERNITY VACATION) and blind daughter (Jessica Dollarhide, 1 episode of Major Dad, 2 episodes of In Living Color, 2 episodes of Dr. Quinn, Medicine Woman) to check it out with him. Little do they know that his dead relative also left behind the feral, mutilated man she'd been torturing in the dungeon for most of his life. Probly should've mentioned that.
You know how you hear about somebody winning a fancy car or something, but the catch is it's not really free because they were never planning on buying an expensive car and now they have to pay the taxes on it? It's kind of like that.
John is unlikable from the start. He doesn't even bother to feign interest in the history of the place, just talks about liquidating the assets ASAP, jokes about it as being his "booty," searches the premises for hidden jewels, but only finds a nasty studded whip under the deceased old lady's bed. Hmmm.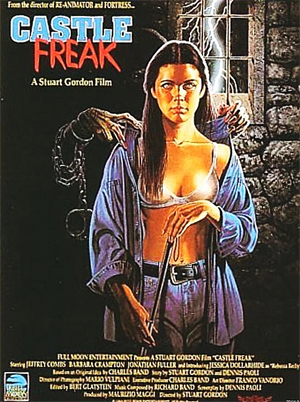 The backstory to all the tension in the family is that he's a recovering alcoholic, his daughter Rebecca was blinded and son killed in a drunk driving accident, his wife has not forgiven him. And he has a rollercoaster of an arc, swinging from just being a dick to having an ugly relapse to becoming the lone hero who has to solve the mystery and save the day while everyone thinks he's an even worse piece of shit than he actually is when he's blamed for a murder.
Rebecca is kind of a secondary protagonist, and has an easier time getting our sympathy. One of her dad's less despicable flaws is being overprotective of her (but maybe out of fear of being blamed again if something happens to her). She feels imprisoned and likes to wander off and explore the castle on her own, which is how she's the first to encounter the Castle Freak. But of course no one believes her when she says she heard someone there.
This Castle Freak is a victim, he has had his tongue and dick cut off and his face is messed up and he eats a cat because he doesn't know any better (see also THE SHAPE OF WATER, ALF, etc.). But his tragic circumstances have turned him into a terrible pervert who ogles the poor girl while she sleeps and lustily spies on John having drunken sex with a prostitute (Rafaella Offidani, THE VOYEUR), then abducts her and commits an outrageously disgusting atrocity that either shows the movie is not fucking around or is going way too far, depending on how much you can stomach.
The rest of the gross out business is more of the fun-gauntlet-to-get-through variety, I think. He does a handcuff escape that's not quite as stomach churning as the one in GERALD'S GAME, but that you're reminded of every time he tries to caress a face with his mangled hand. The makeup effects by Optic Nerve Studios are very impressive. I would never have recognized the skeletal ghoul running around with his dickless balls hanging out as Jonathan Fuller, the hero of THE PIT AND THE PENDULUM.
It should be mentioned that this is DTV in the purest sense of the word – it was made specifically for the video market. It's apparently Gordon's lowest budget ever, but it doesn't seem compromised to me. It feels of a piece with his other work. I would put it in a different category than other 1995 DTV horror like THE HOWLING: NEW MOON RISING and LEPRECHAUN 3.
Gordon's movies often have interesting subtext to dig into, and this one is no exception. I think there are many ways to read it, and the one I'm most taken by is the idea that most castles have their freaks. In other words, the entrenched systems of power and inherited wealth each have their dark secrets, their shames, their skeletons in the closet, their eunuchs in the basement. Hidden behind opulence and pomp is the ugly truth of how they're willing to treat people. This poor guy was tormented for something he had no control over, and he learned only aggression, and as soon as he gets a chance he victimizes other innocent people.
It's largely about men and the things they do to women. These two relatives, heirs to royalty, one a literally emasculated, literal monster assaulting women, the other causing psychological and even physical damage to his wife and daughter through his careless actions. John blames his alcoholism on his father, the freak definitely owes his condition to his mother, who felt abusing him was avenging her husband for leaving her. I guess that makes the worst villain in the whole story a woman, but she's dead now. The focus is on the need for John to be a better man.
In that sense it's optimistic, because we see him doing something right and possibly even leaving his wife and daughter thinking of him in a positive light. One troubled soul/entitled prick must climb out of his own precipitously spiraling set of circumstances long enough to put a stop to the cycle of abuse. A half hour into the movie you're sure John is the dickhead whose gruesome death you'll be cheering for. Instead there's some amount of redemption.
If he can do it then maybe even the Castle Freak could've made something out of himself. Could he be a productive member of society? He's not gonna be able to be a motivational speaker, but I'm sure what he's learned from his tough life could help someone, somewhere. I don't think he's a nudist at heart – he seemed to want to cover up with that sheet, so I imagine he'd do that while interacting with people. I don't think he necessarily needs to learn to groom himself, but then again maybe it would help his self esteem. He definitely didn't like looking at himself in the mirror. It's possible he'd get into wearing cool clothes and combing his hair and everything. Maybe take some of that Duchess money, buy a Lamborghini, go out on the town, live it up.
But first he'd have to learn not to chew on people. We all need to live by that.
P.S. The production company behind BRAWL IN CELL BLOCK 99 and PUPPET MASTER: THE LITTLEST REICH is doing a remake of CASTLE FREAK, directed by THE LITTLEST REICH's FX guy Tate Steinsiek. Barbara Crampton is producing and says "our goal is to enhance a lot of the Lovecraft elements in the movie to just bring the Lovecraft universe a little bit more to life and a little bit more in the forefront." I don't really know what that means, but at least it sounds like a different take.
My only request is that the end credits and possibly also opening credits and at least 2 montages are set to a slightly rewritten cover of Rick James' "Superfreak."