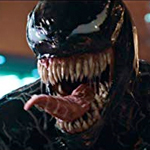 VENOM is the red-headed step child of 2018 comic book movies. It's in the off-brand world of Spider-man supporting characters still controlled by Sony but not allowed into the official Marvel Cinematic Universe. It's a character that was hugely popular with a certain type of dude twenty-some years ago, but not really in line with current tastes in super heroes, and arguably having lost some stature after being played by Topher Grace in the unpopular (though I liked it) SPIDER-MAN 3. And many have noted that the script – credited to the diverse trio of Jeff Pinkner (THE AMAZING SPIDER-MAN 2, THE DARK TOWER), Scott Rosenberg (DISTURBING BEHAVIOR, KANGAROO JACK) and Kelly Marcel (SAVING MR. BANKS, FIFTY SHADES OF GREY), based on the character by David Michelinie (made Tony Stark an alcoholic) and Todd McFarlane (SPAWN) – doesn't seem that different from what it would've been if this was made in the late '90s.
Let's not get carried away though. The digital FX are like ten thousand times better than SPAWN's, and you can't call it a '90s throwback if it's not copping the style of THE CROW. This is filmed in normal locations and the end credit songs are by Eminem and Run the Jewels instead of, you know, Incubus or whoever it would've been.
And anyway the version they actually tried to make in '97 was going to be from New Line Cinema, written by David S. Goyer and possibly starring Dolph Lundgren. Which I want to see, actually.
Personally, I was kinda excited for VENOM for reasons having nothing to do with the comic book alien parasite spider-man monster. Not that I have anything against the comic book alien parasite spider-man monster community – it's just that I was more interested in this as a Tom Hardy vehicle. In that first trailer I believe he was narrating and he was doing yet another new mumbly accent like it was THE DROP or something, and that means I want to see it.
But I think everyone's assumptions were mostly correct. Yes, it is pretty dumb and misguided and seems out of date but not in a cool retro way. And also Hardy is really funny and weird in it and clearly having a great time, and that helped me to somewhat enjoy a pretty bad movie.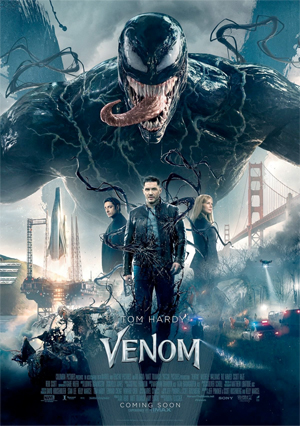 Hardy plays Eddie Brock, a New Yorker living in San Francisco who works as some sort of VICE style hipster investigative reporter with a major TV show that he shoots partly with a small handheld camera like a Youtube show I guess? He's down with the working man and doesn't want to sell out so when he gets sent to do a puff piece on fancy pants tech guy Carlton Drake (Riz Ahmed, NIGHTCRAWLER, JASON BOURNE, ROGUE ONE) he surprises him with questions about doing human experimentation on homeless people.
Trouble is the only source of his information is his fiancee Anne (Michelle Williams, SPECIES, HALLOWEEN: H20), because she's a lawyer working on a case for Drake's company The Life Foundation and he snuck into her email. So Eddie gets fired, Anne gets fired, Eddie gets dumped by Anne, and the movie gets dumped by us because you can have your hero make bad and immoral decisions but you can't say he's good at his job and then show him doing something this fucking stupid without any consideration for the obvious consequences.
A thing I did like about the script is that he's not exactly able to get Anne back and instead spends the movie as a pain-in-the-ass ex getting help from her and her new, totally nice doctor boyfriend Dan Lewis (Reid Scott, Veep). There are still feelings there, but she's probly happier with the new guy and made the right decision.
For a not exactly deep movie they sure do spend their time getting through all the perfunctory business about how a whistleblower (Jenny Slate, HOTEL ARTEMIS) sneaks Eddie into the lab to get evidence and he accidentally gets exposed to the shapeshifting parasitic blob they captured on a private space mission. We get it, Silicon Valley, Elon Musk, all that shit, but this is still the same exact corporate bad guy secretly evil science shit that has been in movies like this forever. When he finally became Venom I thought about how long it took to turn Liam Neeson into Darkman. This seems about twice as long. Always aim for DARKMAN, guys.
But once it happens things pick up – there's kind of a werewolf aspect to it (he finds himself scarfing down entire bags of frozen tater tots, sitting in a lobster tank at a fancy restaurant to cool off, etc.), and also it's like Hulk or Jekyll & Hyde or UPGRADE where he sort of negotiates with this other intelligence that's taking control of his body. And Hardy hears an evil, modulated version of his own voice talking to him but no one else does so he's talking to himself and acting like a total loon.
The other horror aspect is that Drake sends evil goons after them and his alter ego Venom likes to bite their heads off and stuff. So it gets him in some compromising positions. Also funny ones. Like, you know how it feels when you have an ex who you still have respect for and you run into them at a low point in your life and they can see it and it's just humiliating? Eddie has his ex walk in on him when he's a shiny naked nine-foot tall monster eating guys in the lobby of a building he's been banned from. Just the banning would be embarrassing enough.
As usual, Hardy seems hyper-detailed in his characterization. I bet he has reasons for the ring he wears on his pointer finger and the bracelets he wears. I read that they had to rig the lobster tank to hold his weight after he saw it on set and said he wanted to climb into it. He wears a leather jacket and rides a motorcycle and you might assume he'd want to be a cool James Dean anti-hero. Instead he plays it like he wants to be that but is way too much of a dummy to pull it off. He means well, though. A lovable lug always fucking everything up.
I think at times the comedic rhythm is a little off, but there are some actual funny jokes and a couple parts that I'm not sure if they were meant as jokes but they were funny and that's good too. My favorite of those, and favorite part in the movie, is when the Venom voice, which has spent the whole movie urging him to murder people and eat their spleens and stuff, suddenly tells him he should apologize to Anne because it might be his last chance. There are at least two points in the movie that seem to indicate that this drooling long-tongued slime beast has somehow learned the importance of apologizing to those we love when we wrong them.
Another one is at the end when Anne sympathetically says "I'm sorry about Venom." If I interpreted it correctly, she thinks he misses him. It seems to imply that they had some sweet friendship like Elliott and E.T.
Williams was another curiosity factor for this, because she's one of the last major actresses who seemed like they would could surprise us by being in a comic book movie. She's spent so many years strictly on indie movies, getting her nominated for Oscars four times (for BROKEBACK MOUNTAIN, BLUE VALENTINE, MY WEEK WITH MARILYN and MANCHESTER BY THE SEA). Her one and only big mainstream movie like this was OZ THE GREAT AND POWERFUL in 2013. I wondered if she knew something about this project that we didn't, but no, she probly just wanted to work with Hardy. While I doubt it was as fulfilling as her usual work it at least isn't the one note disappointed girlfriend character it could've been. She also gets some comedy and some heroism and (SPOILER) one fun scene where she gets to turn into Sexy Lady Venom.
Something I've noticed about all expensive special effects movies of today: the camera always has to zip and zoom around and whoosh and whip around the back and flip over and etc. I'm not saying it's confusing or anything, but it's unnecessary. I get it, I'm sure it's because they do pre-vis and at that stage it would look boring to see a classically composed shot, and it would seem like they weren't doing their job and they'd get fired. And also when they first invented these digital camera moves for the movie BLADE II it was cool to make the camera do things that we'd never seen a camera do before.
But now everything is fake and all camera moves are fake and I strongly believe that it would be more interesting to see these two shiny slippery veiny pulsating blob piles slap against each other with the camera just standing still like it was really happening and there were real cameras there. They couldn't keep doing it every time, but if they did it this time it would be impressive.
Also I want to say that if there is going to be a point in cinematic history where a monster convincingly morphs back into a person who is wearing clothes, this is not that point.
You know, I saw this at the Cinerama, which is where I often end up seeing the highly anticipated blockbusters like the Star Warses and Marvels and Batmans. And I honestly kept thinking this movie felt out of place on that screen. It's not gonna fulfill those type of expectations – the stuff you can get out of it is mostly in the margins of the spectacle. It's obviously expensive, but it doesn't seem like it's playing with the big boys. Which makes me think it will probly go over a little better on video.
I guess maybe it's time to put a fork in the idea of Ruben Fleischer being a director to put faith in. Sure, ZOMBIELAND was a surprise, but 30 MINUTES OR LESS I thought was pretty bad and maybe I need to see GANGSTER SQUAD to be sure but for now I trust the conventional wisdom on that one. I mean honestly he probly worked out better than some previously associated directors might have (they include Gary Ross, Josh Trank and Alex Kurtzman), but I can't say he pulled this one off.
He's got great people working with him, too. I enjoyed how bombastic the score was, and it made sense when I saw that it was by Ludwig Goransson, whose work I enjoyed on CREED and BLACK PANTHER.
The cinematographer is Matthew Libatique, though his work here didn't impress me like some of his other work (PI, CHI-RAQ, mother!, etc.) Spiro Razatos (MANIAC COP, FAST FIVE, CAPTAIN AMERICA: CIVIL WAR) is the second unit director/stunt coordinator. And he gets to do some scenes with Michelle Lee (BLOOD AND BONE), Roger Yuan (BLACK DYNAMITE) and Sam Medina (KICKBOXER VENGEANCE/RETALIATION). Also you should know that one of the editors, Alan Baumgarten, cut KICKBOXER 2: THE ROAD HOME.
I don't think we know yet which movies are in the IAWMCU (In Association With Marvel Cinematic Universe). Anne mentions The Daily Bugle, but we know this isn't supposed to be in the regular MCU, so maybe it's connected to the Andrew Garfield Spider-men. Or maybe Spider-man doesn't exist in the IAWMCU, which would explain why nobody ever says "Hey, that's weird how much monsters from space look like Spider-man's costume."
Anyway if they somehow still make VENOM 2: VENOMENAL I would like to see any of the three cinematic Punishers show up. Or all three. And Howard the Duck. And Matt Salinger Captain America. It's probly beneath Blade but maybe Ryan Reynolds and Jessica Biel could stop by and shoot arrows or whatever. I'm forgiving. I'll be there.
This entry was posted on Friday, October 19th, 2018 at 4:00 pm and is filed under
Comic strips/Super heroes
,
Reviews
. You can follow any responses to this entry through the
RSS 2.0
feed. You can skip to the end and leave a response. Pinging is currently not allowed.