An obscure kind of conspiracy: NIGHT OF THE LIVING DEAD
NIGHT OF THE LIVING DEAD is on a long list of the movies that I mention all the time in reviews and then when I go to add a link I realize that I've never officially written it up. It's one of those classics that so much has been said about that it's intimidating to even approach it. Seems presumptuous to think I might have something new to say about it.
It's also a movie that I felt I had worn out at a certain point. I remember a Halloween some years back when I put it on and when it was over I felt I hadn't gotten as much out of it as I used to, so I put it on hiatus. But now the Criterion Company has given us what could be the definitive release of the abused-by-public-domain film, which is as good an excuse as any to finally revisit the movie, discuss different aspects of it and see how its themes apply to these fucked up times we're living in fifty years later.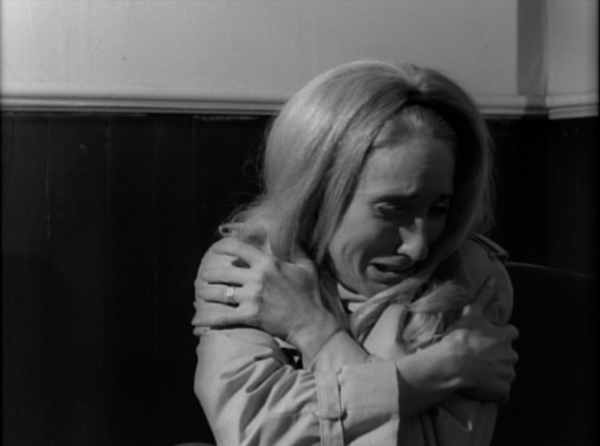 1. BARBRA
1968 is before my time, so my ideas of what the world was like come largely from the hippie-glorifying movies and music that remain. NIGHT OF THE LIVING DEAD's black and white photography and restrained style place it in some non-distinct "Long Ago" spot on the historical timeline of my imagination. It's hard to square it as only one decade earlier than gaudy orange and brown late seventies in your face DAWN OF THE DEAD. But seeing the furnishings of the house in MoMA's Romero-and-Image-Ten approved, partially George Lucas funded, fucking pristine 4K transfer from the original camera negative via Criterion Blu-Ray I finally had a flash of what it would look like in person and that yes, this was the same 1968 as the rainbow colored one where Jimi Hendrix recorded Electric Ladyland and The Beatles released YELLOW SUBMARINE. BARBARELLA came out the same month!
(Did you know NIGHT OF THE LIVING DEAD was 1968's #10 movie at the U.S. box office, beneath PLANET OF THE APES? 2001: A SPACE ODYSSEY was #1. Good year for movies.)
Of course, we've all been taught to look back at NIGHT as a perhaps-unconscious reflection of the turbulent times it was produced in. This was the year of the bloody Tet Offensive, the riots at the Democratic Convention, the assassinations of Dr. Martin Luther King Jr. and Robert F. Kennedy. But also it was a major year for feminism. A number of influential radical feminist journals were published. The term "sexism" appeared in print for the first time (in Caroline Bird's speech "On Being Born Female"). Women who felt the National Organization for Women was too conservative were leaving to form smaller grassroots organizations that became known as the Women's Liberation Movement. Airlines ended a policy of firing female flight attendants who got married or turned 32! Major New York newspapers integrated their help wanted ads, helping to make gender less a part of hiring. A protest against the Miss America pageant in Atlantic City gave birth to the myth of bra-burning when a New York Post article's analogy to the burning of draft cards was taken literally. The first national Women's Liberation Conference convened about two months after NIGHT's release.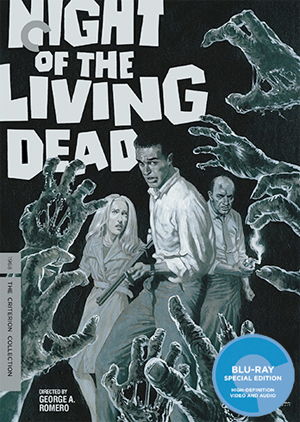 But our lead, Barbra (Judith O'Dea), was not a part of that changing tide, and I think she's the only element of the movie that's dated in a bad way. She's the character we start with, but she's so meek in the face of danger that she lets Ben (Duane Jones) take over as the hero of the movie. He tries stern talking and friendly patience, but the only thing that can snap her out of her catatonia of terror is the opportunity to make a hysterical speech about what happened to her brother Johnny (Russell Streiner, also producer). And then she fucking faints! At the end she finally seems to shake it off and helps nail a few boards. Too little, too late.
I've always loved that in the remake, scripted by evolved 1990 George Romero, Barbara (Patricia Tallman) straightens up during an early zombie attack, literally puts on pants and for the rest of the movie she's more like Ellen Ripley than the original Barbra. In a Q&A included on the Criterion Edition, Romero brings that up himself, lamenting the weakness of the character the first time around. It seems like he just didn't think about those sorts of things back in '68. So I'm not sure if it's an intentional or accidental point about sexism when Tom (Keith Wayne), seemingly a voice of reason, says "We'd all be a lot better off if all three of us were working together." That number includes himself, Ben and Harry Cooper (Karl Hardman) but not Barbra, Harry's wife Helen (Marilyn Eastman) or his own girlfriend Judy (Judith Ridley), who are also trapped in there and debating about what to do.
But let's take gender out of it and look at what Barbra could represent character-wise. In the opening, when she and her brother don't know about the ghoulification of America because they've been on a long drive and the radio station they had on stopped broadcasting, a contrast is drawn. Barbra is dedicated to their mother, to the yearly tradition of coming out to see her and bringing a wreath to their father's grave on her behalf. Johnny is impatient and annoyed with the whole thing, cynical about the gesture, even suspects the wreaths they leave each year might be collected, refurbished and resold. He hurries her when she wants to pray. He teases her about her childhood scaredycatness and superstition, which she's sensitive about.
What we see here is that Barbra depends on a foundation of tradition and institution. The rise of the dead and more importantly the collapse of society fucks her up because it's flipping everything she's ever counted on upside down. Mom won't help, church won't help, there is no tradition about how to handle this. No brother, no car, nobody out there to come save her. Since she drove in from Pittsburgh, she's also not used to how things work out here in the country. The way Romero shoots the hunting trophies implies that she's startled by them. I'm not sure how far Ben came from, but we can infer that he may have experienced less help from institutions, having lived through segregation, and might count on them less. So shortly after Barbara has seen her first zombies he's already okay with stabbing heads with a screwdriver and lighting bodies on fire, while Barbara is totally lost.
This is kind of funny though when you think about it. The dead have been rising for only two days, and he's only known of it for, like, an afternoon, but he's not at all bothered by putting them down. While the radio is advising staying in place "until we can advise what course of action to take," Ben is already taking the course of action where he bashes their brains in with tools and scares them away with burning furniture.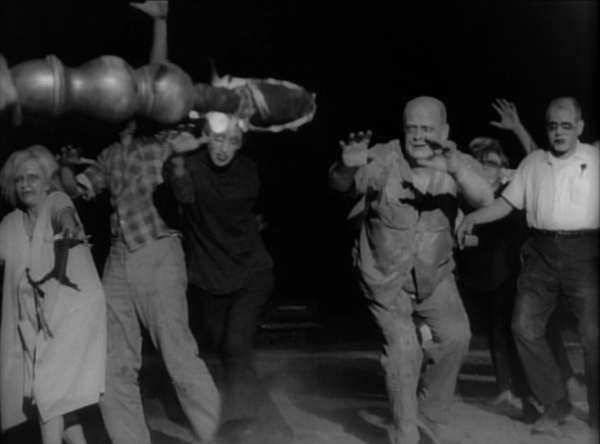 2. THE DEAD
As the popular trivia goes, the word "zombie" never appears in NIGHT OF THE LIVING DEAD. Romero never thought of them as that until people told him to later. He considered them "ghouls," and the characters mostly call them "those things." But they are the genesis of the modern conception of the zombie, as seen in his five sequels, five decades of derivative movies and eight-and-growing seasons of the mega-popular TV show The Walking Dead (which Romero resented): dead people reanimated, some rotting a little, incapable of speech, giving uncomprehending stares, shuffling along, attacking and biting anything that lives, re-dying if shot in the head or lit on fire. Even the convention of them being conveniently easy to kill is established here in the news broadcast when Sheriff McLelland (George Kosana, also the production manager) tells a reporter, "Beat 'em or burn 'em. They go up pretty easy."
In fact, most of what we know about those things the ghouls in this movie comes from the media, as the radio and TV are the characters' only connection to the world outside the farmhouse they're trapped in.
One thing that never comes up again in Romero's series or the popular idea of the zombie: speculation that gamma rays from a returned satellite have caused this whole situation. That seems to be the favored theory of the panel of the President, his cabinet, leaders of the FBI, CIA, Joint Chiefs of Staff and NASA scientists that we hear about, in one of the series' most optimistic attempts by the authorities to address the Those Things problem. Interviewed on the way out, the leaders can't even agree on whether they agree on this theory. I've always taken it as a wild, incorrect guess, experts grasping at straws to understand the un-understandable, but watching it now it does seem like it's Romero's way to explain these events, just with a little ambiguity. I think we all like to forget this gamma ray thing ever happened. The midichlorians of the dead.
Its fun to hear news anchors and police being very professional about explaining the brand new concept of a zombie holocaust. From the sounds of it they consider the possibility that it's some sort of flash mob. They don't know at first if this is a planned uprising, a bunch of people going crazy, or what. We hear it called "an obscure kind of conspiracy" and "more than just the usual run of lawlessness." The zombies are described as "murder happy characters," "things that look like people but act like animals" and "a virtual army of unidentified assassins." In fact, I believe "assassins" is the only word they use for them more than once, so maybe that's what we should call them.
The first assassin is "Ghoul" (Bill Hinzman), the iconic dead guy who stumbles through the cemetery, inspiring Johnny to joke "They're coming to get your, Barbra" before he actually is the one who gets got. This Ghoul can move at a pretty good clip, and intentionally picks up a brick to smash through the window of the car that Barbra tries to escape in. These days it seems startlingly out of character for the monsters. In one of the interviews in the extras we learn that this was the last scene filmed, and that it was pointed out to Romero that it didn't follow the rules of the rest of the movie for him to be using a tool, but he decided to go with it anyway. (We do see other assassins picking up bricks and doing other things we don't see later, like eating bugs.)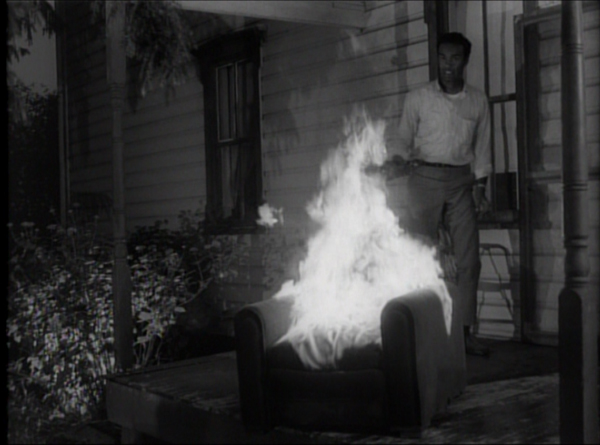 3. BEN
Much is made of the groundbreaking choice of African-American lead Jones, what subtext his race adds to the story, and Romero's insistence that he didn't script it that way, he just cast the best actor in his circle. I can believe that Romero (whose group of artistic friends must've been pretty inclusive and open-minded, judging by what we see in KNIGHTRIDERS) was comfortable in his own bubble and didn't give too much thought to the dumbasses who would be shocked to see a black man star in a movie like this. But while a racial subtext wasn't the original plan, it seems likely it was something they considered and understood while filming. Jones even tells a story in an interview on the Criterion disc about a group of teenagers following and brandishing a tire iron at him during the production. I doubt Romero could've been oblivious to this context when filming the ending scenes of redneck cops casually shooting Ben and throwing him on a pile of bodies to burn. Clearly Jones wasn't.
Come to think of it, maybe I'm forgetting something, but does race ever come up in any of the other dead movies? Correct me if I'm wrong, but I don't think even Rhodes and company, the most obnoxious fucking assholes ever committed to film, ever delved into the ol' racism. Did they? (Thanks sweetooth0 and Michael for correcting me in the comments)

In a more recent film festival Q&A included on the disc, Romero says that he had just finished the movie and had the reels in the trunk of his car when he heard about the King assassination on the radio. And that's when he started thinking maybe this movie was gonna be a big deal.
1968 was also the year of the Mexico City Summer Olympics, where two American medal winners raised the black power fist on the podium. Today it's an iconic photo, but when Tommie Smith and John Carlos made the gesture (wearing symbolic scarf, beads and socks), they were booed in the stadium and expelled from Team USA. The 2018 comparison is obvious: our justice system keeps causing the execution of black people and the exoneration of the officers (or vigilantes) who do it. It's not a fluke, it's how the system works. Yet when football players do a small symbolic gesture against that fact, half of the country gets mad at them, going great lengths to not even acknowledge what they're protesting. If you want to talk about making society more inclusive to different races then you're being PC and playing identity politics, but if you want to talk specifically about the system treating black lives as if they don't matter then all the sudden this chunk of white people really wants to be sure that the discussion is inclusive to all lives and you can't tell if they are just belligerently changing to a totally different subject to protect their feelings or if they have some kind of weird voodoo curse that prevents them from understanding or acknowledging issues that affect other people. Racism is so over that how dare you bring it up at all mary had a little lamb little lamb little lamb support the troops.
So in a certain way this racism that seems to exist within the world of NIGHT OF THE LIVING DEAD but is not discussed is like the real world, where some people could swear they've never once seen racism in the wild, they're pretty sure it doesn't happen much anymore, while to others it's plain as day that it's all around us. But you don't have to talk about race to think about it. Ben's race is never mentioned, but it's there on screen. When he suddenly runs into the house where Barbra has taken shelter, she has every reason to be frightened by him. Is she more frightened because he's a black man? We can only guess. Harry would probly be an asshole to anybody. Is he more of an asshole to Ben because he's a black man? You gotta wonder. We don't know where Harry is coming from, but in an age and place where kids treat terrorizing Duane Jones like it's drag racing or cow-tipping, which side do you think that guy's more likely to come down on?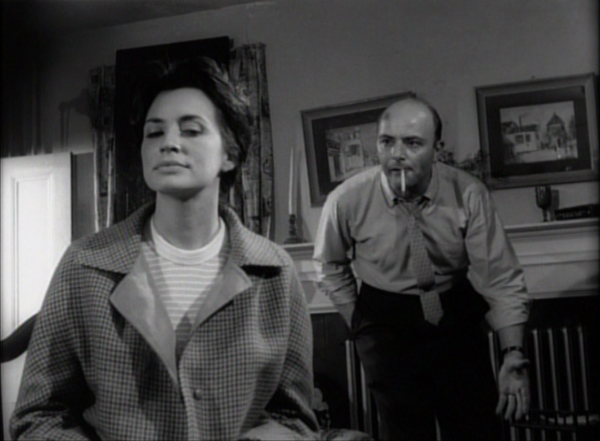 4. THE COOPERS
Harry and Helen Cooper are representatives of a normal (but dysfunctional) middle class family of the time, and they don't have the strong values needed for civilization to withstand this pressure. Harry is a stubborn asshole who doesn't give Helen much say, though she tries. She says that they're not happy living together – maybe their daughter is the only thing keeping them married. Until she turns and splatters them.
Harry always has to be the boss, and always has to be right. When it's decided that he and his family will stay in the basement while everybody else stays upstairs, he fantasizes about them coming to him for help when he turns out to be right. So it's not so much about the vindication as about having power over them.
He's selfish, and he's a coward. He argues out loud that he shouldn't have to risk his own life to help other people. When Ben is surrounded outside he doesn't let him back in. He stands back and watches him for a while before finally running in to help shore up the windows with more boards. As soon as they're safe Ben punches him. "I oughta drag you out and feed you to those things."
A thing I always forget, though, is that Ben is about as wrong as Cooper. He's calmer, more resourceful, more likable, braver. But ultimately where does he end up? Running into the basement when the main floor is overrun, just like Harry said it would be. I guess we can't say Harry was 100% right, because if they'd all been downstairs with little assassin daughter they might've been done for earlier. But I think we can safely say that it was poor strategy for Ben to be beating up Harry, and then shooting him! Maybe he deserved part of that, but this is their failure, the fighting amongst the living instead of teaming up to survive. Ben blew it.
Helen is not as helpless as Barbra, perhaps because she hasn't given up her faith in institutions. She doesn't agree with Harry's plan of "locking ourselves in this dungeon" because she wants access to the news. "If the authorities know what's happening, why they'll send people for us or tell us what to do." I wish I could say she was right. The opening of DAWN OF THE DEAD marks the end of this kind of attitude as the TV station knowingly broadcasts out of date shelter information and people are deciding to abandon their jobs and lives to flee civilization.
5. ANOTHER ONE FOR THE FIRE
After this night of the assassins, of Anubis, of the flesh eaters, of the living dead, there is the next morning. And for a moment it kind of has that feeling of the morning after a bunch of craziness happens and then the sun comes up and the calmness is restored and the people try to get back to their lives. Go to the burned out pizzeria and get the two-fitty from Sal. Because outside of the farmhouse there are police and they're still acting like they're in charge, like they're solving the problem, like they think civilization still exists. They have no idea the end is dawning.
There's a posse of volunteers, but some of these people are still on the job, still wearing uniforms or suits. The sheriff walks around pointing and delegating and the officers do whatever he says. They shoot the assassins so quickly and casually, pile the bodies up for a bonfire and see no contradiction when they tell reporters everything is gonna be fine. No big deal.
So it's almost what Helen said. "The authorities" did "send people for us." Specifically, the Sheriff asked for "about four or five men and a couple dogs" to clear out the farm house. So they went over and shot the first person they saw – the lone survivor, Ben – and thought nothing of it. Didn't even occur to check if he was human first or to wonder about it afterwards. Shoot first, ask questions never.
Okay, I had my criticisms of some of Ben's choices, but consider all that he's been through. He escaped a siege at Beekman's Diner, avoided a gasoline truck crash, found the farmhouse for refuge, protected Barbara and tried to calm her down, secured the place by finding wood to board up all the windows with, kept the assassins at bay using fire and weapons, made a plan to use the truck to get medical help for Karen (failed), got locked out by Harry but made it back in, later made it into the cellar and shot the ghoulified Coopers, the only member of the group to survive the night. And then, after all that, it's not a fucking monster, it's not even an out of control citizen, it's the law that kills him. The actual system, the remaining part of civilization, the part that's still operating as planned. It's all coming down like the walls of Jericho and god damn it it's the part that's still intact that murdered him.
Yeah, that still seems about right.
The savagery of this police shooting of an innocent black man is emphasized by its style: still photos in montage, a technique that Romero and company had used in commercials. They don't treat the bodies (ex-living dead or otherwise) as people. When they see the spot where Tom and Judy died in a burning car they say "Somebody had a cookout here." And they drag Ben's body out using meat hooks.
It only took one night for them to accept people as meat.
Note: Screengrabs are from the old Elite Millennium edition DVD, not the new transfer, which looks WAY better.