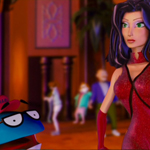 With the critical and commercial success of THE LEGO® MOVIE, Hollywood and corporate America are hard at work trying to figure out what other consumer products and trademarked property brands they can get away with adapting into feature film franchises. Recently for example we heard about plans for a movie based on Barbie dolls and even one based on Marshmallow Peeps candy. CHEETOS: RISE OF CHESTER and REVENGE OF THE NERDS™ CANDY can't be far behind.
While THE LEGO® MOVIE is the most brazen product placement movie to be accepted by society, it is not the first one to be made. The innovator in this field is 2012's computer animated feature FOODFIGHT!, the directorial debut of TRUE LIES and MORTAL KOMBAT executive producer Lawrence Kasanoff, who'd already helped pave the way for the hit  movie with a number of Lego®-based animated TV shows.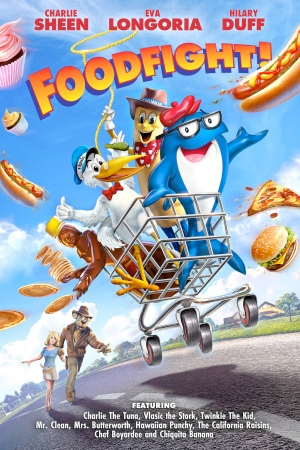 There's a type of story for animated movies that's kind of a tradition now, a high concept based around licensing. WHO FRAMED ROGER RABBIT, maybe the originator of the formula, cleverly imagined a world where all the cartoon characters from the golden age of animation are living beings working as actors in a ghetto of Hollywood, filming their famous shorts on sets just like humans do. The leads are new characters from the fictional Maroon Cartoons studio, but Disney cleverly surrounded them with their past characters (Mickey Mouse, Dumbo, Snow White) and made deals to include characters from other studios, like Bugs Bunny, Popeye, Betty Boop and Droopy. A similar approach was applied to a world of living toys in the TOY STORYs (appearances by Mr. Potato Head and Barbie) and to video game characters in WRECK-IT RALPH (featuring Pac-Man ghosts and Q-Bert). THE LEGO® MOVIE took the idea to the next level of commercialism by having a whole world made entirely of the Lego® products and including the ones that are licensed from movie characters, so Batman and Star Wars and stuff show up in it. It's a way to ground their story in a recognizable world and can be nostalgic for people who grew up with those characters.
This type of gimmick worked for cartoons, toys and video games, so Kasanoff and his studio, Threshold Animation, came up with another magical world to capture the imagination of children and the nostalgia of their parents: the mascots from food and cleaning products. Imagine a fantasy world where such beloved corporate logos as Charlie the Tuna, Twinkie the Kid and Mr. Clean all are living beings! Threshold apparently licensed over 200 of these mascots. The Hawaiian Punch Kid, the Tootsie Pop Owl, Mrs. Butterworth, uh… and I think that's all I recognized. Chester the Cheetah was in the trailer but I didn't see him in the movie. I bet he was flamin hot limon when his agent broke the news that he got cut. Seriously cheesed.
The story takes place in a grocery store which, as happens in modern society, is singlehandedly run by a kindly old man who dearly loves his job. And why not? This man sells people dreams. Or at least dryer sheets and toilet paper. At night he turns off all the lights and that's when the magic happens. No, not waxing the floors and restocking… some shitty pop/punk/ska plays, the shelves turn into a city and the logos on the packages, called "ikes" (as in "icons" I guess), come alive and walk around and stuff.
Like ROGER RABBIT it's supposed to be kind of a noir, so the hero is "Dexter Dogtective" (voice of Charlie Sheen), the made up mascot for, like… I wanna say maybe a cereal of some kind. He has a dog head and human body and because he's a detective he dresses like Indiana Jones and he wears a holster with a price gun in it. (what?) But he's also a regular guy, he's planning on proposing to his girlfriend, Sunshine Goodness (Hilary Duff), a smiley human with cat ears who throws raisins into his mouth. But he misses his chance when she runs off to help his best friend Daredevil Dan (Wayne Brady), a wacky plane-crashing squirrel, and then it's 8 years later and she's missing. (?)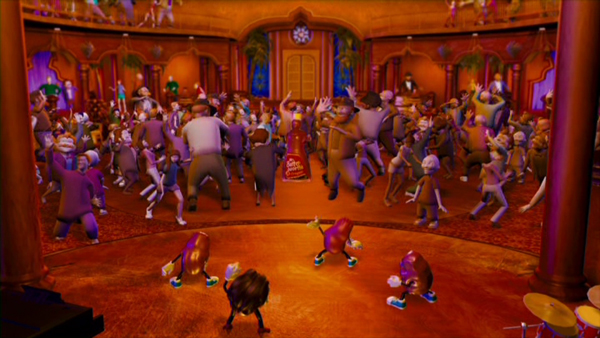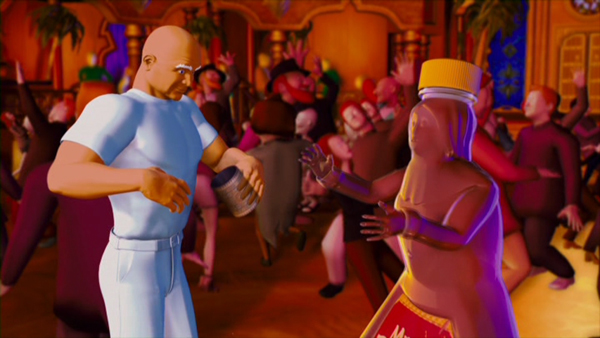 Just as ROGER RABBIT had The Ink 'n Paint Club, FOODFIGHT! has a night club where The California Raisins (no longer made of clay) perform and Dexter gets drunk off of milk (shout out to ALIEN NATION I guess). And just as ROGER RABBIT had the seductive, suggestive femme fatale type Jessica Rabbit, FOODFIGHT! has Lady X (Eva Longoria), who comes and does, uh… this kinda stuff: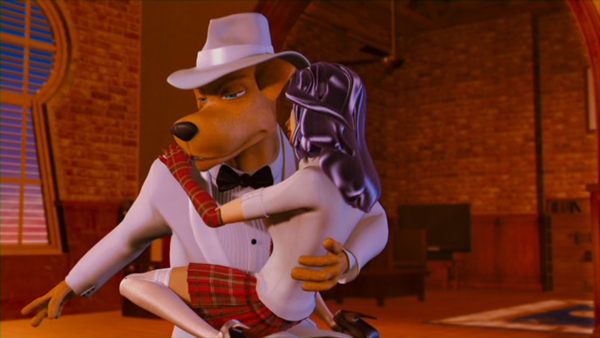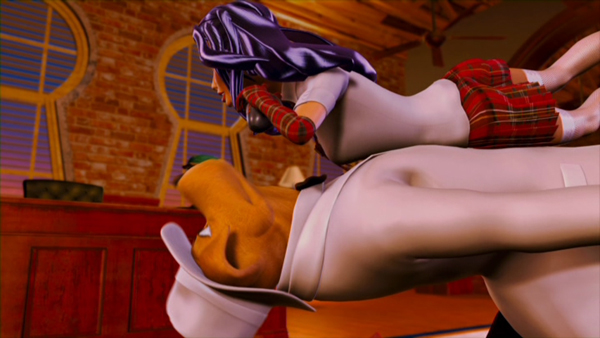 Also it has an evil weasel (weirdly shiny looking the way he's animated) and Christopher Lloyd as the voice of a bad guy (mocapped by some guy who thinks exaggerating every movement by 400% will make it seem like real animation). He's a human in the human world who storms into the grocery store and forces his "Brand X" products on the kindly old owner. Within the ike world this means that the ikes are dying and being replaced by other logos (maybe?), this is why Sunshine is missing. Brand X is run by Lady X and a comical Nazi-esque general, and they lead their stormtroopers in formation to catapult a bunch of food at the good guy logos.
(The weird thing – well, one of the thousands of weird things – is that there are already knock off characters like some fake Keebler elves in a fake Keebler tree. What happens when an off brand is replaced by Brand X?)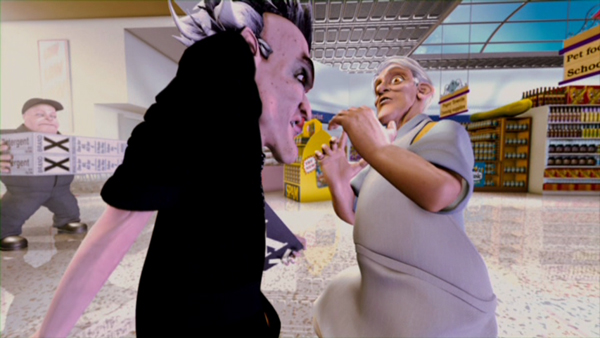 That's all extremely underwhelming, but I'm sure they were counting on getting by with all the world building. The frame is just alive with detail. For example, check it out, that's none other than Mr. Clean walking by in the background right after the part where the frog wearing a crown farts!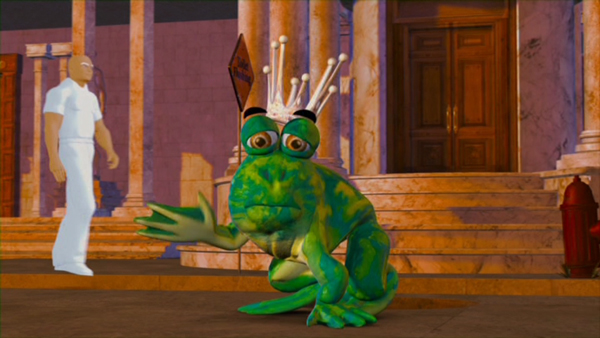 The next time somebody pulls that amateur move where they say some new big budget movie is "the worst movie I've ever seen" I'm gonna let 'em have it. Motherfucker, I've seen FOODFIGHT!. You're gonna look me in the eye and tell me that NOAH is worse than FOODFIGHT!? Why would you disrespect me like that, after what I've been through? I want you to apologize and I want you to turn around and go home and not come out again until you're ready to not talk about movies anymore. I will not be treated this way.
You guys know me, you know "worst movie ever" is not the type of hyperbole I throw around. "Best movie ever" is the type of hyperbole I throw around. But I do honestly believe that FOODFIGHT! has to be the worst movie I've watched all the way through. That is not to say that I'm not strangely, masochistically fascinated by its existence. I absolutely am. When I read about it I knew I had to see it, I bought myself a copy. It took me a long time to get all the way through it, I took a break for months and had to start over. I'm glad I have experienced it and will be loaning it to many friends or possibly donating it to charity. But it is not "so bad it's good." It's not fun to watch. It's actually upsetting.
There are so many different aspects to it to be angry about and insulted by. It's just offensive on so many levels. #1, the very idea of making a movie based on the mascots from foods and cleaning products. #2, the inept and nonsensical execution of that terrible idea. #3, the extremely poor understanding of mascots from foods and cleaning products that leads to them doing such a piss-poor job of making up fictional ones. #4, the actual ugliest animation I have ever seen in a feature film, not nearly good enough for a student film. (I'm sure the animation was not completed as far as textures and everything, but I can't imagine a more polished version of this thing would look much better.)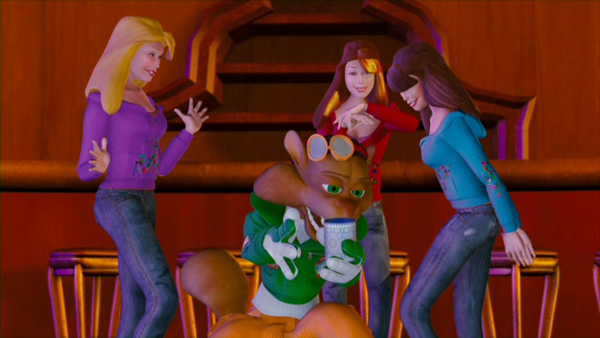 How the fuck did FOODFIGHT! happen? That's a rhetorical question. The answer is that it was the passion project of a man whose only passion was to make a big movie. I think he probly knows alot about financing and money, but almost nothing about humans. The movie was conceived in 1999, announced in 2000, released in 2012 after the completion bond company got sick of waiting and auctioned it off. Kasanoff talked it up like it was a real movie people would want to watch, and until it was released industry papers took him at his word. In 2000 he told Daily Variety, "For us, this is CASABLANCA. It's an epic film that just happens to be animated… FOODFIGHT! marks the culmination of all we've been working towards — a huge film, Web site, animation, toys — all financed and produced by Threshold Digital Research Labs and our partners."  In 2003 he told USA Today "We want to be the next-generation Pixar."
People must've believed he could deliver, so they went ahead and admired him as a pioneer. To be fair, Lions Gate Films Releasing president Tom Ortenberg, in a statement quoted by The Hollywood Reporter in 2005, did not talk about the movie as a piece of art. "We're delighted that Lions Gate Family Entertainment is already feeding our pipeline with exciting new product," he said, "and we're thrilled to be in partnership with a singular talent and entrepreneur like Larry Kasanoff who is pushing the envelope of large-scale, quality feature film animation."
Advertising industry magazine Adage wrote, "FOODFIGHT could be a test case for how multiple marketers are integrated into feature films and could serve as a template for how promotional partnerships are structured in such cases…[it] offers an embedded marketer a chance to play off the in-content integration for any consumer promotions it might create. There could be possibilities for ads that play off the movie, using the real and fictional icons." (emphasis on dystopic lingo mine)
But that was the kind of thinking that caused this disaster in the first place. Kasanoff was putting the cart before the horse, and the cart was covered in logos like a NASCAR car. And there was no horse. He had this idea for a tie-in and he didn't stop to notice that he didn't have an idea for a story or characters. Years ago I proposed an animated movie about a sock trying to find his missing brother, and this makes that seem like a legitimate concept by comparison. (By the way, there's a big scene where the dog and the squirrel are stuck inside a dryer.)
I mean, even a fantasy gimmick like this has to be grounded in some kind of truth and logic. In the world of ROGER RABBIT, the toons would logically be resented by some humans, they would have different abilities, live segregated, have cultural differences. The living toys in TOY STORY would face many dangers that are different from but have parallels to human experience: for example the kid that owns them will have to eventually grow up and stop playing with them. They will be forgotten and abandoned, maybe thrown out or at best given to a collector who will keep them in a box.
FOODFIGHT! doesn't have that kind of thought put into its world. It doesn't seem like making sense was a high priority. What is it saying about the human experience? That the worst thing that could happen would be for our favorite corporate products to be replaced by cheaper off brand copies. In fact, that this replacement would be comparable to WWII. It doesn't seem to have occurred to anybody that Brand X is a made up thing from old TV commercials to sell laundry detergent and aspirin and shit. It's not a part of our actual reality and even in those commercials it was portrayed as a competing product, not something that was threatening to monopolize. Generic products are usually made by the chain stores themselves, and certainly don't have an aggressive salesman who goes in person to smaller stores and threatens them to stop carrying Mrs. Butterworths and replace it with a ripoff. How are you gonna make the ROGER RABBIT of grocery store cartoons if you have an alien child's understanding of how a grocery store works?
I wonder if Kasanoff even goes into grocery stores? Based on this movie I'm gonna have to guess he uses a personal shopper.
In some of the early reporting about the movie they claim that at some point someone broke in and stole all of Threshold's hard drives, and they had to start the entire movie over from scratch. That sounds a little fishy to me, but you know what, I'm gonna go ahead and give them the benefit of the doubt, and assume that whatever was on there was amazing. I heard it was like if Pixar did CASABLANCA! Coming soon from the documentarians who did JODOROWSKY'S DUNE… it's FOODFIGHT!: THE FIRST VERSION THAT WAS ON THE STOLEN HARD DRIVES. We gotta talk to everybody and find out what was on there. It coulda changed the world.
But instead we have this one. I will leave you with a few representative stills.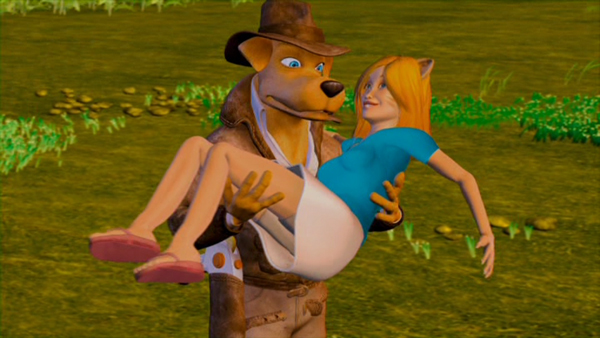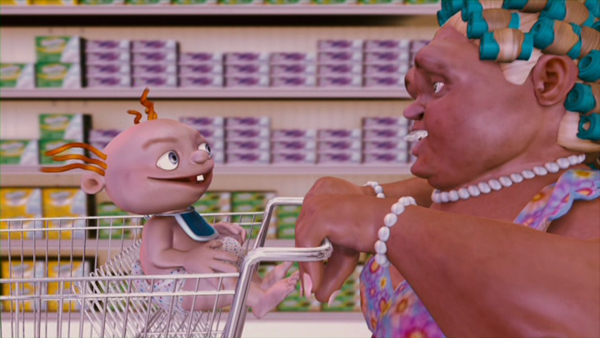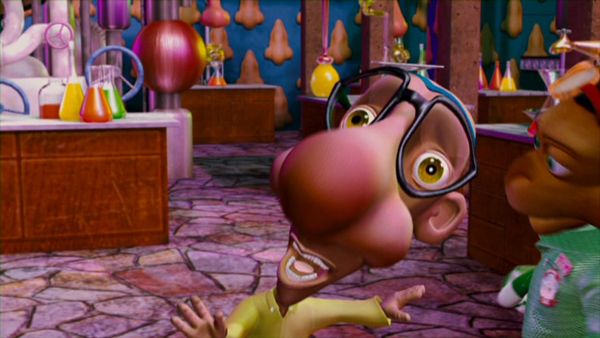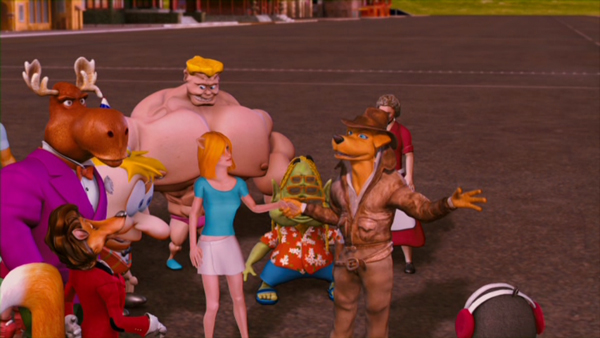 I can't help but feel for the Tootsie Pop Owl, though. Like David Caruso or Don Johnson, he deserved a better movie career than he got.
I'm sure your kids will love it though, especially if they have shown an early interest in intellectual property, corporate synergy, etc.
This entry was posted on Tuesday, June 17th, 2014 at 11:57 am and is filed under
Cartoons and Shit
,
Reviews
. You can follow any responses to this entry through the
RSS 2.0
feed. You can skip to the end and leave a response. Pinging is currently not allowed.