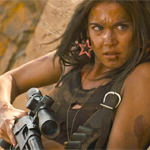 REVENGE (the 2018 release with the pink logo, not the Kevin Costner/Tony Scott one) is a great rape-revenge movie. Not a subversive one in my opinion, just a really good version of the form that goes mercifully light on the first r-word and entertainingly extravagant on the second. Obviously the very idea of the genre is upsetting, but as far as these things go, it's a fun time. It has no interest in gritty realism or wiping your nose in the shit. It's not even about any "dig two graves" or LAST HOUSE ON THE LEFT don't-stoop-to-their-level anti-revenge moralism. It has alot of symbolism and poetic exaggeration and exists in a world where human bodies have an impressive capacity for withstanding severe injuries and extreme blood loss.
(NOTE: If this sounds like something you can dig, I suggest seeing it and not reading the rest of this review yet, because I will be using SPOILERS to discuss alot of what I find most interesting in it.)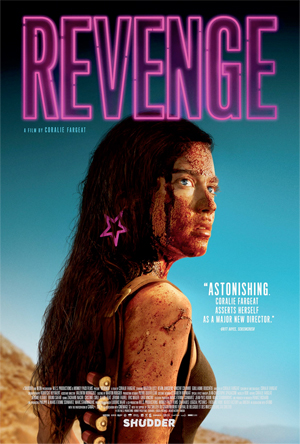 It's the story of Jen (Matilda Lutz, RINGS), a young… I guess "sexpot" is one word people would've used for her not long ago, who is the younger mistress of a rich dude named Richard (Kevin Janssens, THE ARDENNES). He takes her out in a helicopter to his cool little isolated vacation villa in the middle of a desert, and they have sex and hang out by the pool and relax. It's out in the middle of nowhere and there's a refrigerator full of champagne and some peyote for later. The furnishings are sparse and hip and I don't know what it means that two of the panes of glass are violet and green like old school 3D glasses, but I like it.
Then, unexpectedly, two dudes show up at the glass door while she's listening to her iPod with no pants on. Richard's buddies Stanley (Vincent Colombe, POINT BLANK [2010]) and Dimitri (Guillaume Bouchede) are a couple days early for the boys' hunting trip. They clearly didn't know he was having an affair, but they're charmed by Jen and hang out and flirt and what the hell, she's with Richard so what harm is there in strutting it and enjoying the attention of older men while she's on this getaway on her way to a new life in L.A. where she hopes "to be noticed."
It's seductively stylish, with  a cool electronic score by Rob – not just some dude named Rob, but the one that did the remake of MANIAC – and cinematography by somebody named Robrecht Heyvaert. It has a male gaze, and it also gazes right back at that gaze. We see Richard and the pilot sharing a look at Jen's ass when she walks away from the helicopter. We see Stan and Dimitri watch her ass journey down the hall away from them. First time feature director/writer/co-editor Coralie Fargeat (please picture the director pulling up on a motorcycle, removing her helmet and whipping out her long hair to reveal that that's right, a lady can direct a rape-revenge movie) will turn the tables later, showing more (and more degrading) male nudity than female, but for now her approach isn't drastically different from what you'd expect from a very good male director.
The nightmare starts while Richard is out of the villa, and Stan decides that her dancing with him the night before was a sex invite. She tries to brush him off politely but he turns out to be that very familiar type of misogynist bastard who is friendly until he learns that sex is out of the question and all the sudden he's a cruel weirdo who believes he's been wronged and must aggressively confront her about it. And worse.
More surprising than his assault are the reactions of the other two men. Dimitri walks in on it and has an opportunity to intervene – then he he steps out and turns up the TV to drown out her screams. You're not sure at first if he's just too much of a coward to stand up to his friend or what. And then Richard, rather than protecting her or even making Stan leave tells her "I fixed everything," just meaning he's gonna pay her off to not say anything and go live in Canada. And when she correctly refuses this offer to control her destiny he pushes her off a cliff.
Man does it seem like she should be dead. She doesn't hit the ground because she gets fully impaled on a tree. She looks crucified. Fargeat is much more interested in cool than real. And it would be cool for her to be able to lift herself up off of that thing, but it's more cool that she uses her earbuds to lasso her lighter and set some brush on fire and burn the tree to make it split. I've definitely never seen that move in a movie before.
It's pretty light on dialogue, but the imagery says so much. Destroying the evidence of their crime, the men burn her "I ♥ L.A." t-shirt, the embodiment of her dreams. They get suited up in their tactical asshole gear – camo, leather, scarves, Dimitri wearing a shirt that says "U.S. Navy" even though he's French – and get on a motorcycle, a 4-wheeler, a Jeep. When they go to collect Jen's body they just see the scorched earth where the tree was, and it struck me that she has been reborn from the ashes like a phoenix. Fargeat makes the comparison more explicit in the medically implausible but cinematically outstanding scene where she tends to her stomach wound by branding it with a beer can which (I was so hoping this would happen) burns its phoneix-like bird logo onto her flesh.
But it's a while before she does that, which also made me happy, because it has long bothered me that in movies people always remove the things they've been impaled with, when it is my understanding that you should leave them in to prevent blood loss. So hats off to Jen the Phoenix for trekking the desert and doing battle with a piece of wood sticking out of her. I think in this case it's also symbolic, because she has been forcefully penetrated by this phallic object, which she then broke off and it became her own phallus as she went after the motherfuckers who put her here. And by the climax she'll be chasing down a guy with a wound in the same area that could fairly be described as vaginal. Is it too much to wish that she still had the stick at that point and she penetrated his wound with it? Yes, I think that is too much. Apologies, everyone.
Jen uses the peyote to help with the pain, but the psychedelia doesn't ramp up as much as you might expect. The perspective of the camera has already put us into a heightened state of awareness. Early on it focuses on an apple with no literal significance, but later we draw the parallel that Jen stuck on that tree is like an apple with a bite taken out of it, left on the counter for its exposed flesh to turn brown, to be discovered by ants. In the desert an ant dodges Jen's blood drops, falling nearby with the force of bombs. Through editing we see a similarity between Stan and a tongue-flicking lizard.
These disgusting men will try to kill Jen to hide their crimes, and she will strike back. She never abandons her dangly pink star-outline earrings – to me a signifier of her Hollywood aspirations – but otherwise she transforms like Johns McClane and Rambo, her hair, skin and clothes darkened by dirt and blood, her hips carrying salvaged weapons, her skimpy pool party outfit recontextualizing as non-confining warrior gear. She intuits how to fire giant guns (even if the recoil is a bitch) and I love the image of her finger on the trigger, highlighted with a few remaining flecks of neon pink fingernail polish, remnants of a different life less than 24 hours ago..
Of course this must all lead to a conclusive showdown between Jen and final boss Richard back at the villa. While she has morphed from shiny party girl to furious force of nature, world's worst sugar daddy has de-evolved. I swear at the beginning he looks like a handsome dreamboat, clearly the hot guy among the trio, but after his turn he starts seeming more like a Christophe Waltz type, and in the climax he's literally naked and pathetic, wounded, crawling on the floor with his ass in the air, his little dick hanging out. The filmatism turns him into the victim in a slasher movie – he gets the ever present post-PSYCHO trope of taking a shower and then hearing a noise and having to check around the house feeling scared and vulnerable. Of course, he keeps a shotgun leaning up against the bathroom wall.
One of many great touches: to survive a serious stomach wound he wraps himself tightly with Reynold's wrap.
I really wanted to see REVENGE after great buzz from film festivals and a limited arthouse/VOD type release but I've finally got to it now that it's on disc. Whether or not it counts as a horror movie is up to your definition, but it's distributed by Shudder and clearly in a tradition that includes famous drive-in hits like LAST HOUSE ON THE LEFT and I SPIT ON YOUR GRAVE. When something like that gets hyped up in the non-horror – let's call it secular – crowd I can be unnecessarily sensitive about whether critics or (worse) the filmatists try to distance it from the genre. Especially in a case like this where the movie has been interpreted as feminist with a possible inference that all other movies of its type are the opposite.
Luckily I had been saving Fargeat's episodes of Post Mortem and The Q&A to listen to, and both are enlightening. She says she didn't watch any rape-revenge movies other than LAST HOUSE ON THE LEFT, which she says nothing further about. Instead she mentions as influences KILL BILL, Mad Max, Rambo, and DUEL. She says she wanted to do a story about a character who seems weak but transforms herself, and exists in a "metaphorical world bigger than the story itself." Mission accomplished! She repeatedly references the tone of South Korean cinema and Tarantino, which makes alot of sense to me.
When she says MAD MAX and RAMBO I don't think she means the specific movies with those titles, but she repeatedly references the look of the desert in FURY ROAD and the character of Rambo. FIRST BLOOD seems to me like the RAMBO this has the most in common with.
I also thought wow, this is a really promising new director, now everybody's gonna mention her every time there's a super hero or a Star War that needs helming, and she probly has no interest in that shit. It's true, her plans are to continue with envelope-pushing fringe movies, which I'd rather see her do than a Hollywood gig. But she does talk about loving movies after growing up playing with STAR WARS toys, and even mentions loving WILLOW! So maybe it wouldn't be so bad if Lucasfilm hit her up some day.
REVENGE is now officially in contention for my favorite movie of the year. I feel a little weird saying that because I know there are plenty of people I would never recommend it to. It reminds me a little bit of movies like WOLF CREEK and I SAW THE DEVIL that have such intoxicatingly good filmmaking that I can kind of think of them as a fun time and forget that they're incredibly dark and morbid and that plenty of reasonable people would think I was a sick for saying that.
But this one is more inspirational and has more of a… can I call it a happy ending? I don't know. I'm sorry. But I loved it.