also May 1, 1998
I remember thinking of HE GOT GAME as a slightly under-the-radar Spike Lee joint, but I think it's become pretty well known over the years. It's just that it's in that middle period where he still seemed to have clout but the cultural excitement around him was on a slow, inevitable decline after touching the sun in 1992 with MALCOLM X.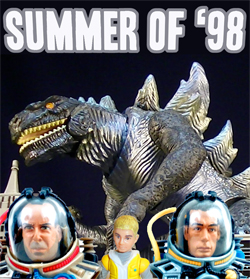 With CLOCKERS and GET ON THE BUS he got increasingly experimental with his style, switching between different film stocks and handheld cameras in energetic ways that I always thought were influenced by Homicide: Life on the Street. HE GOT GAME is a uniquely stylish film that seems more inspired by slick commercials and sports show intros. The story is about the ugly, exploitative side of college athletics, but the style is all about worshiping basketball as the great American sport.
Two credits give you an idea of Lee's lofty approach: "Music: Aaron Copland. Songs: Public Enemy." The musical score is built from the sweeping 1940s "populist" style orchestral pieces by, as Lee puts it on the commentary track, "the great American composer from Brooklyn, New York." Pieces used include "Our Town," "Lincoln Portrait" and "Fanfare for the Common Man." The latter has been used in sports broadcasts and Navy ads, it has played on Space Shuttles and inspired the scores for both SUPERMAN and SAVING PRIVATE RYAN. It was originally composed upon America's entry into WWII. Copland considered the titles "Fanfare for a Solemn Ceremony" and "Fanfare for Four Freedoms" before using a term he heard in a speech by Vice President Henry A. Wallace. These are reverent Americana anthems for the pursuit of happiness and amber waves of grain and all that.
But then every car that drives by with the windows down is gonna be playing brand new Public Enemy tracks. After having their crucial role of creating "Fight the Power" for DO THE RIGHT THING, Lee got PE to make an entire HE GOT GAME album (with five more songs than are in the movie, I believe). It's weird that this came only a month and change after Warren Beatty's BULWORTH used a mix of gangsta rap and Ennio Morricone. A good time for elevated cinematic hip hop juxtaposition.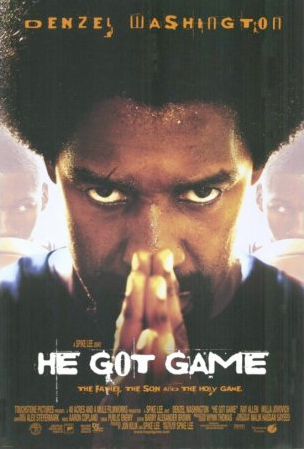 The opening credits montage is a slo-mo heavy ode to the majesty of ballin from sea to shining sea. Black kids, very white kids, young men and women, dribbling and shooting into hoops and milk crates, against the side of a barn, in the Cabrini Green projects (home of CANDYMAN), in New York with the World Trade Center in the background, all set to the 1939 Copland composition "John Henry." Basketball is America, it's all communities, all races, it's as simple as a farm house and as glorious as a statue of Michael Jordan. And this is also a nod to the fact that NBA legend Shaquille O'Neal (seen here briefly) had played the DC Comics character John Henry Irons in STEEL. Or a comparison between basketball players and the folk hero who died proving he could drive steel faster than a steam-powered hammer. Or maybe Lee just thought the music fit.
Then he intercuts two specific characters shooting baskets: #1 high school prospect Jesus Shuttlesworth (NBA star Ray Allen, then in his third season with the Milwaukee Bucks), on the court outside his housing projects on Coney Island, and his father Jake (Denzel Washington, RICOCHET) in a worn down half court in Attica, where he's doing time for murder. There's a beautiful shot of the ball leaving Denzel's hands, arcing in front of a sniper on top of the wall, and dropping into the hoop.
Jake gets called in to talk to the warden (Ned Beatty, CAPTAIN AMERICA, RADIOLAND MURDERS), who has been authorized by the governor to let Jake out for a weekend. They say he can earn an early release if he convinces Jesus to sign up with the governor's alma mater, Big State. Much like Lee's later BAMBOOZLED, this premise (along with the the generic college names) sounds like great satire, but it's treated as straight, gritty drama.
It's not a glamorous or easy mission for Jake. They sneak him out by poisoning him. He's escorted by two mean cops (Jim Brown [EL CONDOR] and Joseph Lyle Taylor [Doyle Bennett from Justified]) to a shitty hotel full of pimps and prostitutes. Also he doesn't know what the fuck he can do, because his son fucking hates him, partly for being mean to him all his life, mostly for killing his mom (Lonette McKee, 'ROUND MIDNIGHT). They take their time letting you know what he's in for, and then what happened exactly, and it's a relief when it at least turns out to have been an accident. It's still, at best, hard to forgive.
But Jake tries to enjoy his weekend on the outside. He buys some clothes and brand new Jordans. Combs his ratty cornrows into a nice afro. Finds his daughter Mary (Zelda Harris, Troy from CROOKLYN) and gives her Skittles. Gets to know that prostitute next door (Milla Jovovich four years before RESIDENT EVIL). The best part is when he opens and closes the door of the hotel room a couple times and laughs. Freedom. Sort of.
When Jesus comes home to find Mary has let Jake into their apartment he's furious and sends him packing. He insists that he doesn't have a father. This is the last thing he wants to deal with right now. He has to decide his future by Monday morning, and everybody's sweating him. His name is Jesus, but they all want him to be the Moses who leads them to the Promised Land, out of the projects. It's alot of pressure and distrust. Just about the only character in the movie that's not trying to get something out of him is his cousin Booger (Hill Harper, PUMPKINHEAD II: BLOOD WINGS). Jesus has to be suspicious of his Uncle Bubba (Bill Nunn, CANDYMAN 2: FAREWELL TO THE FLESH), his coach (Arthur J. Nascarella, COP LAND [not about Aaron Copland]), even his girlfriend with the perfectly Spikey name Lala Bonilla (Rosario Dawson in her followup to KIDS).
He's very aware of the rules about gifts and bribes and is intent on following them. He still rides the bus because "these are my people." He only accepts a ride from Big Time Willie (Roger Guenveur Smith, MERCENARY FOR JUSTICE) to get away from his dad, and then he has to endure a long, preachy speech in one of Smith's experimental accents. Meanwhile, off screen voices keep shouting Jesus's name as he passes them.
But "weighing his options" allows a rotating cast of Luciferian coaches and agents to bring him on tours of temptation. A guy named Chick Deagan (basketball player Rick Fox, DOPE) takes him on a campus visit to "Tech U" that seems mainly designed to wave giggly white girls in his face, and builds up to an arranged threesome with porn stars Chasey Lain and Jilly Kelly. (While listening to Public Enemy!?) John Turturro (EXTERMINATOR 2) has a funny scene as a coach who has him sit in an empty coliseum watching a Jesus Shuttlesworth sizzle reel on the Jumbotron (which is where that fanfare comes in).
In a movie full of materialistic scumbags I'd have to say the most transparently douchey is the sports agent Dom Pagnotti (Al Palagonia), who shows Jesus his collection of Ferraris and Lamborghinis, waving his arms around and barking out an aggressive, QVC style pitch about how much they cost.
"You're black, I'm white, this is green. When making a business decision, the only color that matters is green. Now, do you consider yourself a man or a boy?" I'd like to see Dom Pagnotti's mansion fall on top of him like the House of Usher. I'm not sure if Palagonia is a real sports agent or what – on the commentary track Lee says those are really his cars and that he's the greatest salesman in the world. I wouldn't trust him to sell me a pack of gum.
Both the cinematography by Malik Sayeed (CLOCKERS, GIRL 6, BELLY, second unit of EYES WIDE SHUT, Beyonce's LEMONADE) and the editing by Barry Alexander Brown (Lee's editor from SCHOOL DAZE to present day) are maestro level execution of Lee's adventurous stylistic whims. Characters sometimes talk straight into the camera, or pose as if in portrait. There are quick cutaways to elaborate scenes of things that are mentioned (people shooting up and smoking crack, Sweetness posing with his stable, "titty," etc.), and perfectly composed insert shots of details like Jesus and Lala's jewelry. Present day Jesus mentions his mother and sees her looking down from the window, tinted slightly yellow with nostalgia. Or he reads an old letter from her and it cuts to her speaking the words into the camera, then to him as a kid reading it when he originally received it at basketball camp. There's documentary style footage of basketball or Jesus and Lala making out on real Coney Island rides with fireworks going off all around them.
And Lee created an ESPN Sports Center story with various luminaries talking about Jesus. Often these "real celebrities talking about the greatness of a fictional celebrity" things are cheap bullshit. I'm not specifically talking about THE RETURN OF BRUNO, but that is an example of the same sort of thing. Here it's actually a big character moment because it cuts between Jesus and Jake separately watching and reacting to it. At one point they do they same gesture of rubbing the bridge of their nose. When the show talks admirably about Jesus' self-reliance in the face of "all of the pitfalls that come with being in a deprived situation, and in a situation that's void of any kind of leadership other than his own," Jake doesn't seem too happy to hear that.
Twenty years ago I thought this was a movie that had outstanding editing within the scenes, but could've trimmed the whole subplot about Jake's relationship with the prostitute Dakota. Today I disagree with my younger self on that second part. I think it's worth it for how good Jovovich, fresh off of her breakthrough role in THE FIFTH ELEMENT, is in the long scene where she skeptically allows Jake to help and converse with her after she's been beaten by her pimp/boyfriend Sweetness (Thomas Jefferson Byrd, SET IT OFF). I think she really sells idiosyncratic dialogue like her refrain of "you think you're pretty slick, huh?," not to mention her reaction when Jake says "Anyway, uh, I have a wife… had a wife named Martha, and uh, I love her very much. Uh, I took her life. I murdered her, and uh…"
Not only has Jake not been exposed to a woman in six years, the last time he was with one it was his angelic wife, he pushed her over in anger and she hit her head and died. So now he's here in this flophouse with a self-declared "bottom bitch" with a black eye and bloody lip and he's trying to be caring and gentle and honest.
Denzel has had so many great performances and roles it's hard to quantify which ones are the best, but for me this one ranks high. It's a different sort of character for him. The anger is less tempered by charm. From his speech he seems less educated than usual. Even the swagger is a little different. In the scene where he visits Mary I was thinking I'd never seen him so buff before. Must be lifting lots of weights over there in Attica. And there's a scene where he handles a treacherous sports agent (Leonard Roberts, AMERICAN SNIPER) like THE EQUALIZER would. But when Jesus comes in and gets in his face – above his face – he looks so tiny, and he doesn't argue.
His remorse seems genuine. We hope he really isn't the same guy from that night, or even before that night, that Jesus hates so much. We mostly see him act like that in flashbacks, but we can see it coming back as time is running out and he's getting desperate. And then all the aggression comes out in the climactic one-on-one match (a real game – the script had Jesus winning 11-0, but to Allen's surprise Denzel really tried to beat him).
I'm not sure I could pick Denzel's greatest acting moment in this movie either, but one of them is in a flashback, after a drunken practice with 12-year-old Jesus (Jade Yorker, URBAN JUSTICE). He's been berating the poor kid and pushing him on the court, supposedly trying to teach him how to control his feelings, until Jesus has had enough, throws the ball over the fence and leaves. And then Jake says "That's why he ain't gonna make it," and he puffs his chest out and smiles cockily. What a fucking bully. He's been Pai Mei-ing this kid under the guise of "he has to be better than I was," but he's most proud when he believes (incorrectly) that he's proven the kid isn't good enough.
Ha, that happened in FENCES too, with his son being better than him at baseball. I suspect that shit comes natural because in real life Denzel is also a pushy sports dad. His son John David Washington played professional football before becoming an actor and starring in Lee's next movie, BLACKkKLANSMAN.
Speaking of sportsmen turned thespians, the movie falls just as much on Allen's shoulders. I think the only scene he can't quite handle is when he has to shake his sister and yell at her. Otherwise it's a really natural performance from a guy who doesn't seem at all like a typical Hollywood leading man, which is one of the advantages of casting athletes. He radiates the decency of a person who will live up to his responsibility to provide for his sister without giving in to the assholes who unironically say things like "There's no strings, no rubber bands. There's nothing attached at all. That's a $36,000 watch. That's like having a Corvette on your wrist." With fairly limited dialogue he conveys volumes about his disappointment at the bullshitters around him, his bitterness toward his dad, and his slow, unacknowledged softening toward him as they spend time together.
Man, this one really got me this time. I could feel the tears trying to make a move at the end, but I had good D and shut 'em down. You know how I am with father-son stories, though. It doesn't necessarily even have to have parallels with my experiences. But I wonder if this story does say something about Lee's relationship with his own father. I've read that Spike also lost his mother at a young age (to cancer) and held it against his father (when he quickly remarried to a white woman) and had a falling out after his father was arrested (on drug charges) and thought he was after his money. But here Lee is obviously very sympathetic toward fallen Jake and even in favor of his relationship with Dakota. Publicly I don't think there's any sign that Lee has made up with or forgiven his father. But I guess art doesn't have to be a description. It can be a wish.
In his folk tale, John Henry defeated a machine, but died in the process. Jesus gets to live, but I'm unclear if he won. Did he sacrifice himself for his dad, or did he want to go to Big State for his own reasons? I'm not sure. But it's Jake, not Jesus, who kind of martyrs himself, gracefully accepting that his son doesn't want to save him, and in the end making a gesture that makes no sense on a literal level and is beautifully moving on a symbolic one. A perfect Spike Lee ending.
Do you have a problem with movies where the title is said out loud? Here's it's Michael Jordan who says it first in a brief ESPN clip. Later I think Denzel says it, and also Chuck and Flav in the theme song. So you have several of the greats saying the title.
Jordan is one of the over twenty players, coaches and commentators of the time who appear, surely making this a great time capsule for sports fans. For me it seems fairly timeless. The only-Copland-or-Public-Enemy music policy prevents any embarrassing "Well, you gotta understand, people liked that kind of shit at the time" needle drops. I believe the only pop culture references are to older things like THE GODFATHER. There's a pager, and a Playstation, and the World Trade Center is still standing. But the only fashion choice to date badly is in a scene where Jesus is wearing low-hanging overalls over a tank top.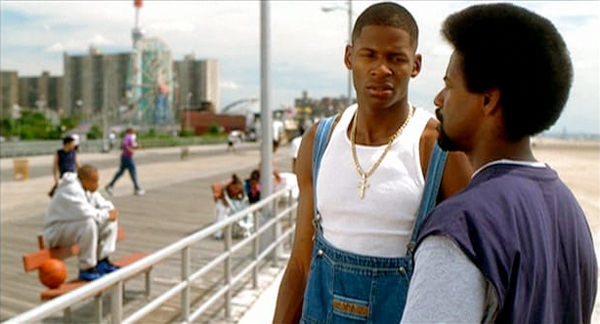 On the commentary track Allen says people gave him alot of shit for that outfit, but as a 21-year-old NBA player playing a high school student he chose outfits based on what he saw kids wearing on the street. Anyway, if you have a problem with that look, take it up with the Blackstreet "No Diggity" video from 1996.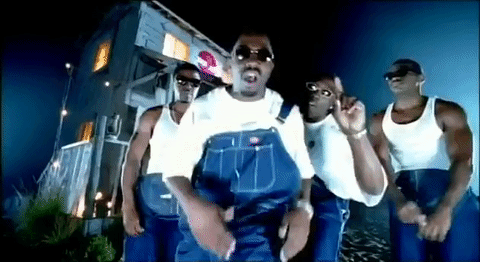 I almost skipped HE GOT GAME in this series, because I plan to eventually get to it in my slow chronological crawl through the Lee jointography, and because in this period, when his films weren't themselves changing the culture, his singular voice seemed to operate outside of whatever else was going on in film. Luckily I decided it's not fair to separate movies for being too good to be considered part of summer '98. It's already becoming clear that the great stuff from this summer was not the blockbusters but these mid-budget movies that have good production value and entertainment in mind but also a strong artistic voice.
Public Enemy were at much the same place in their career arc as Lee was. They could never escalate from the twin atomic explosions of It Takes a Nation of Millions to Hold Us Back (1988) and Fear of a Black Planet (1990), though Apocalypse 91… The Enemy Strikes Black went platinum, had some success with "Can't Truss It" and "Shut 'Em Down" and controversy with "By the Time I Get to Arizona." But in '98 their last album had been 1994's awkwardly titled Muse Sick-n-Hour Mess Age, which only sold about half as much, maybe because it was criticizing gangsta rap at the height of the G-Funk era. The cover shows a Klansman and a cackling David Duke type watching a skeleton in a red black and green beret with two forties and a bag of weed, listening to headphones and holding a gun to his skull. A little heavy-handed, maybe.
(I think it's a good album, though. If you haven't heard it check out "Live and Undrugged, Parts 1 & 2," where Chuck's rhyming and the live drums build to a feverish hysteria across six minutes. The key section starts with the line, "Here comes the verse that hurts.")
The He Got Game album is solid, if not a classic. It seems like kind of a waste to bring back the Bomb Squad without bringing the noise, but "Resurrection" and "Game Face" are good, the title song with Stephen Stills (and based on "For What It's Worth") is catchy, and you have to give it up to them for getting "Politics of the Sneaker Pimps" on there. Lee is literally a Nike spokesperson and he's got Denzel wearing brand new Jordans that are now referred to as "He Got Games," but here's Chuck on the soundtrack rapping,"They'll make me do things on the court to amaze ya / I heard they made em for a buck eight in Asia."
I'm not as sure about "Revelation 33 1/3 Revolutions" claiming "AIDS was created in a lab." Wasn't that an unused Steven Seagal script?
My favorite is "Unstoppable," the historic teaming of my two favorite rappers circa 1988, Chuck D and KRS-One. I was pretty distracted by that the first time I saw the movie. How was I supposed to pay attention to Denzel stalking down the street while that was going on?
The album was fairly well received, but not a big seller. Same goes for the movie. It got pretty good reviews and opened at #1, but did not go on to make back its $25 million budget. Still, I think it has won the first-to-11 game against the test of time. Though I prefer some of the earlier Spike Lee movies, HE GOT GAME ranks pretty high on his filmography, and stands out from the others with its look, sound and subject matter. And among the films of 1998, especially the films of the summer of 1998, it's obviously one of the greats.
p.s. Can I interest you in a video of Emerson, Lake & Palmer playing "Fanfare For the Common Man" in an empty stadium? Maybe Coach John Turturro could've lured Jesus to Tech U if he'd thought of that.