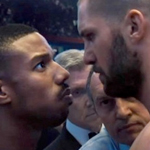 CREED was a perfect movie, a miracle that unexpectedly resurrected the ROCKY series. CREED II, coming from a different director and writers, cannot match it. But it's a solid continuation of beloved characters from both the original series and the new one that brings them to new places in life, with some boxing, training montages and dramatic music in between. Kinda like ROCKY II.
And of course there are other parallels. Adonis (Michael B. Jordan, RED TAILS) becoming champ, getting married and becoming a father, and also being embarrassed to be seen by the media while coming out of the hospital all beat up. But he doesn't get a tiger jacket, so it's not a remake of ROCKY II. Mostly it's a direct sequel to CREED and ROCKY IV.
Before they ever even announced a CREED II, you and I and everybody else were dreaming of the same thing: a sequel where Adonis meets the man who killed his father in the ring, Ivan Drago, and has to fight his son. It's one of those things that's so obvious that they sort of had to do it. If the sequel was about anything else, no matter how exciting, you'd just think "Yeah, but why not Ivan Drago?"
But it's still not predictable, because I always pictured a scenario where Adonis is seeking revenge. I love that the movie does the reverse. Adonis doesn't go looking for Drago – he's just minding his own business. It's Drago that wants revenge on Rocky for defeating him, which we learned ruined his life. The Kremlin officials who pumped all their science into him to make him the ultimate super-Russian may have had their hearts warmed by Rocky's speech after the match, but Drago was still dumped and exiled to the Ukraine, like "a stray dog," he says.
As soon as Adonis wins the belt (from Danny "Stuntman" Wheeler [Andrew Ward], wrapping up some business from the first film), a sleazy promoter (Russell Hornsby, FENCES) throws a press conference with Drago (TRIUMPHANTLY RETURNING DOLPH MOTHERFUCKIN LUNDGREN) and his son Viktor (6′ 4″ Romanian boxer Floyd "Big Nasty" Munteanu) demanding a fight.
(I wish they had included some kind of horse shit explaining why he was eligible for a title shot, but oh well.)
Like most ROCKY movies, it's more about heartfelt character drama than boxing. Adonis's relationship with his "Unc" Rocky (Sylvester Stallone, DEATH RACE 2000) is still central, and Stallone gives another moving performance as the mumbling, wisdom-and-inspiration-dispensing old goofball. Still blaming himself for Apollo's death, he refuses to train Adonis for the fight, causing a rift. Adonis moves back to L.A. and trains with Little Duke (Wood Harris, DREDD) at Delphi Boxing Academy.
Adonis fights the younger Drago so early in the movie that it had me questioning how dramatic this structure could get – until I got completely wrapped up in the turmoil of Little Duke having to decide whether or not to throw in the towel, knowing what happened between these men's fathers when Rocky didn't do it. Later, when Rocky sees Little Duke at the hospital and tells him he did a good job, it seems like a little camaraderie between people who had to take on that pressure. It's great to see that character have a larger role in this chapter. He's the son of Apollo's (and then Rocky's) trainer and he rejected Adonis in the first film, so there's plenty of dramatic echoes going on.
This is definitely the most towel-oriented ROCKY movie. It keeps reminding you of the weight of that decision, and the danger of being too stubborn about it. Much like the first CREED, I love that they wring such serious, grounded drama out of events in the most absurd and cartoonish of the ROCKY sequels.
That might have even come from Stallone this time. After Coogler brought the series back to life Sly got the bug again and at first planned to write and direct this one himself. The final screenplay is credited to Stallone (HOMEFRONT) and Juel Taylor (a p.a. on DATE NIGHT?), story by Cheo Hodari Coker (NOTORIOUS, Luke Cage) and Sascha Penn (Power). It sounds like it was very much developed with the actors to bring their characters where they wanted to go.
Director Steven Caple, Jr. had previously made one indie drama that played at Sundance, just like Coogler (who returns as executive producer). Watching his 2016 debut, THE LAND, it's easy to see why he was hired – it's got very good performances from a cast of charismatic young people and it's as in love with the details of its Cleveland setting as CREED was with Philadelphia. It's kind of too bad that, with Adonis already being established, more of the story takes place in standard sports venues.
And I think I need to say that this does not have the sort of intoxicating filmatism that Coogler and cinematographer Maryse Alberti came up with last time, with that one-take fight and the way the camera took you into the ring with Creed and all that. (Of course, that can be said about most movies.) The cinematographer this time is Kramer Morgenthau, who shot some indie stuff like HAVOC but also TERMINATOR GENISYS [sic]. They did bring back composer Ludwig Goransson (THE TOWN THAT DREADED SUNDOWN, BLACK PANTHER, DEATH WISH, VENOM), which is crucial. Listen to this triumphant shit:
Though Rocky trained for his Drago match out in the snow, he brings Adonis to train in a desert. It's a place he says fighters go to be brought back to life, though to me it looks like a place where Sarah Connor goes to regroup with her old militia buddies after escaping the mental hospital.
I love a good training montage, and these are solid, but they're much more generic than CREED's. I get goosebumps from the way Ryan Coogler poetically combined the ROCKY iconography with imagery specific to Philly black culture, or when he had Donnie training inside the hospital while Rocky got his cancer treatments. Furthermore, CREED II has a pretty good rap soundtrack but that seems a little bland when measured against the over-the-top rock opera bombast of ROCKY IV's seven musical montages. You wouldn't hear a line like "in the warrior's code there's no surrender" in CREED II. So, as exciting as the training is, I would say this is an area where they probly could've used more eye of the tiger.
But what Caple seems to do well is the all important working with actors to develop their characters. Like Rocky and Adrian, Adonis and Bianca have a natural rapport, making each other laugh, taking care of each other. They're very likable people. And I notice that the movie tries to show many of the different uses for the word "yo" beyond how Rocky famously used it.
Adonis continues to have strong relationships with Bianca (Tessa Thompson, WHEN A STRANGER CALLS) and his mother. For Bianca he's learned sign language. The progression of her music career is documented. I'm very glad that they stuck with the first film's ethic that Bianca understands and supports his need to box. We've seen enough stories about women having to walk away after being stressed out by their husband's addiction to danger. It's certainly a reasonable position to take, but it's old hat in movies, so I love Bianca's ability to be honest about how she feels and then trust and back Donnie's decisions.
And Phylicia Rashad brings such gravitas to Mary Anne Creed, who is floating toward that point-of-view as well. She even attends one of his fights! It's good to have a couple strong women here in a movie that's so much about father-son relationships: Rocky and his son-figure, Rocky and his real son, Adonis and Little Duke trying to live in the shadow of their late fathers, Viktor living his whole life to try to bring respect back to his father. Maybe it's a good thing Adonis and Bianca didn't have a boy. But I hope to God in 20 years we get a movie about Amara Creed's boxing career.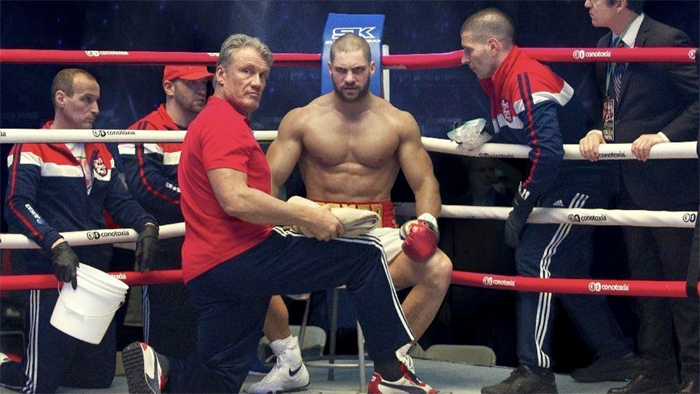 The best thing about this movie in my opinion is Dolph. He was a human specimen in ROCKY IV and now he's a human. We've all seen him in UNIVERSAL SOLDIER: REGENERATION and DAY OF RECKONING, so it's no surprise to us that he is way cooler, way more interesting, way more layered now that he has decades of experience and the wrinkles to prove it. And like in those movies he brings a whole fascinating journey to his character with limited screen time. At first he's kind of a supervillain. Ominous music plays as he and his son stand and watch tourists run up the ROCKY steps. And when he unexpectedly shows up to talk to Rocky it's a type of scary that hasn't really existed in these movies before. But there's more to him and his son.
Of course I've been saying since ROCKY BALBOA that I wanted an IVAN DRAGO. Instead we get the backstory and the arc that fits into this supporting role, but you gotta acknowledge that he gets more dialogue and more development here than he did as the lead villain the first time around. I'm very happy with how they used him here. (More on him in the spoiler section below.)
CREED II may not be an equal to CREED but it is a worthy successor. And since it broke some kind of box office record it seems likely we'll be seeing more. One of my favorite images in this one is a beautiful passing of the torch from Rocky to Adonis, and now that he's proven himself it will be interesting to see what kind of new situations and characters he can face without being dependent on the past.
Ah shit who am I fooling, I want Drago to have to train him and we gotta get at least a cameo from Clubber Lang and what if Paulie's robot gets killed in a robot battle and Adonis has to build a robot that will defeat that robot I mean there are lots of loose threads we gotta consider here.
WIN DONNIE WIN
* * *
There is some stuff that I need to discuss but don't want to give away to people who haven't seen the movie. So please, this is your SPOILER ADVISORY. Don't ruin it for yourself, just read this later.

First of all, I didn't want to give it away in the review because it was a surprise to me, but I was so happy that Brigitte Nielsen did indeed return as Ludmila Drago. She has less dialogue than in ROCKY IV, but is kind of more important. I would note though that IV left open a possibility that she was an innocent victim being sincere in those press conferences. Now she's clearly an asshole. But people are complicated. Or they change. Or they suck.
And then I want to say that although some parts of the sequel were not as involving as the entirety of the original, that final fight was such a thrill because I was simultaneously rooting for Adonis to win and truly worried about what would happen to the Dragos. After that scene where Viktor walked out on his mother I was hoping for him to reject them all and fight for himself. And especially after they abandoned him I kept rooting for him to get back up – to go the distance! I really thought maybe they would go to the judges. And for a second I thought Ivan was going to walk out on him and I couldn't help but blurt out a "No!" I didn't even see it coming what he really was going to do – what Rocky couldn't do, what Little Duke couldn't do, what we never could've imagined he would ever do. Usually in the context of this series the fighter would see throwing in the towel as a betrayal, but here it so clearly an act of love and of personal growth. I'm telling you I really had to bust out the warrior's code to stop myself from crying over Ivan Drago. So that's what I call a movie right there.