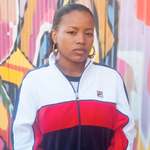 Do you guys know who Roxanne Shanté is? In the early days of hip hop, back when it was still pretty much just a New York thing, she was one of the greatest battle MCs. And she was also a 14-year old girl. Marley Marl, the producer behind Big Daddy Kane, Biz Markie, MC Shan, Kool G Rap, and others, was her neighbor in the Queensbridge housing projects. The way she tells it, one day when she was going to do her laundry he yelled down to her from his window to ask if it was true she could rap, and would she come up and record some rhymes for him. When he played her the beat that had been sampled in UTFO's hit "Roxanne Roxanne," she says she freestyled about being the Roxanne in the song. Ten minutes later she went back to the laundry and forgot all about it until her friend called and told her it was playing on the radio. And then it became a phenomenon.
I never knew much about her or heard that story until she was on Ice-T's podcast three years ago. I actually wonder if that interview gave writer/director Michael Larnell the idea to make a movie about her. Either way, a bunch of the details she mentioned to Ice ended up in the biopic ROXANNE ROXANNE, which played Sundance in January and was released direct to Netflix on Friday.
I think Shanté's story is more natural for a movie than your usual superstar music biopic it was more neighborhood legend than media event. I know her voice and style and "Roxanne's Revenge" and some of the responses it inspired from rival female MCs, like when UTFO came back with someone calling herself "The Real Roxanne" added to the payroll. But she's not like Johnny Cash or someone where they're wedded to depicting the creation of all the most famous songs and their climbs up the charts and a bunch of iconic moments that people would be mad if they skipped. And there's not a bunch of footage we've all seen a million times and can't help but compare it to.
As a fan of the music I'm always interested in these hip hop biopics (NOTORIOUS, STRAIGHT OUTTA COMPTON) and their attempts to recreate a place and time, in this case the legendary scene around the building where Marley, Shan and Shanté all lived, starting "The Juice Crew" and later getting dissed by Boogie Down Productions in "The South Bronx" and "The Bridge Is Over." (It was also where Cormega, Craig G, Mobb Deep, Nas and filmmaker Julie Dash lived.) And this is the only movie I've seen so far where there's a guy in the background (Nigel Fullerton) and I thought "I think that guy's supposed to be Biz Markie," and sure enough he was. That was fun.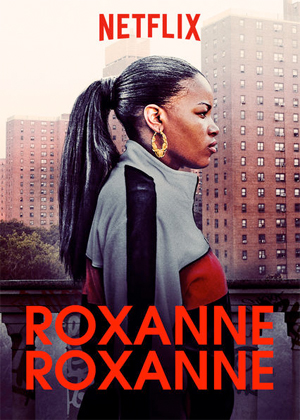 But you honestly don't have to care about that stuff to enjoy this movie. Mostly it's a character drama about a young woman trying to keep her head up through a tough life. The movie's biggest weapon is newcomer Chanté Adams in a deeply captivating performance as Shanté (that was her middle name and what she went by – she only became Roxanne after she did that song), who lives with her mom (Nia Long, BOYZ N THE HOOD, IF THESE WALLS COULD TALK 2, BAADASSSSS!) and three young sisters. Things seem to be going well for them and they're excited to move into a house in Newark… until mom's boyfriend (Curtiss Cook, SHUTTER ISLAND, MADELINE'S MADELINE) takes off with her life savings and things get real bad for them. Shanté has to try to be the mom while hers is too drunk.
It's the perfect precipitating event to encapsulate the story because Shanté will spend most of this movie 1) being hurt by any men she lets into her life and 2) struggling to get the hell away from this place. And yet if everything had gone well, if she'd moved out, she never would've become Roxanne Shanté. Her struggle gave her her super power.
It's primarily about the contradiction of Shanté having adult responsibilities and success and attitude while really being a kid. She swings between feeling a duty to look after her sisters and wanting to get the hell away from a miserable home life. She keeps running away and then coming back and getting chewed out. She doesn't drink, she wears braces and even sucks her thumb sometimes, but soon has adult men giving her fur coats and Mercedes, telling her they're going to protect her. She has a good head on her shoulders, but is a little naive about what she's getting into. Because she can handle herself in a battle she gets a little too cocky.
Even when she goes on tour it's less about the historic specifics of her actual tours and more about the feeling of being a teenage girl thrust into that situation, leaving her best friend at home, being treated like royalty, or more importantly, like an adult. There's a part of her that's extraordinary and there's also a part of her that's not ready for this.
It doesn't lean on the music. It's a while before we even hear her rap. The opening scene teases us with her as a little kid about to battle a skeptical teenager or adult in the park, then cruelly cuts away. This isn't 8 MILE – rapping isn't her driving passion. It's something she's always been good at, but it seems kind of frivolous to her. Mostly it's a hustle, winning competitions to get some money. Other times she just shoplifts.
Academy Award winner Mahershala Ali (PREDATORS) plays one of the older men who hover around her and make us worry. In MOONLIGHT he's a good person and we got to know him in all his award speeches after that and he seems like such a nice, charming guy in real life. So it's funny that he's so good at playing scary motherfuckers like this. They still have that charisma, but you can't trust it.
He's great, and Long is great, and the little sisters get some funny moments, and you have to love Shanté's best friend and hype man Ranita (Shenell Edmonds). But mostly the movie hangs on Adams, who captures the confident MC presence of the devastating mic rocker, but also shows us the awkward, shy and vulnerable moments of the real human being within. I love the historic moment when Ranita keeps calling to tell Shanté she's on the radio, and she keeps hanging up so she doesn't get in trouble from her mom for talking on the phone. And she unplugs the phone and in the silence she stands there and thinks about what she's been told and she breaks into a big smile. And then she says "I wonder what I sound like?" She'd never even heard herself recorded before!
Obviously you've got your '80s hip hop on the soundtrack (they use Shanté's original recordings, which somehow fit seamlessly), but just as often we're in places where old school soul music wafts from record players or car radios. The ominous, rumbling beats of the original score impressed me enough that I had to check IMDb a little ways in and find out they're the work of none other than RZA. Cinematographer Federico Cesca gives the projects a nice warm look, and often stays close on Adams' face so that we're closely watching her expressions. The camera doesn't call much attention to itself until an impressive sequence of match cuts of Shanté screaming in pain: first as she loses her virginity, then as she gives birth, and then as she gets dragged across the floor by her hair. A very succinct visual explanation of a terrible relationship.
Life is hard. She goes through alot. But she's Fly Shanté, she can cold rock a party, etc. It's a story about her surviving it, learning from it, growing up. On a certain level it's kind of the same movie as LADY BIRD. She has a complex relationship with her mother, they fight and she rebels, but they love each other. She has a similar relationship with her neighborhood. She fights to get away and then she misses it and realizes how much she loves it. There are money troubles at home, she has a best friend who she grows apart from, there are older people who don't understand her and some who try to support and encourage her, she struggles to find her identity and express her unique personality and talents, she tries to get in with a different crowd, and it doesn't necessarily go that well. And Roxanne is her given name, it's given to her by herself.
I bring this up not to pit two movies against each other (Shanté would definitely win if the battle took place in the park), but to point out that there are universally relatable things in our lives no matter where or who we are. ROXANNE ROXANNE is a great story about a legendary, special individual who accomplished great things against great odds, and who also is just like you.