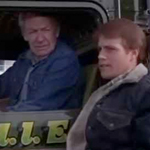 THUNDER RUN is a Cannon-distributed movie with a wonderfully ridiculous sounding premise: a Korean war vet trucker has to drive a weaponized big rig full of plutonium at high speed as bait for a gang of nuclear terrorists. For some reason when I read the back of the VHS box it kind of sounded to me like a bullshit Hollywood blockbuster remake of THE MAN WHO GOT AWAY, the nihilistic indie movie that the main character is trying to make in Charles Willeford's The Woman Chaser.
It's kind of less awesome than it sounds but much more laid back and good hearted. It stars Forrest Tucker (FINAL CHAPTER: WALKING TALL) in his penultimate role (the last being the TV movie TIMESTALKERS) as Charlie Morrison, the nice old Nevada grandpa who's in need of money to keep his Cobalt mine operating when he's offered a quarter of a million dollars to make the run by his old war buddy George (John Ireland, MY DARLING CLEMENTINE).
The funny thing is it's almost halfway into the movie by the time he actually leaves on the run. Some of that screen time is spent on preparations, but alot of it's just shenanigans. For example, we get a whole sequence about the local drag racing scene. Charlie's grandson Chris (John Shepherd, Tommy from FRIDAY THE 13TH: A NEW BEGINNING) races his shitty looking pickup truck and beats an out of towner in a sports car, trying to win money for Grandpa. Little does he know he won't be needing it. This scene also introduces Chris's group of friends including girlfriend Kim (Jill Whitlow, PORKY'S, NIGHT OF THE CREEPS), "electronics genius" Paul (Wallace Langham, SOUL MAN, COMBAT ACADEMY, THE SOCIAL NETWORK), who rigged the truck with nitrous oxide, and a hot blonde (Cheryl M. Lynn, maybe?) who lures the police away by driving up on a motorcycle and flipping them off. Of course she does that with an all black helmet and then takes it off and dramatically unfurls the hair so we will say "GASP! It's a LADY!"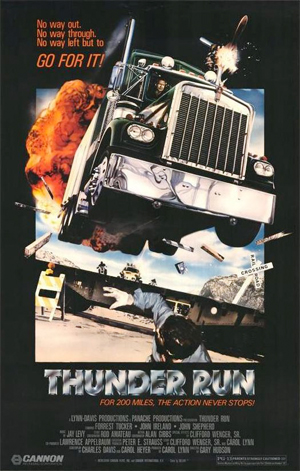 Charlie knows his wife Maggie (Marilyn O'Connor) isn't gonna be cool with the dangerous mission so he butters up by taking her out for drinks and she makes him pie and stuff. The next day they have some investors visiting the mine, which apparently doesn't have much going on so Chris and all of his friends from the drag races come there to make it seem busy. One of them gropes some of the girls, so Paul dumps a bulldozer shovel full of dirt onto his convertible and then accidentally drives over it. So yeah, Charlie's gonna need that money.
But Chris worries about him and "you're not just my grandfather, you're my father and my friend." He convinces him to let him come by saying he can help him use the CB and eat Maggie's apple pie while he's driving. He turns out to be very important because his grandpa will tell him "push #1" or "push #2" and he'll push the buttons that activate the blowtorch on the side of the truck to light a motorcycle gun couple on fire, or the exploding barrels of fuel that dump out of the back to blow up a chasing car.
The most absurd and most fun part of the movie is how Charlie enlists all of his grandson's young friends as his team of experts and operatives. They soup up the truck, follow in other vehicles and Paul creates a plan to steal a secret code that changes each day so that they can hack into a computer system and control the defensive barrier and lasers that defend the tunnel into the secret base at the end of the run. Charlie is promised that they'll be turned off for him, but they all assume (correctly) that they'll need these kids as back up. "Just a little insurance."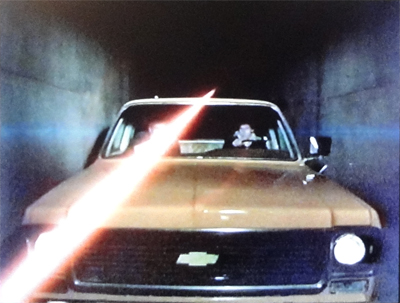 It's awfully convenient that they make this seemingly gratuitous plan since SPOILER they end up needing it. But never fear, you do get to see what the laser tunnel looks like and you do get to hear George say the line "Sorry about the laser tunnel."
The storytelling is sloppy. For example, the opening scene is about the military blowing up a sedan and a station wagon that we're told are terrorists who stole plutonium. Then they hire Charlie because they say they need the terrorists to attack again for them to catch them and they'd never attack a military convoy so they need it to be transported in civilian vehicles. Obviously we have to wonder why they weren't more careful to catch them the first time, why the terrorists don't have better vehicles, why they need to use real plutonium if it's just bait, why they don't just continue transporting it in military vehicles if they know it will never be stolen in them, etc. But if we accept that the plan makes sense then shouldn't the opening be the run that's not successful – the terrorists stealing the plutonium from the previous transporters – so we can see what Charlie's up against? I can only assume that they were basing the story of that opening around previously existing footage or something.
The stunt coordinator is Rod Amateau, whose name I know because he directed GARBAGE PAIL KIDS: THE MOVIE. That's the sort of thing I remember. But I also knew he'd been a producer and director on The Dukes of Hazzard, which makes so much sense when you see this. It's that same feeling of "good ol' boys never meanin' no harm," driving fast and even, in one scene, getting chased by uptight cops who crash into a body of water and have to escape the sinking car. There are many crashing stunts and explosions and I guess the famous one is where an 18-wheeler jumps over a train. The terrorists drive a camouflaged missile-launching VW Beetle, among other things. The truck has many gimmicks like "space age plastic" bullet proof windows, but I don't completely understand why they need it because then they jump into Chris's champion drag racer pickup truck for the last stretch.
The film is dedicated to the memory of Clifford Wenger Jr., a special effects artist who was killed by an explosion while filming RAMBO: FIRST BLOOD PART II. His parents Clifford Sr. and Carol Lynn produced and developed the movie. Director Gary Hudson only helmed one other movie, CLUB V.R. (1996). He's primarily an actor who has appeared in ROAD HOUSE, MARTIAL OUTLAW, SCANNER COP and BRIDGE OF DRAGONS.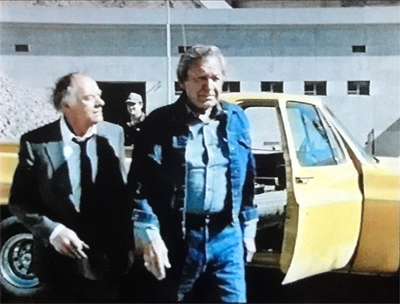 This is not a highly entertaining movie in my opinion, but I very much like the vibe of it. I like that it's kind of a youth movie, about young people driving and sexing and pranking and getting in fights at bars, but also has their grandpa/boss as the hero. I like that the main characters are all nice people who like each other, never bicker, just know how to work together to get things done and have fun. And best of all, Charlie is not at all your standard hero. Yeah, he's got grit and he's very capable with engines and driving and he does punch a guy in one part, but he's not macho or intimidating. He's this sweet husband and grandfather who's wholesome and caring.