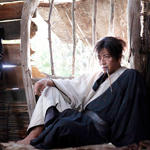 BLADE OF THE IMMORTAL is a 2017 samurai epic from director Takashi Miike. It's his 100th film! Can you believe that shit? I haven't gotten into his trademark pervert madman vibe in movies like ICHI THE KILLER, but nothing I've seen by him has been a slapdash Fred Olen Ray type affair. There is real effort and craft involved, and he's made a few excellent samurai films. Instead of remaking an old school chanbara as with 13 ASSASSINS and HARA-KIRI: DEATH OF A SAMURAI this one is adapting a manga that ran for about twenty years, so it's less classically structured, more unwieldy, with supernatural elements and outrageous imagery (crazy face paint, strange weapons, goofy anime hair).
This aesthetic looks particularly cool in the stark black and white of the prologue, where we learn the bloody, convoluted origins of the titleistical immortal. As a young samurai, Manji (Takuya Kimura, Howl in HOWL'S MOVING CASTLE) was tricked into assassinating a whistleblower. He thought it would right things to kill the corrupt officials behind the scheme, but one was his little sister Machi (Hana Sugisaki, Mary in MARY AND THE WITCH'S FLOWER)'s husband, and the grief drove her insane.
He tried to take care of her, but he failed. A giant gang of bounty hunters kidnap her to lure Manji in, then kill her right in front of him. His response is so over-the-top it earns him the nickname "Hundred Killer," which still follows him around fifty years later, when he's still young and alive thanks to a weird old lady (Yoko Yamamoto, MASSACRE GUN) who infected him with "sacred bloodworms" that heal his wounds and even reattach his severed limbs. Technically it's a curse or a disease, but it's a strong advantage for a swordfighter.
So most of the characters in the movie weren't even born when that shit happened. For example there's Kagehisa Anotsu (Sota Fukushi, guy from Kamen Rider movies and TV shows), an arrogant young warrior who has been traveling the country destroying every dojo and forcing them to follow his dirty style of fighting. Also Rin Asano (Sugisaki again), a little girl who watches her family get killed in one such dojo invasion and wants revenge. The old crone advises her to find the immortal in town and hire him as a bodyguard. He's reluctant and acts weird and trickstery about it but of course she looks exactly like his little sister and he's a little crazy and feels alot guilty about what happened to her so he can't turn the girl down.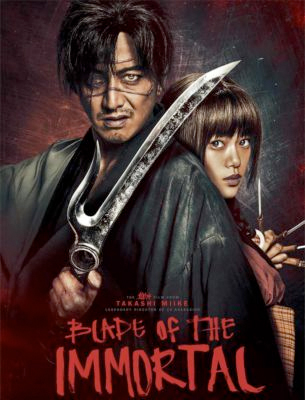 Manji's robe has a half white, half black, yin-yang type design, and he's kind of a balance between heroic and wicked. He immediately scoffs at Rin for assuming she's the good one and the people she wants to kill are evil. She replies that she doesn't care whether it's good or evil, she just wants them to die. Fair.
Everyone always thinks they're the good guy. Often times they're not. This is the biggest theme I noticed, adding weight to the mythological tales of bloodshed. Those who carry blades always think they have a great reason to kill somebody and then they always find out new information. After they've been on the road together for some time Manji tells Rin about his life. We thought we already knew his backstory from that black and white prologue, but now he gives us more context that makes it murkier. It seems like every time he mentions killing somebody it's followed by a "but…" and a dramatic pause before he tells us what he later found out that made the killing not so righteous. (Everyone I know has a big "but…". Let's talk about your big "but…").
When Rin finally comes face to face with her hated foe Kagehisa he tells her his backstory, the injustice he was avenging that led to killing her family, and all the sudden she thinks he has a pretty good point and she's hesitant about killing him. She doesn't know what the fuck to do. This even leads to a glorious third act battle (SPOILER for glorious third act battle) with our immortal bodyguard, our little girl and our heinous villain all fighting together against the army, the government, The Man. A thrilling turn of events.
But Kagehisa represents a change in the samurai code, a push for more vicious fighting, and considering what we have learned about "but…"s, this is a problem. It will lead to more misunderstandings, more mistakes, more tragedies that must be avenged, more fuel for the perpetual engine of killing.
An odd cultural thing about this movie is that much of the cast are pop stars. It was a disappointment at the Japanese box office, and screenwriter Tetsuya Oishi (DEATH NOTE) thought it might've been because the guy who plays Manji's boy band had broken up. Can you imagine an American movie starring a bunch of teen stars fuckin massacring the shit out of each other, and nobody thinks it's weird? The world is an interesting place.
I read the wikipedia on the manga, and it sounds like at least plotwise the movie is very faithful. A weird thing though is the basic premise of the original story: he has to kill 1,000 evil souls to become mortal again. Somehow I didn't catch that in the movie. Instead he seems to brood about his inability to die, and then to worry when a poison that affects the bloodworms seems to change that. He wants to finish helping his symbolic little sister before he's done. But the 1,000 souls thing must be in there, I must've missed it, because the tagline on the Blu-Ray cover is "HE WILL TAKE 1,000 LIVES TO PROTECT ONE" and then there are hashmarks all over the background. (Then again, becoming mortal again wouldn't protect her life. Hmmm…)
Anyway they must've had to encapsulate alot. The only part that felt a little rushed to me was when they team up with some bounty hunters called the Mugai-ryu and those guys quickly turn against him. But it works. They're all trying to ambush somebody they think is Kagehisa in disguise, but it turns out to be a prostitute hired as a decoy, and this guy Shira (Hayato Ichihara, JU-ON 2) tries to rape her. Rin intervenes, so he just starts punching the little girl. It's fucked up! That is a bad person.
It reminds me of AZUMI, another movie with the types of stories of honor and revenge that I love from samurai stories but with hugely exaggerated battles thanks to its manga origins. A world where one person can take on a hundred while dreaming of a world where they don't have to take on any.
This entry was posted on Tuesday, March 13th, 2018 at 11:57 am and is filed under
Action
,
Comic strips/Super heroes
,
Martial Arts
,
Reviews
. You can follow any responses to this entry through the
RSS 2.0
feed. You can skip to the end and leave a response. Pinging is currently not allowed.