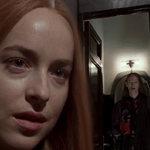 SUSPIRI… uh…
Luca Guadagnino's SUSPIRIA (2018) is technically a remake of Dario Argento's SUSPIRIA (1977), because it's about an American named Susie Bannion going to a dance academy in Germany in 1977 where other students are turning up dead and weird shit is happening because it's run by a coven of witches led by Mother Suspiriorum, The Mother of Sighs. But don't expect to see any of the things you think of when you think of SUSPIRIA, like the colorful lighting, the maggots dropping from the ceiling or that room full of razor wire. Guadagnino (CALL ME BY YOUR NAME) doesn't use the same look or any specific scenes or story points, he just plays with the basic idea. Now there's more intra-coven political stuff going on, as well as news coverage of Baader-Meinhof bombings and the hijacking of Lufthansa Flight 181 by the Popular Front for the Liberation of Palestine, and a subplot about an old therapist looking for a patient who disappeared after telling him the school was run by witches, and also his wife (played by o.g. Susie Bannion Jessica Harper) disappeared during the war and he keeps thinking about her, and…
I mean it's 52 minutes longer than the original so there's alot more stuff going on. It bills itself as "Six Acts and an Epilogue in a Divided Berlin" (spoiler: actually should be Six Acts, an Epilogue, and a Brief, Uneventful Tag Near the End of the Credits). I appreciated the act breaks.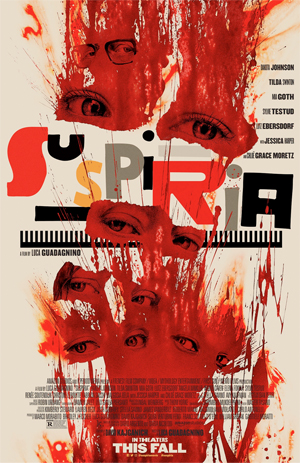 The best addition is all the dancing. It's basically STEP UP meets HAXAN. Well… I guess more like CENTER STAGE meets LORDS OF SALEM by way of TINKER TAILOR SOLDIER SPY. Whatever it is I hope it gets DTV sequels like CENTER STAGE, SAVE THE LAST DANCE and HONEY did.
The original has very little dancing for a movie about dancers, but 2018 Susie played by Dakota Johnson (NEED FOR SPEED) expresses herself mostly through movement, including violent swings with Michael Jackson whooshing sound effects and a whooole lot of sexing up the floor. I'm not sure Don Johnson should see this one. But I really like that these are witches who cast their spells through dance.
Tilda Swinton (CONSTANTINE) – who also worked with Johnson, director Guadagnino and writer David Kajganich (THE INVASION) on A BIGGER SPLASH – plays choreographer Madame Blanc, who gives Susie a big break as the lead in the last performance of her famous work Volk, and is possibly grooming her for… witch stuff. Mega-Tilda as a witch sounds like fun, but in fact she plays this one very straight, which she's also good at. Unsurprisingly she knows how to carry herself convincingly as a snooty dance teacher. And her character is surprisingly nuanced. She's not just some wicked corrupting force.
* * * SUPER SPOILER SECTION (I GUESS, OR MAYBE THIS ISN'T EVEN A SPOILER AT ALL? I HONESTLY HAVE NO IDEA) – SCROLL PAST ITALICS TO SKIP * * *
The nine stages of me watching this movie
Stage 1: This Dr. Klemperer character looks like Gary Oldman when he plays an old guy. Yeah, I think this is a younger actor in makeup. That's a weird choice.
Stage 2: Wait a minute – that's clearly Tilda Swinton's voice. She's doing a German accent, but it's just her regular voice. It doesn't sound masculine at all. They are really not doing a good job of hiding this plot twist. This is really distracting. Why did they think they would get away with this?
Stage 3: I mean it looks very convincing. It's not like Michelle Rodriguez in THE ASSIGNMENT. But it gives away the twist, kinda like that movie PREDESTINATION.
Stage 4: You know what, they're not trying to hide it. We're supposed to understand that this is her. She's planning to overthrow Markos, that must be what this is about.
Stage 5: It's really starting to seem like she's just playing an old man and not a witch disguised as an old man or anything weird like that.
Stage 6: Am I crazy? Is it not Tilda Swinton? Maybe I'm crazy. It looks like her. It sounds like her. I'll check the credits.
Stage 7: (checks credits) It says Lutz Ebersdorf. This is gonna be embarrassing to admit I was distracted the whole time by this.
Stage 8: (to friend in lobby) "I was really distracted because for some reason I was convinced the old man was Tilda Swinton!" "I thought so too!" says my friend.
Stage 9: (checks internet and finds out it was her) That's a weird choice.
My friends, I do not know why Tilda pulled an Eddie Murphy in this one. Looks like she also played the monstrous Helena Markos, which makes sense. For all I know she's half the characters in the movie like Tom Hanks in POLAR EXPRESS. It is cool if it means that they have an all female cast – I thought there might've been one man singing during the ritual, but I don't remember any others. And I know it won't be a problem on a second viewing. But man is it a novel way to distract and confuse the audience on their first viewing while you want them to be paying attention to some point about "the concept of motherhood and the uncompromising force of motherhood," according to the director.

* * * END OF SUPER SPOILER SECTION * * *
The whole dance company have a great exotic look with cool late '70s hair-dos and many cigarettes. All except Susie and Sara are played by professional dancers. You don't know if they're intimidating because they're dancers or because they're liable to literally stick their hooks in you. The look works for both.
There's a strong sense of place, time and mood that's very transporting. And there are many weird little things going on. Like, there's a character who looks like Velma from Scooby-Doo who seems to be concerned about something and your eye always go to her in these crowded frames and you wonder what's up with her and then… I'm not s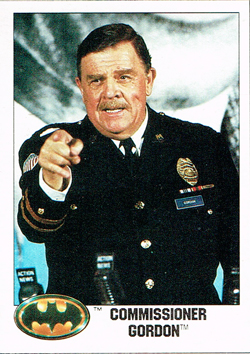 ure you find out. But something does happen. And there's a section where you kinda realize wait a minute, did Susie's friend Sara (Mia Goth, A CURE FOR WELLNESS) switch to the main character now? Note, though, that Chloe Grace Moretz (TODAY YOU DIE)'s character is "Patricia Hingle," not Pat like in the original, so it is not necessarily an homage to the great character actor who played Commissioner Gordon in BATMAN (1989). Moretz is real good in kind of an extended guest appearance. I didn't recognize her at first because most of her dialogue is in German and she has wet hair in her face.
Oh, that's one thing they got from the original, there's lots of raining and then there's a line about getting a cab in the rain. You know, for the fans. One of those eggs they got. The easter ones. Fans swear by 'em.
The score by Radiohead's Thom Yorke gets to some feverish burbly synth points once or twice but mostly it's kinda downbeat, with him singing and everything. And it's fine, but especially when the end credits roll it's hard not to think of the pounding, roaring, growling all-timer of a Goblin score for the original and how scary and cool and exhilarating it is. And this fuckin guy is plinking on a guitar and moping about whatever the fuck he's on about. Poor guy.
There's at least one scare sequence that's a little on the Germany's Most Disturbing Home Videos side. But mostly there are great ones. The first involves Susie doing a dance that beats the shit out of another dancer in another room, unnaturally twisting every part of her body, and it's not a quick gag. It's a full on dance/grueling torture sequence (made particularly gruesome, I have learned through reading materials, by the dancer, Elena Fokina, being able to contort her body for real). This is not the kind of arthouse-version-of-a-horror-movie that feels above stabbings and gooey monsters and bones sticking through flesh. It goes for it.
I would like to be be a polite philistine on this one. The "philistine" part is that I liked this movie but would've loved it if they cut out most of the historical context stuff. It is possible that this Italian director and American writer have something very important to say about the post-WWII generational shift that was happening in Germany when they were 6 and 8 years old, respectively, and that it adds greatly to the story of these dancing witches. If so it's way over my head, so for me it dilutes what could be a far more intense experience if the horrific parts weren't so spread out.
And the "polite" part is that I know there are people who adore this movie as is, so I'm glad it does exist in this form because there's nothing else like it and I can always get what I'm talking about from the first SUSPIRIA or many other great horror movies.
I hope it's clear that I enjoyed the movie, despite everything that's befuddling about it. Any and all of its flaws are proof that it's an interesting work, not an i.p. cash grab. If I don't need to understand why the meat vendor guy in INFERNO decides to chop up the old man being killed by rats then I don't need to know why Dr. Klemperer has to be played by Swinton in makeup. And in my opinion the climactic ritual is straight up spectacular, like Clive Barker's version of a big budget Vegas stage show, complete with blood fountains and naked human pyramids. If the rest of the movie was even longer and more boring it would still be worth the wait.
That said, Guadagnino, if you're gonna have several ominous shots pulling up to a crazy stylized chandelier above the dancers, do me a favor and fucking drop it on somebody so we, the audience, know you don't hate us. You had that kid fuck a peach in that one movie and nobody got mad – we are not your enemy, so throw us a bone every once in a while. If you can't remember that I don't think you're ready for INFERNO. But I can't wait for you to get to MOTHER OF TEARS.