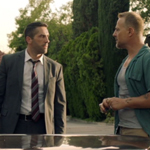 "Look, you're a tough guy, but you're also a good guy."
"I ain't that good, mate. You saw what I did to that lad, didn't ya?"
Yeah, I know, you're all aware that Scott Adkins is the reigning king of DTV action. That's not new information. You're all well acquainted with UNDISPUTED II and III and 4 and UNIVERSAL SOLDIER: DAY OF RECKONING, if not HARD TARGET 2 or EL GRINGO or the other ones.
What hasn't been discussed as much is that our favorite English martial artist has hit a new stride in his string of collaborations with director Jesse V. Johnson. Last year they did SAVAGE DOG, a weird and brutal period piece, followed a few months ago by the smart-ass assassin tale ACCIDENT MAN. Adkins gives honestly great performances in stoic roles like Boyka, who grunt almost as much as they speak, and I love those types of characters. But as co-writer and producer of ACCIDENT MAN, he not only gave himself a ton of great fight scenes, but all kinds of witty dialogue and first person narration that no other onscreen kicker could handle. And his latest continues the trend of retaining his Englishness and showing great charisma and verbal dexterity while still living up to the action expectations of a marquee-name martial arts star.
THE DEBT COLLECTOR (which came out on DVD Tuesday) is another funny crime story, but it's much more grounded than the playful heightened reality of ACCIDENT MAN. Adkins plays French (that's his name, not his nationality, which he gets tired of explaining), a stubborn Iraq combat veteran turned martial arts instructor turned guy who gets desperate enough to beg his (only?) student (Michael Paré [STREETS OF FIRE] in a small but excellent role) to hook him up with a job as a collector (well, they say "mediator") for mobsters. He's partnered with burnt out Sue (Louis Mandylor, WRONG TURN AT TAHOE, BARE KNUCKLES), ex-boxer turned guy who lets you drive his prized Coupe de Ville because he's always too hung over to do it himself.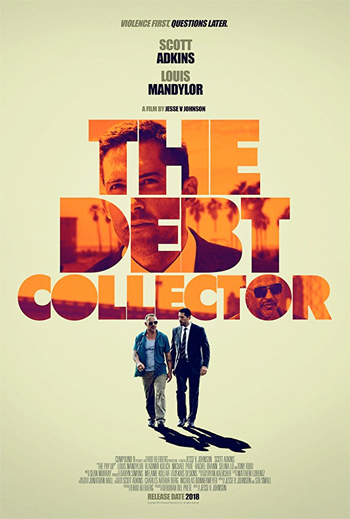 Remember in the '90s after Tarantino, when the main interest of young indie directors was cool crime movies? This is a good version of one of those, but mixed with an asskicking Adkins vehicle. It has some elements that remind me of PULP FICTION (bickering criminal buddy duo driving around L.A. outskirts and suburbs, complaining about job conditions in between threatening panicked young druggies who are in over their heads with organized crime), but not the ones that were so annoyingly copycatted back in the day (characters talking about pop culture, non-linear storytelling). Tarantino was focusing on parts usually skipped over in crime stories, like the hitmen getting to the place too early and having to wait around and shoot the shit for a while. Much of the appeal of THE DEBT COLLECTOR is the relationship that grows between these guys while talking in the car, but since it's an Adkins movie everywhere they go turns into a big fight, usually against some mean behemoth bodyguard who keeps coming and takes some doing to knock out. (Also, the reason he gets into crime is to save his humble little martial arts school. I will never not like that trope.)
Of course French and Sue end up getting into some shit, but it's really not structured like a thriller, it's more of a hangout story about French's first weekend on the job, learning the techniques and the personalities involved, finding out why you should ignore the boss (Vladimir Kulich, THE 13TH WARRIOR)'s instructions to wear a suit. They drive around with a computer printout listing the guys they have to find, along with a 1-10 rating for the level of violence expected by the client. They knock on and kick down doors and scare the shit out of people, but also they – well, mostly French – get disrespected, dragged by cars, shot at, chased by thugs, thrown through walls and desks. French is kind of pissed off and exasperated by the craziness of the job, but Sue keeps convincing him that he's also having fun. And it turns out Adkins is really funny when he's irritated and sarcastic.
It's obvious from the fight scenes that Sue was a boxer (some of his punches sound like those big red balls you bounce in elementary school), but he's also really proud that he was once in a ninja movie. I like seeing the star of NINJA and NINJA II seeming impressed to learn that.
It's the rare action movie where the hero doesn't have a love interest, or even a deceased wife or a daughter. But it's an extremely sexist world and you notice French wincing whenever Sue is being threatening toward females. Their boss works out of a strip club, one of their clients (Tony Todd, NIGHT OF THE LIVING DEAD) has an entourage of bikini ladies standing around him. The main women with speaking roles are treacherous, like the one cheating on Tony Todd or the one that fucks Sue in the backyard while French takes her husband inside to get the money. But there's another one who has an attitude and is 100% in the right, and it's sort of a breaking point for our boys.
The only time there seems to be a positive male-female relationship is when Sue stops home to see his aging prostitute girlfriend Lola (Sara Finley). It's a very sweet scene between these two broken people who honor their glory days with fringe movie posters from their pasts (his ninja, hers XXX), but maybe I'm naive not to worry why she's asking him for $300.
Johnson is the nephew of the legendary Vic Armstrong, and has worked as a stuntman since the original TOTAL RECALL. He started writing and directing shorts in the late '90s. According to this excellent interview in Filmmaker Magazine, he wrote THE DEBT COLLECTOR "about 15 years ago," before he'd even directed PIT FIGHTER (2005), which has a special appearance by Adkins.
Adkins' ACCIDENT MAN co-writer and childhood friend Stu Small rewrote the script for him, but it still feels like a personal story for Johnson after decades working his ass off doing stunts and low-low-budget films. These guys have their long, crazy days and they feel abused and hate themselves and they can't believe this shit and they come home so sore they can barely take their shoes off and all they can do is go to sleep and get up and do it again in the morning because they need the money and they want to drink themselves to death but maybe they love the job? And they want to do something they can be proud of when they look themselves in the mirror.
I started paying attention to Johnson after his 2009 movie THE BUTCHER starring Eric Roberts. That one proved his affinity for a certain type of aging, masculine character actor, evident here as well. I'm not too familiar with Mandylor, but he's fantastic in sort of a Mickey-Rourke-ian performance as a mumbly, sweaty, lovable mess – funny and kind of cool and kind of an asshole and looks like he slept in the car because he did. He and Adkins have a great chemistry, they're really funny together, and they're absolutely good enough that it could just be a straight character-based crime movie and not have to have a bunch of martial arts in it.
But why would you do that? That would be stupid. The fight choreographer/stunt coordinator is Luke LaFontaine (THE LAST SENTINEL, SAVAGE DOG).
There are a few insignificant things I could criticize. There's a fight where the serious music gets in the way of some laughs, for example, and an audacious turn of events I won't give away that didn't feel quite right to me (though the more I think about it the more I think I might like it). But THE DEBT COLLECTOR really fulfills the potential Johnson showed with THE BUTCHER, using a pretty similar world and characters but with much stronger, tighter filmmaking, more of a sense of humor and far more sophisticated action.
I don't know how many people will end up seeing this movie, and for some reason they didn't even put it out on Blu-Ray in the US (just DVD). But if there's any justice in the world it will open new doors for Adkins, Mandylor and Johnson. It's likely to be a career highlight for all of them.
Jesse V. Johnson and Scott Adkins will return in TRIPLE THREAT