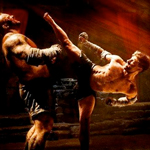 I don't know what I was expecting from KICKBOXER: RETALIATION, the new sequel to 2016's KICKBOXER: VENGEANCE, which was a remake of the 1989 Cannon classic KICKBOXER. I waited for midnight Thursday to watch it on V.O.D. as soon as it became available, so clearly I was excited. But I didn't think it was gonna be this good.
The original Kurt Sloane, played by Jean-Claude Van Damme, only made it to his part 2 in the form of a body double unceremoniously shot to death in an alley, leaving three sequels to a never-mentioned-before Sloane brother played by Sasha Mitchell. The remake Kurt Sloane, played by stuntman Alain Moussi, gets to stick around. A different Van Damme character, Sloane's mentor Master Durand, does survive for the sequel and continues to be the heart and soul of the series.
I love when sequels open with the character we know suddenly in a whole different place and life situation. My go-to example is RAMBO III, where we find John living in a temple in Thailand, winning underground stick fights for money. But this is more like a TEMPLE OF DOOM opening because we find Kurt in a tux, sexy salsa dancing with his now-wife Liu (Sara Malakul Lane, Seagal's daughter in BELLY OF THE BEAST) on a train at night. They get attacked and he has to slow-motion fight some people, including on top of the train in pouring rain as it crosses a bridge, until they all fall off.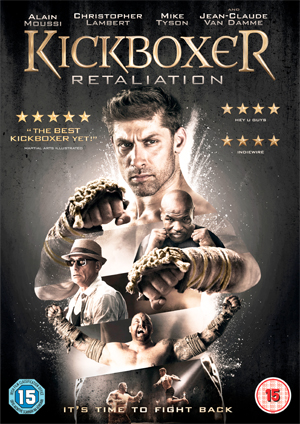 Okay, so it turns out to be a dream, that's too bad, but at least it kept us wondering what the hell was going on for several minutes and now will act as a prophecy throughout the story, giving Kurt hints about future events. In the waking world he lives in Vegas competing in a legit MMA league until some guys claiming to be FBI agents come to get him for the murder of Tong Po.
Of course the VENGEANCE of part 1 was winning the death match against the guy who killed his brother in the ring. Is there another sequel where the hero faces the legal consequences of having avenged a bad guy in part 1? The guys aren't really feds but they do bring him to Thailand and dump him off in a prison where everybody loves Tong Po and knows this was the guy who killed him. He'll have to stay there for life unless he agrees to fight a death match against the new champion Mongkut (Hafþór Júlíus Björnsson, World's Strongest Man contender and third guy to play "The Mountain" on Game of Thrones). Still, he says "Never again."
RETALIATION follows in the VENGEANCE tradition of star-studded casting. Of course there are a bunch of MMA cameos (Wanderlei Silva, Frankie Edgar, Renzo Gracie, Renato Sobral, Fabricio Werdum) and Roy "Big Country" Nelson is an inmate who pretty much befriends Kurt on sight, warning him "They're making a move on you" and trying to help him. But more importantly we find out that there's a sleazy money man behind the death matches named Mr. Moore and he's Christopher Lambert (FORTRESS 1-2, THE HUNTED, MORTAL KOMBAT, MEAN GUNS). His voice wavers a little now but he still has that accent and he wears suits, tempts people with money and women, smiles mischievously watching fights and sometimes picks up a sword.
I guess the big new name on the poster is Mike Tyson. But any time he's in a movie he's pretty much gonna be Mike Tyson, right? I mean, I'd like to see what happened if they put a wig on him or something, but that doesn't happen here. I'd enjoyed him in IP MAN 3, but didn't think it was exciting for him to be in another martial arts movie.
Wrong! As soon as his character Briggs shows up, turning around to fight Kurt because "You interrupted my meditation!", he is a joy. They get a long, seemingly super-powered prison fight where his fists hammer our kickboxer in many painful ways. He manages to dodge many, causing those beasts to bust through wood, bricks, a steam pipe. The guards break up the fight, cut to the two of them strapped to crucifixes getting whipped, Sloane screaming and Briggs just looking at him. After that they are allies. Briggs becomes his trainer for punching and pain avoidance.
It's a slick, well-put-together movie with beautiful photography and locations, but I enjoy that there are some maybe-unintentionally-odd bits of storytelling here and there. For example, immediately after he seems to have a new mentor in Briggs, we learn that his original mentor Durand is also in the prison as an accessory to the murder of Tong Po. And then Durand immediately reveals that "Mr. Moore blinded me" but it's okay because now he can tap into his senses in a different way and predict people's movements before they happen. It's exactly the type of mystical bullshit I love to see somebody learn through a series of training montages, which is in fact what we will get here – he will practice with all these teachers, swing around upside down on a rope kicking targets, pose in a high kick wearing only shorts standing on top of a big rock next to the water, etc.
Durand wants to "see" Kurt's opponent Mongkut, and since he's blind they don't think it's a problem. They take him to the mad scientist lab where this 6′ 10″ "superior human specimen" who has killed over 20 opponents in the ring sits in a chair tuning a guitar while they shoot him up with an "adrenaline cocktail." Then he lifts two monster truck wheels attached to a barbell.
"This is not the martial art way," laments Durand. "It's not the truth." I love it. He warns Kurt that this guy is "four times Tong Po."
Mongkut doesn't have 1/4 the personality of Dave Bautista's Tong Po, but he's a good one-dimensional monster. He easily picks Kurt up by the neck and slams him against a wall or punts him like a football. He also puts Kurt's wife in a coma with one errant swing, and shows zero remorse. I do really wonder about the guitar, though. It's nice if he has an interest in music.
I have exactly one significant complaint about the movie. It's tempting to call it ACPs (Action Comprehensibility Problems), but that's not precisely it. I can follow the action, it's just that there are a few parts where harsh edits or close-quarters handheld camerawork literally made me dizzy. Hopefully it won't happen to everybody, because there is some great stuff in here and visible elbow grease put toward one-upping the action sequences from part VENGEANCE. Most significantly there are two long takes following him as he progresses through a series of opponents, each set to a song. The first one is his introduction to the general population at the prison and has him going down a hallway and swinging through some bars and strutting off with the remaining prisoners having seen enough to back down. The other is in public on a walkway – it begins with him eyeing each of the objects he will use as weapons and ends with a chase that involves two modes of transportation, one by land, one by sea. There's alot of ramping to slo-mo in a way that glorifies him much like John Woo did to Chance Boudreaux.
Moussi is credited as fight coordinator along with fight/stunt coordinator Jean-Francois Lachapelle, who was the stunt coordinator for the Oscar-winning movie ROOM (!?). They must know each other from the stuntman days because they overlap on WHITE HOUSE DOWN, BRICK MANSIONS, X-MEN: DAYS OF FUTURE PAST/APOCALYPSE, WARCRAFT, SUICIDE SQUAD and several others. I think they've done a great job.
Admittedly, I like the character of Kurt Sloane more for his physicality in these scenes than his personality. That said, they give him a bunch of good smartass lines in this one, and a scene where he tells the guards to call the prison doctor and predicts the specific injuries he's about to give his attackers. Reminds me of Clint ordering the coffins in A FISTFUL OF DOLLARS.
Part 1 was directed by John Stockwell (TURISTAS, IN THE BLOOD) – I didn't know if I should be nervous about screenwriter Dimitri Logothetis also taking on the director chair for the sequel, but honestly I think he's taken what Stockwell established and built something more interesting on top of it.
Once again we have a movie with about ten or twenty times as much kicking as most movies that have any kicking. And there is also a whole lot of dodging. And some superman punches. And other.
It's a prison movie and a fighting circuit movie, but it's not confined to either of those things. Tyson comes off like a wise monk in a period kung fu movie, while Van Damme does one of his unpredictable character-actor performances – you never know when he's going to say "You have to start to train" after multiple training montages, or "I hate violence, I need to go to the bathroom," at the beginning of a big match.Van Damme also gets to spar a little with Tyson and sword fight with Lambert. And there's a part where Mr. Moore's bikini-clad companions seem like they're trying to seduce Kurt, but then they attack him and run into the dark and their lipstick and tattoos glow in the black light. And some other crazy shit I won't give away. I really liked this movie.
Thankfully another is already planned. IMDb calls it KICKBOXER: ARMAGEDDON, while Wikipedia calls it KICKBOXER: THE SYNDICATE, and "the third and final in the trilogy." Now come on guys, let's not be so hasty. AVATAR is doing three sequels. The original KICKBOXER had four. Let's keep our minds open about how long this thing can continue. The world may be a flaming bag of shit right now, but that doesn't mean we don't deserve an ongoing KICKBOXER series to always be looking forward to. Please, we need this.
This entry was posted on Monday, January 29th, 2018 at 10:43 am and is filed under
Action
,
Martial Arts
,
Reviews
. You can follow any responses to this entry through the
RSS 2.0
feed. You can skip to the end and leave a response. Pinging is currently not allowed.