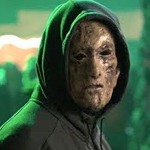 HELL FEST is a mainstream horror movie released on 2,297 screens by Lionsgate, but I never saw a trailer for it and only heard of it because Brian Collins recommended it on Twitter (he also interviewed the director). So I guess social media can still work for good old fashioned word of mouth, not just Russian disinformation campaigns.
For people who like horror but get bored of formula and cliche, this is probly nothing special. But for horror fans like me who enjoy variations on tradition, it's a surprise treat: a slick, well-made straight-ahead slasher movie with some cool ideas, production value, a solid cast, even likable characters. I honestly thought they couldn't make movies like this anymore – it seems straight from the post-SCREAM slasher revival, except without any meta stuff (other than we're having fun being scared while the characters are having fun being scared). Also, no big names in the cast. The only face I recognized besides cameo-ing Tony Todd was Bex Taylor-Klaus from Scream: The TV Series. (But maybe others would be known to me if I was younger.)
The title refers to a huge touring Halloween event inspired by things like the Universal horror mazes. It's kind of a fantasy Disney World or Lollapalooza of horror haunts with drinks and performances and endless attractions including the intense "Deadlands" section where you have to sign a waiver because the fake monsters and killers are allowed to touch the guests to scare them.
But within this place there's a real masked killer who is for real stalking our heroine. How will she know, and who will believe her?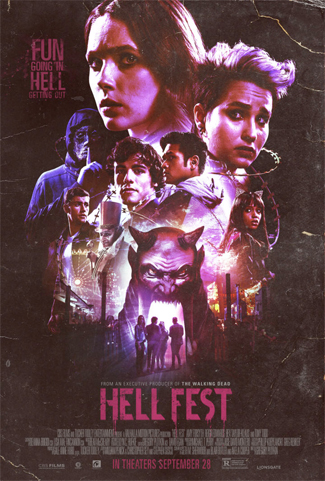 Natalie (Amy Forsyth, A CHRISTMAS HORROR STORY) has come back to town to hang out with her high school best friend Brooke (Reign Edwards, Snowfall, MacGyver), and they end up going to Hell Fest with Brooke's horror-loving/doesn't-like-Natalie roommate Taylor (Taylor-Klaus, THE LAST WITCH HUNTER), their boyfriends Quinn (Christian James, Freefall) and Asher (Matt Mercurio, "FBI Analyst," AMERICAN MADE), and Natalie's crush Gavin (Roby Attal, The Long Road Home). Natalie doesn't seem to be into this kind of stuff, but is game to go along, and the movie taps into the fun of being young and falling for somebody. Gavin is a dreamy, EVERYBODY WANTS SOME lookin dude, but self-deprecatingly flirtatious, and they seem convincingly smitten with each other. Forsyth is particularly good, and has just that right level of slasher movie groundedness where she's better looking than all of us but not some creepy Barbie doll.
One small progressive detail I noticed is that the women, not the men, are the ones talking about getting laid, with references to women being in control ("ride that D," "sit on [his] face").
Admittedly it can be kinda silly when characters explain to each other how Hell Fest works, and I'm pretty sure the mazes aren't impressive compared to the actual Universal ones, but they sure had to build alot of stuff for this movie, and it seems like a fun time being with friends and doing some shots and walking through all these winding tunnels of ghouls and mummies and shit. Until people start getting stabbed.
It's not one of the gorier movies you'll see, but definitely has some moments. I found myself concerned for these guys. Some bad things happen. But not, like, make you feel bad about life bad. Just fun horror movie bad. Not that it's afraid to get dark. In the inevitable scene where they mistake a real attack for part of the show, Natalie stands uncomfortably long waiting to see how they're going to "fake" a stabbing, taunting him to go on with it, not knowing she's encouraging a murder.
The stalker wears an ordinary hoodie over a creepy wrinkled mask that reminds me a little of Tiny from HOUSE OF 1,000 CORPSES. We see him come through the metal detector and then acquire things he can use as weapons. I don't particularly like that he taunts people by humming "All Around the Mulberry Bush," but we can't win 'em all. There are no red herrings, it's not a whodunit. It doesn't really matter who he is, just if they can get away. When it becomes clear that the climax will SPOILER take place in the much hyped scariest maze, I thought "duh, should've known" and also "this is perfect." And it's exciting when Natalie makes that badass switch from being the scared prey to insisting on survival.
I have a confession to make. One time in the 1990s I saw a shirtless guy with THE CROW makeup and painted on muscles at a Halloween dance and I decided it would be funny for me and my friend to silently follow him around for an hour or so. Everywhere he went, the soul-less black-dot eyes of our giant paper mache masks of Jeffy and Dolly from Family Circus stared blankly at him. I think eventually he sort of confronted us, and I don't remember him being very mad, but watching this movie made me feel bad about it and wonder if there was something psychologically wrong with me that I would want to do something like that.
Anyway. Maybe it's best we forget that story, friends.
Why don't I distract you with a weird question? Is there such a thing as a public restroom hand dryer so high up on the wall you can stand under it and dry your hair? They have that in this. Does that exist, or did they have to make it up because it was the only stand-in they could think of for the scene that's usually in a shower where the person bows their head and lets the water wash over them to show how troubled they are?
I feel like we've seen more than enough cameos by horror icons and there's no reason to ever give a shit, but Tony Todd's works well for this particular special appearance because he's in one scene as a Hell Fest emcee in sort of a Baron Samedi type costume, and then you hear his voice in automated recordings in mazes as if he's the mascot or the ghost host.
The poster says "From an executive producer of The Walking Dead," but they're referring to Gale Anne Hurd so they oughta say FROM THE PRODUCER OF THE MOTHERFUCKING TERMINATOR.
Another interesting credit I noticed was "The Other mask by Tony Gardner." At first I thought "Just because Michael Myers is 'The Shape' doesn't mean every killer has to have a pretentious unstated name," but then I realized nobody is gonna write a whole script only calling the killer "Killer," so I get it.
Anyway, Gardner was the first zombie to crawl out of a grave in the "Thriller" video, he was involved in creating Daft Punk's helmets and their movie ELECTROMA (which has a really funny makeup gag), he designed makeup for DARKMAN, ARMY OF DARKNESS, FREAKED, and SEED OF CHUCKY, and more recently he designed the mask for HAPPY DEATH DAY. So he knows what he's doing. And it's a cool mask.
This is the second movie for director Gregory Plotkin, if you count the PARANORMAL ACTIVITYs as feature films – he directed part GHOST DIMENSION after co-producing parts 3, 4 and THE MARKED ONES. He's most experienced as an editor, having cut almost all of the PARANORMAL sequels, plus GET OUT, HAPPY DEATH DAY, GAME NIGHT, and this. The screenplay is credited to Seth M. Sherwood (LEATHERFACE) and Blair Butler (POLAROID) and Akela Cooper (Grimm, Luke Cage), story by William Penick & Christopher Sey (SECRETS IN THE WALLS) and Stephen Susco (THE GRUDGE, TEXAS CHAINSAW 3D).
More like this, please. You gotta have some regular horror movies or the arty ones won't have anything to turn their noses up at.