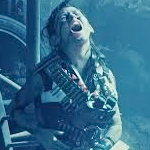 36.15 CODE PÈRE NOËL – a.k.a. WANTED: MR. XMAS, GAME OVER, DIAL CODE SANTA CLAUS, HIDE AND FREAK, or DEADLY GAMES on the German Blu-Ray I rented – is an A+ Christmas action-horror cult movie from 1989 that I can't believe I'd never heard of before. I read about it in the book Yuletide Terror: Christmas Horror on Film and Television edited by Paul Corupe and Kier-La Janisse. That's a small press book I pre-ordered last year and there was some mishap that caused it to be delivered a little after Christmas, so I had it set aside for 11 months, excited to bust it out this year.
As I go through it I've been making a long list of things to check out. This was at the top, but I can't imagine anything else on the list will match it. I was convinced I was sitting on the mother of all Christmas recommendations here and then I asked a friend if he'd ever heard of it and… yeah, there's a new A.G.F.A. restoration of it that was a big hit at Fantastic Fest this year and is even playing here in Seattle at the Grand Illusion this week.
Oh.
Still, I'm so excited to tell you guys about this one. Though it was made a year before HOME ALONE, it combines the kid-defending-his-house-at-Christmas concept with SILENT NIGHT, DEADLY NIGHT killer Santa horror and tinges of Jean-Pierre Jeunet heightened reality. It's so joyous in putting its young hero and his Danny-Cooksey-worthy spikey mullet through kid versions of '80s action tropes that if I didn't know it was from '89 I'd assume it was a tribute movie made by some French answer to Taika Waititi. And yet it's not at all a comedy. It absolutely works on the level of a serious stalk and slash movie, and it's about serious ideas.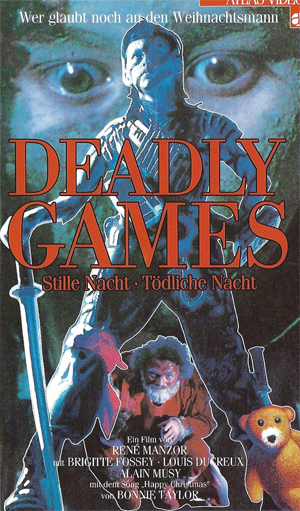 Rambunctious ten year old Thomas (Alain Musy) is, at first glance, a pretty ridiculous character. He's so rich and lives such a spoiled life that at first I assumed his morning routine was taking place in his imagination. He wakes up in the cockpit of a bomber jet (fuck you, Silver Spoons race car bed), is the subject of a workout/suiting up montage (complete with oiled muscles) set to an "Eye of the Tiger" soundalike, stalks and captures his dog J.R. in a remote controlled trap door, and leads his grandpa (Louis Ducreux, THE DOUBLE LIFE OF VERONIQUE) to breakfast in handcuffs.
We'll soon learn that he's not just a brat, though. His Papi gets a kick out of the theatrics, and the two are as close as Charlie and Grandpa Joe. Thomas is also an electronics genius who has built himself a wrist-screen connected to the mansion's surveillance system to try to capture proof of the existence of Santa Claus. He's smart enough that his mom (Brigitte Fossey, CINEMA PARADISO) trusts him to take care of Grandpa, even administer his insulin. He also takes it upon himself to repair her car and take it for a test drive in the park.
But his mom loves that he hasn't grown out of kid stuff, so she gets real concerned when his dumbass friend Pilou (Stephane Legros, REVENGE OF THE MUSKETEERS) tells him Santa Claus isn't real. And she's the manager of a big department store (I assumed owner, but maybe their money comes from elsewhere) so it prompts her to last-minute hire performers for a huge Christmas Eve bash at the store to make sure kids keep believing. I like the irony that she cares so much about the holiday that she causes many people, including herself, to work long hours away from family on Christmas Eve. A little different kind of Scrooge.
The villain (or the monster, or the shark) is played by Patrick Floersheim (BOBBY DEERFIELD, FRANTIC) who is some weirdo, possibly pedophile, who gets the gig as the store's short-notice Santa. We first see him in the city trying to join a children's snowball fight and not understanding it when they run away. It's a brilliant way to show that he doesn't understand boundaries long before he's violently head-butting through a windshield. Thomas is delighted to see who he believes is the real Santa come down his chimney, but things quickly go sour and it becomes a cat and mouse chase.
Thomas might be a horror fan. I spotted CRITTERS and TEXAS CHAINSAW MASSACRE PART 2 among the many posters on his walls, the latter of which I gotta say is not age appropriate. But I also spotted COMMANDO and I think a THUNDERDOME era Mad Max and that's more like who you'd think would be his male role models. You figure he's thinking of RAMBO: FIRST BLOOD PART II or PREDATOR when he's wearing camo face paint and his face is framed in the indoor jungle of a couple potted ferns in the hallway. The mansion supposedly has hundreds of rooms, and he sneaks through various secret passageways, monitoring Santa on his wrist. He tries to find a hiding place for his half-blind grandpa, and to come up with ways to get help. He climbs out a window and across a ledge, which is more harrowing in his home than in most.
When he falls and dangles from the gutter he's animated for a second. The exterior shots of the mansion appear to be a model. These probly stick out more in the high-definition era than they used to, but they give it a certain stylized charm like the stop motions bits in early Tim Burton.
Well after I've bought into the reality of the movie it comes to the most far-fetched (and poetic) idea in the whole thing – that there's a secret chamber in the house filled with all the toys of Thomas's father and grandfather and on and on through many generations. There's a rope bridge going through them and the full scope is never shown, but it appears as big as Willy Wonka's room with the chocolate river.
Musy, who is the son of the film's writer-director René Manzor, is very good. It's heartbreaking to hear him attempting to comfort his grandpa over the walkie-talkie. He keeps explaining to him why things will work out, like a parent would to a worried kid. "So don't worry Grandpa. I have the situation under control," he says, like one of his movie supercops might say, but he says it with a shaky voice. Come to think of it he's like John McClane when he starts to break down. He's also barefoot, which seems normal for a kid playing in his own house, but I winced when he had to run around in the snow.
Yes, like in HOME ALONE he comes up with clever ways to attack the intruder using his toys and stuff. He has to fill his toy grenade with actual gun powder from firecrackers. Here the scenes are more suspense and tension than laughs. And the chase is genuinely scary. There's a moment when he comes face to face with Santa through a window, just like HALLOWEEN: H20! It's a completely unique tone.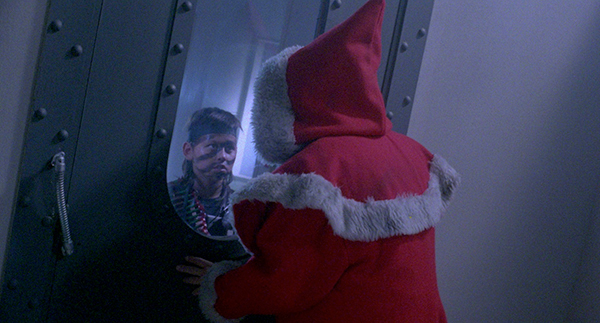 Maybe skip these next two paragraphs if you're totally sold on the movie and will stop at nothing to see it, but I'm about to describe a late scene that best exemplifies what's unique and incredible about it. There's a montage of Thomas performing self-surgery, and then tearfully carrying his (SPOILER) dead dog's body and burying him, marking the grave with a cross made from his plastic knife and sword. It also includes flashbacks of happy memories, and it's set to a song that seems like a perfect synthesis of "contemporary Christmas song" and "power ballad that would be in a Stallone movie" – the lyrics talk both about Christmas and becoming a man. I didn't realize until the credits that it's actually Bonnie Tyler singing, an original song made for the movie.
In a sense this scene has to be considered a parody – it's a perfect, intentional re-creation of tropes from '80s American action movies, but with a skinny little kid and his dog, using toys instead of weapons. But in another sense it's not a parody at all, because it's not silly, it's not laughable, we care about this kid, we're pissed about the death of his dog, and we are actually moved by the ideas in the song. It uses these techniques in a sillier way to make them even stronger.
This was Manzor's second film the first was THE PASSAGE (1986) starring Alain Delon. I have been told 36.15 was not well known in France, but the star is interviewed in Yuletide Terror and he says he's recognized pretty often, so it must have gained a cult following at least. I'm not sure why it's not better known here, but the title doesn't help. The 3615 is the code used to dial into an early message board service called Minitel, so it's kind of a 976-EVIL type title.
I cannot stress enough how much I want people to see this. I was prepared to beg Scream Factory to get on it, but if A.G.F.A. has already restored it I'm sure a new Blu-Ray will be coming from somewhere good.
Manzor really believed HOME ALONE was a ripoff of his movie. The plausibility of it being the inspiration depends entirely on how possible it is that John Hughes could've known about it. I lean toward it being unlikely that Hughes ever even heard of it, but on the other hand Steven Spielberg and George Lucas somehow saw it and hired him to do episodes of Young Indiana Jones.
Whatever the story is, the tone and appeal of the two movies are nothing alike. 36.15 is far more imaginative and far more serious. It's only cute for a little bit. The villain is not a funny buffoon and he never gets hit in the balls. He kills and he bleeds and he's frighteningly human, but he can overpower a little boy and a sick old man.
And even though it's Christmas it doesn't end in sugar plums. That's not to say it's some nihilistic fucked up shit. But the song was sincere: it's about becoming a man. He has a grandfather in his life if not a father, but his idea of manhood seems to come from the same war and police movies we were watching in the '80s. He play acts working out, arresting people, battling people. But his fantasy world butts up against that of this adult sicko who thinks he's a kid too.
It may not be fair to have to grow up at the age of ten, overnight, on Christmas, coming from the most magical and toy-filled playland imaginable to some grim fucked up life-is-horrible shit. To go from Nerf Rambo to really knowing what it feels like to fight to the death.
But that's life. And he's a smart kid. He has the French version of the eye of the tiger. Don't worry Bonnie Tyler, I think he'll make it.