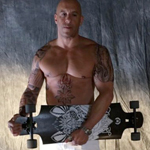 It's weird how long I've been anticipating xXx: RETURN OF XANDER CAGE. I didn't actually like the first one very much other than the lovably ridiculous first chunk before the actual mission starts. The second one starring Ice Cube is a fairly enjoyable B movie, but doesn't live up to part 1 director Rob Cohen's talk before he and Diesel left. He really sparked my imagination in the interview where he said one of the scripts he was developing "takes place in Washington DC, where, I think, our most colorful character will go up against all the grey men. I can see him mountain-biking on the top of the Capitol Dome, where in a domestic context, as opposed to an exotic context, he gets to shake up old George Bush and all that he represents."
Nevertheless, ever since Diesel announced his intention to star in a xXx part 3 ten years ago (!) I've been anxiously awaiting it. And that optimism, though unearned, wasn't wrong. RETURN OF XANDER CAGE (no "THE" for some reason) is just the stupid movie I always wanted out of this series.
I get a kick out of the first xXx's attempt to exploit "extreme sports," an already-probly-kinda-dated-at-that-time gimmick that was abandoned for Ice Cube's character. But Xander Cage brings it back with a vengeance. Off the top of my head I remember him performing: high climbs, jungle skiing (did not know that was a thing), downhill skateboarding, motorcycling (on land and sea), a skydive. This is a movie with intentional car crashes, motorcycle front wheelies, a floating brawl inside a falling plane, and surely other things I'm forgetting.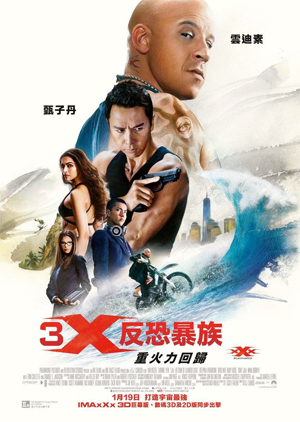 In the goofy opening scene, xXx program founder Gibbons (Samuel L. Jackson, THE RETURN OF SUPERFLY) is involved in a falling satellite disaster while trying to recruit a famous soccer player (Neymar Jr. as himself). The incident was caused by a deadly device called the Pandora's Box, explains the CIA's Jane Marke (Toni Collette, SHAFT) to other intelligence agency people, right before motherfucking Donnie Yen (SPL/KILL ZONE) dives off of a building through a skylight and literally swipes it out of her hand. Marke decides that only the most outrageous, radical, gnarly and x-treme not-your-father's secret agent of all time, Xander Cage (Vin Diesel, BREAKIN' IN THE USA: BREAK DANCING AND ELECTRIC BOOGIE TAUGHT BY THE PROS) could possibly deal with this shit.
One problem: they said in part 2 that he was dead. Solution: he's not dead. Now they say he lives in the Dominican Republic, where he's sort of a Robin Hood figure who performs daring stunts to help the people. Everyone there seems to be on a first name basis with him, too. This is a wonderful sequence but I will admit that I wish he had a crazy beard and dreadlocks like when we meet him again at the beginning of CHRONICLES OF RIDDICK. Or better yet, a funny wig and/or fake mustache. It's not clear why he faked his death or why nobody found him, considering he makes no attempt to change his distinctive looks, other than adding additional tattoos. He even rides a skateboard with the xXx logo on it!
I'm no expert on xXxtinuity, but it seems like they're ignoring the once canonical four-minute DVD extra The Final Chapter: The Death of Xander Cage. In that short, Xander (only shown from the back because he's played by Diesel's stunt double Khristian Lupo) got blown up and the tattooed skin from the back of his neck flew out and landed in the street. That's how they identified him. But now his tattoo is untouched.
Whatever happened, alive and tattooed Xander Cage is convinced to track down Yen's character Xiang and his team of alleged terrorists, but when Marke tries to send him with a squad of badass spec ops soldiers he dumps them out of the plane because he doesn't trust them. She asks if there's anybody he does trust and he says yes and it cuts to Scott Speedman's character from part 2! And everybody in the theater went nuts!
I'm kidding, it goes into a series of new characters that are the kind of inked and pierced thrillseeking x-tremists that Xander would know. One of them is introduced sniping lion hunters, so you like her right away. Xander builds his team and they butt heads with the other team and then they find out maybe they're on the same team but they disagree on what to do with the box.
Channeling the spirit of Rob-Cohen-zeitgeist-thirst it's an aggressively international ensemble. In addition to Chinese Yen and Australian Collette we have India's Deepika Padukone (OM SHANTI OM, PIKU), Chinese-Canadian Korean pop star Kris Wu (JOURNEY TO THE WEST: THE DEMON STRIKES BACK, VALERIAN AND THE CITY OF A THOUSAND PLANETS), Australian model/DJ/VJ Ruby Rose (RESIDENT EVIL: THE FINAL CHAPTER, JOHN WICK CHAPTER 2), Thai martial arts superstar Tony Jaa (TOM-YUM-GOONG/THE PROTECTOR, SPL 2/KILL ZONE 2), English UFC Middleweight Champion Michael Bisping, Scottish actor Rory McCann, and Bulgarian-Canadian model Nina Dobrev (THE PERKS OF BEING A WALLFLOWER, THE FINAL GIRLS). I know this is a way to improve chances at the international box office, but the diverse ensemble is perfect for this movie. It's a cartoonish celebration of the fact that rebels who fight tyrants (as Xander describes himself) exist in all cultures around the world.
There is a plot, but don't worry about that. The important part is the crazy shit that happens. At one point Xander is chasing Yen's character Xiang, both of them on motorcycles. Xian jumps his and water skis pop out of the side and he continues in the water. Xander does the same without seeming surprised. So they end up surfing a big wave on motorcycles.
Some of the characters have their own specialty. For example McCann's character Tennyson is a former stunt car driver, so he's good at crashing vehicles. The funniest one is Wu's character Nicks, because one of his biggest contributions is bumrushing the DJ at a club and knowing what to play to make the dance floor hyped enough to create a distraction.
In case someone is out there who really does love the original xXx, there are some callbacks and what not. Even pushing 50, Xander is irresistible to multiple super model type ladies, so he is implied to have got it on with several of them at a time before he repeats his famous-ish line "The things I do for my country." There is a car that I guess was from the first one that he's reunited with? I did remember the ridiculous oversized fur coat, and appreciated that he had to travel to England to get it back from an ex.
Admittedly I shook my head at some of the jokes. I'm personally of the opinion that the only thing worse than the "freeze frame to slap the names and descriptions of the characters on the screen" technique is the "freeze frame to slap the names and descriptions of the characters on the screen and the last part is a joke," so that had me worried. On the other hand, there are some good laugh lines and the overall tone of the movie – patently absurd but not explicitly comedic – exhibits a great sense of humor.
This is definitely my favorite of the series (so far). It takes the faux-rebellious ridiculousness that I enjoyed in the opening of part 1 and sustains it for a whole movie. It mixes in the mild-anti-authoritarian bent of the second one, with rebellious Xander fighting against crooked spies and ending up sort of on the run instead of lounging on a beach like a sellout. It has much more varied and interesting settings and characters than the first one. And it definitely livens things up by using some of the tricks they learned in the FAST AND FURIOUS series: the ethnically diverse team of colorful specialists, uniting Vin Diesel with characters introduced in the episode he wasn't in, not wasting our time trying to make it grounded.
It lacks the… dare I say substance of the FAST movies, the emotional resonance of the friendships and codes of honor. And Dominic Torretto is a much cooler character than Xander Cage – more serious, more stoic, more honorable. But it's fun to see Diesel goofing around, being silly, and supposedly doing all these crazy skateboard stunts when he's nearly 50 and built like a tree trunk. I mean, I guess he's only a year older than Tony Hawk, but still. He's goin for it.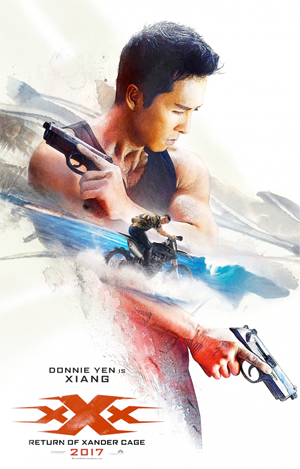 Yen is pretty much the co-lead, and definitely does the most fighting (and English speaking) of any of his American movies. I was forced into the 3D version by limited showtimes, but it was worth it just for all the shots of Yen punching toward the camera. And it's funny to see him fighting Diesel in freeway traffic because it's almost a remake of a scene in his 2014 film KUNG FU KILLER.
(In fact, they put this in the same auditorium where they show the Hong Kong imports, so it was the same screen I saw that and IP MAN 3 on. The Donnie Yen screen.)
Jaa doesn't get to do as much fighting – his trademark knee and elbow smashes are weirdly absent – but I like that his smiling, dancing goofball character (apparently named "Talon"!) seems to capture Jaa's real life personality more than his usual earnest screen persona.
Like the FAST series, this seems to have become Diesel's baby, producing it without even original producer Neal Moritz on board, let alone original director Rob Cohen. For this one he went with director D.J. Caruso (DISTURBIA, TAKING LIVES, THE SALTON SEA) and screenwriter F. Scott Frazier, who did the John Cusack movie THE NUMBERS STATION and is supposed to be doing the movie version of the video game Asteroids. They've done a good job of getting this series where it needed to be. Watching it on "America First" Inauguration Day I was extra grateful for its shameless internationalism and, more importantly, the big dumb smile it put on my face.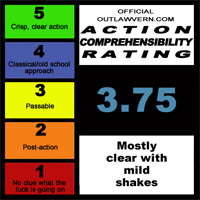 SPOILER-FILLED ADDENDUM: One of the things I always wished for in the decade of waiting for this movie was a cameo by Ice Cube as his replacement-for-Vin-Diesel character Darrius Stone. The movie delivers, first in a part that Cube seems to have shot separately from the rest of the cast, but then he actually gets a scene with Diesel where they hug and imply that they could be a team in a potential part 4. It's a bummer that after keeping it secret all this time they made it the focus of TV and internet ads one day before release. It was still a thrill to see, but I feel like I was deprived of excitement on par with the guy in front of me at X-MEN 3 who flipped out when Vinnie Jones said "I'm the Juggernaut, bitch!"
The other thing that happens at the end – Gibbons being not dead – is totally predictable and yet would've been disappointing if it didn't happen. I think it's funny that I didn't understand his reason for faking his death (other than limiting Jackson's schedule) and that it's basically the same thing that happens with Nick Fury, which they seem to be acknowledging by randomly tinting one lens of his glasses. In some movies such ludicrousness would be a flaw, but in a xXx it's what you come for.
Sequel requests:
1. Bring back Asia Argento and/or Xzibit.
2. It would be cool if Xander had a mohawk or something
3. It's never too late to ride a mountain bike up the Capitol Dome
4. underwater monster trucks