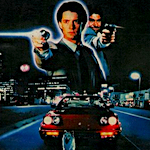 Many of you have been trying to tell me this for years, and it has finally gotten through to me: THE HIDDEN is incredible. It's kind of a sci-fi/horror/action hybrid, and it hits hard on all counts. Makes sense that it's director Jack Sholder's bridge between the horror of A NIGHTMARE ON ELM STREET 2: FREDDY'S REVENGE and the action of RENEGADES, but I'd argue it's more cinematic than either of those. It opens with a thrilling, Friedkin-esque car chase after a buttoned-up looking guy in wire rimmed glasses (Chris Mulkey, FIRST BLOOD, BROKEN ARROW, BARE KNUCKLES, THE PURGE, THE STANDOFF AT SPARROW CREEK) shoots up a bank. He stays very calm, sometimes mildly amused as he tears through L.A. in a Ferrari, occasionally running over people (including a guy in a wheelchair), blaring a heavy metal tape, sometimes bopping his head a little. Police absolutely riddle him with bullets and destroy his car at a road block – he steps out and laughs before getting blown up. Even that doesn't kill him.
It does put him in the hospital, where a doctor is offended by how the detectives talk about this seriously injured patient. It probly makes more sense to him after Detective Willis (Ed O'Ross, LETHAL WEAPON, FULL METAL JACKET, ACTION JACKSON, RED HEAT) spews a monologue about all the murders, injuries and robberies the guy is responsible for, ending with, "Six of the ones he killed he carved up with a butcher knife. Two of them were kids. He did all that in two weeks. If anybody deserves to go that way it sure to hell was him." (read the rest of this shit…)
VERN has a new action-horror novel out called WORM ON A HOOK! He has been reviewing movies since 1999 and is the author of the film criticism books Seagalogy: A Study of the Ass-Kicking Films of Steven Seagal and Yippee Ki-Yay Moviegoer!: Writings on Bruce Willis, Badass Cinema and Other Important Topics as well as the crime novel Niketown.