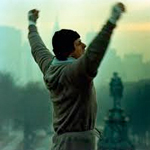 I bet ROCKY is one of these movies that's become so famous, so iconic – it won best picture, it made a stairway famous, it inspired a statue, it has five sequels, now a spin-off, and catchy theme music that everyone knows, that's used in a million parodies – that some of the young people figure they can already imagine what it is, they don't bother to see it. In fact, maybe my bet should be with them over the outcome of the big fight at the end.
It opens with a small fight. "The Italian Stallion" Rocky Balboa (Sylvester Stallone) vs. Spider Rico (Pedro Lovell) inside a small church. They beat the pulp out of each other and then they're laying in back, they get paid about sixty bucks between them, and are told the doctor will be there in about 20 minutes. And they're not mad about it. That's their life.
This is part of what makes the character of Rocky so appealing. He lives in a slum in a small apartment with taped up windows, he doesn't own a car, his three best friends seem to be an asshole named Paulie (Burt Young, THE KILLER ELITE) and his two turtles Cuff and Link, who he bought while hitting on Paulie's painfully-shy sister Adrian (Talia Shire, RAD), who works at a pet shop. He has to work as a collector for Mr. Gazzo (Joe MANIAC Spinell) but he's not good at it because he feels sorry for the people. The gym owner Mick (Burgess Meredith, G.I. JOE: THE MOVIE) won't talk to him and kicked him out of his locker to make room for a fighter he thinks might have a future. Rocky's life is pretty shitty, but he rarely complains or mopes about it. He talks positively (if self-deprecatingly) and makes up terrible jokes to tell Adrian, to try to get her to say words to him. The people in his life, such as Adrian's boss Gloria (Jane Marla Robbins, THE WEREWOLF OF WASHINGTON) seem about 25% charmed by him and 75% annoyed. But that doesn't stop him from talking their ears off, showing them wallet-sized clippings from his matches and telling them they shoulda seen it.
Yes, it's a sports movie, but first it's a courtship movie. There's a long section devoted to his first date with Adrian. When people talk about good dialogue in movies usually it means witty people trading jabs back and forth. This is the opposite. This is good dialogue for a dumb guy blathering on while a woman barely responds. I wonder if anyone has ever counted how many times he says "Y'know?" in this movie. Here's what he has to say when he introduces her to Cuff and Link:
"Sure, I know you sold 'em to me. You were workin' at that pet shop. First day you was there, I bought both these animals. Sure, I remember that. I bought this bowl and I bought the animals themselves, the food, the marbles that go on the bottom there. Remember that mountain? I had to get rid of it, cos they kept fallin' over and flippin'. Yo, why don't you come on over here and sit down? It's a nice couch. I don't know… There's big bugs in there, you know? It's safer over here. You wanna sit down?"
These are the kinds of things he talks about.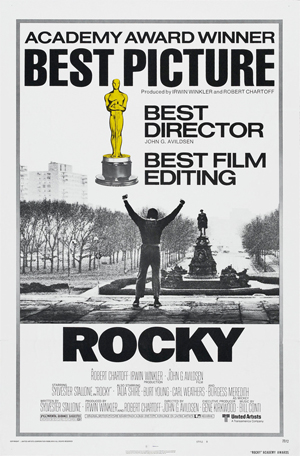 Rocky and Adrian are two awkward people who have been told they're losers, and they find each other and "fill gaps," Rocky weirdly explains. At first it's uncomfortable because Adrian is so timid that you wonder if he is just harassing her and she doesn't know how to get rid of him. She only ends up on the date with him after Paulie lies to Rocky that she agreed to it, and then Paulie acts like a total asshole (picking up the Thanksgiving turkey she's cooking and walking around eating it like a caveman) until Rocky begs her to go with him. After their romantic time at the closed ice skating rink with the zamboni driver they paid to let them skate for ten minutes counting down the whole time, Rocky invites her into his apartment. She keeps telling him no and you have to recognize that she's afraid of the possibility that this guy she barely knows who's friends with her scumbag brother might rape her.
She's a big nerd, and Paulie always gives her shit about not being married when she's "pushing thirty." (Like that prick will ever even find a girlfriend.) Of course Rocky gives her a makeover by taking off her hat and glasses and telling her she's pretty (and then she doesn't have to wear glasses anymore?), but she doesn't magically turn confident. She has to slowly get comfortable with him and then she is able to finally find the courage to stand up to her brother and tell him off for saying she holds him back and she owes him when she's the one who fuckin cooks for him and takes care of him like she's his mom.
Paulie always wants something out of Rocky. He wants a hookup for a job with Mr. Gazzo or he wants to get him an interview so he can be on TV with him or he wants to be his trainer even though he doesn't know anything about boxing. He wants to be a hanger-on. He does accidentally contribute by pissing Rocky off in his workplace, a meatlocker, enough that he starts punching the hanging cow carcasses, getting his knuckles bloody. I doubt this is actually a good training method, since he doesn't continue with it, but it sure makes for a good gimmick on his TV interview.
On the negative side, Paulie convinces him to wear the logo for the meat company on his robe, which surprises everybody and sets an unfortunate precedent. (I'm sure sponsorships like that already existed in boxing, but the movie acts like it's a new invention.)
Some of ROCKY's underdog appeal is by design of his rival within the movie, heavyweight champion Apollo Creed (Carl Weathers, ACTION JACKSON). When his opponent drops out of a big title fight on the Bicentennial, Creed comes up with the marketing gimmick of giving a shot to an unknown club fighter, a tribute to the American Dream and the Land of Opportunity and all that. Rocky gets the shot by the luck of having "Italian" in his nickname and Creed knowing that Columbus was Italian.
Creed is a cool character because he's kind of an asshole but not a bad guy. Clearly inspired by Muhammad Ali, he's bragadocious and insulting as a gimmick, but also very smart and usually able to back up his boasts.
There's a great scene before Rocky gets his shot, where the bartender Andy (Don Sherman) sees Creed on TV and refers to him as a "jig clown." Rocky doesn't take the racial bait, but shames him for calling a great champion a "clown." Even later when they're opponents doing interviews together and the champ is clowning him, Rocky will only say complimentary things back. I don't think he knows how to not be honest.
It's not really explicit, but I think Creed is smart enough as a promoter to know that some white people like Andy want to see a white guy, any white guy, take out Apollo Creed, the proud black man who has a big mouth and takes no shit from nobody. And I think Rocky is just too naive to play into it. He genuinely is a humble "ham and egger" training to respectfully fight against a guy whose training facility is accurately described by the press as "palatial." There's no sign of racial or even personal animosity on his part. For what it's worth, his block is so white that even the a capella group on the corner are all Caucasian (led by Frank Stallone), but when he comes home he puts on a Kool and the Gang record ("Summer Madness," the song that DJ Jazzy Jeff and the Fresh Prince sampled for "Summertime.")
Obviously Rocky Balboa is the character Stallone is most identified with besides Rambo. Maybe it was luck that both of those series captured the zeitgeist the way they did, but they probly couldn't have done it without their first movies being thoughtfully structured and with thorough performances by Stallone. Of course Stallone wrote ROCKY as an acting vehicle for himself, while he only rewrote FIRST BLOOD from a script adapted from a book. But one thing I've always loved about that movie is that Rambo is such an interior character, and then at the end he gets his chance to explode outward and tell Trautman everything he's upset about and blubber and get it all out. Only then is he willing to turn himself in.
Stallone had already done something like that in ROCKY. Rocky is a very talkative character but alot of it is just dumb jibber-jabber, he doesn't always admit what he's feeling. So he gets kind of an end-of-FIRST-BLOOD moment in the scene where Mick comes to his apartment and tries to convince him to let him be his manager. Rocky waits for Mick to leave and then goes into an angry tirade, which we have not seen from him up until this point. He gets out all his bitterness about Mick not respecting him and not letting him keep his locker and never coming to his apartment until now that he has this opportunity, and his fears that he's not up to this and he never got a chance to be in his prime and now he's gonna get his face pushed in. And Mick hears all this echoing out of the apartment onto the street as he walks away.
Then, when he's done, Rocky calms down and goes after Mick. We watch it from down the block. He runs up to him and embraces him and shakes his hand. He just had to get all that out, and now he's willing to take the offer.
Mick is another great character. A yelling, spitting, growling old grouch who talks like Popeye, insults everybody to their face and is impossible not to find adorable. He's 100% believable as a guy who would push boxers beyond their limits, because they both fear his wrath and want his love.
And so they train hard. ROCKY is also hugely influential as the ultimate training montage movie. The score by Bill Conti (and the song "Gonna Fly Now") are still powerful today, even after being used in so many comedic contexts. But I think it's director John G. Avildsen's grimy-but-admiring view of Philadelphia that really makes those scenes sing. Rocky's got his grey sweatshirt, running on concrete, under smog-filled skies, and it's still beautiful. He doesn't need a palatial facility, he has the city itself, and the city in turn has him as its representative and inspiration.
Also I like the part where a guy throws him an orange. I always wish I had a guy to throw me an orange. Maybe some day.
But the best thing about ROCKY is that it's a heartwarming underdog story where he doesn't (SPOILER) become the champ. The most iconic image from the movie – the one on the poster – is a freeze-frame of Rocky holding his arms up in victory… for having had a good workout. In the age of Kanye West it's easy to find examples of self-actualization ego shit that's all about claiming to be the Greatest Of All Time. Everybody wants to be Michael Jordan meets Bruce Lee meets Alexander the Great meets Steve Jobs, and if they use The Secret and quote Malcolm Gladwell and talk about Greatness and shit then it will manifest itself, at least in their own minds. One reason I love ROCKY is because it's not about that, he's not even trying to be the King of the World. He doesn't think he can beat the champ and the movie doesn't tell us that he can if he believes in himself enough. No, but he follows his dream and he works hard and he gets lucky and gets an opportunity and he does his very best and he accomplishes what he wants, which is to make it through the 15 rounds without getting knocked out. Just to show that he's not a "bum." And as they announce the decision (split decision against him) he doesn't even pay attention, he's just looking for his girlfriend.
This is a good inspirational, aspirational movie for small timers like me who find ourselves still grinding away chasing a dream even though the money's not coming and the youth's not staying. We want to make something of ourselves, we want to do something we can be proud of, but we don't have to be carried out with a team of sexy dancers dressed up as glittery statues of liberty to be happy. I don't have to be coming to you from a palatial movie reviewing facility. It's not about rags to riches, it's about determination and the satisfaction of accomplishment. In the movie we keep hearing that Rocky is not a very skilled fighter, and I'm sure the same was said about Stallone as a writer. I know for sure it has been said about his acting all throughout his career. And he'll probly never play Hamlet and may or may not (as he's been wanting to for years) direct a biopic of Edgar Allan Poe, but through single-minded hard work he has crafted himself into a unique, beloved movie personality who every once in a while surprises everybody as a director or writer.
ROCKY won Oscars for best picture, best director and best editing. Most best pictures automatically get best editing, but let's give it up to Richard Halsey and Scott Conrad for those training montages. (Neither would go on to work on the ROCKY sequels, but Conrad would do Seagal's URBAN JUSTICE, if that's any consolation.) ROCKY was also nominated for actor, actress, supporting actor x 2 (both Meredith and Young), original screenplay, sound and original song ("Gonna Fly Now"). Since it beat out ALL THE PRESIDENT'S MEN, NETWORK and TAXI DRIVER for best picture maybe some would say it was the bullshit middlebrow crowdpleaser of the bunch, but shit. All these years later it holds up. Stallone was only the third person ever to be nominated for acting and writing in the same year, after Charles Chaplin and Orson Welles. So take that, whoever at Cracked.com edited that thing I wrote that one time and added some joke about Stallone being dumb. He was the Charlie Chaplin and Orson Welles of the '70s.
By the way, not that it didn't get enough awards, but it's kinda bullshit that "Gonna Fly Now" lost to this:
Sorry Whistler, I'm just tellin it like it is. It would've been more respectable to lose to this song from THE OMEN which was also nominated:
That's kinda cool that a song like that would get nominated. I wonder if there was a disco version of that.
On the other hand I gotta be honest and say it's weird that Avildsen would win best director in the year of TAXI DRIVER. But Scorsese wasn't even nominated! Anyway, Avildsen did a fantastic job too, he deserves the recognition. Unfortunately none of his movies after that made much of a mark until THE KARATE KID in 1984. I know that's a beloved movie, but in my opinion it's not of the same caliber as ROCKY. Avildsen also did KARATE KIDs II and III, but didn't return to the ROCKY series until part V in 1990. It's also important to note that he directed the 1999 Jean-Claude Van Damme film DESERT HEAT (aka INFERNO). I do believe that makes Avildsen the only best director winner to helm a Van Damme film. The closest anyone else has come is Franklin J. Schaffner (PATTON) when he directed a movie called LIONHEART, but it wasn't the Van Damme one. Nice try, Schaffner.
Stallone, however, did write for (and kill) Jean-Claude Van Damme in EXPENDABLES 2. So he's fulfilled his potential.
Anyway, gotta go. Gonna fly now.