According to internet custom, a CONAN review has to start with 2-4 paragraphs about Robert E. Howard and/or Conan comics from the '80s. Well I can't do it 'cause I never read a word that guy wrote, unless you count the titles. I never even saw that movie where Vincent D'Onofrio plays him and he's in love with Renee Zelweger.
Some day I'll read some of his stories and still not watch that movie but for now my connection to Conan is that it's an all-time classic Arnold Schwarzenegger/John Milius movie and a not-as-good sequel. I knew this new one had no chance of competing with that and wasn't really a remake other than of the logo. So I just hoped for something better than KULL THE CONQUEROR.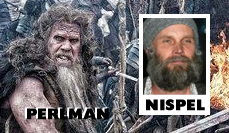 I thought Kull was supposed to be Conan's pops or something, but I guess that's Corin. Ron Perlman plays Corin as a rugged viking type, or possibly as an autobiographical character for director Marcus Nispel (various unconscionable remakes, PATHFINDER). We see Corin in a nice prologue about Conan's birth in battle: his pregnant mother has been fatally wounded, and being Conan's mom she's a tough lady, so she says fuck it, cut me open so I can see this fuckin thing I've been carting around all these months. So Corin gives her a c-section by sword. My favorite touch in this scene is that instead of giving her a stick or something to bite down on he gives her his own hand. That's how they fuckin do it in Cimmeria, all right? So the movie had my interest. Any movie that starts with Ron Perlman holding up a fucked up lump of baby LION KING style in the middle of a battlefield can't be written off immediately.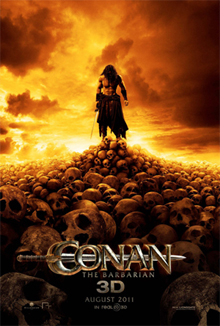 As a Barbarian youth, Conan practices his sword hard and wants to prove himself, but Corin is so skeptical he almost doesn't let the kid enter the traditional race the young men have where first prize is to be allowed to go to war. When li'l Conan not only (SPOILER) wins the race but returns holding the severed heads of three attackers it's almost too much, even Corin seems creeped out by it. His son is truly a barbarian among Barbarians.
He's proven himself, but life is not all strawberries and forging swords. All fantasy movie heroes have to have their villages burned down and their parents killed. That's just how it works. Doing the honors this time is some wizard guy called Khalar Zym (played by Stephen Lang, Colonel Quaritch from AVATAR, although I didn't realize that until looking it up just now). He's been traveling around the world collecting a bunch of bones from a magic mask that was divided up among– well, it's a long story that Morgan Freeman narrates at the beginning and that somebody else narrates at the beginning of the first LORD OF THE RINGS but with rings instead of bones. Long story short: kill Corin, magic mask, turn into god, etc.
Li'l Conan does what he can to try to save his old man, including chopping some guy's nose off and making the guy yell "My nose!" like a Gino Felino victim. Zym says "This is your son? I like him!"
Probly shouldn't have let him live, though, 'cause Conan grows up traveling around Hyboria (I think it's called), experimenting with banditry, maturing into musclebound Jason Momoa and searching for the prick who killed his father. And not just to make him apologize, in my opinion. We come across Conan and his buddy Artus (Nonso Anozie) as they're attacking a caravan and freeing their slaves (a bunch of beautiful topless girls in cages). The slaves are ungrateful like What, you're gonna leave us out here in the middle of nowhere? so Conan laughs and next thing you know it's a Barbarian party cruise, Conan and a bunch of naked women taking his boat to all the hot drinking ports. What I'm saying is Conan lives a pretty good life, all things considered. At least between adventures, in the off season or whatever.
I like all that stuff. Once the plot gets going, that part's more of a blur to me. The action scenes are typical of Nispel – messy and uninvolving, not absolutely horrendous but not good. A couple of times he uses the dreaded blur-o-vision vibrocam, an especially boneheaded choice in a 3D movie.
At least there's some color in this one. It's not all grey like PATHFINDER. I wonder why he didn't use Daniel Pearl, the cinematographer from the original TEXAS CHAIN SAW who did his previous movies? This time he uses Thomas Kloss, whose last feature film was SHOWTIME starring Eddie Murphy. I mean he did fine, better than most of the CONAN rip-offs in the '80s I guess. But I think if you're doing one now it would be a good time to do, like, a way better job, instead of just better. I don't know.
By the way, real imaginative getting Morgan Freeman as the narrator, guys. That's what I call thinking inside the box with about two or three extra layers of box around the original box to make sure that none of your thinking leaks outside of the box at all because that would be bad. I would've got Busta Rhymes.
The heart of the story seems like it should be Conan's relationship with Tamara (Rachel Nichols from GI JOE and P2), a pure blood princess or something that he rescues because Zym needs her to make that magic mask work (yeah, he's not a god yet, turns out he's been working on this project longer than Conan's been working on revenge). There's some funny princess-and-the-barbarian interaction at first. They have different ideas of etiquette in their cultures, so she's surprised, for example, when it's time to dismount so he says "Get off" and shoves her off his horse. In her culture he'd have to throw a "m'lady" in there. Later he says she's dressed like a harlot, she tries to score points with modern audiences by saying he only knows prostitutes, implying he comes from a tribe of woman-haters. But he wins that battle by explaining that Cimmerian women dress as warriors. He was calling her a sissy, not a ho.
This could be a good buddy movie type relationship if they kept playing with the contrast between the two, but she kind of lets it go and becomes more of a generic princess in distress. On the positive side she's not a total whiner, and also they don't make her do a bunch of sword fights just to make it seem modern.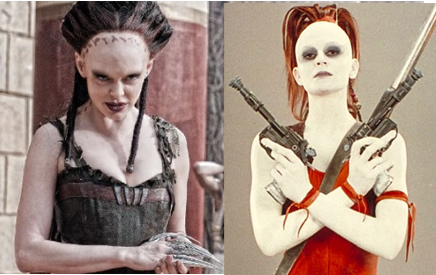 The other major female character is Zym's weirdo daughter Marique, a sorceress and PHANTOM MENACE costume enthusiast played by Rose MacGowan. I didn't really like the way she did the character, but at least she seems like she's having fun, I guess. She can identify people's lineage by smelling their blood. Those skills would probly come in handy in the modern world if she was a crime scene investigator or something. Instead she uses it to help her dad do a sacrifice so that the mask can attach to him, and something about raising their mother from the dead or something. I forget what happened with all that. I don't think they pulled it off.
I do remember that Zym told Conan "I don't like you anymore" and I questioned how he remembered that line that he said like 25 years ago or how he expected Conan to remember it. Unless he didn't and it was a private joke between him and the audience. I don't know. I guess I don't care.
Momoa is pretty good and has a pretty cool looking scar over one eye. He's kind of charming and slightly sinister, the hero who enjoys shedding blood a little too much for you to be comfortable with him. He's maybe not different enough from Schwarzenegger to avoid comparisons, but he's a good character. I would've liked seeing him in more, better-directed adventures. (yeah yeah yeah, HBO show, I know. Leave me alone, throneys.)
This is kindy of a shitty movie, kind of dull, but okay. I like some of the cast, some of the story, there are plenty of parts I liked and reasons I wanted to like it. He does a good move on the guy whose nose he cut off, he smacks a horse with a giant chain, he fights a squid, etc. But it's not great storytelling like the original and not some insane new take on it either. I wish they'd hired a better director like maybe Alexandre Aja or somebody to do it. Or even if they had gotten Brett Ratner like they tried to, he might've done it a little better. But I guess not that much better, unless he convinced Chris Tucker to be in it as Thulsa Dume. But that probly wouldn't've happened, so I shouldn't stress about it, in my opinion.
As for the fake 3D (done with computer mockups instead of actually shooting at two angles like somebody who was trying to do a good job) it looks more dimensional than GREEN HORNET or HARRY POTTER, so it's not the worst I've seen. But it's comically unconvincing at times. Yes, it looks like a series of flat planes set up like cardboard cutouts, but also it keeps having distracting protrusions –why is the hilt of Conan's sword sticking out so far? Why is the ground shifting underneath Conan's feet? I think there were 4 different scenes where I found myself staring at some character's nose, because that was the only part they made stick out noticeably. This must be what everybody was complaining about with CLASH OF THE TITANS.
I blew it, too, because I could've seen it in 2D but the listings were wrong. Mistakenly convinced it wasn't playing 2D downtown I quizzed Drew McWeeny about how bad it was. He told me "It looks like View Master 3D as utilized by Nazi War Criminals." Obviously that should be on the poster and obviously it convinced me to give in and see it that way. He said it was a very aggressive, poking at you type of 3D, which he meant as a criticism but it sounds like the type of 3D I prefer. Unfortunately, I didn't agree that this was that.
Some directors intentionally use this shitty post-production fake 3D instead of the real deal. Joe Johnston, who shamed our democracy and The Greatest Generation by releasing CAPTAIN AMERICA in fake 3D, explained how he rationalized it to himself after testing out actual 3D:
"The cameras and their necessary hard and software made up one of the most cumbersome and unwieldly packages I've ever had the misfortune to work with. I couldn't move the camera at a high rate of speed, I couldn't fit it through tight spaces, lens changes took 45 minutes…if the two lenses weren't perfectly calibrated to the exact same focal plane, the shot was unwatchable…"
Okay, fair enough. It's hard to do. But maybe instead of weighing "do we do the hard work of using those big cameras, or do we do shitty fake 3D?" you should be weighing "do we do the hard work of using those big cameras, or do we not do it in 3D?"
He continues:
"It's harder to fast cut an action sequence because your eye needs time to re-establish the depth of each shot…"
So, what, you did the fast cuts that look bad in 3D, but it's okay because your 3D looks bad anyway? I think that is what he's arguing because later in the interview he says:
"I find that after 20 minutes, I forget I'm watching 3D anyway."
So that kills my theory that they've been shown some impressive tests but haven't actually sat through a movie done up like this. No, they have, they just figure it's supposed to look bad.
I don't know how long Hollywood is gonna hang on to this, but it's ridiculous. They fucked up. They shat where they ate. If they'd saved 3D for the movies where the filmatists really believed in it and were willing to expend effort and created something the audience could see in actual 3D then I don't think there'd be such a backlash against it. Most of the movies released in 3D this summer did better in 2D, so it's not gonna inflate their box office anymore. Eventually they're gonna have to abandon it or, like, do a good job.
* * *
So anyway, the big question is if CONAN THE BARBARIAN FAKE 3D 2011 met my standards or not. Was it better than KULL THE CONQUEROR?
Well, the problem is I don't know, I don't remember KULL THE CONQUEROR that well. I'm gonna have to watch it again. I can say that this CONAN, while not as good as the original classic, or the silly sequel, or WOLFHOUND from a couple years ago, or BEASTMASTER, is honestly better than most of the sword and sorcery movies from the '80s that I've seen. Most of those are just as muddled but way less exciting. This is probly above average for the genre, in all fairness.
But you know what? We're civilized. We're not Barbarians. We can do better than above average. Let's do an actual good one next time.
This entry was posted on Sunday, August 21st, 2011 at 10:58 pm and is filed under
Fantasy/Swords
,
Reviews
. You can follow any responses to this entry through the
RSS 2.0
feed. You can skip to the end and leave a response. Pinging is currently not allowed.