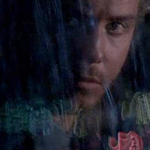 Michael Mann feature #4 is MANHUNTER. Instead of a moody portrait of a thief like in THIEF he does one of a profiler trying to identify a serial killer. This is of course Mann's adaptation of Thomas Harris's Red Dragon, the pre-SILENCE OF THE LAMBS story of a guy chasing a killer called "The Tooth Fairy" after having caught Hannibal Lecktor (that's how they spell it when he's played by Brian Cox). William Petersen (THE SKULLS) plays Will Graham, who FBI agent Jack Crawford (Dennis Farina, CODE OF SILENCE) nudges into the investigation by showing him some crime scene photos and making him feel bad. That was a pretty shitty thing to do because Will is just starting to get his life back together after getting inside the mind of Lecktor also got him inside the rooms of a mental hospital.
"You're supposed to be his friend. Why didn't you leave him alone?" Will's wife Molly (Kim Greist, C.H.U.D.) asks resignedly.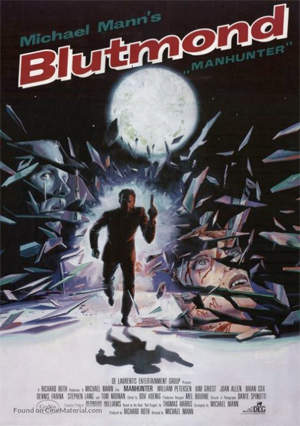 This is a story of professional brilliance. Not the type that makes speeches and proudly spits out lingo and statistics (see: ALEX CROSS), but the quiet, intensely thoughtful, almost shy type that knows every odd angle to consider and stays persistent even as others think he's racing toward a dead end. He's the type of investigator – not as commonly seen in movies and TV back then, if at all – who goes to the scene of the crime alone, sits on the floor, looks in the windows, walks up the stairs talking to the killer about what he did. "Didn'tchya? Didn'tchya you sonofabitch?" He watches the family's home videos over and over and over again and broods and percolates until the answers come to him.
Crawford is the procedure part of the investigation. Sometimes he questions Graham and tries to steer him in different directions, but mostly he follows him, wide-eyed, constantly at the ready to point to some guys and tell them you do this, you do that, you go with him, or get on the phone and call in whatever experts or backup or tests or answers they need. I've never seen a movie that paid such attention to speedy transportation during a murder investigation. He's always calling in the Lear jet or helicopter to get Graham where he needs to be ASAP. No time for long drives. One of the most exciting scenes is when they've snuck a toilet paper note out of Lecktor's cell and they're running up and down a hallway to different labs trying to get as much info out of it as they can before they have to put it back in Lecktor's book without him noticing.
But my favorite sequence is less forensics and more emotions. Graham sits on the dock with Molly  after the family has been threatened and uprooted by his choice to take the gig. She keeps asking questions like "Where are things?" and "What's next?" that sound like she's talking about their relationship and their lives, but his answers are always about the case. At first I thought he was misreading her, but it turns out they are on the same page, she gets it, or at least has learned to accept it. But he surprises her by being the one to say that it has to stop after this. And then he convinces her to go to her dad's in Montana, "and I'll come up and get you afterwards." The sequence crescendos in the next scene, a THIEF-esque stunningly textured look at Graham staring out the window of a diner on a rainy night. There's activity in the diner but his mind is outside floating through the city ready for a one-on-one. "It's just you and me now, sport," he says. "I'm gonna find you, god damn it." And you can feel that it's the profiler version of the "Oh Shit, It's On!" moment of badassery.
Also great: the scene where he finally tells the story of what happened with him and Lecktor… to his young son Kevin (David Seaman, THE NEW ADVENTURES OF PIPPI LONGSTOCKING) while they're grocery shopping. We get a breakthrough in the crucial familial relationship at the center of the story and at the same time an enlightening piece of backstory.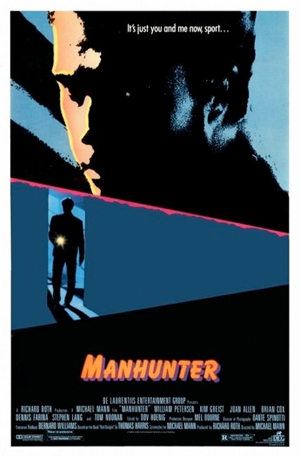 It's interesting that Petersen stars in both this and TO LIVE AND DIE IN L.A., William Friedkin's Secret Service procedural that's way more action-oriented but equally slathered in uncut 1980s stylishness. MANHUNTER is also a relative of the Mann-produced Miami Vice, with its mix of gloomy keyboard score and pop songs, its potent, broody atmosphere and artful rather than dated ogling of the era's clothes, cars and furnishings. And at one point it made me think of one of my other favorite icons of '80s style, Brian DePalma's SCARFACE, but only because they stay in a house with a giant beach mural.
The visuals are especially stunning once Mann steps into the private world of the killer, Francis Dollarhyde (Tom Noonan, LATE PHASES). He's shy and secluded due not only to his evil activities but his shame over his disfigured mouth. He's some sort of photographer and his apartment is stunningly designed with floor to ceiling photos of outer space and the surface of the moon. Instead of a suspicious white serial killer van he drives a cool one with round submarine style side windows. One of the doors in his house has three round windows too. I'm a little wary of this now-cliche of serial killers with great style and imagination, when I suspect most of the real ones are just filthy broken people in houses that smell like animal pee. But I think Mann sort of invented this type of exoticization, at least in its cinematic form, so he was trying something new, not perpetuating something old.
Noonan is great, as always, and really puts that combination of his startling size and gentle demeanor to good use. We've seen what he's all about (including kidnapping a reporter [Stephen Lang, BAND OF THE HAND] to rant to and then roll in a wheelchair into a parking garage while on fire) before we see him in the workplace, where he manages to pass as a gentle giant. He awkwardly convinces blind co-worker Reba (Joan Allen, DEATH RACE, FACE/OFF) to get a ride home with him, and she ends up at his place drinking a gin and tonic that he prepared for her. It's so scary and gross and then there's a stunning twist where not only does her cocktail not seem to be drugged, but she makes a move on him and they end up in bed, consensually. With a song playing, no less! I mean, kind of a dark Leonard Cohen-y sounding song ("This Big Hush" by Shriekback), but still, it plays almost like a normal sex scene.
The next morning, as they stand on a dock gorgeously silhouetted against the sunset and talking quietly, you contemplate what's going on in his mind, whether he's thinking maybe he can make this work, and leave all the murdering-of-families behind.
You know what's a weird scene? When Reba is brought in to see a sedated tiger, and she rubs her hand across his fur, and his face, even pushing his lip aside and touching the teeth. And then she lays on him and hears his heart. It's a symbol for the danger she's about to flirt with by hanging around Francis, but just on a literal level it's kind of fucking terrifying. And it sure as hell looks like they used an actual sedated tiger, not a fake one. Knowing Mann either it was a real tiger or there was a real tiger hired as a consultant to teach the fake one how to do real tiger stuff.
I have never really gotten into these Thomas Harris joints that everybody loves, and hadn't seen this since the VHS days, so it was nice to revisit now that I have more taste and now that there are Blu-Rays. (I chose to watch the theatrical cut, but there's a director's cut also included.) This is a good example of Mann's techniques turning a pretty normal story into a trip through time. The style and the mood and the attention to detail are so strong that you feel like you're there in the middle of it, in a different era, a different world, witness to a collision between spacey psychopathy and science-and-logic-based expertise; between two weird, obsessed, introverted men who are both struggling to make it work with women and who share a mutual friend who is in jail and slicks his hair back and is really smart but a total dick.
Mann wanted to keep the book's title, but producer Dino De Laurentiis insisted on changing it because YEAR OF THE DRAGON bombed. Dragon titles were bad luck I guess. Admittedly MANHUNTER is more generic, but I like how it could describe either the hero or the villain, fitting with the theme that they reflect each other. Both are obsessed and introverted, causing problems with their relationships, and Will has to think like Francis in order to catch him, so they blend together. Who manhunts the manhunters?