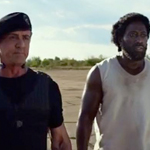 THE EXPENDABLES 3 is another Expendables movie, like any other. It's got a cast that indicates it should be the ultimate action movie, but ends up being penultimate at best. It's a weird mix of satisfying appearance of favorite faces and tropes and disappointing execution of these elements. I call that feeling satisppointment, or expendablation. Just like the others I enjoyed it, but with a nagging feeling that this should be something actually great.
But the first stretch had me thinking it might blow the other ones out of the water. It opens mid-mission as our old Expendapals Barney (Sylvester Stallone), Lee Christmas (Jason Statham), Gunner (Dolph Lundgren) and Toll Road (Randy Couture) are in a chopper chasing after a Russian prison transfer train to bust out an original team member who's been locked up for 8 years. That prisoner is none other than Wesley The Daywalker Snipes as "Doctor Death," and it's an excellent welcome home party for the man. He's got a crazy beard and hair and a spaced out look in his eye, and instead of going with the rescue party he runs across the train, does a slide and a bunch of acrobatics, kills a bunch of his captors and causes the train to crash into the bastard in charge.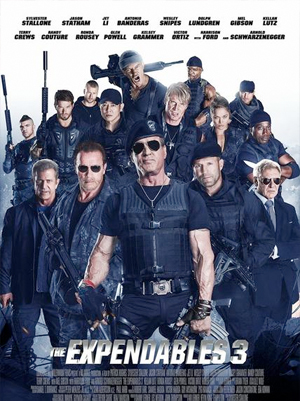 Snipes is funny and crazy and on their next mission his stunt double does a bunch of parkour and he does some Blade type moves and impresses everybody. Wesley is back!
And then immediately after Barney has rehired him as an Expendable he decides to fire all the Expendables because it's too dangerous and he doesn't want them to die. Kind of a touching moment, but it means these guys get sidelined for the middle of the movie except to be like Come on Barney, we still want to do it and he's like No guys and then toward the end they show up again with all their gear and he's like Okay fine guys what the hell get on the plane. But by that point the movie has forgotten it was exciting to have Wesley and doesn't give him much to do. In fact, he plays dead for a good chunk of the climactic action sequence.
This is the overall problem with the movie. It keeps getting on the right track to do something really good, but seems to lose interest before sealing the deal. It keeps getting part way to greatness.
Another example is the other big new addition to the cast, Mel Gibson as Stonebanks. When Barney spots their arms dealer target he realizes it's this guy he knows, who he thought he killed, and he yells "STONEBAAANKS!" Beautiful. A little later there's a scene where they've captured Stonebanks, they have him tied up and they're talking to him. He's sarcastic and funny and then he absolutely flips out on Barney, furious about something from their past, and channeling that insane anger that has gotten Gibson into so much trouble in the real world. Mel is back too!
Except then he spends most of the rest of the movie standing in a room watching things on a screen. When he finally decides he has to take care of shit himself, goes to fight Barney in the water and throws his guns aside it is a thrilling moment, but then he doesn't make due on his promise of one of them snapping the other's spine, and his (SPOILER) death definitely suffers from a PG-13 lack of blood. Thank God Stallone sends him off with an A+ one-liner that pays homage to his past movies but in a clever and ridiculous way.
That's the important change from part 2, there are only a couple dialogue references to the actor's previous movies and real lives and none of them made me embarrassed for them. The tone is just right. They still joke around with each other, but the story feels more serious. When the dangers of their vocation are illustrated by a mostly empty plane and a jingling row of hanging dogtags from deceased team members it actually feels pretty heavy.
In the other ones they bicker back and forth with each other, here they try the conceit of having one spastic character who never shuts up (Antonio Banderas) while all the rest of them are grim and silent. A friend of mine compares Banderas's intentionally obnoxious character to Jar Jar Binks (the senator from Naboo). I don't agree, I thought this dynamic was pretty amusing. But my friend also told me heard that was the character that Nic Cage was supposed to play at one time, and when you put it that way yeah, it could've been alot funnier.
IMDb trivia claims the part Cage was considered for was Kelsey Grammer's, which would've been a huge waste of his talents. Hopefully he can still play a mega-acting villain in one of these things.
Yeah, Kelsey Grammer is in this one, it's true.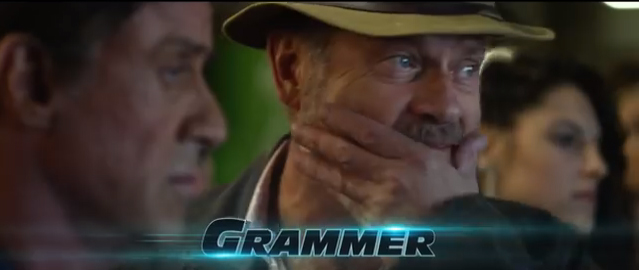 But they're not trying to pretend he's Rambo. He plays kind of a mercenary scout, the guy Barney goes to for help in putting together a new team. He's in one sequence where they go from location to location meeting each of the new recruits and he explains who they are (one of the better sequences of action movie tradition in this installment). Grammer is fine for the role, there's nothing laughable about it, we never see him fire a bazooka or rappel down a building or anything.
I say that in defense of the movie, but actually I would probly prefer if he was more miscast. Seeing Frasier jump off a building onto the pontoon of a helicopter would be pretty good.
Harrison Ford is also in it.
Not wanting to endanger his old friends on a revenge mission, Barney instead hires a new team of younger mercenaries. The only really exciting one is UFC welterweight women's champion Ronda Rousey as Luna. She gets the most hand-to-hand of anybody in the movie and although it's filmed too much inside the fight (I'm looking at you second unit director Dan "Paul Greengrass movies and QUANTUM OF SOLACE" Bradley) it's clear enough to see some good exaggerated grappling moves. The fight choreographer/stunt coordinator is JJ Perry (UNDISPUTED 2, HAYWIRE, BLOOD AND BONE).
Kellan Lutz (THE LEGEND OF RENNY HARLIN'S HERCULES) is the only other Expendayouth that makes an impression at all. He has a pretty charming moment when he sees attackers on motorcycles and smiles because he knows he's gonna steal one. His character actually gets most of the highlights of the big action finale, my favorite being when he does a huge motorcycle jump and then grabs onto a pole on the side of a building, hangs from one arm and fires a machine gun with the other. Overall the movie needs more of that type of ridiculousness.
More than that though they need to really take a look at each character, make sure to establish what that character's skill set is, and then make extra sure to work that skill set into the later action scenes in a way that they are all working together as a team to make shit happen. It pains me to say this but they actually should look at a well done team super hero movie like THE AVENGERS or some of the X-MENs to see how this can be done. Or the Thai movie BORN TO FIGHT, the one where a group of athletes use their sports talents to fight off terrorists (they should be watching that shit for inspiration anyway).
When we hear that Expendables co-founder Stonebanks has his own team you might picture an all star group of evil Expendables (potential members: Lance Henriksen, Cary-Hiroyuki Tagawa, Chuck Liddell, Robert Davi [he's actually in this movie but does basically nothing in his one scene so he might as well have this other hypothetical role instead], Jean-Claude Van Damme [as twin brother of Jean Vilain], Ric Flair, Gary Busey). But there's already too many characters for this movie to handle so you could argue that it's for the best that he just has generic, faceless thugs who I couldn't even describe to you right now.
Still, I believe that you could have all these characters and do more with them. I am not some asshole that is gonna expect or even want you to turn them all into fully fleshed out three dimensional human beings, but what is the point of having a team of 13 action heroes if most of them are just gonna fire machine guns? Especially when you made the business decision to go PG-13 and not show any of the bullet wounds.
Speaking of wounds, did they ever have a scene in an EXPENDABLES where they all go back to Mickey Rourke's tattoo shop and do bullet removal surgery on themselves and each other and they have a metal plate in the middle and they just plunk plunk plunk all the slugs down until there's a pile as big as Scarface's cocaine stack? If not there should be.
Rousey and Lutz are able to use their specialties (beating up dudes, riding motorcycles) and there is a hacker guy (Glen Powell, who played "Long-fingered Boy" in that great Stallone picture SPY KIDS 3-D: GAME OVER) that uses a computer in one part. And I'm sure there are some things I'm forgetting, but I don't remember Dolph using his chemical engineering knowledge from previous installments, Statham doesn't really get to fight except for against a guy that we see is really huge when he first walks in and then we don't see him clearly again, the boxing champ Victor Ortiz doesn't do much if any punching, Banderas barely uses the parkour skills his stunt double showed off in his introduction. Most criminally, Jet Li (who is reintroduced late enough that I actually was excited to see him again) never does a single kick or punch. He just fires a machine gun from a helicopter. When he slides down a rope to clear a rooftop you think "okay, here we go," but no, no martial arts for him in this one.
Couture doesn't get to fight much either, but at least one of his skills is standing around looking menacing, so any shot is improved by having him standing in the background. Dolph performs a similar job, but at least he gets one funny bit and got to be a major focus in the other chapters.These things cannot be said for poor Jet.
Arnold gets to be Arnold, wearing a Hawaiian shirt and smoking a cigar, but he seems kind of tired and shabby in this one. His five o'clock shadow looks ragged, his eyes look watery. I won't consider it a sign that he's losing it, because he's great in movies as recent as SABOTAGE and ESCAPE PLAN. I feel like maybe he hadn't adjusted to the time zone or something.
(Explain to me, someone: did they reveal what I thought they revealed about Arnold and Jet's characters? Or was that just a joke about them being best buds?)
As for Barney, I'm not even sure what his fighting specialty is supposed to be, but he always gets to fist fight the main villain. But I think he's improved in this one, not as distinct of a character as Rambo or BULLET TO THE HEAD, but he's got more of a gravelly voice and seen-it-all demeanor, is allowed to talk less and communicate more. Also he looks better without facial hair but we can tell it's still Barney because of the beret and the ridiculously tacky oversized skull ring.
From what I've read today this one's already been declared a bomb. I hope it's more popular in the rest of the world because I want to keep seeing these guys on the big screen and this series was the only thing they had that was making money. But I think it shows how misguided some of their approach is on this one. It reminds me of when legendary rappers from the '90s were making albums years after their peak and they would have a bunch of younger guest stars and switch their style up to try to copy whatever was popular at the time, and it just sounded forced. There must've been some soul-less business creep somewhere crunching the numbers to prove why this was the way to go, but of course all the fans of their great music just put the album away in a box after a couple disappointed listens, and the masses of record buying youths they were courting never materialized. It was just embarrassing for everybody involved.
THE EXPENDABLES 3 isn't embarrassing, but it has a bit of that desperation. Sorry Sly, but if young people don't give a shit about your movies that's not gonna change, and it doesn't matter. Be like Clint. Make grown ass Stallone movies. Or appeal to the youth by making the type of awesome movies you made when their parents were the youth you were appealing to. I don't think anybody outside of those offices is surprised that making a PG-13 movie starring Dolph Lundgren and Mel Gibson did not draw in a parade of under 17, unaccompanied by a parent or guardian converts.
Director Patrick Hughes does a competent job, and early on I felt like he got to make the movie breathe a little. He has a quiet overhead shot of the Expendables walking to their helicopter! No guitars or anything. But any attempt to make it distinctive gets away from him. It definitely doesn't have the tension or atmosphere of his thriller RED HILL, and it doesn't make a convincing argument that we should be more open minded toward the English language remake of THE RAID he's attached to.
I know this is pissing in the wind here, but in the unlikely event of EXPENDABLES 4EVER I fucking implore Millennium Films and Sylvester Stallone to throw caution to the (piss stained) wind and try that one thing they have been trying to avoid for these: hiring a director of great action movies. I mean that's if you can't get a smartypants A-lister who is great with non-actors, ensembles and action scenes (Soderbergh only does cable TV now), or one of the directors of the classics these guys come from (McTiernan would be an obvious choice), or a really good Hong Kong guy (is that what we gotta do to get Chow Yun Fat as an Expendable?). If you can't do any of those things then for god's sake why can't you get Isaac Florentine? This is a director who has worked with these producers many times, going back to 1993 when he was martial arts choreographer for Boaz Davidson's directorial work AMERICAN CYBORG: STEEL WARRIOR. He's worked in Bulgaria many times, he's directed various EXPENDABLES cast members (Dolph Lundgren, Jean-Claude Van Damme, Scott Adkins, Gary Daniels), he second unit directed for the Kellan Lutz HERCULES, he's worked with J.J. Perry. He's known for pushing older action stars to do more and younger ones to take it to the next level. He gets great action and style on a nothing budget. He works fast and cheap and has tons of experience not just directing dozens of action movies but also hundreds of Power Rangers fight sequences. He's a martial artist himself!
He's so much more qualified than anybody they would get, and from what I've been told when quizzing people in the know, it's only a political decision. They see direct-to-video directors as not being as good as theatrical directors, even when they consistently make better movies.
Yeah, and PG-13 movies always do better than R.
If you guys haven't tried to get him on one of these YOU ARE INSANE. If Stallone's the one that's not on board, get him on board. Have Dolph talk to him. Send him the UNDISPUTED blu-rays. Something.
Oh, I give up.
Until they announce they're really making a part 4, then I'm hooked again.
I'm dealing in alot of negativity here, so I should repeat that I've enjoyed each of these movies. It's just that they're designed to remind you of all your favorite movies while not giving the impression that they ever tried to be as good as those. Each of them has their advantages and disadvantages. Part 1 might be my least favorite, but it seems the most sincere, it puts the most thought into who fights who, and Mickey Rourke's tearful monologue is probly the only truly transcendent scene in the trilogy. Part 2 has clearer action, the best villain and the most Bruce and Arnold, but easily the worst humor and most intrusive cameos. Part 3 has maybe a little less clear action but better than part 1 and definitely an improved tone over part 2. It has the second best villain but the only one that doesn't have a badass henchman like Steve Austin or Scott Adkins.
Anyway, welcome back Daywalker. That's the important thing. Woody Harrelson for part 4 villain please.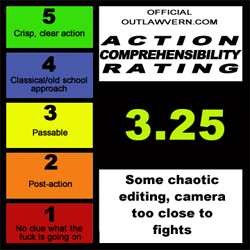 FUN QUIZ: Expendable or Texas Chain Saw Massacrer?
1. Yin Yang
2. The Cook
3. Chop Top
4. Toll Road
5. Goran Vogner
6. Smilee
7. Tinker "Tink" Sawyer
8. Vilmer Slaughter
9. Trench Mauser
10. Jean Vilain
11. Lefty Enright
12. Tea Lady Hewitt
13. Bonaparte
14. Thorn
15. Mars
(answers: 1. Expendable. 2. Chain Saw. 3. Chain Saw. 4. Expendable. 5. Expendable. 6. Expendable. 7. Chain Saw. 8. Chain Saw. 9. Expendable. 10. Expendable. 11. Chain Saw. 12. Chain Saw. 13. Expendable. 14. Expendable. 15. Expendable.)