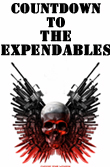 Wrestling – and I'm talking about real deal wrestling, like Greco-Roman and freestyle wrestling, not WWE – is a sport of skill and stamina as well as strength. It's a series of offenses and defenses, attacks and responses, takedowns, holds and escapes. Strength and size are a huge advantage, but they're not everything. A great wrestler always has to know how to find an opening to control his opponent and also how to slip away when he's made a mistake. It can look like two brutes rolling around on the ground, but at times it can be as much of a battle of wits as a chess game. The winning wrestler has to perform the correct sequence of moves, and perform them well, to get the other guy where he wants him for the win.
Also there is arm wrestling.
I always wondered how the fuck Sylvester Stallone made a whole movie about arm wrestling. Boxing – of course that works, there's so much training and politics and the fights can go on for a long time if they're well matched. And I haven't seen DRIVEN yet, but I can see how he could do one about being a race car driver. There's alot of preparation that goes into building that car and getting the team together and everything. But arm wrestling? It would almost make more sense to make a movie about the hand slap game from ON DEADLY GROUND.
Well, the answer to my question is that the movie is mostly about him hanging out with a little kid.
Still, this is a story about how winner takes all, loser takes a fall. It's about how you should never turn away when the challenge is alive because the choice is yours to make in every chance you take. It argues that first the mind, then the soul, and when the heart gets pumped up for the goal, there's no defeat because you'd sooner die and it's man to man as we stand eye to eye. It's also about how you should follow your heart no matter where the path may lead because in this country our hearts are open, we are free to fly again. It tells you that you know you got to break on through, there's only one thing you can do. And that's only from the first three songs on the soundtrack, by Sammy Hagar, Robin Zander and Larry Greene. We didn't even get to Frank Stallone, Kenny Loggins or Eddie Money yet.
Stallone plays Lincoln "Hawk" Hawk, a truck driver who as the movie begins is already signed up for the Arm-Wrestling National Championships or whatever in Las Vegas. But his mind is on family. He doesn't have one, but he used to. The wife that he left ten years ago (Susan Blakely) is about to have surgery, and she wants him to pick up his estranged son Michael from military school and bring him to the hospital. She seems to know this could be the end and she wants to let bygones be bygones and try to reconnect father and son.
Michael (David Mendenhall) couldn't be more different from Stallone's working class character Hawk if he was Dolph Lundgren. He talks alot, has a high-pitched voice, wears his school uniform, grew up rich with his grandfather (Robert Loggia) in a mansion (the same one they used in the Beverly Hillbillies tv show). He's used to  traveling in grandpa's private jet, but now he has to ride cross country in a semi with a Brut ad on the side. When Hawk shows up at the school to pick him up, Michael asks to see some ID. He keeps calling Hawk "sir" and lecturing him about cholesterol-heavy food and saying condescending things like "You don't read much, do you?" He really doesn't want to be hanging out with his dad, to the point that he actually climbs out of the truck and tries to make a run for it through freeway traffic.
Hawk knows he's been a terrible father (really, not one at all) but he doesn't know that it's even worse than he thinks: grandpa never gave Michael any of the hundreds of letters he wrote to him over the years. I guess he should've been suspicious that he never got a response. It's one of those things, like Bruce never having been sick before in UNBREAKABLE, where it seems like it would've had to have occurred to them at some point before.
Father and son tension comes to a head when Michael doesn't like the music on the radio, so he turns it off. Hawk responds by turning it back on. Michael's counter move is to then turn it off. So Hawk turns it back on again. But Michael has another trick up his sleeve: he turns it off, at which point Hawk turns it back on. Then Michael turns it back off. This goes on for a while, and every time one of them takes their turn it seems like they're convinced that's gonna be the end of it. It's one of those really dramatic, fascinating competitions to watch like tic tac toe or, uh, arm wrestling.
But like I said, this is a movie with inspiration rock in it, so Hawk and son spend the night sleeping in the truck and wake up to a sunny training montage set to (I think) Kenny Loggins singing about new beginnings. They do pushups together, they tear the sleeves off the kid's jacket and Hawk must say something really charming because before the song ends the kid is laughing and they seem to have grown closer.
But a true bond can't just pop up during a montage. Hawk has got to share his culture with his son. This first happens when they stop at a diner and some muscleman taunts him into an arm wrestling match. Later, at another truck stop, there are some bigger kids playing video games and he pushes his kid into arm wrestling them in order to teach a valuable lesson about losing but then believing in yourself so that you get best 2 out of 3. I don't know if maybe there's something in their genetics or something but somehow these Hawks seem to defy the laws of physics the way they can overpower larger, stronger opponents in contests of pure strength.
There's also a scene where Hawk gets fed up with his son making condescending comments about truck driving so in order to prove how hard it is he forces the kid to take over driving. Hawk is very proud and doesn't seem to realize that he lost the argument when the kid turns out to be able to drive it surprisingly well. But jesus man, I don't agree with his decision to force a little kid to drive a giant truck and trailer on a windy road like that. He's incredibly lucky the kid didn't plow into some family in an RV and kill 8 people including themselves. You don't get best 2 out of 3 on something like that. But I guess it would've proved his point that not just anybody can drive a truck.
It's never mentioned why Hawk left his family other than "Well… I had some reasons," and he thinks the important thing is that it was a mistake and he has to make up for it now. The wife doesn't seem too bitter about the whole thing, in fact she seems to love Hawk and want to give her son back to him and never seems to have any negativity about it. But Grandpa despises Hawk, teaches Michael to hate him and tells him lies like that he's a drug dealer. Grandpa comes off like a real asshole, and obviously looks down on Hawk for being an uneducated truck driver and not very well spoken. But you gotta admit he has pretty good reason to want to get custody of the kid. He's raised him himself, and he has plenty of money. Hawk fucking abandoned this kid and now he wants custody again – what's he gonna do, home school him in the truck while he makes his cross country cologne deliveries?
On the other hand Grandpa has Terry Funk (wrestler profiled in BEYOND THE MAT, also appears in ROAD HOUSE) and some other henchmen who he sends to kidnap the kid, and that's not cool. Also he's always trying to pay people off to get what he wants. I don't like this guy, even though he's kind of right.
Hawk is trying to make amends and be there for this kid, but he's not doing the best job. First of all, by the time they get to the hospital mom has already died, and it's not lost on the kid that Hawk chose bond-with-your-deadbeat-dad-road-trip over tell-your-mother-you-love-her-before-she-dies. Michael correctly cries, "You've never been around when anybody needed you." This would be a good chance for Hawk to stick around and prove otherwise, but he chooses option B: get up and walk away in the middle of the fucking funeral. Right in front of everybody. At least wait until afterwards, don't rub it in for the poor kid.
Hawk could still have legal custody, but physically the kid is at the Beverly Hillbillies mansion and Terry Funk and the boys won't let him in to talk. This is another point where in my opinion he doesn't use the best possible judgment. What he does, he drives his semi through the gate and the side of the mansion.
So, you know, by the time he gets to Vegas for the arm wrestling he's in some debt for property damage, has pawned off his beloved truck (but kept the hawk-shaped hood ornament, see poster) and signed over custody of the kid (at the kid's request). With this shit going on in his life you figure he's not gonna have the eye of the tiger, and also it's hard not to notice that pretty much every other competitor has arms bigger than his head. So this doesn't look good.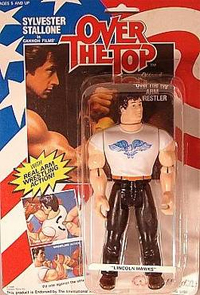 Remember when I complained about the races in THE FAST AND THE FURIOUS being uncinematic because it's just driving in a straight line and when you're not going fast enough you push a button that makes you go faster? Arm wrestling is pretty much the same. Instead of pushing a button you shift your hand a little.
And this has the extra disadvantage of not being even remotely believable. After RAMBO Stallone become synonymous with bodybuilding, but the real life arm wrestlers who are cast in the movie would make Schwarzenegger look scrawny. They're these crazed giants and he's "a newcomer from the trucker division."
We've all discussed different types of fights where a smaller opponent can defeat a behemoth through knowledge of chokes and armbars and shit. I've seen a UFC fight where a little guy beat a Yokozuna sumo wrestler by breaking his nose on the way down to the mat and certain doom. But there is no fucking way that Stallone could beat any of these monsters in arm wrestling just because he believes in himself. This is not DUMBO. This is not THE SECRET. This is a simple matter of one arm that is heavier and stronger than another arm.
I mean, even in this bullshit cinematic version of arm wrestling they don't pretend there's any skill to it. The main training that Stallone does is pulling on a weight inside his truck while he's driving. And you see guys at the competition just carrying around dumbells in the crowd. This is not kung fu, you don't need total concentration. You just lift heavy stuff while you're going about your daily routine.
For the final match (against a real arm wrestling champion, I think) their idea for making it more dramatic and suspenseful is that there's a part where their grip slips, so they have to be tied together. I think this is supposed to seem like an upping of the ante, like when Van Damme had the glass shards glued to his forearms in BLOODSPORT or KICKBOXER (I always forget which one is which), but I mean they were supposed to hold onto each other anyway. The strap just makes sure they do a better job.
What is pretty cool about the climax though is that the kid finds out some new information and decides he wants to give his two-time deadbeat dad a chance. So he sneaks out, illegally drives a pickup truck to the airport and flies to Vegas, getting to the casino just in time to cheer his dad on. I like it because I've seen about ten thousand movies and TV shows where a fuck up dad has to race against time to try to get to his son's sporting competition, but I don't think I've seen one where the son has to race to get to the deadbeat's sporting competition.
Also he gets a break between matches to punch Terry Funk through a set of doors.
OVER THE TOP was actually directed by Menahem Golan, co-head of Golan and Globus/Cannon Films. I guess this is probly his best known directorial work, closely followed by DELTA FORCE and then ENTER THE NINJA. Despite its complete ridiculousness it's not made as shittily as alot of the movies he just produced, and it has one unique directorial touch when he works in some interviews with the real arm wrestlers about what they do. Stallone even does a good job seeming cinema verite in his interview, where he explains the philosophy of something we already noticed earlier, that he likes to turn his hat around backwards before a match.
The script was by Stallone and Sterling Silliphant, the student of Bruce Lee and Academy Award winner for IN THE HEAT OF THE NIGHT. (He also wrote SHAFT IN AFRICA and THE ENFORCER.) I don't know what in fuck's name these guys were trying to do here, but it's a pretty funny movie. I enjoyed it. I think maybe Stallone's best quality is that he wears his heart on his sleeve. He tries to be a poet for the big lugs, he tries to show that they have a heart and soul even if they don't know how to put it into enunciated words. People remember him for his muscles, guns and explosive tipped arrows, but most of his movies are as much about his emotions, his relationships. To me FIRST BLOOD is more about his break down at the end than all the awesome survival tactics.
So I appreciate that even when he does a stupid movie like this I can tell that it came from his heart. When his idea muscles are in top condition he comes up with ROCKY, when they're not he comes up with this. But I can get some enjoyment out of both.