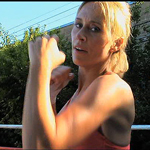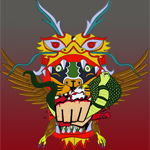 "I'm not interested in champions of the ring. I'm interested in champions of the heart."
When I found BARE KNUCKLES I wasn't sure it would even be watchable. It's recent (2010), I'd never heard of it, it's not from an established action star or director, and the box mentions serious matters: "Women will go to extreme lengths for those they love, and single mother Samantha Rogers is no exception, being the sole provider for her daughter Mila, a child in need of special care." That kinda sounds like a recipe for an indie drama about a fighter that's not really about fights. Then I put it in and the menu and opening credits both of terrible fonts and music, and they put the obviously bogus claim "inspired by a true story" right after the title. This just looks like amateur hour from the get go.
What I'm saying is BARE KNUCKLES was an underdog. A Cinderella story. Cinderella Man, but with a lady… and it makes us all proud. It's a little ragged and cheesy at times, but it's a really likable take on alot of the genre tropes, feeling a little different without ever reinventing anything.
Jeanette Roxborough plays Samantha, a widowed bar waitress and sometimes stuntwoman (but there's a strike) who lives with her mother-in-law trying to raise her disabled and deaf daughter (played by her actual daughter Teya Roxborough). One night some obnoxious bar patrons pick a fight with her and she ducks all their swings, catching the attention of Sonny Cool (KARATE KID bad guy Martin Kove), a washed up underground fight promoter who happens to be drunk at the bar and thinks he can see something in her eyes.
Of course she's hesitant, but eventually agrees to dip her foot into this circuit of "special fights in private, high class locations," in other words backyard rings and cages where women fight for the amusement and profit of rich gamblers. It pays better than anything else she does, and she's pretty good at it.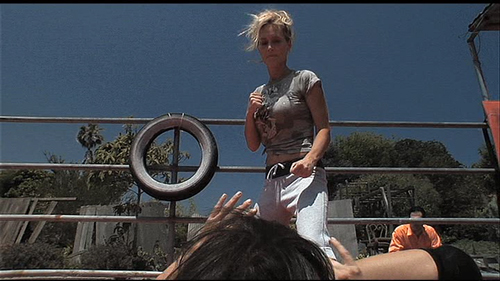 Roxborough has done a little more stuntwork than acting, and she's good at both. Although skinny, she seems authentic in her fighting, more in a traditional kickboxing style than kung fu or something. She's pretty but with an intelligence and sadness in her eyes, kinda like Carrie Anne Moss. So she really communicates alot of soul and inner life when she's not saying anything, and she does well when she has to break down emotionally. She's really something. Somebody put her in a real movie, geez.
I'm not all that well versed in the KARATE KID pictures, so I didn't recognize Kove right away. To me he has kind of a Treat Williams or even later Lorenzo Lamas vibe. I really like him in this, playing a guy who gets by on charm and pity. It seems like he knows everybody and has used up too many favors with all of them. He wears sunglasses during the day and gets pretty dressed up for a guy living in California without a car. Each time he tries to convince somebody to believe in Sam we get a reminder that something terrible happened last time he tried something like this.
Al (Chris Mulkey), the boxing trainer, won't even let him step inside his backyard ring. Flame (Spice Williams-Crosby, a stuntwoman, bodybuilder, martial artist and wife of Bing Crosby's grandson), a former champ, is disgusted to even see him. They're all still broken and guilt-ridden about this past tragedy, but as soon as the yelling stops they start jonesing for it, and they have a convincing the-old-team's-back-together chemistry.
Sam does well on the circuit, flying through many victories via montage. I thought she was just taking fights, but she later refers to "tournaments." She's won multiple tournaments, I guess! But the one she keeps hearing about and wanting to know about is called "The Show." That's where the big bucks are, and the big danger. But can she even get in, let alone actually win? And is it ethical for Sonny to let her try, considering his last attempt is still a vegetable?
The energy of the movie really kicks up right before The Show, in a great sequence where the three coaches huddle around Sam…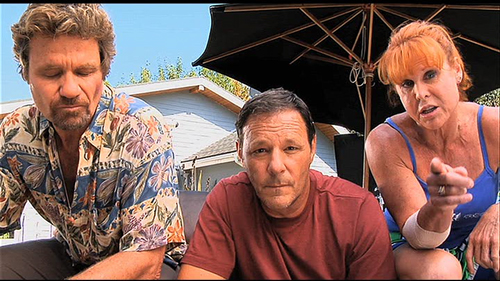 …and break down her 15 opponents. This is kind of a tonal shift I believe they call it, where we're a little less grounded and more in the cartoon or video game world. But I don't mind. They each have a style or specialty and a colorful nickname. For example there's Boom Boom (Erica Grace), a powerful boxer who they say is going for a KO with each punch. "They say she's related to John Henry." And she has a wrestling-manager type called Scuba (Kristian Bernard).
The Show happens in a fake Scottish castle in the hills of Malibu (a location apparently destroyed in a wildfire a few months after filming). The audience is all champagne-sipping high rollers, and they're instructed that the final is a black tie event. Even the fighters have to wear gowns for the opening festivities.
Dresses are kind of important in this movie. Most of the fighters have a sort of manly swagger (some of them a little forced), but they don't seem to have trouble getting dressed up. Sam prefers casual workout clothes and hoodies, but is genuinely moved when her trainers buy her a nice dress as a gift. Toughness is not in opposition to femininity.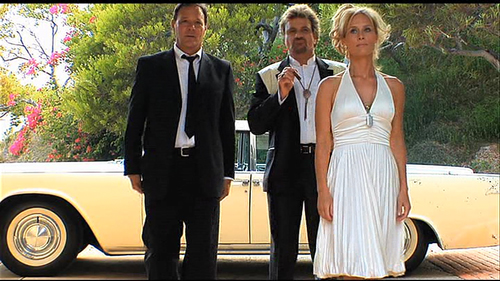 Her training is mostly normal fight workout stuff: heavybags, punched in the stomach, hitting the pads, learning moves, jumping over sticks. Sam works with Flame and it starts to seem like there's nothing for the men to do, so they spend the training montage restoring an old car together.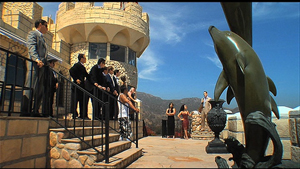 One thing BARE KNUCKLES gets right that alot of low budget ones like this don't: varied fight locations. In the tradition of LIONHEART or FIGHTING they try to bring them to different venues each time. So there's the backyard of a mansion, more of a dirty warehouse setting with a fenced-in cage, a farm with metal rails instead of ropes, and even for The Show there's an outdoor ring for the early rounds and a different one under a roof for the final bout. And the castle is a funny place for all these rich assholes to be at, it's very chintzy with its dolphin statues and everything, you don't know if it's closer to Scarface's place or a theme restaurant, and they're all standing around trying to loo–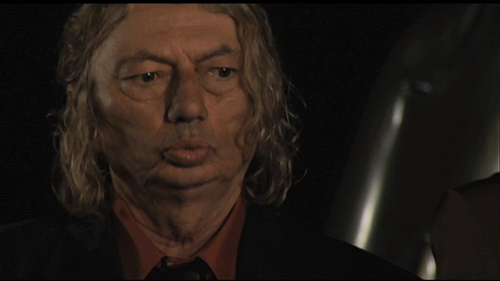 HOLY SHIT LAZAR ROCKWOOD IS IN THIS MOVIE. That was the weird guy I was talking about in FEARLESS TIGER. He played the villain, Saalamar. Here he has a brief appearance as "Mystery Man," a gambler at The Show who is shown listening to the rules and later stabbing a guy over a bet or something. I knock his movie out of the tournament and he only comes back stronger! I never heard of Lazar Rockwood and then I watched these two movies in a row. Made in different countries, by totally different sets of people, 19 years apart, and there he is. What's more, it turns out Roxborough was in three other movies with Lazar: PANAMA DEAL, DEATH IN HAVANA and ANTIGONE. Since she was a stunt double for Yancy Butler on Witchblade I'm gonna assume they're friends from that. Director Eric Etebari was also an actor on Witchblade. Nobody's gonna believe me but there's some kind of Witchblade Illuminati running the fighting tournament filmmaking scene.
This is another underground tournament that has a corporate sponsor: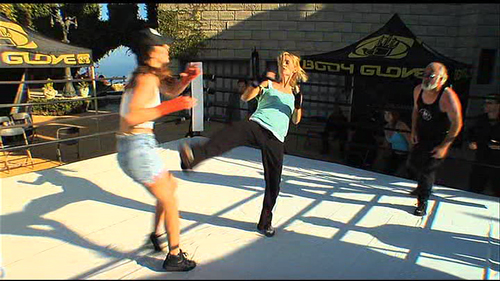 Hey, rich VIPs who bet millions of dollars on secret full contact women's fighting: try Body Glove products. It's like a glove for your whole body instead of just the hand part of the body, or something? I don't know what it is. Is it wetsuits? I guess some of these gamblers probly do scuba diving.
The rules of the fights are a little vague. Almost all wins are by knockout, declared by the ref without a 10 count, but Sam's first fight is a knockout by choke hold. I don't think there are any tapouts, and after that first one nobody takes it to the mat. There's a big fight over the finals being full contact (Al almost walks out because of what happened to their last fighter, Danielle, four years ago) but it didn't seem like there were any limitations on the other fights. I thought they said there were no time limits in the final, but then they have rounds.
We do know that it's 16 fighters, so she has to win 4 matches to come out on top. That would get her $500,000 plus 15% of total bets on the final fight, which should help with her troubles getting proper schooling for Mila.
The fights are a little along the lines of the ones in the Mimi Lesseos movies – professional wrestling style staging but with lots of martial arts kicks. They're often shot very straight-on and moving a little slow, but of course I like that better than the modern standard of the camera and cuts moving too fast to see anything. When you get to see a full fight, not just highlights in a montage, there is a sports movie type of plotting to them – can she hang in there? There's a good version of the old RAIDERS OF THE LOST ARK joke where an opponent comes in doing all kinds of fancy moves and Bruce Lee battle cries only to be taken out with one punch. This woman goes way over the top with the moves though, it's more like she's making an ass of herself than being impressive. I love Sam's subtle "you gotta be fuckin kidding me" look as she watches her dance around: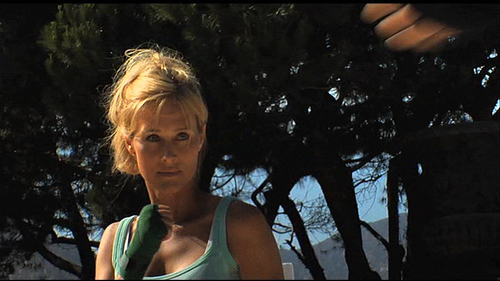 Sonny looks kinda dumbfounded too: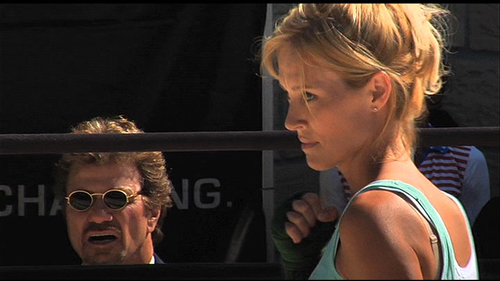 Sam's chief competition is "Mayhem" Mona (Bridgett "Babydoll" Riley, a boxing and kickboxing champion, Black Belt Hall of Famer, WMAC Master and stuntwoman for MILLION DOLLAR BABY, SERENITY, WATCHMEN, IRON MAN 2 and many other things). She's not at all friendly or sportswomanlike, and her manager is the sleazy villain of the piece, Nedish (Louis Mandylor, brother of Costas). In fact, let's admit it, she seems like a total bitch. But there are a few little signs of human vulnerability. One is a moment where she disrespects Nedish and he yells at her and pushes her head up against a wall. We have every reason to believe she could put a serious assbeating on him (the muy thai expertise claimed on Mandylor's bio is not shown to be part of this character) but somehow he scares her, she's helpless against his abuse. For his part, he he hides what he's doing when Scuba walks by. So somewhere inside he has some shame, he knows he's a fucking scumbag.
A nicer moment is in the back room before the final fight, Mona is having trouble getting the back of her sports bra hooked, and after a bit Sam comes over and helps her. Mona doesn't say anything but is obviously surprised. It's these little unexpected bits that make the movie stand out from others of its type. Another is a scene where Sam sits in the backyard talking with an old lady named Mrs. McIntyre (BLUE VELVET's Frances Bay in her last film role) about her life.
It seemed to me like some of the big decisions are kind of brushed over. Al is dead set against the full contact fight, and Sonny decides to go along with him, but Sam convinces him that she has to do it, and suddenly Al is standing there ready to keep training. For me it worked, because I ended up liking these characters and their loyalty to each other, so I was won over by these emotional moments. But I admit some of the storytelling isn't quite there.
Director Etebari cameos Sam's dead husband in some quick flashbacks. He's an actor in 2 FAST 2 FURIOUS, THE LINCOLN LAWYER and alot of smaller movies. This is his directorial debut, but he's done a couple since. He seems like a cheesy loudmouth Hollywood dude on the extras, but I think he's made a good movie here.
Writer Robert Redlin also did AFTER DARK, MY SWEET from the Jim Thompson novel.
This entry was posted on Monday, August 5th, 2013 at 1:29 am and is filed under
Action
,
Martial Arts
,
Reviews
. You can follow any responses to this entry through the
RSS 2.0
feed. You can skip to the end and leave a response. Pinging is currently not allowed.