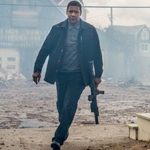 THE EQUALIZER is not a great movie, but it is part of a great American tradition to allow the finest actors an opportunity once they get older to make movies where they pretend they're Steven Seagal and break dudes' arms and drill 'em in the head and stuff. To help people. Very loosely based on the '80s tv show, Denzel Washington (MALCOLM X, RICOCHET) played Robert McCall, a mild mannered, O.C.D.-having widower with ugly sneakers who works at an off-brand Home Depot and also happens to be an ex-secret-agent badass, so when he sees enough injustice he decides you know what I'm tired of being hoodwinked and bamboozled, I'm gonna vigilante the shit out of these Russian mobsters or whoever.
Had things gone a little differently maybe we'd all be excited for Denzel's much-hyped return to the popular VIRTUOSITY franchise after sitting out the last three, but we play the cards we're dealt, so THE EQUALIZER 2 is Denzel's first ever sequel. Also back are director Antoine Fuqua (BAIT), writer Richard Wenk (VAMP, 16 BLOCKS, THE MECHANIC, THE EXPENDABLES 2, COUNTDOWN, JACK REACHER: NEVER GO BACK), Academy Award winner Melissa Leo (who played a different character on an episode of the TV show in 1985!) as his old agency boss Susan Plummer, and Bill Pullman (CASPER) as her non-ass-kicking husband.

In the tradition of KICKBOXER: RETALIATION, this is a part 2 that opens with our hero on a train at night and then getting into a big brawl with some bad people. In this case he's near Istanbul searching for an American girl who was kidnapped by her Turkish father. McCall is dressed appropriately for the region and with a long beard, slightly Malcolm-X-esque glasses and a bald head that I guess must be a bald cap since the next time we see him is at most a couple days later and he has a full head of hair. (I'm not sure why he has this disguise but doesn't hide that he's American.)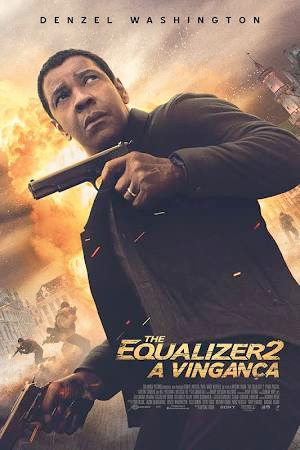 Back at home he's working as a Lyft driver, a good way to meet people and also to find random vigilante tasks. The best side mission is when he he drops off a young woman who seems to have been drugged and raped and then he goes back to the place where he picked her up and terrorizes an apartment full of Patrick Bateman bros.
He's the kind of hero who knows all his neighbors by name and looks out for them, including Fatima (Sakina Jaffrey, THE INDIAN IN THE CUPBOARD), who's growing a garden in the apartment courtyard, and Miles (Ashton Sanders, Chiron from MOONLIGHT), a very cool and gravelly voiced At Risk Youth who McCall decides to make a special project out of. It's corny and obvious but I have to admit I enjoyed seeing their friendship blossom. You want to see the kid be inspired by the gruff old man, for the benefit of both.
McCall's not dressing as dorky as in the first one, and they even manage to find an emotional angle to that when he muses about no longer owning any clothes that he wore when his wife was alive. But I think being a sequel-worthy asskicker has raised his self esteem and his shoe game.
He's still really into reading books. In the first one he was reading Don Quixote and comparing his place in the world to its themes. In this one we see him reading Ta-Nehisi Coates' Between the World and Me on the train, and later he tells Miles to read it, doesn't explain why. I like this because recommending a pretty recent book seems more like the real world and less like the movie cliche of drawing parallels to famous works. Also it seems possible/likely that Denzel and/or Fuqua chose that book as something they want people to read.
Movies based on TV shows are weird, because the two formats sorta work against each other. The Equalizer premise of an ex-spy using his talents to help people is cool because it's a jumping off point for potentially endless weekly adventures as different people in different types of trouble answer his classified ad. But when they make it into a movie they always feel the need for his main struggle to be something of great personal consequence. The very thing that's cool about him is the type of shit he gets into each week, and then for each movie they say "this is a movie, it can't just be the type of shit he gets into each week."
This also comes up in MISSION: IMPOSSIBLE movies and super hero movies. At least here they don't make him save the whole city, or the country, or the world. But they figure he can help some of his Lyft passengers and he can help Miles, but the main story is about him and his old partner who thought he was dead (Pedro Pascal, THE GREAT WALL) trying to find out who killed (SPOILER) Susan. Kind of a bummer to see Leo (who also stole Fuqua's OLYMPUS HAS FALLEN, I'm remembering now) have her part cut short, but the scene where she gets attacked is well done to make her vulnerable and not super-powered but also tenacious enough to put up a fight.
I've noticed a contradiction in this genre's world view. These movies wants us to believe that
1) the world is a complicated place with government operatives doing secretive shit that we never know about, the black work and the dirty ops, the keepin it realpolitik, double and triple and quadruple double backflip agents backstabbing each other in the front as a distraction so they can frontstab each other in the back, and definitely for sure there's gonna be some blowback and some people gone rogue and I guarantee you that someone you trusted is gonna get cynical and lose all morals and honor and ethics because don't be naive it's all about the money what have they ever done for us have you ever asked yourself that, we lost so many of our brothers and sisters and this is how they repay us no man I'm cashing my check I work for Darkwater Mercenary Security Systems now is that so wrong you can join us I'll double whatever the other guy that doubled is paying
and yet…
2) the world is a simple place if you have the super secret agent training because you can solve any problem in a short burst of fast, blunt moves that knock guns out of hands and break wrists and necks and then no one will mess with you
So, when McCall notices his pal Miles going somewhere with older, scarier drug dealer guys, he follows them, disables all the security guys at the apartment and takes Miles from them at machine-gun-point. It's really funny to see him leave and then see all those tough guys take a moment and then ask "Yo – who the FUCK was that!?" like they just got jumped by The Batman for the first time. And then it's oddly satisfying and comforting later in the movie when you realize that this subplot is over with and somehow there are no consequences. It really worked. They're just gonna leave Miles alone I guess. It was more about a personal intervention with Miles than about the threat of gangsters.
Denzel is real good at being an intense tough love personal responsibility type father figure dude. And of course it's good for him to encourage Miles to stay in school and stay away from drug dealers and use his talents to get paid. But I wish just one time there was a vigilante who could figure out how to make systematic changes. Maybe if we changed the circumstances we wouldn't have to keep rescuing kids with machine guns. But I guess they don't teach that trick in Pulling a Gun Out of a Hand and Twisting the Arm in a Painful Way training camp.
Anyway, the larger murder conspiracy mystery obviously ends up colliding with these other things on McCall's plate. In honor of Liam Neeson, the father of the modern old man action movement, Denzel gets to do a little TAKEN. Some assassins come to the apartment when McCall isn't home, but Miles is there painting a wall for him, so McCall gives him instructions over the phone to find a secret door and hide in his panic room. Or whatever a guy who does not panic calls his secret hiding place. Maybe it's a guest panic room, come to think of it.
As expected with this genre it's not like Denzel is going Yuen Woo Ping on us. But as far as that sort of quick blocky violence style it's decent. The second unit director and stunt coordinator is Jeffrey J. Dashnaw (ONCE UPON A TIME IN MEXICO, WHIP IT, THE MAGNIFICENT SEVEN). I was surprised to see Andrei Arlovski, the MMA fighter and great villain of UNIVERSAL SOLDIERs REGENERATION and DAY OF RECKONING credited for doing stunts – I guess he's some thug in there somewhere.
My favorite action moment is a cool FX shot where the camera rotates around McCall but inside a car as it spins out and as he turns a guy's gun around and uses it to shoot him 3 times.
I'm not sure but I think I kinda like this one better than the first one, partly because he's already kicking ass when it opens and partly because of the fanciful way they build to the final showdown. There's a scene in the middle where he figures out who the murderers are and he tells them to their faces that he's going to kill them. He's outnumbered and outgunned but they're standing in broad daylight in the suburbs in front of one guy's family, so no one can make a move. During the confrontation the wind is stirring up leaves – both a literal and figurative storm is brewing. The weather gets so bad it causes the evacuation of an island that happens to be the location of McCall's old home which he has just decided to return to. So the climax is a big shootout in a tropical storm in an abandoned town. If you can't just make an episode you might as well make it mythic.
I didn't mean to miss this one in theaters and I am hereby announcing my intention to not miss any potential part 3 in theaters either. I won't let you down again McCall.